Dugan and Resnick -Ault Win School Board Election, Budget Passes with 85.2% Approval
Tuesday, 18 May 2021 23:00
Last Updated: Friday, 21 May 2021 11:01
Published: Tuesday, 18 May 2021 23:00
Joanne Wallenstein
Hits: 2106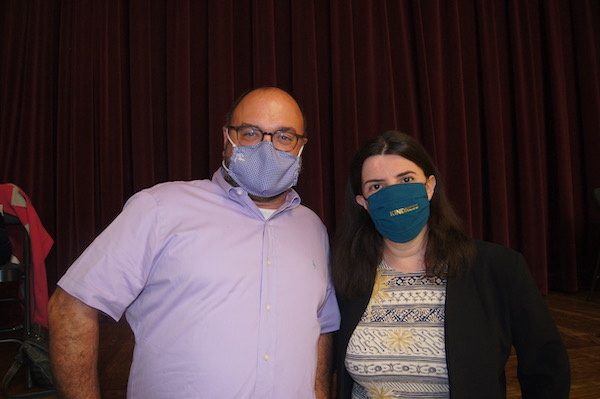 Jim Dugan and Jessica Resnick-Ault were elected to the Scarsdale School Board.The Non-Partisan Slate came out on top in the hotly contested school board election on May 18, 2021. A total of 1,788 votes were cast, on a ballot that featured two candidates nominated by the School Board Nominating Committee, and two independent candidates.
Current School Board Vice President Alison Singer made an independent run and was favored by six out of seven members of the school board and endorsed by many former school board presidents. As an incumbent, many believed she had an advantage. However, perhaps in a sign of the times and dissatisfaction with the past school year, she failed to win re-election, getting 763 votes.
Also running independently was Irin Israel who was a vocal critic of the administration this past year and ran on a platform for better communication and transparency. He received 607 votes.
The two candidates nominated by the SBNC and backed in a strong campaign by the Coalition for Scarsdale Schools took the two available school board seats now held by Board President Pamela Fuehrer and Board Vice President Alison Singer.
Jessica Resnick-Ault, a reporter and committed community volunteer got 1,101 votes and Jim Dugan, an attorney with considerable volunteer experience as well got 835 votes.
The school budget passed with an 85.2% approval, from 1524 "yes" votes and 264 "no" votes.
Pam Fuehrer and Alison Singer
Here is the tally announced by the Chair of the District Meeting for the School Board and Budget Vote and past President of the League of Women Voters of Scarsdale, Leah Dembitzer:
School Budget
Yes 1,524
No 264
Approval Rate: 85.2%
School Board Candidates
Jessica Resnick Ault: 1,101
James Dugan: 835
Alison Singer: 763
Irin Israel: 607
It was the first time in history that two independent candidates challenged the SBNC slate. The campaigns featured a candidates forum, campaign signs, meet and greets, mailers, emails and social media campaigns.
Voters began to arrive at the poll at Scarsdale Congregational Church at 7 am and continued to roll in until the doors were shut at 9 pm. A meeting of the Fox Meadow Neighborhood Association ended just before the polls closed, and last minute voters showed up at 8:57 pm. Though it wasn't the highest voter turnout in the past ten years, there was a strong show of voter participation.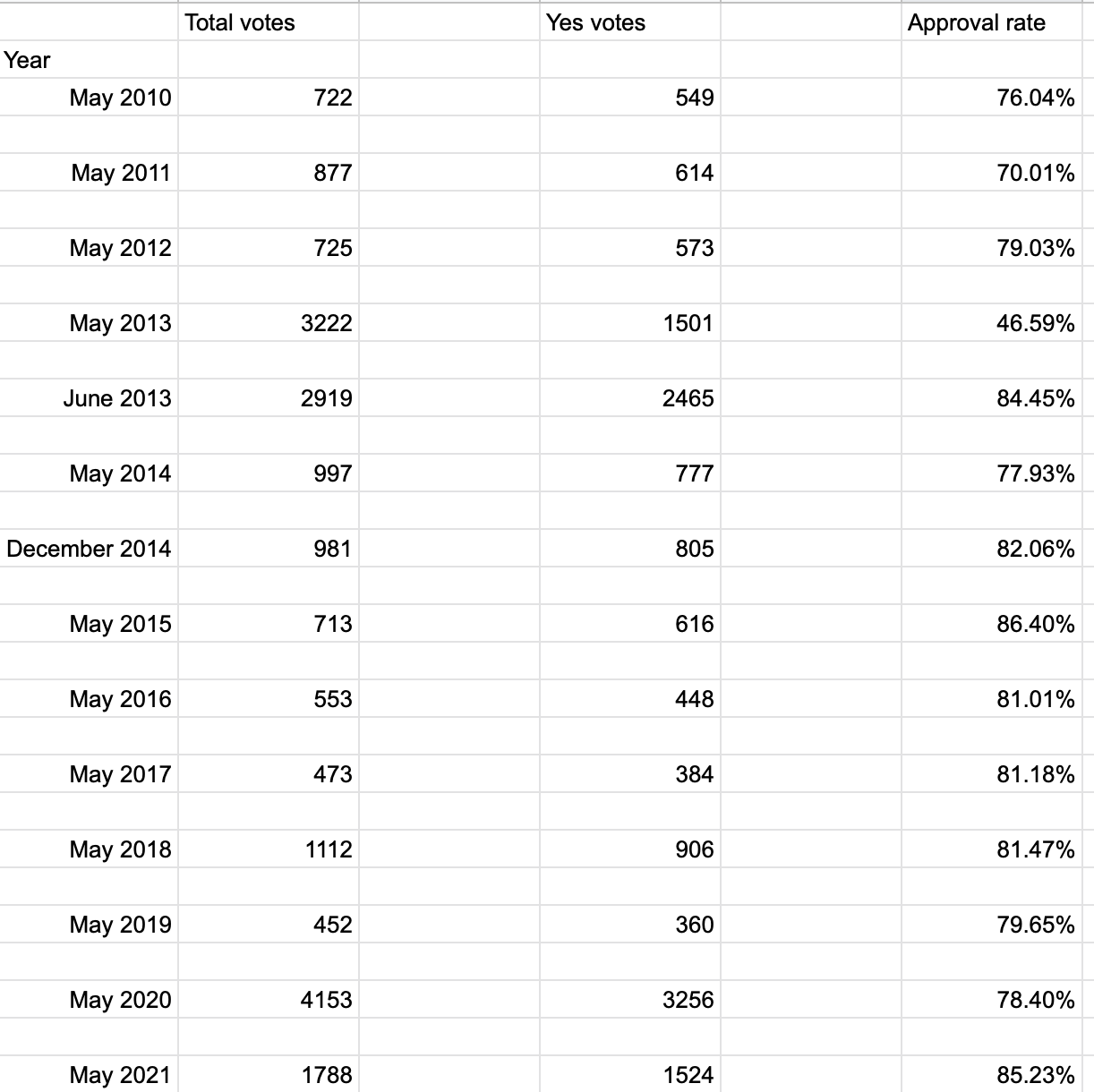 Before the votes were counted, no one in the room seemed certain of the outcome and there was stunned silence for a few seconds after the results were read. Without exit polls, there was no way to predict what the outcome would be.
Commenting on the results, Jessica Resnick Ault said, "I am honored that the community decided that Jim and I are up for joining the school board at this challenging time. The SBNC decided that we would work well together. I did not know Jim before, but I am impressed with his thoughtful and calm demeanor, especially when unexpected things crop up. I hope we will work well with the board and administration. With four people running there was uncertainty about the outcome and I did not know what would happen. Before coming here tonight I enjoyed a cake with my daughter that said, "Yea Either Way." I think it's important to teach kids that things don't always go the way you expect and to make the best of every situation."
James Dugan added, "I'm very humbled to have been elected by the community to serve on the School Board. This is a year in which people wanted change, and Jessica Resnick-Ault and I are looking forward to working with the other members of the Board and the School District and working for the people of Scarsdale to be their voice on the School Board."
Commenting the following day, Alison Singer said, "It's not the outcome I had hoped for, but it's time to put campaigning behind us and move forward as one community. We all need to focus on the future and on supporting our students, our faculty and our administration as they tackle the many challenges ahead. I am incredibly grateful to everyone who supported my candidacy and to everyone who voted. I know that we are all committed to ensuring that every child in Scarsdale has access to an outstanding education, and I plan to find new ways to make sure that happens. I look forward to continuing to work with all the members of our community."
And I offer my congratulations to Jessica Resnick-Ault and Jim Dugan.
Irin Israel said, "I'm so grateful for all of the people that voted and helped me both with the campaign and during the year. I've been fortunate to meet some incredible people in our community. I've spoken with Jim and Jessica throughout the election and I'm hopeful that as School Board members they will push for much needed change, communication and transparency."
Diane Greenwald and Art Rublin, Co-Chairs of Coalition for Scarsdale Schools, said, "Coalition for Scarsdale Schools (CSS) is thrilled that the community overwhelmingly approved a budget that will help move Scarsdale schools forward at a critical time for children.
We are also grateful to Scarsdale voters who elected Jim Dugan and Jessica Resnick-Ault to the school board. Jim and Jessica secured the confidence of Scarsdale's time-honored School Board Nominating Committee (SBNC) and also the District's electorate, and promise fresh perspectives in service to students and families. We are proud to have strongly supported them with an incredible campaign team.

We wish to express genuine gratitude to Alison Singer for her dedicated service as School Board member and Vice President and applaud her expressions of commitment to serving children and education in the future. We also wish Irin Israel well in his future endeavors and hope he remains an engaged advocate and volunteer."
Last minute voters streamed in until 9 pm.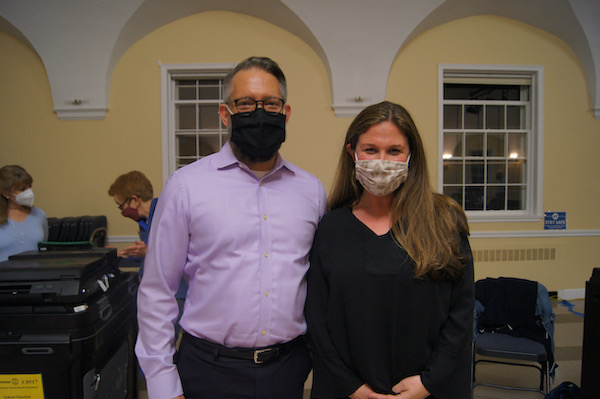 Thomas Hagerman and Leah Dembitzer
Coalition for Scarsdale Schools Campaign Team
Ass't Superintendent Edgar McIntosh and Board Member Karen Ceske