Girls Varsity Tennis Team Starts the Season 3-0
Tuesday, 21 September 2021 18:14
Last Updated: Thursday, 23 September 2021 14:23
Published: Tuesday, 21 September 2021 18:14
Joanne Wallenstein
Hits: 1260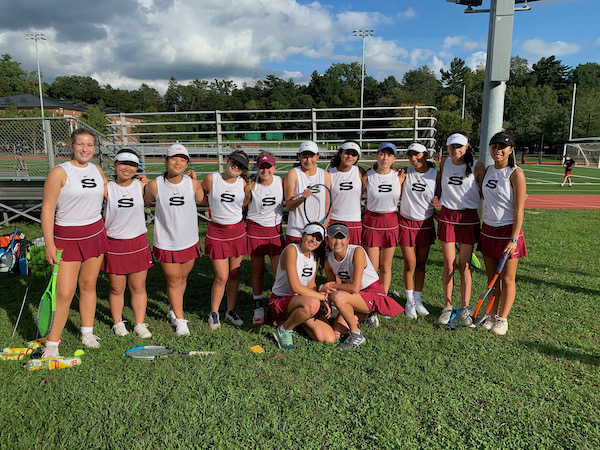 The SHS Girls Varsity A Tennis Team at their third match of the season.The talented Varsity A girls tennis team is off to a stunning start, barely dropping a set in the first three league matches of the year.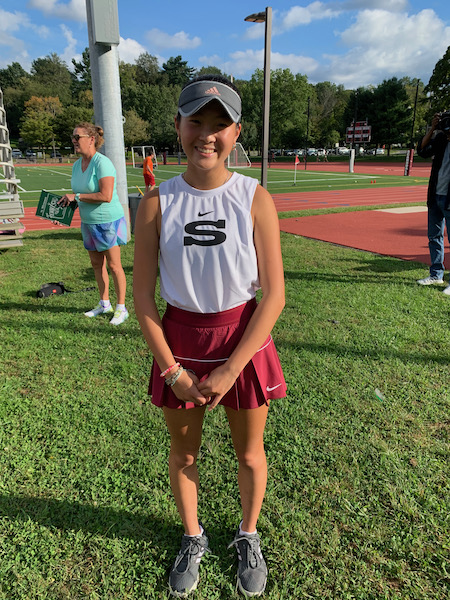 Junior Natalie HuWith nine seniors graduating last year, this year's team is a mix of 2 freshman, 3 sophomores, 4 juniors and 4 seniors. They are strong, skilled and strategic on the court.
The team's captains are first singles player Natalie Hu and first doubles player Laura Mendez. Dressed in their team uniforms of maroon skirts and white and black T's, they greeted rivals Mamaroneck for their third match of the season on Monday September 20, 2021.
After breezing by Fox Lane 7-0 and Ursuline 7-0, Coach Jennifer Roane said that the team expected a challenge from Mamaroneck who have always been among the most capable teams in the league. But they rose to the challenge and came away with impressive results.
At first singles, junior Natalie Hu played against Regan Aylett, a player she appeared to know. Hu came out strong, serving aces that her opponent couldn't touch. She hit deep baseline shots, wonderful net shots and came off the court quickly with a 6-0, 6-0 win.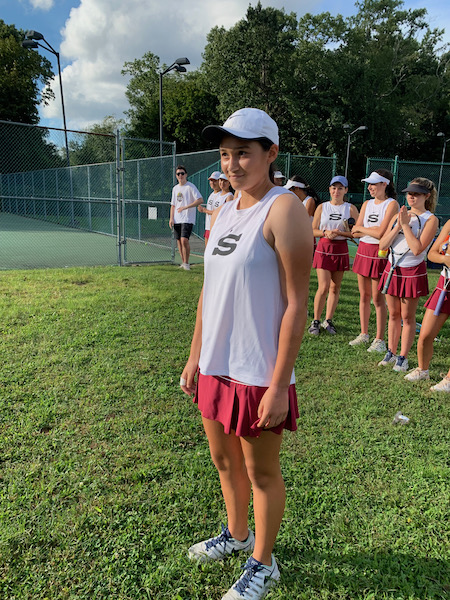 Freshman Giana Marks
Only a freshman lefty Giana Marks plays second singles for the team. She is tough and consistent and I saw one 20 hit rally, before she bested her opponent 6-0, 6-1.
Playing third singles was junior Maya Cukierman, another aggressive hitter with a strong serve. She sent her opponent running from corner to corner, beating her 6-0, 6-0.
Playing first doubles for Scarsdale are senior Laura Mendez and junior Campbell Alin. In past years Mendez partnered with her sister, but now that her sister is in college, Laura has a new teammate. They played Mamaroneck's Annabelle Reddy and Ann Donoghue and won 6-4, 6-3.
At second doubles is the powerful team of sophomore Maya Vora and Yelena Sahakyan. They hit deep shots to the baseline and triumphed 6-1, 6-2.
In third doubles Madison Lee was paired with Lara Wellen. We couldn't see too much of that match from the sidelines but saw Lee hit a beautiful down the line backhand, passing her opponent at the net. The third doubles team dominated their match 6-2, 6-1.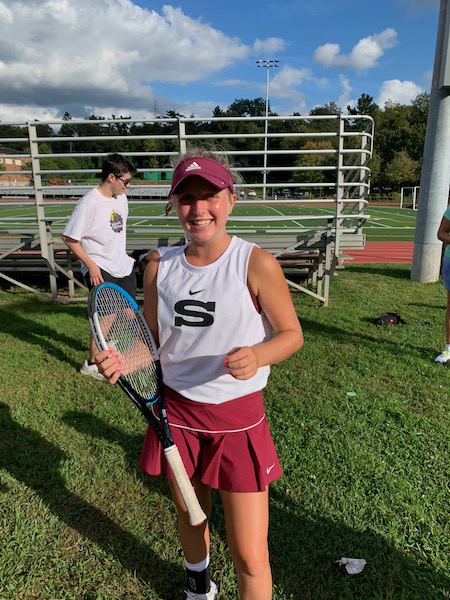 Maya CukiermanThe fourth doubles team of Natasha Pereira and Kay Cottrell had to wait until Natalie Hu was off the court. They came away 6-3, 6-4.
New this year, if the team qualifies for the states, the entire team will go, not individual players. The way they are playing now, they should have a good chance of competing.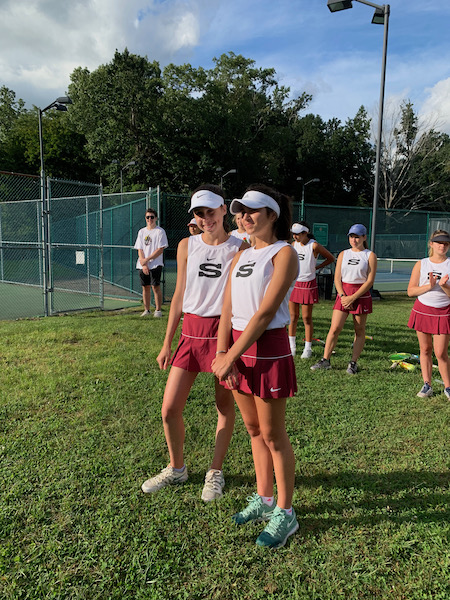 Campbell Alin and Laura Mendez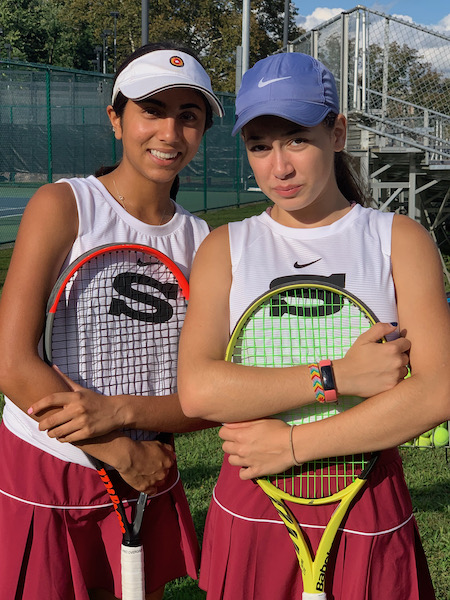 Maya Vora and Yelena Sahakyan.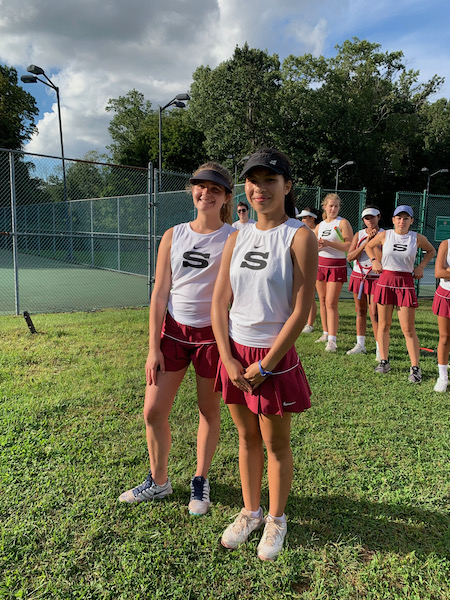 Lara Wellen and Madison Lee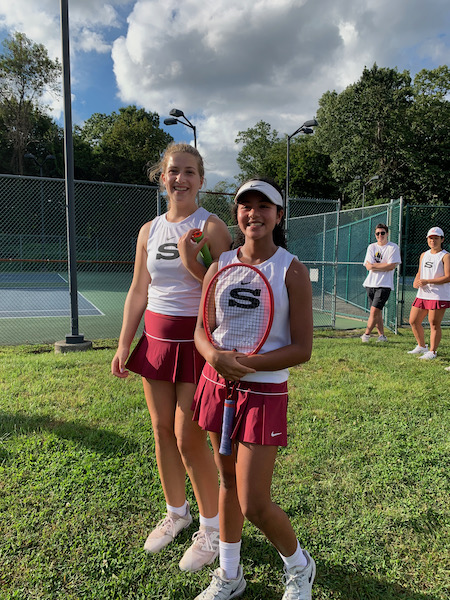 Natasha Pereira and Kay Cottrell