Strategies for Taking the Weight Off after the Holiday Season
Details

Hits: 5006
Holidays are a wonderful time to rest, to see family and friends, to enjoy good food with loved ones, and to be truly thankful for what we have. But, on average, during the holiday season American gains 8-10 lbs. If you're concerned about your weight, we want to share the BESLIM habits of health that we teach our clients so that you can enjoy family time without putting your figure or long-term health at risk.
The BESLIM philosophy incorporates key behaviors mastered by those on the National Weight Loss Registry in Colorado which tracks 5,000 people who have lost 60 lbs or more and have kept it off for more then five years. These folks are doing something right! Here are their strategies to help you manage everyday:
B-Breakfast, eating a small meal within 20 minutes of getting up in the morning will speed up your metabolism by 20%. On big feast days starting off with a small meal will help you make better decisions throughout the day.
E-Exercise, most of the 5,000 registrants never joined a gym. They found ways to be active in their daily routines by parking the car in far end of a parking lot or taking the stairs instead of the elevator. These activities can burn up to 50 – 100 calories a day. It may not sound like much, but at the end of week that adds up to 350-500 calories, the equivalent of a piece of pie! Small steps like these can prevent you from gaining 3-4 pounds a year that could turn into an extra 10-20 lbs over time. So take some nice walks this New Year.
S-Support, enlist a significant other, a family member or a good friend to help keep you accountable. Even better- if you are overweight reach out to someone who has lost weight and ask them if they will help you.
L- Low Fat Meals 5-6 Times a Day, eating small, nutritionally balanced meals throughout the day is the best way of regulating your blood sugar, and increasing your metabolism. Doing that decreases your cravings so you can make better food choices. Don't starve yourself all day in preparation for the big meal. Eat small meals throughout the day and then it will be easier to step away from the table when full.
I-Individual Plan, have a plan that will help you navigate through a hostile environment of temptations and nutritional pollution. Your plan is key to adopting an optimal health lifestyle.
M-Monitoring, frequent monitoring is the key to making sure that three pounds don't become five. Weigh yourself on a regular basis, or try on a pair of jeans once a week to check how they fit, to catch a problem before it gains momentum (no pun intended)!
For more information and personal coaching, contact Dr. Todd Herold, at (646)-552-5718- or visit his website: www.123.tsfl.com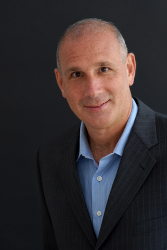 About Dr. Todd Herold- Todd has been a chiropractor for the past 27 years.  He lives in White Plains with his wife, Sandra and two sons.  He runs Adjust Your Life Health and Wellness Center-78 Virginia Rd- right next door to the Dunkin' Donuts (true story).  Todd's interest in health coaching came two years ago after he successfully completed the TSFL program, which was created by scientists from Johns Hopkins. He lost 22 lbs. in 27 days and has kept it off for over 2 years.  Over the past couple of years, Todd and Sandra have helped over 1,000 clients to reach their goals.
Dr. Todd Herold
Adjust Your Life
78 Virginia Rd
White Plains, NY 10603
Office: 914-428-8400
Cell: 646-552-5718
www.123.tsfl.com (weight loss info)
Tom Chapin to Serenade Market Shoppers Dec. 20
Details

Hits: 3507

Singer/songwriter Tom Chapin will serenade shoppers with music from his new CD "Farmers Market" between 11 a.m. and 12 noon at the indoor Farmers Market on Sunday, Dec. 20, from 10 a.m. to 3 p.m., at the Westchester County Center in White Plains.  Also performing during the market will be local resident singer/songwriter John Cobert.

During the market, more than 30 vendors who are farmer and food producers offer a variety of food products that are ideal for holiday meals. Choose from a selection of farmstead-produced cheeses, pasture-raised meats and poultry, fresh winter produce like vegetables, greens and potatoes, and top it off with fresh baked goods like breads and deserts. You can even pick up some local wines and ciders. As always, to help shoppers make their selections, vendors will offer samples of their foods.

Additional Farmers Market dates are Sundays:
January 3
February 7
March 14 (change of date)

Additional vendors are welcome; call (914) 864-7077 for more information.
Admission is free. Parking at the County Center lot is $4. A discount parking coupon is available at http://www.countycenter.biz/.
The Farmers Market is sponsored by Westchester County Parks and radio station 107.1 The Peak and Friends of Westchester County Parks, Inc.
The Westchester County Center is located at 198 Central Park Avenue in White Plains, at the junction of the Bronx River Parkway and Tarrytown Road (Route 119). For more information, visit them on-line or call (914) 995-4050.
Home Cooking R.I.P.
Details

Hits: 3281

It's been a tough month for cooks.  First I learned that Sheila Lukins, the beloved creator of The Silver Palate had died.  When I saw the tombstone ad in the New York Times, tears sprung to my eyes and I was as surprised by my own reaction as I was to learn that she had passed away. Let's face it – I never met the woman, but she was ever-present in my kitchen since the early days of my marriage.  The Silver Palate was the cook's bible for my generation and replaced The Joy of Cooking on the shelves of young brides.  All the good occasions in my life were celebrated with Sheila---for my son's first birthday I baked not one, but three "Decadent Chocolate Cakes" from the first edition of The Silver Palate.  What happened and why would a busy new Mom with a full time job bake three cakes?  The cake had to be perfect as this was the crown prince's first big day and what could be more momentous than the first birthday of the first grandchild born into our extended families on both sides.

It was a chocolate bundt cake, and the first one split in two when I tried to get it out of the pan.  The second one looked more promising in the oven but I was foiled again when trying to remove it from the pan in one piece.  My husband decided to help and before I could object he grabbed a hammer and started banging on the bottom of the bundt pan as I stood by horrified.  That led to a cake in pieces, a marital tiff and a third try at decadence.  This time I discovered the wonders of Pam and voila we had a luscious, delectable cake.
What other good-times were celebrated with my friends from The Silver Palate?  All Jewish holidays called for either the famous Chicken Marbella or the Apricot and Currant Chicken from the second edition. Thanksgiving meant sweet potato puree with crème fraiche … Lukins never hesitated to enrich her recipes with cream or butter. We purchased a special fish mold for the salmon mousse and served it surrounded by dill at elegant dinner parties. The lemon chicken was another family favorite and the three Silver Palate volumes are still on my shelf, splattered with food and broken at the bindings.



Things started to return to normal when I decided that Sheila, like my mother, would live on through her famous recipes and realized how fortunate we were to have her legacy.  Then I learned that Conde Nast was folding Gourmet Magazine. How could they?  Gourmet was another staple in my life and I had no idea it was expendable.  A subscriber since I worked for the company in 1986, I thought that there were enough die-hards out there like me to ensure the magazine's survival. But I guess I was wrong. All of this century's foodies must be busy blogging, working at food coops or growing their own.

Just this past weekend I made a savory spinach pesto lasagna and sautéed leeks from the Gourmet archive.  I do hope the company maintains their enormous compendium of recipes online at Epicurious.com, because without them there would be little reason to attempt a meal in the kitchen. We just might have to join our neighbors who all seem to order in or eat out.  It's as simple as that … too many blows for a cook in just a few short weeks.
Flourish Opens in Scardale
Details

Hits: 3959

Professional chefs and Scarsdale residents Diane Forley and Michael Otsuka have recently opened Flourish Baking Company and are now offering a delectable assortment of breads, vegetable and dessert pies and confections to grace your Thanksgiving table.  Their regular menu features a long list of artisanal breads, baked on the premises at 160 Summerfield Street.  You'll find whole wheat, sourdough, rosemary, walnut raisin, six grain and more.  

For Thanksgiving the menu includes savory pies such as sweet potato gratin, butternut squash polenta sage pie and wild rice and mushroom soufflé. At a recent tasting we sampled a vegetable foccacia and the cranberry, orange and raspberry relish. Also available were cinnamon-spiced pumpkin pie, pumpkin cheesecake and a gingerbread upside down cake with roasted bosc pears. 

Everything we tried was fresh, delicious and novel. They have made creative adaptations to traditional Thanksgiving fare and the results are delightful.  For instance, the sweet potato gratin, looks like a sweet potato pie, and is constructed of layers of thinly sliced sweet potato, crème fraiche and a touch of maple syrup. Buy two of these or there is sure to be a fight at the table!

As Flourish is sharing the kitchen of kosher caterer Avril Kaye, all items are kosher.
The two chefs have impressive dossiers and bring considerable experience to the new venture. They both trained under well-known chefs in the U.S. and in France.  Michael was the executive chef of Thalia in Manhattan and Diane was the chef and proprietor at Verbena. After they married they both ran Verbena and Diane wrote a cookbook called "Anatomy of a Dish."

You can purchase their goods Monday-Friday from 9-6 on Summmerfield Street and you'll also find some of their offerings at Michaels and Eastchester Fish in Scarsdale, at Over the Moon in Bronxville and at Auray Gourmet in Larchmont. All Thanksgiving orders should be ordered by phone at 725-1026 by Friday November 19th and for non-holida orders check their website: http://flourishbakingcompany.com/html/contact.html Bon appétit!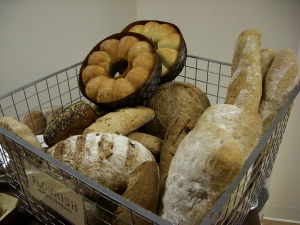 Flourish Baking Company
160 Summerfield Street
Scarsdale, NY
914-725-1026
http://flourishbakingcompany.com/html/contact.html
Shiraz in Elmsford
Details

Hits: 5530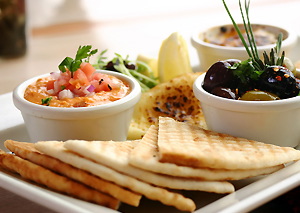 We heard the buzz about Shiraz, a relatively new Middle-Eastern restaurant on Route 119 in Elmsford, and decided to give it a try.  We were pleased when they accomodated us with a table for eight at eight on a busy Friday night. The restaurant is spacious, open, airy, and well-lit with tile floors, and brick walls.  On the way in we noticed that next door is a Middle Eastern grocery store with the same name and from the window it looks like they carry a wealth of interesting grains, spices and ingredients for a Middle Eastern feast.  We made a mental note to go back there soon and embarked on our dinner plans.  With a name like Shiraz, we assumed the restaurant served wine, but once we were seated we found that they do not have a liquor license.  I settled for a pomegranate juice and one of the men in our party offered to go across the street to buy a few bottles of wine.

For appetizers, the menu offered a mouth-watering list of dips such as hummus, roasted eggplant, and a yogurt and cucumber combination, all accompanied by crisp Persian bread.  The salads included a Greek salad and an herb salad with mint, tarragon and radishes that was fresh and crunchy. Creamy feta cheese and black olives added flavor. A jar of a black spice called Sumac was on every table.  Apparently sumac is tangy and aromatic and will enhance the flavor of any entree, so give it a try if you dare.

Though we over-ordered on the first course, it didn't prevent us from diving into our entrees.  Shiraz features flavorful kabobs served with saffron rice and grilled tomatos.  Kabob choices abound...we tried the lamb, and the Cornish hen and both were moist and delicious.  The special that night was a whole broiled branzino - served with the head and tail of the fish.  Though a few in the party were reluctant to deal with fileting the fish, they ordered it anyway and gave a good report.  The braised lamb shank was also ample and flavorful.

For dessert there were trays of baklava that looked sweet and syrupy but unfortunately we were too full to try it.

The service was friendly, helpful and swift.  The waiter was happy to offer suggestions on selections and eager to please.

If you're looking for a meal that incorporates the exotic without going very far, we suggest a visit to Shiraz.  But remember to bring your own bottle.

Shiraz
Persian Restaurant
83 East Main Street
Elmsford
(914) 345-6111
Open Tuesday to Sunday, 11 a.m. to 10 p.m. Parking on street and in back lot.