Police Report: Sticky Substance, a Tool in Mail Theft and "Check Washing," Found on Public Mailbox
Thursday, 02 March 2023 09:22
Last Updated: Wednesday, 08 March 2023 13:46
Published: Thursday, 02 March 2023 09:22
Traci Dutton Ludwig
Hits: 927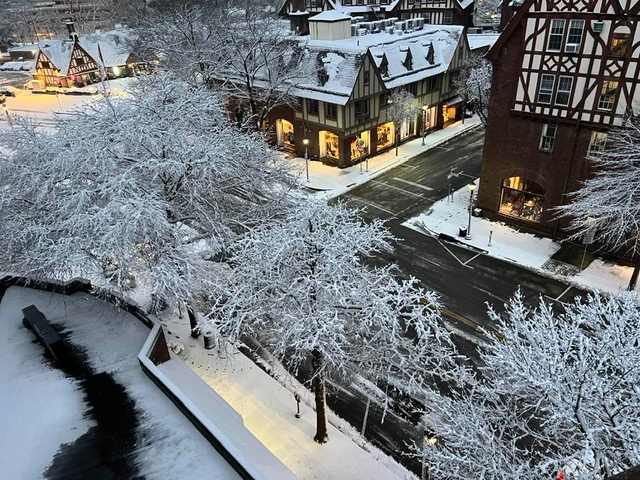 Photo Credit: Diana MooneyMail fraud: A caller reported finding glue-like residue on the inside mail slot of a public mailbox at Palmer Avenue and Heathcote Road Feb. 23. Police taped off the mailbox and notified the Postal Police.
Controlled substances
A doctor in Buffalo, NY, reported that his online prescription account had been hacked, and three fraudulent prescriptions for controlled substances had been sent to a Spencer Place pharmacy Feb. 25. The pharmacy noticed the fraudulent prescription use and did not fill the prescription.
Suspicious
On Feb. 20, a Lincoln Road caller reported seeing individuals walking in her backyard with flashlights around 7 p.m. They were gone when police arrived.

On Feb. 20, around 7 p.m., a white man wearing a baseball cap approached the rear door of a Wayside Lane house and rang the bell. The man claimed to know the caller and her son and attempted to speak with her.
A Putnam Road woman reported that an unknown man wearing tinted glasses was walking with his hoodie's hood up on her street Feb. 23. She thought it was suspicious because she did not recognize him. Police noted that it was cold and drizzling, so that was probably why the man had the hoodie's hood up. He was no longer there when police arrived.
A man pushing a shopping cart filled with garbage bags was reported to be going through people's recycling collecting bottles and cans on Gorham and Valley roads Feb. 26. He was gone by the time police arrived.
Cursing
A caller reported that two men were cursing loudly at the train station Feb. 24. Police observed the men, who did not appear to be fighting or angry with each other. As a precaution, police notified MTA police before the two men boarded a train.
Packages
A Greenacres Avenue woman reported that packages that had been delivered to a neighbor's house had been opened, and the boxes were discarded on her lawn Feb. 21. Some open boxes still contained products inside. Police spoke with the neighbor who advised police to leave the packages inside her garage. The neighbor said she would determine if there was any theft or loss after she could examine the packages.
Indecent exposure
On Feb. 25, a caller said she observed a white man, approximately 60 years old, standing at Heathcote and Duck Pond roads, with his pants down "cleaning himself." She thought he might need assistance and informed police. The man was gone from the scene before police arrived.
Help
Police checked the welfare of a Sage Terrace man at the request of the man's concerned daughter Feb. 21. The father had previously been involved in a car accident, and police confirmed he was OK.
A worried son asked a neighbor to check on his Brookby Road mother after the mother failed to answer some phone calls Feb. 22. The mother told police that she did not recognize the neighbor, got scared and called police for help. After speaking with her son, the mother understood the situation.
Civil matter
On Feb. 23, a Carman Road woman reported that she declined a delivery of a driver because the driver said he was missing a part and could not complete the installation that day. Later, she received an email receipt confirming the dryer's delivery. She wanted police to document the incident.
Cars and roadways
On Feb. 20, police notified the water department about a damaged water line that had been hit by a contractor digging a trench on Heathcote Road. The water department shut off the water main to make repairs.
Police advised a tree trimming company to move its vehicles because they were blocking a lane of traffic at Post and Burgess roads Feb. 22.
An unoccupied car, which had not been placed in "park," rolled down Barry Road and hit a curb Feb. 22. No damage was caused, and police were able to put the car in park.
Police assisted Eastchester police pursue a car containing a driver who failed to comply with police instructions until the pursuit entered the Bronx River Parkway Feb. 23.
On Feb. 23, police placed a traffic cone inside a pothole at Mamaroneck and Post roads and informed the highway department for repair.
On Feb. 24, police conducted a traffic stop and realized the New Rochelle driver's license had been suspended for failing to answer a summons in the Bronx. Appropriate summonses were issued, and another driver was required to move the car from the scene.
On Feb. 24, police were pursuing a speeding car on Post Road when the driver struck the curb and sustained a flat tire. Police called a tow for roadside assistance.
Police asked the highway department to remove a fallen branch from Post Road Feb. 24.
On Feb. 24, a driver reported a tree fell on Bypass and struck her vehicle, She was not injured.
Police conducted a traffic stop of a Lincoln Town Car at Morris Lane and Murray Hill Road after noticing the car's inspection was expired Feb. 24. Additionally, police learned that the Hartsdale driver's license, registration and insurance had been suspended. Appropriate summons were issued, and the car was impounded.
A Post Road traffic stop revealed that the New Rochelle driver's license had been suspended on Feb. 17 for failing to answer a summons. Police issued summonses and instructed the driver to leave the car in the Village Hall parking lot, waiting for a licensed driver to pick it up.
A gray Porsche was reported to be driving the wrong way on a one-way section of East Parkway Feb. 25. The car was gone before police arrived.
Police closed a car door accidentally left open in the Freightway Garage Feb. 26.
On Feb. 26, police impounded a van with a fraudulent Georgia temporary tag and a lack of insurance, after a traffic stop was conducted on Fenimore Road.
Animals
Police helped return a lost dog, found at Murray Hill Road and Morris Lane, to its owner Feb. 25.
Village code
Police discarded improperly posted signs on Crossway and Fox Meadow and Mamaroneck roads Feb. 23.
Lost and found
On Feb. 23, two Hartsdale people each reported losing a passport somewhere in the Village.
A cell phone was found near a sewer grate on East Parkway Feb. 25. Police used a recent text message to track down the owner and informed her about finding her phone. The owner said she would send a friend to pick up the phone.
Firefighters
Firefighters assisted at a car accident at Fenimore and Brewster roads Feb. 21.
Firefighters helped emergency medical personnel get a patient down a narrow flight of stairs and out of a Richbell Road house to received treatment and transport to a hospital Feb. 22.
Firefighters stood by for Con Edison at the site of a natural gas odor on Huntington Avenue Feb. 22.
Firefighters assisted at a car accident on the Hutchinson River Parkways Feb. 22.
Firefighters investigated an odor of rotten eggs inside a Stratton Road house but could not find the cause Feb. 25.
Firefighters assisted New Rochelle firefighters with a car fire on the Hutchinson River Parkway Feb. 26. The fire was confined to the car's engine compartment and was caused by a burnt out electric cooling fan for the motor that extended to wiring and plastics under the hood.
This report covering police and fire department activity from Feb. 20-26 has been compiled from official information.

This police report is sponsored by Scarsdale Security who does more than just security. Contact them about remote video for your home or business. Call 914-722-2200 or visit their website.