Police Assist Eastchester Police with Car Theft Containing Toddler Inside
Wednesday, 08 March 2023 13:37
Last Updated: Saturday, 11 March 2023 10:19
Published: Wednesday, 08 March 2023 13:37
Traci Dutton Ludwig
Hits: 1519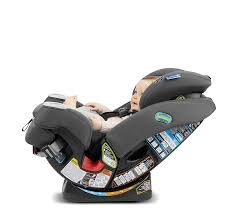 A car thief entered the 2018 BMW of an Eastchester man and drove off with the car and the owner's three-year-old son inside March 2. It occurred while the man was bringing his daughter to her bus stop. The suspect removed the boy from the car, and the boy was found safe by a neighbor. Police are following up.
At 5:59 am on Friday March 3, Cotwold residents (Edgemont) called 911 to report that a suspect had entered their unlocked car, used the garage door opener to open the garage and then entered the home. When he was confronted by the homeowner, he fled.
Burglary
An Oxford Road resident reported his house had been burglarized March 4. The suspects destroyed a personal safe. Police are following up.
Car break-in
On March 3, someone broke into a parked car on Christie Place and tossed items around. Police attempted to inform the owner.
Check washing
A Gilmore Court man reported that several checks, previously mailed out from a public mailbox at Walworth Avenue and Colvin Road, had been stolen and washed. The suspects attempted to cash the checks but were unable to do so,
Arrest on warrant
On March 5, police arrested a suspect – Ricci Johnson, 21, of Yonkers – wanted by another agency on the strength of a bench warrant issued out of another jurisdiction, for failing to appear in court for a scheduled vehicle and traffic offense in February. Johnson was remanded to Westchester County Jail, pending his appearance in court.
Scam
A caller reported that his Carthage Lane mother was the victim of a phone scam, which lured her into agreeing to pay an unknown man a sum of $5,000 in person Feb. 28. Police assisted the woman keep herself and her house safe.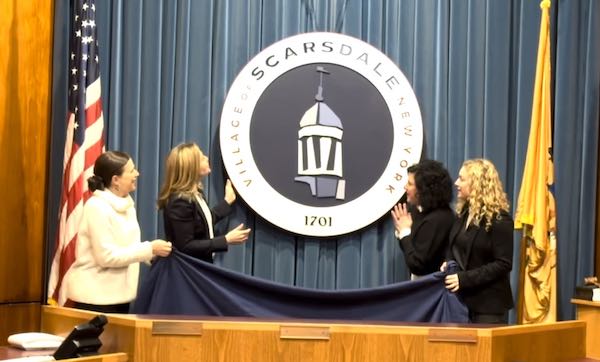 There's a new look at Village Hall. Members of the Advisory Council on Communications unveiled a new Village seal in Rutherford Hall on Monday night March 6. The new logo, developed last year, will soon appear on Village signs, uniforms and Village vehicles. Pictured here are Kerry Hayes, Jane Veron, Diane Greenwald and Dara Gruenberg.
Suspicious
On Feb. 28, a Garden Road woman reported finding a blue string tied to the back rear sliding glass door of her house. She was concerned about the meaning of the string, following an Internet search. Police said it was probably a harmless prank.

A caller reported being surprised that a Chase Bank on Chase Road was closed in the middle of the day on March 3, and she wanted to make sure everything was OK. Police spoke with bank employees who confirmed that the bank closes for lunch.

A caller reported seeing kids walking on Bypass carrying sticks March 3. The caller was afraid the kids were throwing sticks at cars. Police saw no evidence of thrown sticks.
Dispute
A Brookfield Lane homeowner reported having a verbal dispute with a worker over where to placed fallen snow Feb. 28.
An Uber driver called police because a customer would not leave his car, even after the trip was cancelled due to extended travel time March 1.
Wrong address
A cab driver accidentally brought a health aide to the wrong address on Morris Lane, to start a caregiving job March 4. Police provided a courtesy transport to an area with more work.
Cars and roadways
A tree fell on Bypass, and the highway department was notified for cleanup Feb. 27.
A parked car with its headlights on contained an occupant making phone call on Murray Hill Road Feb. 27.
Verizon was notified about a fallen wire on Lakin Road Feb. 28.
Police placed temporary stop signs at the intersection of Weaver Street and Griffen Avenue, pending repair of a stoplight Feb. 28.
Police assisted at a car accident on the Bronx River Parkway Feb. 28.
Police asked drivers of two vans parked on Post Road to move out of the fire lane March 1.
A Liberty Line bus driver reported that his bas was hit by another car at Post and Post roads March 1.
Sewage was backing up into a Wynmor Road house, and he highway department was notified March 1.
On March 3, police closed the trunk of a car parked on East Parkway.
Police cleaned up oversized debris from Mamaroneck and Stratton roads March 3.
Police closed Mamaroneck Road in order to remove a dangling branch from above the roadway, as well as to have Con Edison repair knocked-down wires, March 4.
On March 4, a Huntington Avenue woman reported she would not leave her driveway due to traffic congestion caused by parked cars. Police advised workers to move their cars.
Police reset a water pipe cap on Old Orchard Lane March 4.
One car accident was officially reported in the Village this week.
Village code
A Continental Road girl was having a hot tub gathering with friends, and neighbors complained of noise Feb. 27. The girl's mother said she would tell the girls to keep the noise level down.

On March 3, a man was soliciting for money, to ostensibly repair his car, near the intersection of Heathcote Road and Palmer Avenue. Police advised the man he need a permit to solicit.

Police dispersed noisy kids from Roosevelt Place March 4.
On March 5, police issued a summons to a garbage pickup company for collecting garbage between designated hours.
Animals
Police shot a sick raccoon on Oak Lane March 3. The highway department collected it for disposal.

Police shot a sick skunk on Westview Lane March 3. The highway department collected it for disposal.
Lost and found
Brewster Road sled riders found a cell phone in the snow March 28. Police tracked down the number for the owner's mother and informed her the phone had been found, She picked it up.
Firefighters
On March 1, firefighters stood by for Con Edison at the site of a gas leak on Colvin Road.

On March 3, firefighters were called to investigate an odor on Heathcote Road and found a problem with an oil burner.
This report, covering police and fire department activity from Feb. 27 – March 5, has been compiled with official information.

This police report is sponsored by Scarsdale Security who does more than just security. Contact them about remote video for your home or business. Call 914-722-2200 or visit their website.