White Plains Driver Arrested for DWI, Tools Stolen from Hampton Road, Christie Place Employee Fired for Stealing from Cash Register DWI
Thursday, 31 August 2023 13:09
Last Updated: Thursday, 31 August 2023 13:17
Published: Thursday, 31 August 2023 13:09
Traci Dutton Ludwig
Hits: 1504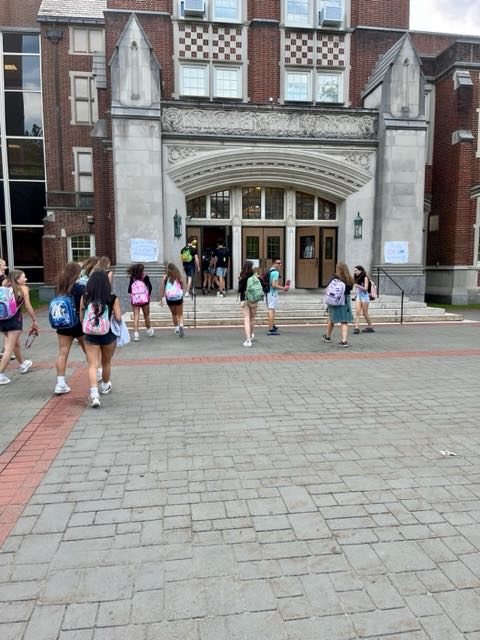 On Aug. 27, patrol was conducting a DWI/Safety checkpoint on Mamaroneck Road in the vicinity of the Scarsdale Pool when a vehicle was observed pulling into the parking lot of the Crossway Fields. Due to the time of night and the park being closed, it appeared the vehicle pulled off the roadway in an attempt to avoid the checkpoint. Police followed the vehicle into the parking lot area and found it in the rear of the Little League parking lot operating a slow rate of speed with only its running lights illuminated. Police initiated emergency lights to conduct an investigatory stop and determined the operator to be under the influence of alcohol. The operator – William Ramon Castillo Rodriguez, 27, of White Plains – was subsequently arrested and transported to headquarters for processing. He was released on his own recognizance with an appearance ticket for Scarsdale Village Justice Court on Sept. 13.
No Driver's License
On Aug. 24, police observed a car speeding on Fox Meadow Road. Police conducted a traffic stop and issued the Robert Harrison, age 82, a summonses for speeding and unlicensed driving. This was not Harrison's first offense. On April 18, 2023 police spotted Harrison, driving his car on Post Road near Rugby Lane, despite having a suspended license. He hit another car and was not able to recall what had happened. Harrison asked to be taken to the hospital. He was issued summonses for unlicensed driving, failure to use the designated land and moving from the lane unsafely.
Stolen
On Aug. 23, a Hampton Road homeowner reported her house was under construction and she saw that someone broke a glass sliding door, entered the site overnight and stole tools valued over $3,000.
Theft
On Aug. 27, a Christie Place business owner requested police to stand by while he fired an employee whom he discovered had been stealing money from the cash register. The employee admitted to stealing funds from the store and paid back what had been taken that day. Patrol advised him that his boss would not be pressing charges but wished that the employee no longer returned to the store.
Car break-ins
On Aug. 21, a Mamaroneck Road pool visitor reported her car was broken into, via a smashed window, and items were stolen. These included a cell phone and two backpacks containing youth soccer gear.

On Aug. 24, a River Road man reported his car had been broken into in the past, and Items were stolen. He did not want to file a formal report.

On Aug. 24, a Montrose Road woman reported her unlocked car had been broken into overnight.
Threat
An employee at an East Parkway bank called police after a customer threatened to harm staff if he "did not get a wire transfer" Aug. 23. Employees specifically said the man engaged in a verbal dispute with a banker regarding funds involved in a wire transfer. During said dispute the man allegedly stated, "Do I need to kill someone?" At no time did the dispute become physical, and staff was not interested in pursuing legal action. Patrol entered the bank and observed the man to be calm and discussing the incident with other staff. The man was escorted out of the business without incident and was advised to work with a different branch.
Mischief
A Johnson Road man reported kids were ringing doorbells on the street and running away Aug. 23.
Civil matter
On Aug. 22, police mediated a discussion between neighbors who share a driveway on Griffen Avenue, after one neighbor blocked in construction contractors who were working for the other neighbor. The car was successfully moved. On Aug. 23, the neighbors were continuing to dispute access to the driveway. They could not agree. Police advised them it was a civil matter.
Help
On Aug. 26, a Heathcote Road woman called police after hearing a loud bang upstairs. The woman then said her husband was on scene and did not want her to call police for assistance. The woman also advised they were having trouble opening a locked door at the house. No parties were reported inside the locked room. The woman requested an exterior check of the residence, which yielded no findings. Patrol made contact with the husband who advised all was in order, and requested no further assistance.
On Aug. 27, the exterior of a glass paneled door was found to be broken after the Rock Creek Lane resident returned home from vacation, The interior pane was intact, and police found no signs of criminality.
Road rage
On Aug. 23, a driver reported he had been driving in Greenburgh when a motorist started yelling and following him closely until he got into Scarsdale's jurisdiction on Fenimore Rd. The driver then said that the motorist then turned left onto Walworth Ave.
Accidents
A car accident occurred at Mamaroneck Road and the Hutchinson River Parkways ramps Aug. 23. Summonses were issued to one 23-year-old White Plains driver for aggravated unlicensed driving, a registration violation and failure to yield the right of way.
Six car accidents were officially reported in the Village this week.
Cars and roadways
On Aug. 21, police asked a driver to move his parked car from a Webster Road work zone.
A Cornell Street woman returned home from vacation Aug. 21 and found one of her car windows to be broken. Police created a report and found no signs of criminality.
Police taped up a drooping wire on Lincoln Road and notified Verizon Aug. 21.
On Aug. 22, police gave directions to a driver on Popham Road looking for a highway entrance.
On Aug. 22, while conducting traffic enforcement in the area of Crossway and Lincoln Road, a black BMW traveling north on Crossway was driving in violation of the posted speed. Patrol stopped the vehicle and asked for the operator's driver's license, proof of insurance and vehicle registration. During investigation, police found that the vehicle had an expired registration. The operator also possessed a learner's permit. Police issued the 18-year-old Bronx driver appropriate summonses and towed the car to the Scarsdale Police Department's impound lot.
On Aug. 22, a Boulevard Road resident his car's struts were damaged after driving over his street while it was milled for repaving and he hit a bump that had not been properly marked on Aug. 20. He was advised to contact his insurance company.
On Aug. 23, a driver reported some debris hit her windshield while she was driving on Post Road. Patrol observed a crack in the upper portion of the driver's side of the windshield. Dust and fragments left by this piece of debris gave the appearance that the damage was in fact inflicted recently. Police advised her to contact her insurance company.
A tree fell on Post Road Aug. 25. Police taped off the area and advised the highway department for removal.
An unlocked parking meter was found on Spencer Place Aug. 27. Police removed the coin cylinder.
Village code
Police used a doorbell camera to speak with a Fox Meadow Road woman and advise her that an interior alarm had been sounding for approximately 20 minutes. She said she would address it. After neighbors complained about the alarm while they were trying to sleep and refused police access to turn off the alarm, police issued a noise summons.
An alarm was sounding in a Boulder Brook Road house while contractors were performing floor work with windows open for ventilation Aug. 25. Police advised the homeowner and were given permission to remove batteries from the malfunctioning alarm.
On Aug. 25, a Shaw Road party host was advised to keep the noise level down after neighbors complained.

On Aug. 25, police issued a summons to a company that illegally posted an advertising sign in the Village right of way on Park Road.
Police informed people fishing at an Olmsted Road pond that fishing was not allowed as per a posted Village code sign Aug. 27.
On Aug. 27, a Dickel Road party host was advised to keep the noise level down after neighbors complained.
Lost and found
On Aug. 21, an Obry Driver reported mailing various documents to the passport renewal agency for a passport replacement in June. In July, she received the documents back, but she noticed her birth certificate was missing.
On Aug. 26, a passerby found an i-Phone on East Parkway. Police contacted the owner who picked up her lost phone.
On Aug. 26, another cell phone was also found on East Parkway. Police contacted the owner and facilitated the phone's return.
Firefighters
On Aug. 23, firefighters assisted at separate Mamaroneck Road and Palmer Avenue car accidents.
Firefighters were dispatched to a gas leak inside a Scarsdale Avenue building Aug. 23. They encountered a heavy odor of natural gas in the street upon arrival and forced their way into the building. Con Edison arrived and shut the gas supply at the meter located on the exterior of the building. All doors were opened to allow for natural ventilation of the structure. Con Edison completed their survey of the property and concluded that the leak originated from inside the building. They locked the gas meter until a repair could be made.
A passing cement truck caused a utility pole to fall on Catherine Road and take down wires Aug. 24. Firefighters blocked to road for safety and stood by for Con Edison.
Firefighters helped a woman retrieve her cell phone after it fell through a Church Lane storm drain Aug. 25.
On Aug. 26, firefighters assisted at a Bronx River Parkway car accident.
On Aug. 27, firefighters were dispatched to Lee Road for carbon monoxide alarm activation. They found a gas-fired water heater was source for elevated CO readings in the basement and stood by for Con Edison. The water heater was shut off, and the resident was advised to service the unit prior to turning it back on.
On Aug. 27, firefighters assisted at a Weaver Street car accident.
This report covering police and fire department activity from Aug. 21-27 has been compiled from official information.

This police report is sponsored by Scarsdale Security who does more than just security. Contact them about remote video for your home or business. Call 914-722-2200 or visit their website.