Jewelry Stolen in Carstensen Road Burglary, Kids Play Ding Dong Ditch and Loud Parties Reported
Thursday, 07 September 2023 17:36
Last Updated: Thursday, 07 September 2023 17:41
Published: Thursday, 07 September 2023 17:36
Joanne Wallenstein
Hits: 1545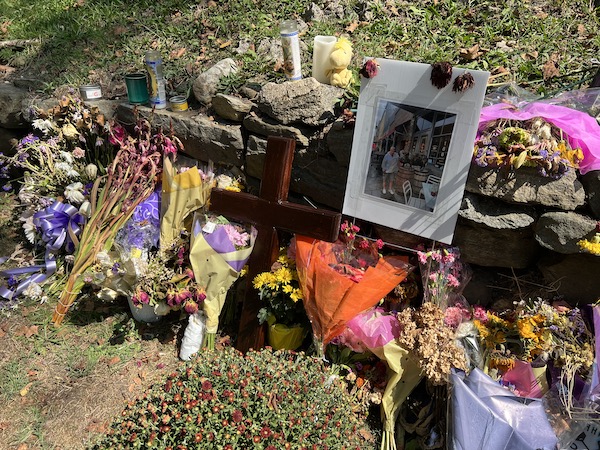 Neighbors built a shrine for Stephanie Kavourias who was killed when a hit and run driver ran into her while she was sitting on a bench on East Hartsdale Avenue on August 26, 2023Burglary: A Carstensen Road man reported that he returned home to find his house burglarized Sept. 2. A glass door leading to the master bedroom was found broken, causing approximately $2,000 worth of damage. Jewelry worth $5,000 was reported stolen.
Stolen
A driver parked on East Parkway reported someone stole three signs, valued at $200, from her car Aug. 28.
On Aug. 31, a Black Birch Lane woman reported that two mink fur coats had been stolen. She accused a real estate agent of the theft. The coats were valued at $10,000.
On Sept. 1, a Seneca Road man reported his air pods were missing and showing a signal that they were in Peekskill. The man said a contractor had been working in his house on a computer around the time the air pods disappeared. Police called the contractor to inquire about the air pods. He said he would look for them and bring them to police headquarters if he found them.
On Sept. 1, a Spencer Place storeowner reported multiple items had been stolen from her store. Stolen items included two pieces of clothing and a cross body bag. They were valued at $1,225.
Identity theft
On Aug. 30, a River Road man reported he received a Verizon bill that stated that three iPhones and multiple phone lines were purchased on an account he did not open.
On Sept. 1, a Christie Place resident reported seeing over $3,400 in unauthorized charges to Verizon on his bank account. He informed the bank of the fraud.
Help
On Aug. 30, County Police reported they were out with an elder caretaker asking for help with her elderly patient from Stratton Road. Patrol arrived on scene and met with multiple Westchester County Police Officers. County Police advised that while on a security detail at the golf course they observed an elderly female screaming and running into traffic. The elderly female advised officers that she believed unknown male parties were chasing her. Shortly thereafter the woman's caretaker arrived to assist. Upon patrol's arrival, all was in good order and the caretaker and the woman's husband stated that all was in good order and that no medical attention was required.
Doorbells
Kids were observed, via a doorbell camera, playing Ding Dong Ditch – by ringing doorbells and running away – on Walworth Avenue Aug. 28.
On Aug. 29, kids were playing Ding Dong Ditch on Edgewood Road. Police canvassed the neighborhood and dispersed the kids.
Dispute
Police stood by while a man and woman who were experiencing a verbal dispute waited for MTA police at the Scarsdale Train Station Aug. 29.
Civil matter
On Sept. 1, police intervened in an ongoing civil dispute between two Griffen Avenue residents over the use of a shared driveway.
Cars and roadways
On Aug. 28, police called a tow for a car stuck on Mamaroneck Road.
On Aug. 28, police cleaned up three boxes of staples spilled on Post Road.
On Aug. 29, a Corell Road resident reported that an unknown individual using his temporary NJ license plate incurred toll fees in New York City earlier this month. The temporary plate has been deleted from the account and is no longer associated with the account.
A Tesla was left at a Scarsdale Avenue gas station for service, but the owner failed to leave keys or contact information on Aug. 29. Police contacted the owner and facilitated communication to get the car serviced.
On Aug. 29, police moved a metal road plate back into position on Popham Road.
On Aug. 30, police checked on a disabled car on Dell Road. The local owner said he had a flat tire and would be returning to repair the tire soon.
A pothole was reported on Mamaroneck Road Aug. 30.
Following a traffic stop on Crane Road for a brake light violation, police issued a 26-year-old New Rochelle driver summonses for unlicensed driving Sept. 1.
On Sept. 1, police removed the license plates of an unregistered car as a result of a traffic stop on Heathcote Road. The car was towed to the owner's Hartsdale residence.
A Wayside Lane branch fell on a parked 2014 Subaru and damaged it Sept. 2. The tree was a Village owned tree.
Police notified a cable company about a fallen wire on Nelson Road Sept. 2.
Village code
On Aug. 29, police dispersed a group of kids from Huntington Avenue after dark.
Police removed illegally posted signs from Bypass and discarded them Aug. 30.
On Aug. 31, police dispersed a group of kids from Drake Road after dark.
On Sept. 1, police notified a Post Road party host that neighbors complained about noise from loud talking.
On Sept. 1, police dispersed a group of kids from Boulevard after dark.
Police removed illegally posted signs from Madison Road and discarded them Sept. 2. Summonses were issued.
On Sept. 2, neighbors complained about noise from a Spier Road gathering. The homeowner said it was music from his daughter's wedding. He promised to lower the volume.
Police advised Brambach Road residents to lower the volume of noise coming from the house Sept. 2.
A band playing at a Lincoln Road house stopped playing after police informed them about noise complaints Sept. 3.
Animals
Police reunited a lost dog found on Heathcote Road with its owner Aug. 30.
On Sept. 3, a caller reported walking her dog in Butler Woods and observed a cage, with a bag inside of it. She stated there appeared to be maggots crawling on the bag. Police investigated and it appeared that someone was using the cage to feed animals.
Lost and found
A debit card found on Fenimore Road Aug. 29 had already been reported stolen and cancelled.
On Aug. 2, a wallet found near Fox Meadow School was returned to police.
Firefighters
On Aug. 28, firefighters assisted at two unrelated car accidents on the Hutchinson River Parkway.
On Aug. 29, a Quentin Road resident with Covid accidentally got locked in the basement while she was isolating. Firefighters used a mask for safety and health reasons and managed to open the door.
On Sept. 1, firefighters were dispatched to Brambach Road a reported kitchen fire. Upon arrival, crews encountered the home's resident on the front porch being attended to by neighbors. The resident stated that the kitchen was on fire. Firefighters entered the structure and observed a smoke condition from an extinguished kitchen fire. Complete extinguishment was confirmed via a thermal imager. All levels of the home were evaluated for carbon monoxide, and zero readings were observed. A cooking pot with smoldering contents was removed from the structure. Positive pressure ventilation was used to eliminate accumulated smoke. The resident stated that herbal materials were left unattended cooking in a pot on the stove with a natural gas burner set to low. The resident was outside the home and was alerted to the fire via an audible exterior fire alarm. The resident shut off the gas range and used a lid to smother the pot's ignited contents. The fire extended to the plastic exterior of the over-the-range microwave. A neighbor used a pull-down kitchen faucet to apply water to the combustible materials. The resident was assessed by SVAC for smoke inhalation and transported to the hospital for further evaluation.
Firefighters stood by for Con Edison at the site of arcing wires on Fairview Road Sept. 1.
This report covering police and fire department activity from Aug. 28 – Sept. 3 has been compiled from official information.

This police report is sponsored by Scarsdale Security who does more than just security. Contact them about remote video for your home or business. Call 914-722-2200 or visit their website.