Police Arrest Driver, Clever Resident Avoids Prize Scam and Magicians Dove Recovered by Firefighters
Thursday, 02 November 2023 13:05
Last Updated: Thursday, 02 November 2023 13:55
Published: Thursday, 02 November 2023 13:05
Traci Dutton Ludwig
Hits: 1359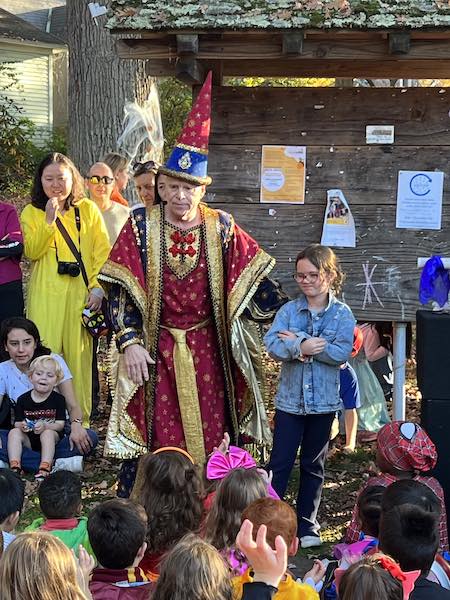 Arrested: After observing a car with a flat tire at Post and Heathcote roads at 8:30 a.m., Oct. 26, police conducted a traffic stop, which resulted in the arrest of the driver – Gyasi N. Cooke, 34, of the Bronx – due to police learning of a bench warrant for the driver's arrest. The warrant was issued by another jurisdiction.
Scam
A Heathcote Road man reported receiving a call claiming he had won a two million dollar prize for paying his energy bill on time Oct. 24. The caller provided information about the man's family members, which he found to be concerning. The caller further stated he would arrive at the man's house on Oct. 5 to drive him to the bank to cash the prize check. The man was afraid the scammer would show up at his house and requested police ridebys.
A Herkimer Road woman received an international call from Iran that played a recorded message stating the woman had an outstanding Amazon account balance Oct. 26.
Identity theft
On Oct. 23, an Olmsted Road woman reported someone fraudulently attempted to open an American Express account in her name. The creditor flagged it as suspicious and did not open the account.
On Oct. 23, a School Lane woman reported a fraudulent credit card was opened in her name.
On Oct. 25, a Brookline Road man report someone fraudulently attempted to open a credit card account in his name. The creditor flagged it as suspicious and did not open the account.
Attempted burglary
A Quaker Center resident reported it appeared that someone attempted to enter his house through a broken living room window Oct. 28. The incident occurred while the resident was out for dinner.
Disputes
A driver reported a man, who is a friend of hers, was refusing to leave her car on East Parkway Oct. 23. They had gone to a restaurant and she was providing him with transportation home, but she stopped when he allegedly became angry and began hitting the dashboard and yelling at her. She pulled over and told him to get out of her car, she said. When police arrived, the man got out of the car. The driver confirmed there was no damage to her dashboard.
Police mediated a dispute between residents with a shared Brewster Road driveway Oct. 29. They were advised by police that the matter was civil in nature.
Suspicious
A Fox Meadow Road building manager reported a red Toyota drove into the parking lot, circled the building and a two Asian woman in their 30s, who were inside the car, took photos of the building.
A man wearing what appeared to be a Con Edison vest and employee lanyard rang a Brewster Road woman's doorbell and asked to read the meter. The woman did not open the door due to not receiving advance notification from Con Edison. She checked the man's credentials with Con Edison, and the company allegedly had no records of him being employed with Con Edison. He was described as a white man in his late 40s, approximately 5'10" to 6' tall, around 250 pounds and wearing a blue T-shirt and blue baseball cap.
Two young Hispanic men in a small dark colored sedan asked a Murray Hill Road resident if there were any Halloween parties on the street Oct. 26. The resident found it suspicious and called police. The men left in their car.
On Oct. 26, a skinny Asian teenager, approximately 16-21 years old, carrying a yellow notebook knocked on the door of a Brite Avenue house and asked the resident if the household celebrated Christmas. The resident found it suspicious and called police.
Lights were on in a Meadow Road house, and neighbors were concerned it might be because of squatters Oct. 27. Police checked the house and found no evidence of squatters.
Bicyclist hit
On Oct. 24, a child riding a bicycle was struck by a car at Mamaroneck and Catherine roads. The child was able to walk to an ambulance for treatment of minor injuries.
Cars and roadways
Police reported low-hanging wires to Verizon on Boulevard Oct. 24.
On Oct. 25, police removed a road closure sign that had been put in place too early, prior to work being actively performed, on Morris Lane.
Police called a tow for a disabled car on Post Road Oct. 26.
A tree fell on North Chase Road, struck wires and damaged a fence Oct. 26.
Construction equipment was making it hard for a Hampton Road resident to get in and out of her driveway Oct. 27. Police asked workers to move the equipment as a courtesy.
Police advised a woman walking on Post Road in skimpy ballet flats to walk on the sidewalk for safety Oct. 27.
Police issued summonses for parking violations on Potter and Lee roads Oct. 28.
Police conducted a traffic stop for speeding on Post Road shortly before midnight Oct 28 into 29. Before police could finish writing the summonses, the 32-year-old White Plains driver sped off. This resulted in additional summonses being issued.
Police helped truck driver with directions on Mamaroneck Road Oct. 29.
Five car accidents were officially reported in the Village this week.
Animals
Highway department workers were notified about a dead raccoon in the roadway on Mamaroneck Road Oct. 25.
Firefighters helped assist a magician's dove from a tree after a caller reported the bird was stuck on a sign in the tree Oct. 27. On arrival units found a large group in the park with a magician. The magician's dove was startled and flew up onto a suspended sign located approximately 25' in the trees. FD units raised the ladder and were able to retrieve the dove from the tree. The dove was returned to the magician.
Village code
Police asked a Carthage Road resident, a Boulevard resident and a Shaw Road resident to lower the volume of music after neighbors complained of noise Oct. 27. The incidents were unrelated.
Police removed illegally posted advertising signs on East Parkway, Popham Road and Taunton Road Oct. 28.
On Oct. 28, police dispersed a large group of kids blocking sidewalks in the area of Greenacres and Walworth avenues.
Police asked a Penn Blvd. resident to lower the volume of music after neighbors complained of noise Oct. 29.
Lost and found
Credit cards and an ID were found on East Parkway Oct. 23.
A Boulevard resident reported lost license plates Oct. 23.
A passerby found a credit card in the Village and gave it to police Oct. 24.
Another passerby found a credit card on Kingston Road and gave it to police Oct. 24. The card had already been cancelled.
Firefighters
On Oct. 23, a driver noticed his car was smoking on Reimer Road. He exited the car and called for help. Firefighters extinguished a fire under the hood. The damaged car was towed from the scene.
On Oct. 24, firefighters stood by for Con Edison at the site of a gas leak on Heathcote
Road.
On Oct. 24, firefighters ventilated a Kensington Road house after a gas fireplace was leaking.
A child was stuck in a car seat due to a locked up seat belt at the Scarsdale library Oct. 25. Firefighters cut the seat belt to release the child.
On Oct. 26, firefighters stood by for Con Edison at the site of a gas leak from an Edgewood Road stove.
A caller reported three teens – two boys and one girl, all wearing black – started a fire at Greendale and Eton roads, then stomped it out and fled the location Oct. 27. Firefighters went to the scene and confirmed the fire was out. Teens should be cautioned that starting fires is illegal and dangerous.
On Oct. 28, firefighters helped retrieve a fallen cell phone from a storm drain on Palmer Avenue.
On Oct. 28, firefighters moved a fallen wire from Crane Road.
On Oct. 28, firefighters assisted a Normandy Lane resident with a water leak into a light fixture and alarm box. They advised the homeowner to call a plumber, an alarm tech and an electrician.
On Oct. 29, firefighters assisted at a car accident on the Hutchinson River Parkway.
This report covering police and fire department activity from Oct. 23-29 has been compiled from official information.

This police report is sponsored by Scarsdale Security who does more than just security. Contact them about remote video for your home or business. Call 914-722-2200 or visit their website.