Police Report: Catalytic Converters Stolen From Three Cars in Village, Signs Removed and Several Suspicious Incidents
Thursday, 16 November 2023 11:13
Last Updated: Thursday, 16 November 2023 11:29
Published: Thursday, 16 November 2023 11:13
Joanne Wallenstein
Hits: 1022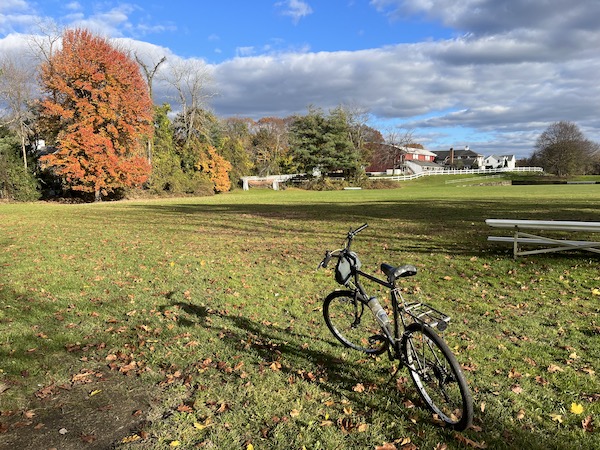 Catalytic converter thefts: On Nov. 11, a Clarence Road resident reported his catalytic converter was stolen from his car overnight.

On Nov. 11, a Sunset Driver resident reported his catalytic converter was stolen from his 2013 Volkswagen Jetta overnight.

Additionally, on Nov. 11, a Bell Road resident reported his catalytic converter was stolen from his 2008 Hyundai overnight.

Usually, these incidents were discovered when drivers started their cars and heard loud noises coming from their exhausts. A catalytic converter typically costs around $2,000 to $3,000, according to the police reports.
Stolen
On Nov. 8, a Butler Road resident reported that a check from her mail was missing. She stated that a check from a tenant in the city is sent via certified mail to her home once a month. She indicated that this month the envelope containing the check
was not attached to the certified mail certificate, which was in fact received. She was unsure if the mail was taken from her mailbox or from the post office.

A Norma Place man reported his wallet was stolen from his car while at a gym in Greenburgh, and his credit cards were being used. Police advised him to contact Greenburgh police.

On Nov. 10, a man said he observed someone stealing his car's license plate in the library parking lot on Nov. 8.
Car break-ins
On Nov. 11, a Lawrence Road man reported he found the trunks open on two parked cars in his driveway. Nothing was reported stolen.
Graffiti
Graffiti was observed on the side of a storage shed at Greenacres Avenue School Nov. 9. It appeared to have no significance or meaning. Custodians started to remove it as soon as it was discovered.
Identity theft
On Nov. 12, a Hamilton Road woman reported that someone opened a fraudulent credit card account in her name and made fraudulent transactions. The suspect also requested the woman's mail to be held without her permission.
Civil matter
On Nov. 7, a Coralyn Road resident reported that a friend sold her a 2012 Volkswagen Tiguan for $6,000.00. The resident advised that at the time the friend did not have the vehicle's title available to properly transfer possession of the car. The resident stated that she had possession of the car for three months and was paying her friend $140.00 a month for car insurance. The resident reported that on Nov. 6, she terminated the sales agreement with her friend for failure to produce the vehicle's title to complete the transaction. The resident advised that her friend agreed on terminating the sale. The resident requested only $4,000 back as she used the car for three months. The friend sent the requested funds via Venmo, and both parties agreed for the vehicle to dropped off at an unspecified location in Yonkers to complete the refund. The resident advised that her friend was "upset," relative to several alleged email exchanges. The friend allegedly communicated that she felt the resident to be a "terrible person," and may "sue her civilly" relative to this matter. The resident advised that she has known her friend for over 10 years, and is not in fear of her safety with respect to elevating this complaint. The resident advised that she told her friend to cease contact with her via email and blocked her friend via cell phone and email accounts prior to patrol's arrival. Police advised it was a civil matter.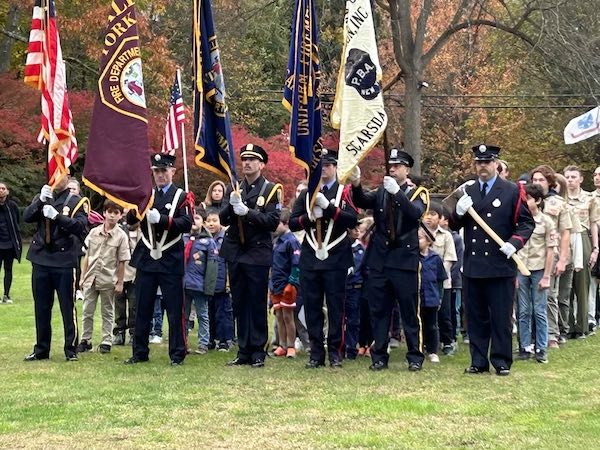 Scarsdale Veterans from the American Legioun Post #52 along with girl scouts, boy scouts and Village officials celebrated Veterans Day on Friday Novemb er 10, 2023. Photo Credit Moira Crouch.

Deaths
An elderly Saxon Woods Road man died at his residence Nov. 8.

An elderly Dunham Road man died at home Nov. 12.
Accident
A job foreman on Heathcote Road advised that a car ran over one of his worker's feet Nov. 9.

Two car accidents were officially reported in the Village this week.
Cars and roadways
Police removed a bag of trash from Mamaroneck Road Nov. 6.

An Amazon truck got stuck on a Heathcote Road lawn Nov. 6. A tow truck arrived and assisted with removing the truck.

On Nov. 7, police ticketed cars parked on Brewster Road lawns after a resident complained.

Police controlled traffic on Heathcote Road so Con Edison could check for gas in manholes Nov. 8.

On Nov. 10, police observed a Silverado truck run a red light on Mamaroneck Road. They conducted a traffic stop and realized the driver and truck had numerous violations including improper plates and a lack of registration and insurance. The plates were removed. The truck was towed. The 30-year-old White Plains driver was issued summonses.
Dispute
An East Parkway business owner reported a dispute with a man who became argumentative with staff Nov. 7. The man alleged he was checking on his job application with the business and then asked for free soup, which was denied. The altercation was described as being verbal in nature. Police dispersed the man without incident.
Suspicious
On Nov. 6, a Lebanon Road resident reported that a young "teenaged white or Hispanic male" wearing a gray hoodie with a white ski mask rang the doorbell three times between 3:30 pm and 6 pm and gave the middle finger to the doorbell camera the last time. Patrol conducted an exterior check of the residence. All appeared secure and in good order. The resident was instructed to contact police if the individual returned.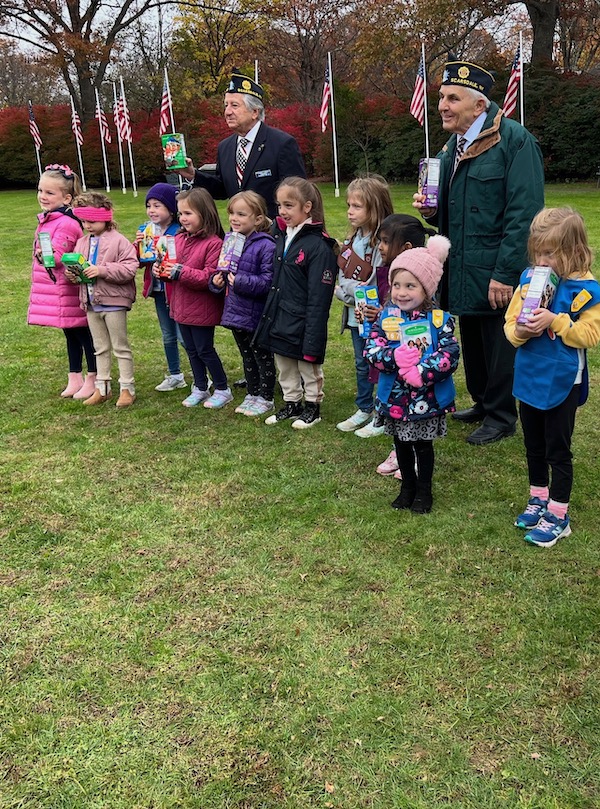 Dominic Morelli, Commander, the American Legion Post # 52 and Dennis Wasiczko with the girl scouts. Photo credit: Moira Crouch

On Nov. 8, a Walworth Avenue caller reported an individual knocked on her door at 2:30 pm and again at 5 pm, and she felt this was suspicious. The person that knocked on the door was described as a male, wearing a light up necklace, a sling type bag over his shoulder and a long jacket.

On Nov. 9, a Heathcote Road man advised that he was walking his dog along Heathcote Road when he observed a woman throw a bag on his property. It contained cleaning supplies. While police were on location, one of the landscapers servicing the residence informed patrol that the bag of cleaning supplies belonged to him, and he had asked his wife to drop them off.

A Marjory Lane woman reported someone rang her doorbell and ran off Nov. 11.

On Nov. 11, a Seneca Road woman reported a man walked up to her front door, looked around and then walked away. She felt this was suspicious. The man was described as wearing a gray zip-up sweatshirt.

On Nov. 12, a Roosevelt Place woman reported a suspicious red car with Florida license plates parked in front of her house. She said she observed the car for approximately 30 minutes. She also observed a man, described as black and wearing one latex glove walking toward the vehicle from the school area. She said he appeared to be "stalling to buy time while he looked at" her vehicles in her driveway. He was wearing a light colored, possibly gray, sweatshirt, with jeans and high top sneakers. He eventually drove away. She stated he did not appear to have any legitimate purpose and inquired about larceny of vehicles. Police advised her to lock her vehicles and take keys inside.
Concerns
On Nov. 9, a Heathcote Road caller reported that "planes flying over her house every minute for an extended period," which she found suspicious. Upon arrival, patrol remained on scene in front of the caller's residence for ten minutes and did not hear or see an amount of air traffic that would be considered unusual or suspicious.
Village code
Police removed and discarded illegally posted signs from Post Road, East Parkway, and Spencer Place Nov. 6.

On Nov. 8, a lost cat sign was observed on Palmer Avenue. Patrol removed the lost cat sign and was asked by several people why it was being removed. Patrol educated them on the Village code of "no posting on public property."

A caller reported removing posters from East Parkway and the train station Nov. 8. He said people photographed him removing the posters, and he felt this was suspicious and threatening.

A caller was advised of "his image" being posted on Depot Place Nov. 9. The sign was removed and discarded. Others similar signs were also observed and removed.

A large leaf pile was obstructing traffic at Mamaroneck and Cooper roads Nov. 9. The leaves were scheduled to be removed, and police issued a summons to the homeowner.

Police dispersed approximately 100 kids from a Mamaroneck Road baseball field Nov. 10.

On Nov. 11, police issued summonses for gas-blower use in violation of Village code on Griffen and Gran Park avenues.

A large pile of leaves was reported on Rock Creek Lane Nov. 12.
Lost and found
An Ardmore Road resident reported losing a license plate from his car Nov. 6.

On Nov. 7, police removed a lost "e-collar remote" from a telephone pole on Stratton Road and vouchered it for safekeeping.

A youth scooter was found on Edgewood Road while police were investigating a report of kids ringing doorbells and running away Nov. 9. The scooter was taken to headquarters and vouchered for safekeeping.
Firefighters
On Nov. 7, water from a broken main was leaking into a Church Lane South basement. Firefighters assisted and stood by for water department personnel.

On Nov. 8, firefighters assisted Larchmont firefighters with a structure fire in Larchmont.

A worker fell from scaffolding and was suspended in safety equipment above decking while working on a roadway structure on the Taconic State Parkway Nov. 8. Firefighters assisted other agencies and emergency medical personnel.

On Nov. 8, firefighters helped Con Edison check houses on Heathcote Road and Morris Lane for gas, following a gas leak at the street.

On Nov. 8, firefighters assisted Fairview firefighters with a structure fire in Fairview.

On Nov. 9, firefighters assisted with a car accident on the Bronx River Parkway.

Propane was leaking from an underground tank near a Butler Road pool Nov. 9. Firefighters assisted technicians and stood by for safety.

On Nov. 12, firefighters were called to assist Fairview firefighters with a reported "forklift on fire inside BJ's Wholesale Club." En route, Fairview command updated that the fire was extinguished, and mutual aid was cancelled.

On Nov. 12, firefighters assisted with a car accident on the Hutchinson River Parkway.

On Nov. 12, firefighters stood by for Con Edison at the site of a burning odor coming from a Cayuga Road electrical box. FD units responded to an inside odor of burning in the garage of a private dwelling. The panel feed from the street was warm, upwards of 150 degrees as per the thermal imager. A Con Edison technician pulled the meter, tightened all the connections in the meter and panel. Power was restored, and the feed appeared to not heat back up. The resident was advised to have an electrician service the panel.
This report covering police and fire department activity from Nov. 6-12 has been compiled from official information.

(Photo Credit: Boulder Brook Field by Jon Mark)


This police report is sponsored by Scarsdale Security who does more than just security. Contact them about remote video for your home or business. Call 914-722-2200 or visit their website.