Police Intervene in Incident with Unruly Hair Salon Customer
Wednesday, 05 June 2019 10:16
Last Updated: Wednesday, 05 June 2019 10:17
Published: Wednesday, 05 June 2019 10:16
Traci Dutton Ludwig
Hits: 3596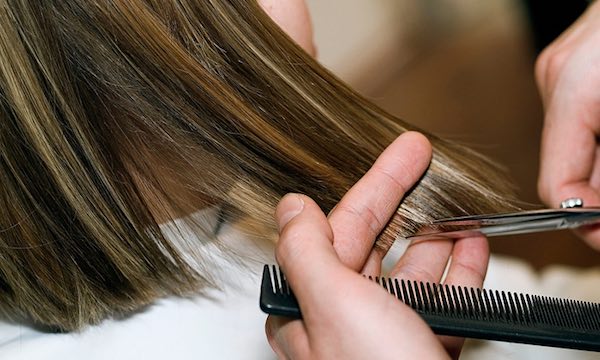 Hair salon
A Christie Place salon owner called police because of a customer issue June 1. The customer allegedly took a pair of scissors out of the stylist's hands while getting a haircut and started cutting her own hair. The customer claimed the stylist had cut her, and the stylist said this was not true. That is when the customer got upset and grabbed the scissors. Salon employees told the customer to put the scissors down, or police would be called. Police arrived and saw the customer holding the scissors. At that time, the customer released the scissors and then picked them up again. Police removed the scissors from the customer's hands and asked her to get out of the chair. She refused and started blow-drying her hair. Police unplugged the dryer and told the customer she was not welcome in the salon, as per the owner. Police escorted her outside. She refused to provide her ID or name when asked by police. She said she lived in the city and took the train there. Police obtained her name and phone number from an employee. When she left the scene, she got her car from Christie Place garage and drove away.
Stolen
On May 27, a Mercer Court resident reported his blue and silver Trek bicycle had been stolen from the bike rack on East Parkway May 26. A piece of the bicycle lock was found on the ground where the bike had been.

On May 28, a Walworth Ave. woman reported someone entered her parked car overnight on May 25/26 and stole a "Dash Cam."
Identity theft
On May 29, a Penn Boulevard woman reported an unknown person had obtained information about her bank account with HSBC through a scam call.
Criminal mischief
A Tunstall Road resident reported her 2018 Acura was damaged while parked in front of her house June 2. No other information was provided.
Firearm
While cleaning out a Brookline Road house, a woman found an old shotgun that had belonged to her father. She brought it to police for safe disposal since she had no use for it May 30.
Assistance
A man was reported to be lying motionless in grass at Chase and Crane roads June 1. Police recognized the man as a Central Taxi driver, who apparently fell asleep while resting on a break. The man woke up when police said his name. He refused medical attention.
Prank call
Police received a false report by a prank caller stating to be the nephew of an Old Lyme Road resident May 29. The caller said people were on his uncle's property and police should check it out. The Old Lyme Road homeowner said he does not have a nephew and no one had been at his house that day.
Hole
A Fox Meadow Road resident reported a small hole was drilled into a side door of his house June 2. Police examined the hole and determined it had been made by carpenter bees.
Cars and roadways
Police helped a woman cross Weaver Street May 28 and May 30.

The highway department was notified about overgrown tree foliage obstructing a speed measuring sign and its solar panel on Fenimore Road May 28.

A caller complained of congestion on Burgess Road due to parked cars May 28. Police asked drivers to relocate their cars to better support traffic flow.

Police placed a traffic cone over a broken water cap on Weaver Street May 29. The highway department was notified for repair.

Police taped and notified Verizon about a low-hanging wire on Mamaroneck Road and Lenox Place May 29.

Police notified highway workers about a large tree branch on Heathcote Road, for purposes of removal, May 30.

Police removed a branch from Saxon Woods Road May 31.

Police called a tow for a disabled car on Fenimore Road and Brite Avenue May 31.

A driver locked his keys inside his car on Bradford Road June 1. Police called a roadside assistance vehicle to resolve the matter and open the car's door.
Civil matter
A Bell Road resident called police and raised the issue of an ongoing dispute with a neighbor over street parking June 1. The resident stated the neighbor placed a note on his girlfriend's legally parked car, asking her to move it. The neighbor said the resident often parks a truck in front of her walkway, making it difficult for her to get in and out of her house. Police advised both parties to be considerate of each other's needs and attempt to get along or ignore each other.
Animals
A dead white-colored cat was found near Post and Farley roads May 31. Police placed it in a box and notified the sanitation department for removal.
A woman left her small dog in her parked car, with the window cracked open, at the Scarsdale pool June 2. Police called her, using her car's license plate number, over the pool's public address system. Police advised her of the dangers of leaving a dog in a parked car during summer weather, even for short period of time. She said she understood. The dog did not appear to be in distress. The woman collected her children from the pool and left.
Village code
Police dispersed a group of kids from Greenacres School grounds, on Huntington Avenue, after dark on May 31.

On June 1, around 10 p.m., a group of people entered a Whig Road backyard to distribute flyers about a missing rescue dog to a group of adults socializing outdoors at the Whig Road house. The Whig Road homeowner called police. Patrol called the contact number on the flyer and met up with the rescue dog group on Berwick Road. They said they were looking for a dog that went missing on Berwick Road about three hours ago. Patrol admonished them for soliciting at a late hour and walking into a resident's backyard without permission. The group of people apologized.

Police advised residents at Richbell and Lakin roads, as well as Benedict and Spier roads, about "loud music" complaints June 1. Each resident turned down the music. The incidents were not related.

An Ogden Road man was running his snow blower to burn off excess fuel, and neighbor complained of noise at 9 a.m., June 2. Police advised the man about village code prohibiting the use of power equipment on the weekend mornings.
Lost and found
A passerby found a driver's license on Garth Road and gave it to police May 29. It belonged to an Ardsley person. Attempts to reach the owner were unsuccessful. Police vouchered it for safekeeping.

On May 30, a passerby brought a wallet, found on Fox Meadow Road, to headquarters May 31. Police reached out to the owner, and the owner picked up the wallet from headquarters. She said nothing was missing.
Firefighters
According to Fire Chief James Seymour, firefighters responded to 28 incidents during the reporting period. He shared details of the following incidents.

On May 28, Con Edison was called to investigate a gas leak at a house on Morris Lane.

On May 29, firefighters assisted with a car accident at Crane Road and Church Lane.

A child got stuck on top of a playground structure at a Wayside Lane playground May 30. Firefighters used the Little Giant ladder to help the child get down.

On June 1, firefighters assisted with a car accident on the Bronx River Parkway.
This report covering police and fire department activity from May 28-June 2 has been compiled from official information.
Police Issue 155 Summonses to Drivers
The Scarsdale Police Department recently participated in a two week initiative aimed at getting drivers to buckle up. The department joined a statewide effort targeting drivers who operate their vehicles without wearing seatbelts and who fail to buckle in child passengers.
Scarsdale Police Traffic Safety Campaign results: 155 summonses issued.
During the enforcement wave officers were looking for and ticketing adult operators who put themselves and children at risk by not buckling up everyone in the vehicle.
The Scarsdale Police Department issued 155 summonses to motorists in the traffic safety campaign that occurred between May 20, 2019 and June 2, 2019 as part of the Governor's Traffic Safety Committee, Buckle Up New York program.
22 motorists were cited for not wearing seatbelts and an additional 1 was cited for not having their child properly secured by a seatbelt.
Among other violations, 5 were issued for using a cell phone while driving, 25 were issued for disobeying traffic controls, and 30 speeding violations were issued.

This police report is sponsored by Scarsdale Security who does more than just security. Contact them about remote video for your home or business. Call 914-722-2200 or visit their website.