Police Catch Suspect in More than a Dozen Car Break-ins
Wednesday, 26 June 2019 22:07
Last Updated: Wednesday, 26 June 2019 22:22
Published: Wednesday, 26 June 2019 22:07
Traci Dutton Ludwig
Hits: 2772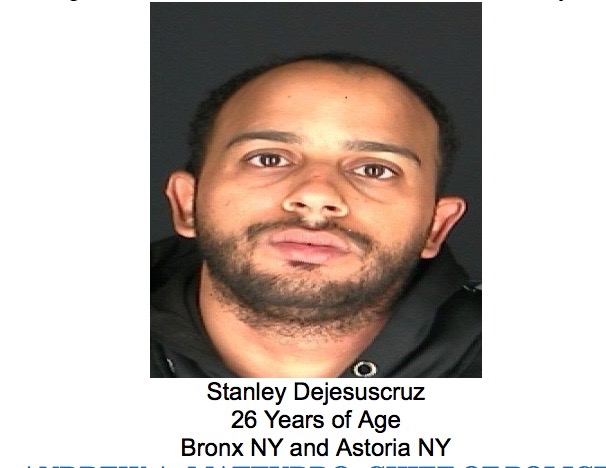 Man caught breaking into cars: On June 19, police arrested Stanley Dejesus-Cruz, 25, of Astoria, after a witness saw him enter a 2013 Dodge Grand Caravan parked in a Pinecrest Road driveway at approximately 6:50 a.m. that day. The witness saw Dejesus-Cruz emerge from the car approximately one minute later holding a white bag in his arm. At that time, Dejesus-Cruz attempted to enter another car parked in a Pinecrest Road driveway.

In doing so, an antenna was snapped of one of the cars and used to attempt to gain entry to the car through the passenger door. Police were dispatched and encountered the suspect standing on Pinecrest Road. Dejesus-Cruz told police he had been visiting family and was looking for his car and his girlfriend. He was unable to provide a location or address for the supposed "family member" whom he said he had visited. Upon searching Dejesus-Cruz, police found two drivers' licenses from residents of Scarsdale in Dejesus-Cruz's pockets. Upon witness identification that Dejesus-Cruz was the person seen entering the Pinecrest Road Dodge, police arrested Dejesus-Cruz. Inside the patrol car, Dejesus-Cruz began shouting profanities, kicking the seats and threatening violence against the officers. At headquarters, Dejesus-Cruz's was booked, and his arrest was processed. He was arraigned at Scarsdale Village Justice Court and remanded to Westchester County Jail. He was charged with criminal mischief and petit larceny. Patrol recovered items from Dejesus-Cruz and showed them to Scarsdale residents who reported thefts from vehicles during the overnight period of June18-19. Some residents identified items belonging to them, which linked Dejesus-Cruz to those crimes. Police continue to investigate Dejesus-Cruz's involvement with other car break-ins reported on June 19. In total, 13 car break-ins were reported to have occurred over June 18-19.
Car break-ins
A Taunton Road man reported someone entered his unlocked 2012 Mercedes Benz, tossed items in the interior and stole a roll of quarters June 19.
On July 19, a Pinecrest Road resident reported two parked cars had been broken into at her house. A roll of quarters worth approximately $6 was stolen.
On June 19, a South Church Lane woman reported multiple items had been stolen from her parked car overnight on Southwoods Lane. Stolen items included bags of clothing, a key fob, a raincoat and $35 cash.
On June 19, a Tunstall Road resident reported her car had been broken into overnight.
On June 19, a School Lane resident reported change had been from stolen from her parked car overnight. She did not request a formal report due to the minimal loss incurred.
On June 19, an East Taunton Road resident reported an overnight theft of items from her parked car.
On June 19, an Overhill Road resident reported an overnight theft of items from her parked car.
On June 19, a Lockwood Road resident reported an overnight theft of items from her parked car.
On June 19, an Edgewood Road resident reported an overnight theft of a Bose Bluetooth speaker from her parked car.
On June 19, one Southwoods Lane resident reported her GMC had been broken into and papers were found scattered about. Her EZ was also missing.
Also on June 19, another Southwoods Lane resident reported her Jeep Grand Cherokee had been broken into overnight, and an iPhone had been left behind.

Later that day, on June 19, a third Southwoods Lane resident reported her car had been entered overnight, and items were stolen.
On June 20, a Lockwood Road resident reported an unlocked car parked in his driveway had been entered and tossed June 19.
Burglary
A Tisdale Road resident filed a burglary report June 20. He said he returned home around midnight June 19 and left his Microsoft Surface Pro inside his backpack in the mudroom of his house. He locked his garage door but did not activate his alarm. The computer equipment was in good working order at that time. Later, police recovered the resident's missing Surface Pro with a cracked screen. It was determined that someone opened the window of his garage and entered his house this way in order to steal the equipment. Detectives are following up.
Theft
On June 24, a woman called police alleging that $250 cash and a bankcard had been stolen out of brown paper bag she left inside a Scarsdale Avenue business around 2 a.m., June 24. The bag was returned to her by a store employee, but it was missing the cash and bankcard when she picked it up. Upon confronting the employee, he tried to give the woman $199 from the cash register to make up for the missing money. The woman became suspicious and called police. Upon investigation, police questioned the employee. He eventually admitted to taking the money and the bankcard, which he claimed he cut up due to it being "lost." The full $250 was returned to the woman.
Arrested
On June 22, police were called to a Butler Road house around 4 a.m. because of a young man reportedly banging on a resident's front door. There, police encountered Richard Samuel Levy, 19, of Greenwich, CT, banging on the door and trying to get in the house. He told police he had taken an Uber from New York City to Scarsdale in order to stay at a friend's house. However, he could not provide an address for the alleged house belonging to his friend. He said he thought the house he was attempting to enter belonged to his friend. The homeowner said the young man did not have permission to be on the property. Levy was arrested and charged with trespassing and disorderly conduct. He was booked and processed at headquarters and released on his own recognizance with a June 26 appearance ticket for Scarsdale Village Justice Court.
ID theft
A Torrence Place resident reported a fraudulent credit card account was opened in his name June 17.
A Haverford Avenue man reported giving his personal information and Social Security number to an individual, alleging to be a Social Security representative, over the phone June 18. The man said he now believed the call was a scam. Police advised him to report the matter to the three credit monitoring bureaus.
Criminal mischief
On June 23, a caller reported a highway sign was in the roadway on Carstensen Lane. Police went to the scene and observed a 30 mph speed limit sign, removed from its post and defaced with graffiti. The graffiti attempted to change the speed limit to read 80 mph, instead of 30 mph. Police could not determine the original location of the sign.
Dispute
An employee of a package delivery serviced based in Port Chester was training a new employee for the job, and the new employee was allegedly displaying a bad attitude on Montrose Road June 19. The employee called his boss and reported the matter, stating he did not want to work with the new employee. At that time, police were notified, and an Uber was called for the new employee.
A driver reported a dispute with another driver over an Overhill Road parking spot June 20. The second driver left the scene when the first driver called police.
Assistance
A man was reported to be "passed out" on the pedestrian bridge at the Scarsdale Train Station at 2 p.m., June 18. Police roused the man. He refused medical assistance and went home in a taxi.
Broken glass
A Meadow Road resident reported she returned home to find a pane of glass in a storm door to be broken June 19. There were a few shards of broken glass, but otherwise the glass had been cleaned up. Police advised the resident to check with her landscaping company to see if workers accidentally damaged the door. There were no signs of attempted forced entry.
Photos
An unknown man was reported to be taking pictures of a Fox Meadow Road house without the owner's permission, according to the owner's cleaning ladies June 20. The cleaning ladies said the man rang the doorbell, but they did not answer the door. The cleaning ladies photographed the man. He was described in the report as a white man, in his 60s, approximately 6 feet tall with long white hair and a manicured white beard and wearing a salmon-colored polo shirt and khaki pants.
Drunken traveler
An intoxicated man was reported to be unresponsive in a Metro-North train car pulling into Scarsdale train station around 8:27 p.m., June 20. Police notified and stood by for MTA police.
Scofflaw
On June 20, police towed a 2016 Mazda from Christie Place to the impound lot due to the owner owing $925 in unpaid parking tickets.
Pedestrian hit
On June 20, around 6:30 p.m., a 66-year-old Scarsdale driver hit a pedestrian after coming to a stop at a stop sign at Autenreith and Popham roads. The driver said he did not see the 44-year-old male pedestrian, from Scarsdale, as the pedestrian was crossing the street. The car made impact with the pedestrian's wrist. The pedestrian refused medical treatment.
Cars and roadways
On June 17,19 20, 21 and 22, police helped a pedestrian cross Weaver Street.
Police received a report of a car full of screaming youths on Boulevard and Johnson Road June 17. Police arrived on scene and encountered three girls standing outside a car talking in loud tones. They told police they were afraid of several bugs in the car. Police inspected the interior of the car and rolled down the windows to alleviate the problem.
Police notified the department of transportation about a malfunctioning traffic light at Wynmor Road June 18.
Police removed a fallen branch from Nelson Road and notified the highway department about a fallen tree on the street June 19.
Police issued a parking summons to the owner of a car parked across a Montrose Road driveway June 20.
Patrol notified the highway department to remove debris from Mamaroneck Road June 20.
On June 21, police removed a fallen branch from Fountain Terrace.
Nine car accidents were reported in the village during the reporting period.
Village code
Police issued a summons to a landscaper using a gas-powered leaf blower June 17.
Neighbors complained about excessive barking from a Meadow Road dog June 19.
Police informed the dog's owner, who apologized and brought the dog inside the house.
Police told a group of kids to keep the noise down during a supervised youth party on Paddington Road June 21.
Police stood by until uninvited guests dispersed from a loud party on Ogden Road June 21.
Police asked a party host to lower the volume of music at a Sherbrooke Road residence after neighbors complained of noise June 22.
Police dispersed noisy kids playing with flashlights on Boulevard after dark June 22.
Police advised three kids with fishing poles that they were not allowed to fish in Olmsted Pond June 23.
Civil matter
Police spoke with Quaker Ridge parties involved in an eviction matter to mediate the situation and help it progress smoothly June 18.
Animals
A ground hog was stuck in netting around batting cages on Mamaroneck Road June 18. Patrol managed to free the animal, and it ran off toward the woods.
Police contacted the sanitation department to remove a dead raccoon from a Birchall Drive property June 19.
A friendly, older brown Lab was found loose on Walworth Avenue June 22. New Rochelle Humane Society picked up the dog, and a village code violation summons was issued for the owner, pending pickup.
Lost and found
A Fenimore Road man reported losing his wallet in an Uber after the Uber dropped him off in White Plains June 20. The man contacted Uber, and a representative said he would contact the driver within 24 hours. Police advised the man to monitor his credit accounts.
A passerby found a key on Brite Avenue and gave it to police June 20.
A Chase Road man lost his wallet and believes it fell into a sewer on Spencer Place June 20.
An abandoned bag was found at Village Hall June 19 and given to police.
Firefighters
According to Scarsdale Fire Chief James Seymour, firefighters responded to 34 incidents during the reporting period. Seymour shared the following details.
On June 19, firefighters assisted at a rollover car accident on the Bronx River Parkway.
Elevated levels of carbon monoxide were detected in a Park Road house June 19. Firefighters ventilated the house and determined the source was power tools being used inside the house. Workers were advised to not use gas-powered saws inside structures.
On June 20, firefighters assisted at a rollover car accident on the Hutchinson River Parkway.
On June 20, firefighters responded to a Haverford Avenue house for a reported odor of electrical burning. They found a problem with the first-floor air conditioning thermostat and A/C unit in the attic. The unit's breaker was turned off, and firefighters advised the homeowner to call for service.
On June 21, a tree fell onto a Cushman Road pool heater, crushing the unit and causing a slight gas leak. Power and gas were shut off to the unit. Firefighters advised the homeowner to contact a pool contractor.
On June 21, firefighters were called to a Brookby Road house for a reported drone that caught fire inside the house but was now outside and extinguished. Upon firefighters' arrival, the homeowner reported she was charging the drone, and it caught fire. Firefighters used a fan to ventilate the house.
This report covering police and fire department activity from June 17-22 has been compiled from official information.

This police report is sponsored by Scarsdale Security who does more than just security. Contact them about remote video for your home or business. Call 914-722-2200 or visit their website.