Police Report: SVAC, Police and Firefighters Free Man Trapped in Car Using Jaws of Life
Wednesday, 28 August 2019 11:33
Last Updated: Thursday, 29 August 2019 18:25
Published: Wednesday, 28 August 2019 11:33
Joanne Wallenstein
Hits: 2531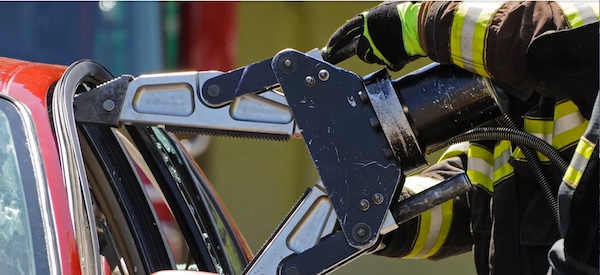 Identity theft: A Tisdale Road woman reported two fraudulent checks totaling $2,630 were cashed against her bank account Aug. 19.
On Aug. 20, a Cohawney Road man reported someone was paying off a credit card using over $15,000 in funds from the man's TD Bank account, without his permission. So far, four fraudulent transactions have been identified.
On Aug. 25, a Heathcote Road man reported fraudulent checks amounting to $15,279.21were generated and cashed from his business checking account. The checks contained forged signatures.
Prescription drug fraud
On Aug. 23, a Valley Road woman reported someone was using her name and insurance information in an attempt to fill multiple fraudulent prescriptions for controlled substance narcotics at various local pharmacies without her permission – none of which were successful.
Parking meters
The parking enforcement officer alerted headquarters that two parking meters on East Parkway were broken and money canisters were vulnerable Aug. 23. Police secured the money canisters, pending repair.
Neighbors
On Aug. 19, a Brambach Road woman reported she had video proving her neighbors were on her property for an extended period of time while she was away on Aug. 3, without her consent. The neighbors said they entered the woman's property to trim their bushes from a more accessible vantage point. Patrol advised them that the woman did not want them on her property and they should refrain from trimming that side of their bushes without permission in the future.
On Aug. 21, a Brite Avenue resident complained about his neighbor trimming hedges on his property. Police advised him it was a civil matter.
Assistance
Police helped two truck drivers resolve a dispute over parking in a loading zone on Harwood Court Aug. 20.
Police helped a Colvin Road woman work out transportation arrangements with help from the woman's two adult daughters Aug. 20.
Cars and Roadways
Police closed the intersection of Potter Road and Boulevard due to a fallen tree limb and arcing wires while waiting for Con Edison Aug. 19. They controlled traffic and set up flares for safety.
A tree fell on a Springdale Road house Aug. 19. No one was injured, and no structural damage occurred.
Police placed temporary stop signs in the intersection of Post Road and Huntington Avenue while the traffic light was out Aug. 19.
The highway department set up temporary lights at the intersection of Post Road and Boulevard during a power outage Aug. 19.
A male walking on Mamaroneck Road and Griffen Avenue at 1:30 a.m., Aug. 20, said he was out playing Pokémon. Police advised him to stay off the roadway for safety.
Police closed a section of Drake Road due to a fallen branch on wires Aug. 20.
Patrol stood by while a passerby changed a woman's flat tire at Crossway and Heathcote Road Aug. 20.
Police notified the highway department about a loose manhole cover on Murray Hill Road Aug. 20.
Before police could tow a car with scofflaw status from the Christie Place garage to the impound lot, the owner arrived on scene and was instructed to immediately resolve his unpaid parking tickets with Village Hall Aug. 21.
Police safely escorted a woman across Weaver Street Aug. 21.
A manhole cover was out of place on Morris Lane Aug. 21. Police moved it back in place.
An electrical subcontractor was working to replace pipeline and electrical wires on Sycamore Road Aug. 21; however there was no permit on file with Village Hall. Therefore, police shut down the work site.
Con Edison was notified about low-hanging wires on Walworth Avenue Aug. 22 and 23.
A Meadow Road woman reported a car drove over her lawn and "ripped it up" Aug. 22. A witness confirmed it and stated the truck drove away.
The highway department was notified about a large, fallen tree limb on Secor Road Aug. 23.
Eight car accidents were reported in the village this week.
Village code
On Aug. 21, police issued a landscaper a summons for using a gas-powered leaf blower on Mamaroneck road in violation of village code. Additional code violations were issued to landscapers on Cohawney Road Aug. 22.
Animals
On Aug. 24, police took custody of a loose brown dog that was found on Meadow Road, and they reunited it with its owner. The owner was issued a summons.
Lost and found
A Ross Road man reported his license plate was missing Aug. 19. He recalled last seeing the plate attached to his car on Aug. 11.
Firefighters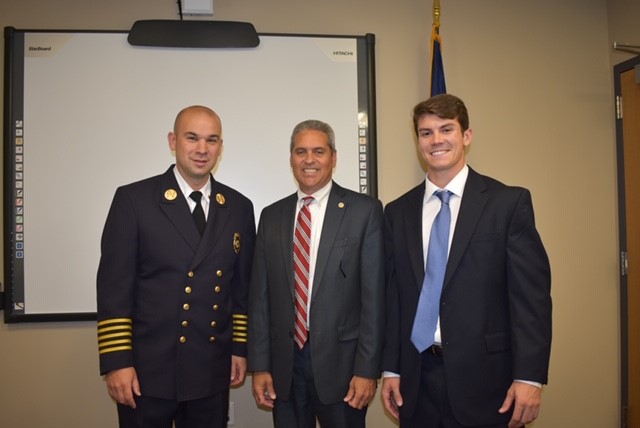 Firefighter Robert Burns was sworn in on Wednesday August 14, 2019. Pictured with Village Manager Steve Pappalardo and Fire Chief James Seymour.
On Aug. 19, lightning struck a Ridgedale Road house. Firefighters confirmed there was no fire danger.
On Aug. 19, a tree fell onto a car on the southbound Hutchinson River Parkway, crushing the hood and penetrating through the windshield. The driver was pinned in the car with a tree branch pushing against his chest. Firefighters, with assistance of multiple police departments and Scarsdale Volunteer Ambulance Corps, cut tree limbs away from the car's doors and used the Jaws of Life to gain access to the driver's compartment. The driver was removed from the car and taken by ambulance to the hospital.
On Aug. 21, firefighters assisted at a rollover car accident at Heathcote and Post roads. All occupants were able to get out of the car themselves. Two occupants were taken to the hospital by ambulance.
On Aug. 23, firefighters assisted at a car accident at Heathcote and Kelwynne roads.
On Aug. 23, firefighters were called to a Brambach Road cooking fire caused by an oven manual being left inside a broiler and igniting. Firefighters extinguished the fire and ventilated the house.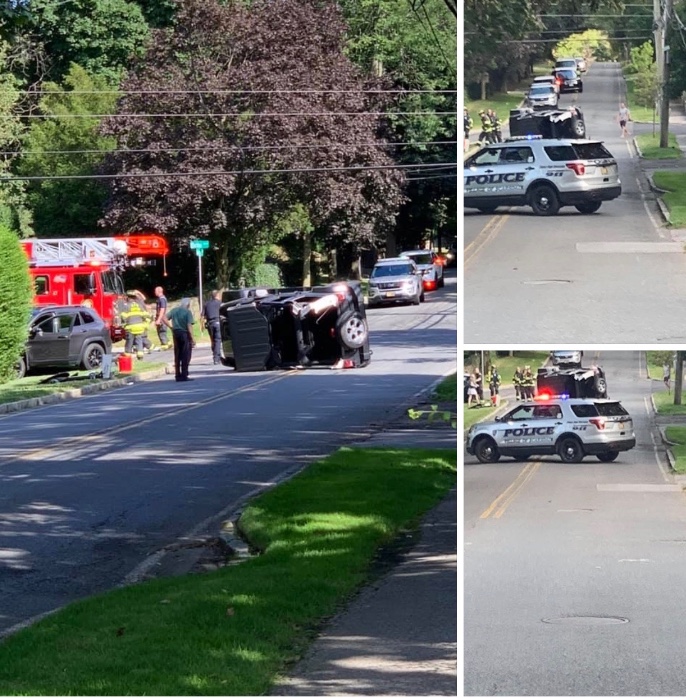 A reader sent in the photo above of the turnover on Fenimore Road on the afternoon of August 24.On Aug. 24, firefighters assisted at a two-car rollover accident at Brite Avenue and Fenimore Road. According to the report, at 3:37 pm a 2019 Jeep, driven by two underage drivers was traveling north on Brite Avenue when it collided with a 2016 Jeep travelling west on Fenimore Road. As a result the2016 Jeep losst control and overturned. The 2019 Jeep then hit the curb and trees, causing damage. No injuries were reported. Police witheld the names of the driver of the 2019 Jeep as he/she was 17 years old.

This report covering police and fire department activity from Aug. 19-25 has been compiled from official information.

This police report is sponsored by Scarsdale Security who does more than just security. Contact them about remote video for your home or business. Call 914-722-2200 or visit their website.