Man Charged with DWI and Resisting Arrest. 92 Year-Old Driver Hits Pedestrian and Firehouse Re-Opens
Wednesday, 25 September 2019 10:10
Last Updated: Wednesday, 25 September 2019 20:37
Published: Wednesday, 25 September 2019 10:10
Traci Dutton Ludwig
Hits: 2504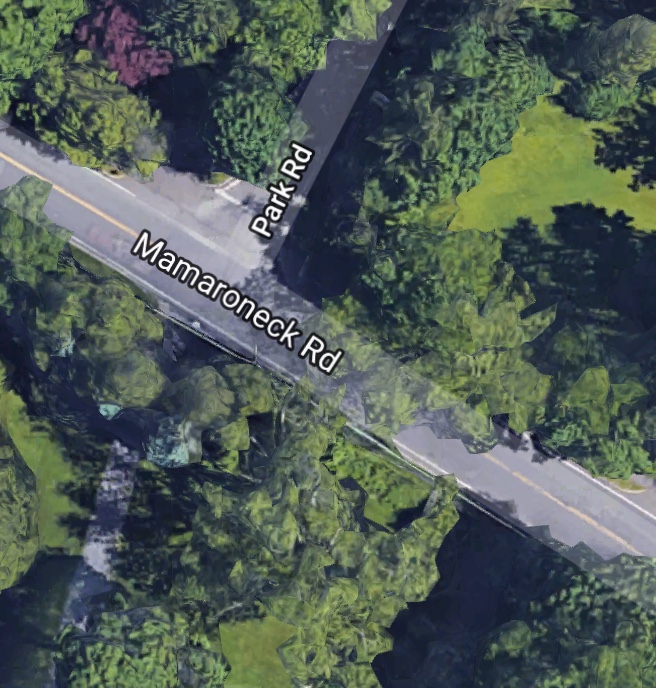 DWI arrest: While conducting burglary patrol on Old Lyme Road, police encountered a parked 2007 Toyota Land Cruiser with its engine running and a man sleeping inside at the steering wheel 3 a.m., Sept. 19. Police attempted to wake the man by tapping on the window, but it was unsuccessful. Police then opened the driver's door, and the man woke up and began to speak incoherently. A strong odor of alcohol was detected in his breath. Police reached into the car and turned off the ignition but were not able to remove the keys. The man – Felix Davey, 30, of New York City – was incoherent with his speech and unable to answer questions; so police asked him to step out of the car. In response to being asked to step out of the car, Davey allegedly responded insensibly several times with his eyes closed: "I don't want to f*** you." Davey stepped out of the car, then re-entered it and put on his seat belt, indicating an intention to drive away in a dangerous state. Police called for backup and put hands on Davey, while giving clear verbal commands, in an attempt to separate him from his car for safety. Davey became combative and non-compliant. Davey grabbed the officer with both hands and partially pulled him into the car. Backup officers arrived, opened the passenger door and successfully pushed Davey out of the car. Three officers then struggled with Davey to get him to the ground and put handcuffs on him. One officer fell and was injured in the process. An alco-sensor test confirmed the presence of alcohol in Davey's body. Davey was arrested on charges of driving while intoxicated (first offense), operation of a motor vehicle with a blood alcohol level of at least .08 of one percent, resisting arrest, obstruction of government administration and second-degree assault. Following arrest processing, Davey was transported to Scarsdale Village Justice Court for arraignment by Judge Alemany. Alemany set bail at $2,500 cash / $5,000 bond. Unable to post bail, Davey was then transported to Westchester County Jail, and his car was impounded.
Burglary
A burglar entered an unoccupied Palmer Avenue house through an unlocked door at 7:12 p.m., Sept. 17. An alarm activated, and police were dispatched to the scene. There, investigation determined that someone had entered the house illegally with intent to commit a crime, and two bags of dog food were stolen.

A burglar alarm sounded at an Archer Lane house Sept. 21, and police determined a burglary had taken place. Stolen items included a safe and its contents. Police are investigating.
Stolen equipment
On Sept. 20, a Board of Education employee told police that 42 Dell Chromebooks valued at $8,000 went missing from Quaker Ridge School over the summer. Additionally, five iPads went missing from Greenacres School over the summer.
Stolen credit cards, bicycle
On Sept. 16, a Kent Road woman reported that credit cards were recently stolen from her car, and they were used to make unauthorized purchases on Sept. 13. The purchases amounted to approximately $500.00.

A Country Ridge Road girl reported her $100 bike had been stolen from the bicycle rack located in front of the train station on East Parkway.
Car break-ins
On Sept. 21, a Murray Hill Road resident reported someone entered two of their cars parked in their driveway overnight. Both cars were unlocked. Nothing was determined to have been stolen.

On Sept. 21, a Brookby Road resident reported his unlocked car had been entered overnight, and the perpetrator stole a change container from the center console.

On Sept. 21, a Sheldrake Road resident reported her unlocked car had been entered overnight and items were stolen, including two rolls of quarters at $10 each and a police surgeon badge.
Identity theft
On Sept. 16, a Post Road resident reported someone opened and closed a fraudulent bank account in his name in June. He learned about it after receiving mail from Key Bank regarding the account.
Scam
On Sept. 17, a Saxon Woods Road resident reported she was the victim of a phone scam in which she provided personal and banking information before realizing it was a scam.
Hacking
A Brewster Road woman told police she lost numerous emails from her AOL account and could not recover them Sept. 17. She suspected that her account had been hacked.
Suspicious
On Sept. 16, police stood by a suitcase with a raised handle left on Depot Place, waiting for MTA police to arrive.
Mail
A Herkimer Road resident reported seeing people looking through mailboxes on the street Sept. 20. The people were said to have come out of a blue Honda with gold rims. Police canvassed the area but did not find the people.
Assistance
On Sept. 19, an Aspen Road man asked police to help him with two of his mother's legally owned firearms before her permit expired the next day. The son said his elderly mother no longer wanted the revolvers.
Civil matter
On Sept. 16, a Wynmor Road man reported he is doing landscaping work and his neighbor left him a note regarding the cutting of shrubs and plants near the property line. Police advised the man to consult with a surveyor to determine the property line and settle the civil matter.
Pedestrians hit
On Sept. 17, a 60-year-old pedestrian was stuck by a car at the corner of Mamaroneck and Park roads while she was crossing the street. Firefighters and police assessed the patient and rendered first aid. Scarsdale Volunteer Ambulance Corps loaded the pedestrian onto a stretcher and transported her to the White Plains Hospital Center for treatment of injuries and pain to her head, neck and left side. The driver was a 92-year-old Scarsdale resident who was making a left turn through the T-intersection.

On Sept. 19, a man was struck by a car near the Scarsdale Shell station on Scarsdale Avenue. It was approximately 7:30 a.m. when the accident occurred.

Police received a call of a man with his leg pinned between two cars on Kent Road at 7:45 a.m., Sept. 19. The man had been standing behind his car changing clothes for work when a car behind him rolled forward and pinned him before the driver could reach inside to turn off the car. The man was lying on the ground when police arrived. He explained one of the cars had already been moved following the accident that allowed him to release his legs.
Cars and roadways
On Sept. 16, police notified the highway department about tree branches blocking a stop sign on Bradley Road.
Police removed a fallen cable wire from Post and Chase roads Sept. 16.
A water main cover was missing on Lincoln Ave. Sept. 17. Police put caution tape around it and notified the water department.
Police advised roadway workers on Butler Road to set up traffic cones in a way that did not disrupt traffic flow Sept. 18.
Patrol helped a pedestrian cross the five-corners intersection Sept. 18.
Patrol called a tow for a disabled car on Claremont Road Sept. 19.
On Sept. 20, police stood by a driver with a defective alternator in his car while the driver waited for a tow on Hutchinson Ave.
Con Edison was notified about a leaning utility pole on Leatherstocking Lane Sept. 21.
A large tree branch fell onto a parked car on Walworth Avenue, causing the windshield to shatter, Sept. 21.
Police placed a traffic cone over a loose manhole cover on Olmsted Road Sept. 22.
Eleven car accidents were reported in the village this week.
Animals
Police provided contact information for animal trappers to a Wildwood Road woman who reported seeing a raccoon that "looked odd" Sept. 17.

Police provided contact information for animal trappers to a Berwick Road resident who reported a small animal had been interfering with traffic Sept. 18.

A sick raccoon was observed in a Leatherstocking Lane backyard Sept. 21. It died while police were on scene, and the sanitation department was informed for pickup.

On Sept. 21, a Brewster Road resident reported his dog was attacked and bitten by a loose Sage Terrace dog in the neighborhood. The bite did not break the dog's skin. Police spoke with the Sage Terrace dog's owner and issued the owner a summons for having a dog at large.
Village code
Police issued landscapers summonses for using gas-powered blowers on Kingston Road Sept. 16, Brewster and Kingston roads Sept. 17 and Heathcote Road Sept. 19.

Police rounded up a group of kids out walking after dark on Secor Road and drove them back to the house of an adult in charge of them Sept. 20.

A bulldozer was being used on Colonial Road before 10 a.m., Saturday, Sept. 21. Police issued the operator a village code violation summons.
Lost and found
A Con Edison worker left his iPad on the roof of his car after performing an inspection on Greenacres Ave. Sept. 17. He drove away and lost the iPad, which resulted in a report of the iPad as missing.

A passerby found a set of keys, consisting of a lanyard and three keys, on Colvin Road Sept. 18. Police vouchered them for safekeeping.
Firefighters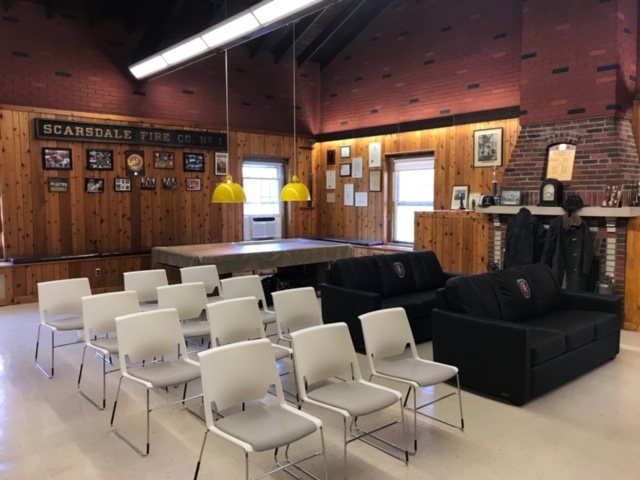 The renovated Popham Road FirehouseFollowing extensive renovations, the firehouse on Post Road at Village Hall is open for business. "The Popham Road Firehouse, also known as Station 1, was originally constructed in 1923. A ribbon cutting was held on September 25 to mark completion of an extensive renovation that targeted critical structural deficiencies and modernization of key elements of the structure's design that had become obsolete over time. Among others, Mayor Marc Samwick and Volunteer Company 1 President, Oliver Goldstein, delivered public comments to mark the occasion. The Popham Road Firehouse is now a 21st century asset."
A Tesla parked inside a Lincoln Road garage was emitting battery fumes Sept. 17. Firefighters traced the odor to an overcharged Tesla battery. Firefighters contacted the homeowner and explained the situation. Police secured the interior garage door and left the exterior door open to ventilate.
On Sept. 18, firefighters assisted Con Edison and ensured residents' safety at the site of a gas leak due to workers accidentally striking the line.
Firefighters assisted at a head-on, rollover collision with airbag deployment, involving a wrong-way driver on the Hutchinson River Parkway near the Weaver Street exit Sept. 19. One young man was taken by SVAC to Jacobi Medical Center for injuries. Three additional people were also taken to the hospital for injuries.

On Sept. 21, firefighters assisted at a car accident on Post Road, at Wayside Lane.
This report covering police and fire department activity from Sept. 16-22 has been complied from official information.

This police report is sponsored by Scarsdale Security who does more than just security. Contact them about remote video for your home or business. Call 914-722-2200 or visit their website.