Police and Fire: Fire on Fox Meadow Road, Gas Leak on Sprague Road and a Visit from Actor Denis Leary
Wednesday, 13 November 2019 18:00
Last Updated: Thursday, 14 November 2019 15:58
Published: Wednesday, 13 November 2019 18:00
Joanne Wallenstein
Hits: 3430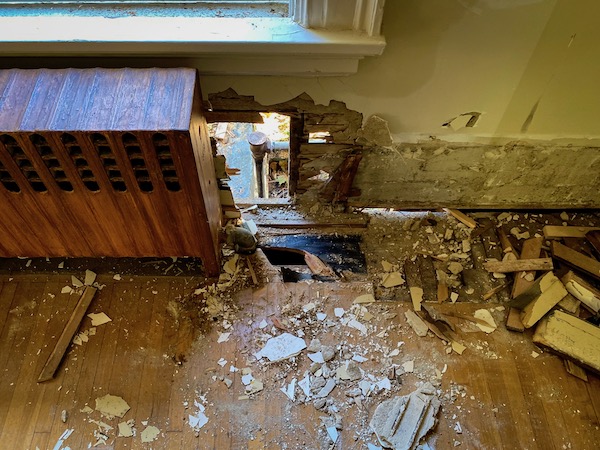 Inside the house after firefighters opened a section of the wall and floor to check for the extension of the fire. (Updated November 14) Fire Chief Jim Seymour forwarded the following two reports on Thursday November 14:

Fire on Fox Meadow Road:

On Wednesday November 13, 2019 at 10 am the Scarsdale Fire Department was dispatched to 11 Fox Meadow Road on a report of smoke coming from the floor boards on the first floor of a single family residence. Upon arrival the fire chief transmitted a working fire, discovering an active fire inside the exterior wall on the front side of the house. Fire department units arrived within 4 minutes of dispatch and began searching for the seat of the fire in order to suppress it. Scarsdale Career Firefighters were assisted by Scarsdale Volunteer Firefighters, and the Hartsdale, Greenville and Fairview Fire Departments at the scene of the fire while units from the Eastchester and White Plains Fire Departments covered the remainder of the village. The fire was extinguished and placed under control with 25 minutes of arrival and held to the room/area of origin. Members of both the Scarsdale and Westchester County Cause & Origin Teams investigated the cause of the fire and preliminary findings determined the cause to be accidental in nature.

Gas leak on Sprague Road:

On Wednesday November 13, 2019 at 7 am the Scarsdale Fire Department responded to the area of Sprague Road and Nelson Road for an odor of natural gas in the area. Upon arrival, fire department units found a strong odor of natural gas and gas leaking from a gas valve in the street. Fire department units utilized 4-gas meters to find high levels of gas in the sewers. Con Ed was notified and responded. Scarsdale police and fire department units blocked off the area to vehicle and pedestrian traffic, for the residents and Con Ed worker's safety. Fire department units worked with Con Ed units checking over 30 houses in the area for any gas that may have migrated into the houses. Two of the houses were determined to have minor gas readings on the street side of their sewer pipe, due to ineffective caps. Con Ed workers temporarily sealed the sewer caps to prevent gas from coming into the houses and advised the homeowners to contact a plumber for a more permanent solution. Con Ed workers excavated the affected main to locate the source of the leak. The fire department stretched an 1 ¾ hose line from Engine 54 to protect the Con Ed workers working in the trench, on the leaking gas main. Fire Department units were on scene for a couple of hours while Con Ed isolated the pipe that was leaking by shutting down gas service in the area. Twenty – eight houses, some in the Town of Eastchester, were effected with the gas shut off.

The Scarsdale Fire Department would like to remind residents that if an area if blocked off by "Caution Tape" , cones or emergency vehicles, that these devices are there to protect them and any workers inside the area. Please find an alternative route avoiding the affected area.
Car fire: Following a 6:42 a.m. 911 call on Nov. 9, firefighters extinguished a car fire involving a 2015 Chevy Tahoe parked in a Madison Road driveway. The car, parked approximately 20 feet from the house, was fully engulfed in flames when firefighters arrived. Firefighters confirmed the fire had not extended into the house. A cause and origin team determined the fire was accidental in nature.
Arrests
On Nov. 6, police arrested Gene Rice, 58, of Scarsdale, on a misdemeanor charge of disobeying a mandate. Rice was arraigned at Scarsdale Village Justice Court, fingerprinted and photographed, before he was released on his own recognizance.
Responding to a dispatch regarding a person who appeared to be suffering from an overdose in a car on Garth Road around 1 p.m., Nov. 10, police arrested Michael Lauro, 30, of Mamaroneck on a charge of driving while ability impaired by drugs (with at least two prior convictions.)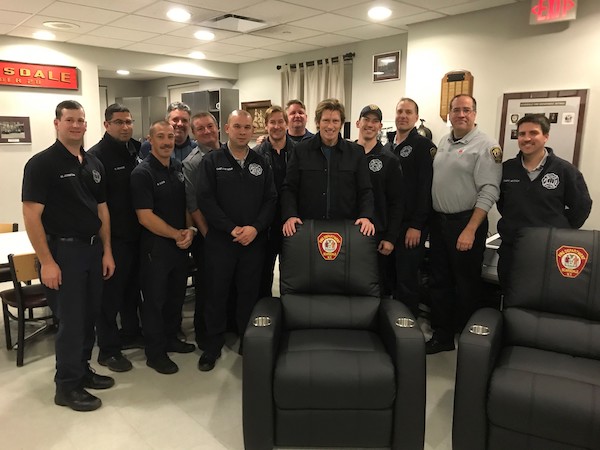 Actor Denis Leary was visited Scarsdale on November 13 to discuss his work with the Leary Firefighters Foundation. The foundation's mission is to provide funding and resources for Fire Departments to obtain the best available equipment, technology and training. Denis established the foundation in the spring of 2000 following the line of duty deaths of six Worcester, Massachusetts firefighters at an abandoned warehouse fire. One of the six firefighters that perished that day was Denis's cousin. During his time in the Village, Leary took time to stop by Scarsdale Fire Headquarters to visit with some of the firefighters working that day.
Car break-in
An unlocked parked car on Nelson Road was entered overnight Nov. 7. The owner said the only thing missing from the car was the registration.
Identity theft
On Nov. 9, a customer of Chase Bank on East Parkway reported her bank account had been seized, and she was unable to withdraw funds due to fraudulent activity on the account. The customer asked for the account to be closed, and bank employees said the customer would be mailed a check within a few days.
Welfare check
On Nov. 5, police conducted a welfare check on a Chateaux Circle man at the request of his wife who had been unable to reach him. He was OK.
On Nov. 9, police conducted a welfare check on an elderly Chateaux Circle man at the request of his daughter-in-law. Police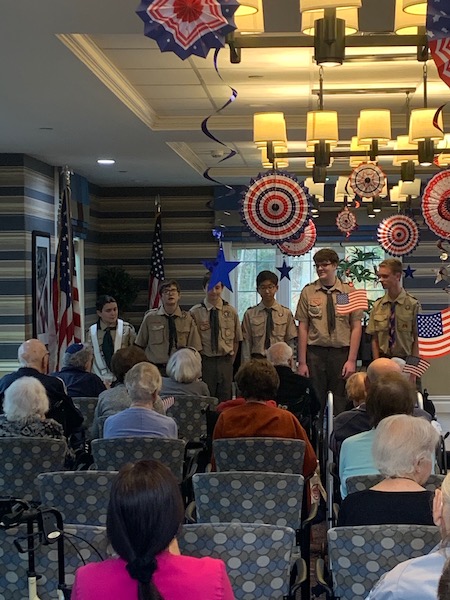 Scouts from Troop 4 Scarsdale served as Color Guard at a flag ceremony for Veterans Day at the Ambassador Assisted Living Home in Scarsdale. Pictured from left to right - Tyler McCarthy, Zachary Weitzman, Ronan Barnea, Matthew Kolb, Janghee Lee and Daniel Kolb. Photo credit Heather Kolb.confirmed the man was OK.
Credit card
On Nov. 5, a person reported that his credit card got stuck in parking payment machine in the Christie Place Garage. Since the card was unable to be dislodged, police suggested the man cancel the card. Parking officials were notified.
Assistance
On Nov. 6, police assisted an elderly Garden Road resident with an alarm clock and telephone.
Wrong address
A Continental Road resident reported an unknown person was parked in an unknown car in his driveway Nov. 9. Police spoke with the driver who said she had come to the house pick up her daughter, without realizing she was at the wrong address.
Scofflaw
A 2018 Mini Cooper parked on Chase Road was determined to be in scofflaw status, due to $1,400 in unpaid parking tickets Nov. 6. Before police could tow the car to the impound lot, the owner returned and promised to immediately address the matter at Scarsdale Village Justice Court.
Cars and roadways
Police contacted Con Edison about a dislodged manhole cover on Fenimore Road Nov. 4.
Police called a tow truck for a disabled vehicle on the Popham Road Bridge Nov. 4.
Police erected a temporary stop sign at the intersection of Oxford and Garden roads because the permanent stop sign had been knocked down Nov. 5.
Police asked workers to move parked cars from Fox Meadow and Butler roads in order to alleviate congestion Nov. 6.
Police called a tow truck for a driver whose car had a flat tire on Hickory Lane Nov. 6.
Police notified the water department about a water leaks on Dobb Terrace Nov. 7, Tunstall Road Nov. 8 and Oxford Road Nov. 11.
Police placed cones around roadway plates on Sprague and Gaylor roads in order to alert drivers to slow down Nov. 10.
A Rural Drive woman reported an unknown Honda was parked in her backyard Nov. 11.
One car accident was reported in the village this week.
Animals
On Nov. 4, a Kensington Road woman reported an injured squirrel was in her yard. Police provided the woman with a list of contact numbers for local animal trappers.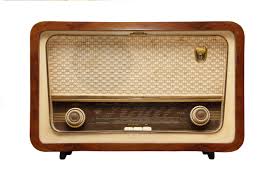 Village code
On Nov. 6, police informed an ATV owner that he could not ride the ATV on Butler Field.
Following up on a noise complaint, police asked a Ferncliff Road resident to lower the volume of music Nov. 9.

A Post Road resident complained about sound from her neighbor's radio Nov. 10. Police advised the neighbor of the complaint and encouraged her to keep the radio at an acceptable level in order to preserve harmony between the neighbors.
Lost and found
On Nov. 4, a commuter reported finding a cell phone of the train and gave it to police.
A New Rochelle man walked into headquarters and reported losing the license plate from his motorcycle somewhere in the village Nov. 6.
On Nov. 10, a Meadow Road Uber driver reported finding a cell phone, bankcard and Metrocards in the back of the car she uses for work. Police vouchered the property.
Firefighters
According to Fire Chief James Seymour, firefighters responded to 27 incidents during the reporting period. Details were provided as follows.
On Nov. 5, firefighters stood by at the site of a Nelson Road gas leak, notified Con Edison and checked nearby houses on Nelson and Sprague roads for gas leaks.
On Nov. 6, a construction vehicle severed a gas line on Lenox Road. Con Edison shut gas to the area while an emergency repair was made. Firefighters evacuated homes and stood by to provide assistance and protection in case of accidental ignition. The building department was notified about an improperly protected excavation site, and a stop work order was issued.
On Nov. 7, a pot left on the stove at a Penn Road house resulted in a smoke condition. Firefighters entered the house and removed the pot from the stove. They ventilated the house.
On Nov. 9, a Woods Lane two-year-old child accidentally got locked inside a bathroom. Firefighters successfully opened the door and released the child unharmed.
On Nov. 10, firefighters extinguished a rubbish fire due to a discarded cigarette in a Johnson Road house.
This report covering police and fire department activity from Nov. 4-11 has been compiled from official information.

This police report is sponsored by Scarsdale Security who does more than just security. Contact them about remote video for your home or business. Call 914-722-2200 or visit their website.