Police Report: Crimes Continue During Coronavirus Scare: DWI Arrest, Griffen Avenue Burglary, Bail Scam, Stolen Bike and Campaign Signs
Wednesday, 18 March 2020 17:35
Last Updated: Wednesday, 18 March 2020 17:50
Published: Wednesday, 18 March 2020 17:35
Traci Dutton Ludwig
Hits: 1661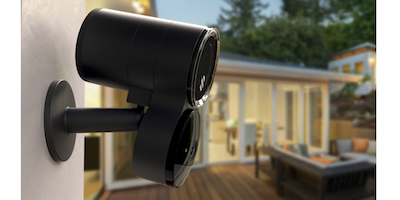 Arrested: Following a car accident at Fenimore Road and Walworth Avenue March 14, police determined one of the drivers showed signs of intoxication and administered field sobriety tests, which the driver failed. As a result, the driver – Brisey E. Burgos Osorio, 29, of the Bronx, was arrested. She was charged with driving while intoxicated (first offense) and aggravated DWI with a blood alcohol level of .18 or more with no priors. She was released on her own recognizance and issued an appearance ticket for Scarsdale Village Justice Court.
Burglary
A Griffen Avenue resident reported seeing two individuals attempting to break into his house via video surveillance at 6:30 p.m., March 11. Security cameras captured images of the individuals inside the house. Upon patrol's arrival to the house, the individuals were no longer there. They were observed fleeing through a rear patio door, via video captured by security cameras. It was determined that nothing was missing.
Scam
A person alleging to be a law enforcement official showed up at a Carthage Road woman's house and scammed the woman out of $9,000 cash to supposedly bail her grandson out of jail following an alleged "accident" March 11. A caller who alleged to be a lawyer representing the grandson initially set up the scam.
ID theft
On March 12, a golf pro said someone hacked into his account and shipped eight sets of golf clubs to an unknown person without his permission. The combined cost of all the clubs was $7,761.61.
On March 15, a Secor Road resident reported her Sprint account had been fraudulently used for an unauthorized purchase of three tablets and two cell phones. The devices had reportedly been delivered to her address, but she never received them. She is following up with Sprint's fraud department.
Stolen
A Barry Road parent reported his son's blue Metro mountain bicycle was stolen from outside Edgewood School March 11. It was valued at approximately $500. It was taken while the boy was playing with friends at the playground.
Campaign signs
A Fox Meadow Road resident reported a local campaign sign was stolen from her property March 9.
On March 13, a Tisdale Road resident reported 20 campaign signs were removed from her property and around the Village. Each sign was valued at $5, representing a theft of $100 in signs. The signs were allegedly stolen between March 7 and March 13.
Coyote
Around 7 p.m., March 14, police received a call from a Mamaroneck Road man who had been cornered by a coyote while out walking his dog. Upon arrival, patrol scared the coyote away with his emergency lights and siren. Patrol further chased the coyote into the woods with the police car and the man and his dog were able to safely leave the scene. Patrol stayed in the area to make sure the coyote did not emerge again from the woods, which it did not.
Background check
On March 10, a Montrose Road woman reported a man came to her door and left a piece of paper requesting a callback regarding an alleged FBI background check for a federal government job. The paper appeared to be official and a review of video footage indicated nothing suspicious.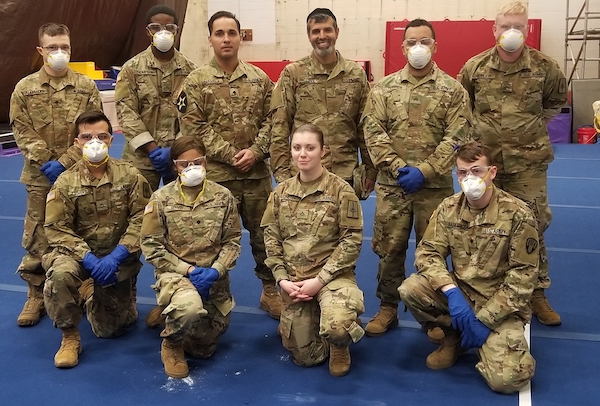 65 men and women from the National Guard cleaned and sanitized the JCCMW on Wilmot Road on March 16-17. Though nobody at the JCC tested positive for Covid19, the guard was brought in as a precaution.
Garbage
On March 10, a Mamaroneck Road homeowner reported someone left a "bag with used tissues" in his yard, and he found it to be suspicious. Police examined the small bag of garbage and notified the sanitation department to retrieve and discard the bag.
A caller reported black garbage bags being thrown from the window of a Meadow Road house March 12. He felt this was suspicious because he thought no one was living in the house. Police investigated, and the new homeowner said he was in the process of working on the house and wanted to be efficient in getting bags of debris down to the driveway for disposal.
Help
A Depot Place business manager called police to as for help in getting a woman to leave the place of business at 6 p.m., March 13. Police asked if the woman needed medical attention. She declined and left the place of business.
Cars and roadways
On March 9 and 12, police escorted a pedestrian to her destination by helping her cross Weaver Street.
A car was observed to be idling in an Olmsted Road driveway March 9. Police spoke with the owner who said he must have forgotten to turn off the car's ignition. He thanked patrol and tended to the car.
On March 13, police stood by while the driver of a disabled car waited for a tow on Heathcote Road.
Sewage was backing up in a Wynmor Road house March 15. Police notified the highway department and firefighters.
Two car accidents were reported in the village this week.
Noise
On March 9, a Brite Avenue woman reported her neighbor was yelling at her children and telling them that they were "shaking" her house by playing outside. Police observed the children playing and found their noise level to be reasonable. Police advised the neighbor that the children could freely play outside and to refrain from yelling at them.
A caller reported a loud party on Axtell Drive March 9. Patrol spoke with the homeowner and advised him to lower the volume of the party music.
Neighbors complained of loud music coming from a Madison Road get-together March 10. Police advised the homeowner to lower the volume of the music.
Animals
On March 15, a Boulevard woman found a loose beagle outside her house. It had a collar with a number on it. She called the number, but there was no answer. Patrol arrived to assist, and the dog's owner arrived on scene to retrieve the dog.
On March 15, a Colonial Road woman called for help in removing a dead rabbit from beneath her backyard deck. Police were unable to move the dead animal and could not reach it due to low clearance beneath the deck. The woman thanked police and said she would ask her gardener to device a way to access the space and remove the dead rabbit.
A Ridgedale Road woman asked for help with a sick squirrel on her deck March 15. The squirrel was moving around the deck but did not look well. It was not in a safe area for police to safely dispatch it. Patrol offered local trappers' contact information to the woman.
Lost and found
On March 9, a crossing guard found a set of keys on East Parkway and gave them to police for safekeeping.
On March 11, a woman and her child found cash on the street near an Olmsted Road intersection. They brought it to headquarters and gave it to police.
A woman in a Palmer Avenue store said she believed someone stole her wallet while she was in the store March 13. The store manager and other customers helped her look for it, in case she dropped it. Before police arrived, the woman went to her car and left.
Firefighters
According to Fire Captain James Seymour, firefighters responded to 26 incidents during the reporting period.
On March 10, firefighters assisted at a car accident on the Bronx River Parkway.
On March 13, firefighters were called to extinguish a grease fire that ignited on the drip tray of an outdoor grill on a Dickel Road deck.
On March 13, firefighters responded to an inside gas odor in a Walworth Avenue house. A small gas leak in piping was detected. Con Edison was dispatched.
On March 14, firefighters assisted in extricating the driver of a car at an accident site at Fenimore Road and Walworth Avenue.
This report covering police and fire department activity from March 9-15 has been compiled from official information.

This police report is sponsored by Scarsdale Security who does more than just security. Contact them about remote video for your home or business. Call 914-722-2200 or visit their website.