Police Report: Police Disperse Users of Public Fields and Facilities, German Shepherd Bites Teen
Wednesday, 25 March 2020 07:58
Last Updated: Wednesday, 25 March 2020 08:08
Published: Wednesday, 25 March 2020 07:58
Traci Dutton Ludwig
Hits: 1936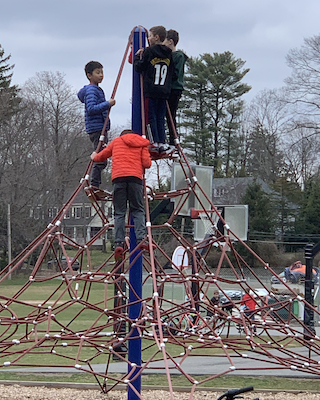 Domestic matter: A woman called police crying from Depot Place at 2:30 a.m., March 20. She told the dispatcher she had just left her house and had nowhere to go. When police arrived on scene, the woman said she had been involved in argument with her spouse and had left her house to avoid further confrontation. She said she needed assistance acquiring transportation to a family member's house in the Bronx. Police stood by while the woman waited for a Lyft driver to arrive.
Social media

A Bradford Road woman reported someone fraudulently used her image on a social media site without her permission March 20. Police advised her it was a civil matter and recommended that she contact the social media site administrator and file a report.
Road rage

On March 16, a Cornell Street driver and another driver each reported an altercation incident that police categorized as road rage. The Cornell driver claimed that the other driver flashed his lights and honked his horn multiple times as she stopped in the road, without using a turn signal, in order to turn into her driveway. The other driver complained that the Cornell Street driver stopped suddenly in the road without signaling or moving. As a result, the Cornell Street driver got out of her car and had a verbal altercation with the other driver. She said she was tired of people using Cornell Street as a "cut through." Police advised her that Cornell Street is a public connector road between Weaver Street in Scarsdale and Fenimore Road in Mamaroneck. Patrol advised her how she could direct her concerns to the traffic safety committee of Village Hall.
Cars and roadways

Police informed the highway department about a large branch hanging over the intersection of Heathcote and Sherbrooke roads March 16.
On March 17, 18 and 20, police helped a pedestrian cross Weaver Street.

Parked cars were crowding a dead-end area of Lenox Place March 18. Police spoke with the drivers of the cars and advised them to park them in more suitable locations.
Police rolled up a loose wire on Garden Road and placed it by the curb for sanitation pickup March 18.
A fallen streetlight on Tisdale Road was determined to be a common occurrence due to poor structural integrity of the pole March 18. The highway department was consulted.
The water department was notified about a dislodged water cap in the street near the intersection of Claremont and Berkeley roads March 19.
Patrol asked the drivers of construction vehicles parked on Lenox Place to relocate their trucks to more suitable locations March 19.
Police moved a large rock from Saxon Woods Road and notified the highway department March 20.
A driver reported sustaining a flat tire after driving over a storm drain at Griffen Avenue and Mamaroneck Road March 20. Police called duty tow to change the tire and stood by until the tire was successfully changed.
Police notified the highway department about sewage backing up in a Richbell Road basement March 22.
On March 22, police notified the water department about water overflowing a catch basin on Secor Road.
Two car accidents were reported in the village during this reporting period.
Broken glass at school

A window appeared to have been broken on the Brewster Road side of Fox Meadow School, facing the playground, March 16. The small crack in the glass appeared to have been caused by impact from a ball. Police classified it as a non-crime incident. A school district employee was notified and made arrangements to board up the window until it could be repaired.
Village code

On March 20, police dispersed numerous people from a basketball courts and playground equipment at a village-owned playground on Boulevard.
On March 21 and 22, police dispersed people from the track and fields of Scarsdale High School.
After a neighbor complained, police advised Paddington Road landscapers to clean up any debris that might have blown into the neighbor's yard March 22.
Police dispersed six lacrosse players from a Brewster Road field March 22.
On March 22, police dispersed people from the playground, basketball court and baseball field of Edgewood School.
Dog bite

On March 18, a Kingston Road woman reported that a dog bit her 15-year-old daughter on March 16 while her daughter was out alone walking in the area of Brewster and Huntington roads. The dog that bit the girl was a leashed black German Shepherd that was out for a walk with its owner. According to the daughter, the dog first grabbed her jacket with its mouth; then it bit her left thigh. The girl's mother followed up with medical treatment for her daughter. Police contacted the owner of the dog and informed him that the dog must be quarantined, as per NYS Public Health Law. Additionally, the owner was required to submit vaccination records.
Lost and found

On March 16, a Boulevard woman reported losing her phone in the vicinity of the Popham Road CVS on March 14.
Firefighters

According to Fire Chief James Seymour, firefighters responded to 21 incidents this week. He shared the following details.
On March 16, firefighters disconnected a faulty light ballast in the basement of a Barry Road house. The ballast was emitting a smoke odor, and firefighters recommended consulting an electrician to replace it.
On March 19, firefighters found that a non-working sump pump in a Copper Beech basement was causing approximately 2 inches of water to collect in a 600 square foot basement. Firefighters discovered a tripped breaker was causing the sump pump to fail. After the breaker was turned back on, further investigation revealed that one pump in the sump pit was working, but the other was burnt out. Firefighters unplugged the burnt-out pump and allowed the operational pump to begin clearing water from the basement.
On March 22, firefighters shut power to a leaking boiler in an Old Orchard Lane house and advised the homeowner to call a plumber for service.
This report covering police and fire department activity from March 16-22 has been compiled from official information.



This police report is sponsored by Scarsdale Security who does more than just security. Contact them about remote video for your home or business. Call 914-722-2200 or visit their website.



Here is the list of park closures from Scarsdale Village:
In order to help slow the spread of COVID-19 and to promote social distancing, the following Scarsdale Parks, Recreation and Conservation facilities are either closed or have modified use regulations, as follows:

All Parks and Public Spaces – No public gatherings. Passive and solitary recreational use of open facilities and spaces is authorized, but social distancing (6'between non-family members) is necessary.

Aspen Park – Playground closed; passive use area open with mandatory social distancing.

Boulder Brook Field – Sporting field is closed.

Brite Avenue Tennis – Tennis and Paddle Courts are closed.

Chase Park – Passive use authorized with mandatory social distancing.

Colonial Acres Park – Playground closed; passive area open with social distancing.

Corell Park – Playground closed; passive use area open with mandatory social distancing.

Crossway Complex – Fields 1,2,3,4,5, Tennis Courts, and Playground are all closed.

Davis Park – Playground closed; passive use area open with mandatory social distancing.

De Lima Park – Passive use authorized with mandatory social distancing.

George Field Park – Passive use authorized with mandatory social distancing.

Greenacres Playground – Playground closed.

Harwood Park & Library Pond – Passive use authorized with mandatory social distancing.

Hyatt Park – Athletic Fields, Playground, and Basketball Courts are all closed.

Memorial Garden – Passive use authorized with mandatory social distancing.

Red Maple Swamp – Passive use authorized with mandatory social distancing.

High School Tennis and Paddle Courts – Closed.

Middle School – Tennis courts are closed.

Municipal Pool Complex – Closed.

Scout Field/Willow Playground – Sporting field and playground are both closed.

Supply Field – Sporting fields are closed.

Weinberg Nature Center – Center is closed and programs are canceled; trails are open with mandatory distancing.

Winston Field – Sporting field is closed.

Wynmor Park – Tennis Court and Playground are both closed.