Breaking News: Spencer Place Business Burglarized, Suspect in Stolen Car Caught after Foot Pursuit
Wednesday, 03 June 2020 14:00
Last Updated: Wednesday, 03 June 2020 14:06
Published: Wednesday, 03 June 2020 14:00
Traci Dutton Ludwig
Hits: 2364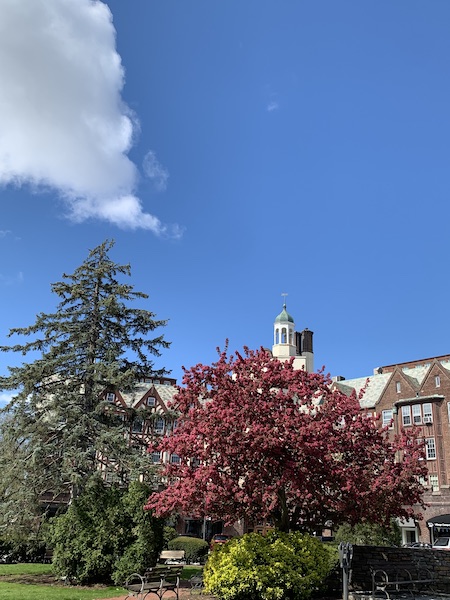 On June 3, at 12:15 a.m., police were informed of a burglar alarm activation from a Spencer Place business. Upon arrival, Scarsdale policed officers found that the business had been entered via a broken window in a door. It was determined that cash and a small amount of property were taken. There wa no other damage observed and the suspects were not longer at the scene. Police checked the surrounding area for suspects or any other signs of criminality, but the search yielded negative results. Scarsdale detectives are currently investigating this incident. Detectives ask for anyone with further information related to this incident to please contact the Scarsdale Police Investigations Section at 914-722-1200.
Suspect Caught After Car Chase
At approximately 3:15 p.m., May 27, police responded to the intersection of Mamaroneck and Post roads to assist White Plains police with the pursuit of a confirmed stolen car. Upon arrival, police from both departments attempted a coordinated felony stop. This resulted in the driver fleeing, by car, on Post Road to Rugby Lane, with patrol cars close behind. While pursuing the car, police noted that the driver had a "wanton disregard for his safety and the safety of others." As the car increased it speed on Cooper Road, the direct police pursuit was terminated due to safety risks far outweighing any possible benefits, according to police. Instead, other police cars continued, without lights and sirens, to the intersection of Cooper and Murray Hill roads. Police located the suspect's stolen car on Murray Hill Road and began searching for the suspect, who had apparently fled by foot. Murray Hill Road residents told police they had witnessed the suspect heading in the direction of Dolma Road. Helicopter and K-9 tracking dog units were brought in to assist with the search. An electronic bulletin was sent our to Village residents warning them to avoid the area where the police matter was unfolding. At 4:41 p.m., police apprehended the suspect and took him into custody. One minute later, White Plains police officers arrived and custody was transferred to them. White Plains police took possession of the stolen car and took the suspect to WPPD headquarters to process his arrest.
Stolen
On May 30, a caller reported her son left his iPhone unattended for approximately five minutes at a gazebo located at Brewster and Olmsted roads. During this time, someone stole the phone and powered it off.
ID theft
On May 28, a Lawrence Road resident reported he was a victim of identity theft. After receiving a text alert about activity with his bank accounts at an out-of-state bank, he discovered that an unknown person had made four fraudulent in-person withdrawals totaling almost $20,000. In addition, on May 28, when the resident attempted to use his cell phone, it was unable to make outgoing calls. Investigation revealed that a new SIM card had been fraudulently issued for his phone number, and the old SIM card had been deactivated. The resident notified his phone company and bank about the fraudulent activity and closed his accounts.
Hypodermic needles, vaping paraphernalia
On May 25, a resident reported a hypodermic needle on a Johnson Road driveway. Police collected the syringe and took it to Scarsdale Volunteer Ambulance Corps for safe disposal.
On May 28, a Boulevard resident discovered an unknown object in his yard. Police determined it was the battery compartment and liquid container from a broken vape pen. Police took the found components of the pen for disposal.
Car break-ins
On May 25, a Walworth Ave. man reported that his doorbell camera detected two masked individuals wearing hooded sweatshirts attempt to open the door of a parked car in his driveway at approximately 4 a.m., May 25.
Police called a tow for a motorist with a disabled car on Secor Road May 29.
Death
A 92-year-old Coralyn Road person died at home May 25.
Dispute
On May 31, police intervened in a tenant versus tenant dispute on Post Road. According to the report, the tenants engaged in a verbal argument and were having trouble getting along. Police advised them to stay away from each other, which they did.
Suspicious call
A Chase Road storeowner received a call that he felt was suspicious and asked police to stand by while he closed his store May 28. The suspicious call originated from the Bronx and involved a caller who inquired about merchandise not offered at the store, as well as store closing hours.
Suspicious behavior
On May 31, a Sherbrooke Road woman reported someone was taking pictures of her house from the street. Her kids were playing in the yard, so she was especially concerned. The person who took the pictures was described as a man wearing blue basketball shorts, a long-sleeved blue shirt and sneakers. He fled the scene on foot toward Heathcote Road.
Social media
A Wildwood Road man reported an old acquaintance was harassing him on Facebook May 31. The acquaintance apparently made a comment on one of the man's posts, and the man did not like what she wrote. He said he hadn't seen or spoken with the acquaintance for approximately 25 years. Police advised him to cease communication with the acquaintance.
Help
Police checked the welfare of a Johnson Road resident May 29. The resident was ok.
Bicyclist
On May 30, a driver reported that he got into a verbal altercation with a bicyclist at Popham Road and East Parkway. The bicyclist got angry, dismounted his bicycle and intentionally kicked the driver's car. Then, the bicyclist fled the scene. The driver wished to report the matter in case he decided to file a claim with his insurance company.
Cars and roadways
On May 25, the water department was notified about pooling water on Griffen Avenue.
Police notified Verizon about a fallen wire on Walworth Avenue and branches on wires on Butler Road May 26.
Police removed a fallen cable wire from a Post Road sidewalk May 27. The cable provider was notified.
Police removed a large tree limb from the roadway on Johnson Road and notified the highway department for pickup May 30.
No car accidents were reported in the Village this week.
Pandemic restrictions
On May 31, police dispersed a group of kids from playing basketball on Edgewood School grounds.
Village code
On May 27, police instructed youth to stop fishing in a pond located behind the Scarsdale library on Olmsted Road.
Neighbors complained about a generator running from 7 am to 8 am on White Road, in order to power work being performed inside a garage May 29. Police cautioned workers about permitted work times, and they turned off the generator.
Workers were using a jackhammer at an Aspen Road construction site prior to 10 a.m. on May 30, a weekend. This was in violation of Village code. Police informed the workers about Village code, and they stopped using the jackhammer and apologized.
Police advised a Tory Lane man he must first obtain a permit from Village Hall before cutting down a tree on is property May 30. The man claimed the tree was dead, but police determined the tree was not an immediate hazard.
After a neighbor complained about noise May 30, police advised a Secor Road resident to keep the noise level down at his house.
Dogs
A caller reported a dead dog on Heathcote Road May 25. Responding officers instead saw a dead opossum by the side of the road and alerted the highway department for removal.
A dog owner reported another woman got into a verbal argument with her while she was walking her dog on Garth Road May 25. The other woman accused the dog owner of walking her dog off-leash, which the dog owner said was not the case. The other woman was gone when police arrived.
Animals
A Bradford Road resident called a trapper about a baby deer that she saw on her property May 26. She also called police.
A man was trying to catch a possibly injured squirrel on Lee Road May 30. Police attempted to provide trappers' contact information, but the man declined. While police were still on scene, the squirrel ran away.
Lost and found
Police found a set of keys at Heathcote Road and Weaver Street May 31. They vouchered them for safekeeping at headquarters.
Firefighters
On May 25, firefighters investigating a Carthage Road carbon monoxide incident detected that a gas-powered pressure washer had been used in close proximity to the house.
On May 26, firefighters stood by for Con Edison at a Mamaroneck Road site where a contractor unearthed a gas line while digging up a root ball.
On May 29, firefighters assisted Greenville Fire Department with an incident involving smoke in the basement of an Ardsley Road house.
On May 30, firefighters assisted Hartsdale Fire Department with an incident involving smoke in the bathroom of a Clements Place structure.
On May 31, a car battery was producing excessive heat and scorch marks inside the engine compartment of a car that was stopped at Fenimore and Fox Meadow roads.
On May 31, a battery overheated in a car on Fox Meadow Road. When firefighters arrived, the hood was up with no visible smoke. Upon investigation, firefighters found a burnt wire and excessive heat in the engine compartment. Firefighters used water from a hose to cool the wire and engine compartment. They disconnected the battery, but soon determined that it, along with the starter motor, was holding excessive heat. They used approximately 50 gallons of water to attempt to cool the battery and starter motor. They determined that this was successful in cooling the starter motor but realized the battery was still retaining heat and producing visible scorch marks. Firefighters removed the battery, placed it on the ground, turned it on its side and flushed it with approximately 150 gallons of water. This succeeded in stopping the heat. The cooled battery was returned to the engine compartment, and the car was towed away.
This report covering police and fire department activity from May 25-31 has been compiled from official information.

This police report is sponsored by Scarsdale Security who does more than just security. Contact them about remote video for your home or business. Call 914-722-2200 or visit their website.