Breaking News: Black Bear Sighted in Village Neighborhood
Wednesday, 10 June 2020 13:17
Last Updated: Thursday, 11 June 2020 12:27
Published: Wednesday, 10 June 2020 13:17
Traci Dutton Ludwig
Hits: 8932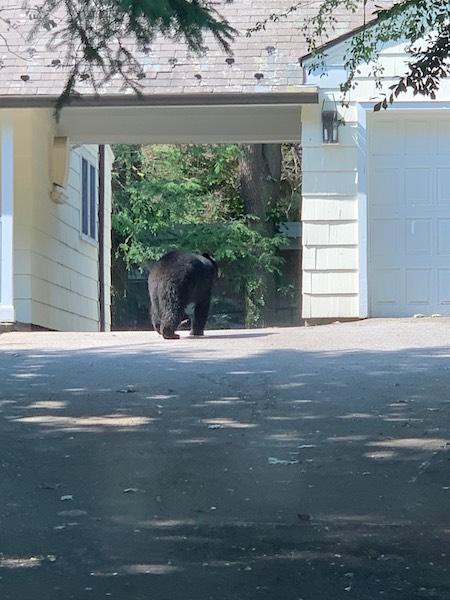 Photo Credit: Deborah LichtensteinUpdated June 11 A black bear was observed on residents' properties near Richbell and Burgess Roads around 10 a.m., June 10. The NYS Department of Environmental Conservation was notified, and phone and email notifications were sent out to the Village's emergency notification list. Since the bear was not exhibiting signs of aggressive behavior, the NYS DEC will not take action and advises that the bear is allowed to roam freely.
On the morning of June 11, Greenburgh Town Supervisor Paul Feiner reported another sighting. He said, "A black bear was seen at Boulder Ridge condo's, off of Jackson Avenue, Sprain Road and Ardsley Road this morning.

Bears are an important part of the NYS ecosystem. While it is uncommon to see one in this part of Westchester County, it is not concerning. Last week, a black bear was sighted in Rye, where is quietly made its way through the area without causing any public safety incidents. Bears have large territories – with an approximately a 100-mile radius. Thus, according to the NYS DOC, this bear will likely move on to another area, particularly if Scarsdale residents and businesses make food more difficult to locate.

Residents and local business are advised to:

Report any bear sightings to Scarsdale police at 914-722-1200. Police will observe and track the bear, not attempting to remove it.

Stay calm if you encounter a bear. Do not run.
Make noise to ensure that the bear knows you are there.

Do not approach the bear for any reason. Simply leave the area.

Do not attempt to feed the bear.

Secure trash, clean cookout areas, and do not place pet food (dog food, cat food) or bird food in locations where the bear can find and access it. Bears have a great sense of smell and will be able to locate any accessible food sources.
Madison Road Home Ransacked

A caller reported seeing two individuals wearing black hoodies running from a Madison Road house at 3:44 p.m., June 3. Police arrived on scene and did not see any individuals at that time, but they did notice an open rear window and sliding patio door. There were no signs of force observed. Police proceeded to check the interior and discovered it had been ransacked. The homeowner was contacted and responded. It was determined that a fireproof safe containing personal papers and miscellaneous jewelry items and watches were stolen. Police recovered two pairs of white latex gloves, a Martha Stewart brand kitchen knife and two pairs of slip-on sneakers as evidence to aid in the investigation. Detectives will be following up.
However, while first investigating the scene and searching the surrounding area for possible suspects, police found a package addressed to an Eastwoods Lane resident. They contacted the resident, and she declined to file a formal larceny report at the time. Police also recovered two shipping boxes in the street addressed to a Baraud Road resident. One was empty, and one contained a hat. Police contacted the resident, who advised the boxes had been stolen from her porch. New Rochelle police responded to the Baraud Road address to handle the incident.
Stolen Package

On June 2, a Carthage Lane resident reported a theft of three packages from her front porch. She said she heard a noise near the door, went to investigate and noticed that packages that had been delivered were now missing. The packages contained approximated $250 worth of assorted clothing and shoes.
Stolen bicycle
On June 2, a Greenacres Avenue man reported that his 24" Zed bicycle was stolen from a side porch of his house. The bicycle was unsecured, and four other bicycles were left in place.
Car break-ins
On June 6, a Johnson Road woman reported a parked, unlocked car in her driveway had been entered overnight. The glove box was tossed, but nothing of value had been stolen.
Identity theft
On June 2, Hampton Road woman reported that four fraudulent checks, bearing a forged signature and an out-of-state address, had been written against her bank account, and $4,476 in funds were subsequently withdrawn. The checks were dated May 13 and deposited May 22. She is disputing the transactions with her bank.

On June 4, a Taunton Road man reported he was a victim of identity theft. Starting March 12, the man had received numerous letters from various financial institutions indicating that multiple fraudulent accounts had been opened in his name. His bank account also showed fraudulent deposits and withdrawals. The man notified the financial institutions and closed all fraudulent accounts.


On June 5, an Old Orchard Lane man reported that someone filed for unemployment assistance in his name, with benefits starting March 9. He learned of incident after receiving two notices from the NYS Department of Labor. He attempted to reach the NYS DOL by phone to report the incident but was unable to get through the automated system, since he did not have the PIN number that was set up with the fraudulent account.
Disputes

Lenox Place neighbors got into a verbal dispute over alleged noise created by one of the neighbor's workouts, which was disturbing the other neighbor. Police spoke with both parties and suggested that the exercising neighbor purchase a workout mat and perform the workouts at the end of the driveway to reduce noise for the other neighbor.


Two Post Road housemates got into a verbal dispute over a bathroom door being slammed June 7. Both parties were calm when patrol arrived, and they agreed to separate from each other for safety.


On June 7, people on Fox Meadow Road flagged down police who reported a dispute over a court-ordered custody document. After closer examination, it appeared that one party misinterpreted the document and decided to leave the scene.
Panhandling
A caller reported a man approached him in a Scarsdale Ave. parking lot and asked him for money, first alleging that he lost his debit card, June 3. Police canvassed the area bit did not locate the man.
Lock-in
A Gatehouse Road woman called police and firefighters to help her open her locked car door because her eight-week-old infant was accidentally locked inside June 1. Firefighters and police were able to successfully unlock the door and release the child unharmed. Weather conditions were mild, and the child was only in the car alone for a few minutes before police and firefighters arrived. The child showed no signs of distress.
Key
A man who had possession of a key to a Coralyn Road resident turned the key over to police at headquarters June 1.
Feces
An Old Orchard Lane resident reported that someone left a large quantity of human feces and dirty wipes near his doorstep sometime between 6 a.m. and 6 p.m., June 4. He believes it was an isolated incident and he was not being targeted.
Assistance
Police assisted an elderly woman get her husband, who suffers from Alzheimer's, back into her car after he exited the car at Post and Fenimore roads to look at rocks June 1.

A caller reported her mother might have a severe water leak in her Colvin Road house June 4. Police went to the house and noticed a slow leak from the second-floor bathroom faucet. Police shut water to the faucet and advised the mother to call a plumber for repair.
Bicyclist hit
A driver reported hitting a 47-year-old Larchmont bicyclist with his vehicle while turning left from Mamaroneck Road onto Palmer Avenue at 6:24 a.m., June 4. The bicyclist was stopped at the traffic light when the driver's car made impact. His leg sustained an injury and Scarsdale Volunteer Ambulance Corps transported him to White Plains Hospital Center for evaluation and treatment.

On June 7, an 11-yeaer-old bicyclist collided with a car at Mamaroneck Road and Crossway shortly before 5 p.m. According to the 19-year-old driver of the car and his passenger, the bicyclist lost control of his bicycle at the Mamaroneck Road Crossway interchange, veered off the sidewalk and entered the intersection, striking the side of the car. The bicyclist and driver exchanged information at the scene, and the bicyclist was taken to White Plains Hospital Center for evaluation and treatment.
Broken mirror
On June 7, a driver reported that two motorcycles, driven by men with female passengers on the seat behind, drove by her car on Walworth Avenue. The woman alleged that both female passengers attempted to strike her car's side mirror as they passed, with "one being successful in breaking the mirror." The motorcycles did not stop after the mirror was broken. The driver believed the act was "intentional." The driver did not wish to complete an accident report or pursue charges, she said.
Cars and roadways
On June 1, a caller reported that a sign at Secor and Mamaroneck roads had been bent and damaged.


A pallet containing 754 math textbooks was in the roadway at Walworth Avenue and Fenimore Road June 1. It was addressed to a Walworth Avenue woman. Police contacted the woman and instructed her to move the contents of the pallet into her house as soon as possible.

Police contacted United Parcel Service to look into the reason why a UPS truck, without a driver present, was parked on Hamilton Road for more than an hour June 1.

On June 2, two white males on bicycles carrying spray paint were seen on Crane Road. Police searched the area for them or for possible graffiti. Nothing was found.

On June 2, a caller reported a car collided with a "keep right" sign at Crane Road and East Parkway and kept driving. Police examined the sign and assessed that there was no significant damage.


Police replaced a dislodged water cap at Sycamore and Secor roads June 2.
Patrol helped a woman cross Weaver Street June 2 and June 7.


While backing into a driveway, a car struck a fire hydrant on Magnolia Road June 3. The water department was notified.

A large tree and wires fell on Circle Road June 3. Police notified the highway department and Con Edison. Firefighters stood by.

A tree fell at Potter and Lee roads June 2. It took down a secondary wire. Police taped and set up flares, and Con Edison was notified.


Police notified Verizon about a low-hanging wire on Weaver Street June 4.

Loose Verizon wires were secured on Brewster Road, and Verizon was notified June 4.

Patrol called a tow for a disabled vehicle on Hutchinson Ave. June 4.


A Carman Road resident reported cars were frequently driving by his house, honking horns, June 6.


Two individuals in black hoodies sitting on the side of Valley Road listening to music were advised to move to a safer area to avoid being struck by a passing car after dark June 6.

Patrol called a tow for a disabled vehicle on Fenimore Road June 6.
Three car accidents were reported in the village this week.
Village code
Police issued summonses to landscapers using gas-powered leaf blowers in violation of village code on Crane Road June 2 and Morris Lane June 4.

Police dispersed kids sitting in car from Quaker Ridge School grounds June 2.

After neighbors complained of noise, police advised a Gatehouse Road resident to lower the volume of music June 3.

After neighbors complained of noise, police advised a Heathcote Road resident to lower the volume of music June 4.

Police dispersed youth from Quaker Ridge School grounds after dark June 4.

After neighbors complained of noise, police advised a Tyler resident to lower the noise of a family gathering outdoors June 6.
Lost and found
A Kent Road man found a credit card outside his house and gave it to police June 2. 

Police contacted the issuing bank, and a representative said to destroy the card, as it had already been reported as lost.


A man walked into headquarters and reported losing his wallet on East Parkway June 2.

A passerby at Drake and Post roads found a key fob June 2. Police vouchered it for safekeeping.


A driver reported losing a trailer license plate somewhere in the Village of Scarsdale June 7.
Firefighters
According to Fire Chief James Seymour, firefighters responded to 27 calls during the reporting period. Seymour shared the following details of some of those incidents.

On June 2, firefighters assisted Con Edison in gaining entry to a Berkeley Road house to check for possible gas infiltration due to a nearby gas leak. No gas was detected inside the house, and the house was secured.
A burner upside down on a stove in a Brite Avenue house was not allowing for proper burning off of gas, and carbon monoxide was accumulating inside the house June 5. Firefighters stood by for Con Edison and ventilated the house.


A central vacuum motor overheated and emitted smoke inside a Brite Avenue house June 6. The residents of the house self evacuated to the lawn. Firefighters ventilated the basement and removed the central vacuum motor to the yard.


A grill caught fire outside a Rock Creek Lane house June 6. Firefighters extinguished it using pressurized water. The grease fire was contained to the grill with no extension. It was caused by excessive grease in the grill.


A house cat got stuck in an exterior soffit of a Gilmore Court house June 7. 
Firefighters removed the wooden soffit and were able to free the cat unharmed. The soffit boards were temporarily secured to prevent other animals from entering the house.
This report covering police and fire department activity from June 1-7 has been compiled from official information.

This police report is sponsored by Scarsdale Security who does more than just security. Contact them about remote video for your home or business. Call 914-722-2200 or visit their website.