Police Report: Rash of Car Break-ins July 17. NJ Woman Arrested with Stolen Car from PA.
Wednesday, 22 July 2020 12:23
Last Updated: Wednesday, 22 July 2020 12:56
Published: Wednesday, 22 July 2020 12:23
Traci Dutton Ludwig
Hits: 1438
Car break-ins and stolen bikes: At 3:15 a.m., July 17, a caller reported seeing youths on bikes at Franklin and Haverford roads. She then heard car alarms sounding and called police. While checking the area, police discovered or were alerted to several car break-ins and attempted car break-ins. At two houses on Stratton Road, one house on Gatehouse Road, one house on Carthage Lane, one house on Franklin Road and one house on Haverford Road, residents said their cars had been rummaged through, but nothing was stolen.
At one house on Penn Blvd, the resident showed police surveillance video of a male walking up her driveway and attempting to open her locked car door. At another house on Penn Blvd, the resident said nothing was taken from his cars, but three bicycles were stolen from his open garage. At 6 a.m., a Franklin Road resident reported a male was observed coming onto her property on a blue bicycle and attempting to open the door of a parked car. The car was locked, and the male fled. At 6:25 a.m., a Carthage Road man reported seeing one male on a blue bike and one on foot attempting to open a door of his parked car. The man shouted to the males from an open window, and the males fled. At 8:45 a.m., a Penn Blvd. resident reported seeing males attempt to open the door of a parked car, but the door was locked. At 8:50 a.m., a Haverford Road man reported waking up to find his car door open and an ID, a police surgeon badge and three rolls of quarters missing from his car. The ID and badge were later recovered in a neighbor's yard. At 12:17 p.m., a Heathcote Road resident reported that her car had been entered, $18 in loose change and bills had been stolen, and an errant Royal Baby bike was left near her car. It was vouchered by police. At 2 p.m., a Stratton Road resident reported $6 in loose change had been stolen from her unlocked car, and her basketball net was ripped. Police vouchered a Trek Verve 2 bike found on Stratton Road while investigating the reports. Police are investigating.
Stolen car arrest
While conducting larceny patrol in the early morning hours of July 19, police noticed an occupied 2005 Honda Pilot, with Pennsylvania plates, parked on Carthage Road with its engine running and its front amber lights illuminated. As police approached the car, the driver sped away. Police followed the car and ran the license plates. The plates indicated the car had been reported as stolen. The car continued onto the Hutchinson River Parkway, and police followed, calling for back up. Eventually the driver pulled over, and additional officers arrived. The car contained a total of seven occupants, and police ordered them to get out of the car. The driver was identified as Nahtahja Johnson, 19, of Newark, NJ. She was arrested on charges of criminal possession of stolen property not more than $3,000, third-degree unauthorized use of a vehicle and operation of a motor vehicle by an unlicensed driver. After police consulted with the district attorney's office, Johnson was arraigned and released on her own recognizance, with an appearance ticket for Scarsdale Village Justice Court on September 30. Police interviewed and released the other six occupants of the car – a 19-year-old woman from Newark and five 18- or 19-year-old males from Newark or Charlotte, NC.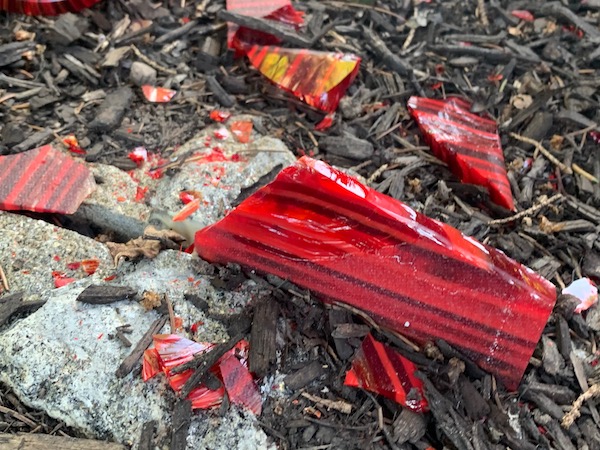 Theft
A Hampton Road resident reported someone stole a $16,000 glass sculpture from her property sometime between July 11 and July 13. Small pieces of the glass sculpture had broken off during the apparent theft and were found on the property.
A person from the Scarsdale Schools district office reported that two iPads had been stolen from the school in the past year July 15.
On July 15, a Garden Road resident alleged a contractor stole Chanel sunglasses, a spice grinder and $25 cash from his house.
Scam
A Cayuga Road man reported being the victim of a scam July 15. He said he had started a job working from home for an individual whom he only knew over the phone. He received a check that was $1,500 greater than his weekly salary, and the alleged employer instructed him to use the extra $1,500 to buy gift cards and provide the gift car numbers to the employer over the phone. The man bought the gift cards but did not provide the numbers to the employer. The salary check, in the meantime, bounced.
Identity theft
On July 13, A Rural Drive resident reported her bank informed her there had been fraudulent activity associated with a July 8 wire transfer she had attempted to make in the amount of $199,960. The bank was following up.
On July 14, a Hampton Road woman reported someone filed a fraudulent unemployment claim in her name.
A Heathcote Road woman reported that checks she wrote to pay for her mother's health care – and which she mailed to her mother's living facility – were stolen, altered and paid out to an unknown person July 15. The checks amounted to $4,640.
Trespassing
A custodian at Heathcote School reported seeing a man, approximately 20-years-old, on the roof of the school July 14. The man was described as wearing a pink shirt and a bucket hat. He ran away when the custodian saw him.
A Cushman Road resident reported people in a blue car came to his house twice on July 15. One time they were photographing the house, which is under construction. Another time they were in the back yard. When the homeowner shouted to them, they left the property.
A nail salon owner on Scarsdale Avenue was told by a neighboring business owner that two men, described as Hispanic, were observed entering the nail salon through a rear open window around 7 p.m., July 15. The men left when the other business owner observed them and called out, "Excuse me. Do you work here?" As the business owner was calling the nail salon owner, the men were observed leaving in a light blue Honda minivan. The nail salon owner arrived on scene to meet with police. She said nothing was missing or out of place. A contractor was called to see if the men were his workers. He said he did not believe they were. He said he would check on his job site equipment the next day.
911
A youth accidentally dialed 911 while playing video games on Shaw Road July 19. Police spoke with the youth's mother and confirmed everything was in good order.
An ex-employee of a Village restaurant called 911 because he believed there was a discrepancy in his wages, as paid out via his paycheck July 19. Police spoke to the manager of the restaurant who explained that payroll is one week behind. The manager advised the ex-employee to return on July 25 to pick up the remainder of this wages.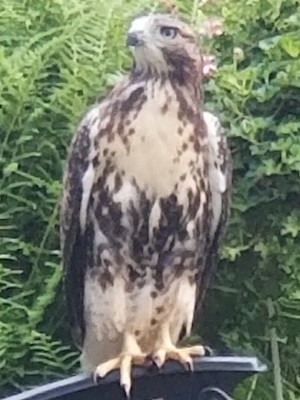 A redtailed hawk on Walworth Avenue. Photo by Andrew Sereysky.
Unwanted attention
A Quaker Ridge Road man reported a woman, whom he "has known for some time," was calling him, and he did not wish to speak with her July 19. Police advised him of his options, and the man elected to block the woman's number.
Civil matters
Two sisters were arguing over what to do with their mother's belongings from their mother's Colvin Road house while the mother was in the hospital July 16. After police mediation, the sisters agreed to separate for the day and meet at a later time to deal with the matter.
On July 18, a Post Road resident advised that some of her plants near the property line were damaged by a neighbor's painter. Police advised the resident it was a civil matter and to speak with the neighbor to attempt to work out a resolution.
Social distancing
A caller reported a gathering of camp kids at Heathcote School were not wearing masks or social distancing July 14. Police arrived on scene and spoke with a person in charge who stated the kids were going to participate in a socially distanced activity and that masks would be worn when the kids were less than six feet from one another. However, it was also advised that not all camp participants have masks.
Police advised people on Mamaroneck Road fields to use masks if social distancing was not possible July 18.
On July 18, police advised parties watching a soccer game on Post Road to maintain social distancing and wear face coverings.
Police advised people gathering outside restaurants on Garth Road to adhere to social distancing and face covering guidelines July 18.
Bicyclist
A bicyclist reported that he was riding his bike on Mamaroneck Road and a car drove through the intersection with Brookby Road to make a turn without stopping, and it almost hit the bicyclist July 13. There were no reported injuries.
Cars and roadways
Patrol helped a pedestrian make her way to the sidewalk safely on Weaver Street on July 13 and July 15.
A caller reported that a blue Subaru wagon with a gray bumper and Vermont plates ran a red light at Fenimore and Post roads and struck his vehicle July 13. The car left the scene. Police canvassed the area but could not find it.
A traffic light's power went out at Secor Road and Bypass July 13. Police directed traffic and set up portable stop signs until the light regained power.
Police issued a parking summons to the owner of an illegally parked truck on Overhill Road July 14.
A car's engine overheated at Old Lyme Road and Weaver Street July 14. When police arrived on scene, the car had cooled down enough for the driver to move it to Heathcote Gulf for service.
Police replaced a loose water main cap at Post and Oxford roads July 15. The water department was informed.
Patrol removed debris from Post Road July 16.
On July 17, police looked into Village code to see if a food truck could be parked in a Madison Road driveway without a "peddler's permit," as a homeowner alleged. The building department was closed at the time, so an immediate answer was not available.
A patrol car got a flat tire on Heathcote Road July 18. Its equipment was secured at headquarters, and it was towed to the highway department.
One car accident was officially reported in the Village this week.
Village code
Police issued summonses to landscapers for using gas-powered leaf blowers in violation of Village code on Foxhall Road July 13 and Lincoln Road July 15.
After receiving noise complaints of a loud party at Aspen and Bansom roads July 17, police advised a party host to keep the noise level down.
Dogs
A caller found a loose dog at Corell and Secor roads and dropped it off at headquarters July 15. Police notified New Rochelle Humane Society.
Lost and found
A parking enforcement officer found a passport on Walworth Avenue, and police returned it to its owner July 14.
A Walworth Avenue resident said she found items in the trunk of her car that did not belong to her July 16. The car had been stolen and was recently returned to her. Police picked up the errant items and returned them to their owners.
Firefighters
A light switch was arcing in a cabinet in a Walworth Avenue house July 14. It appeared a rodent had eaten through the wire sheathing, according to firefighters. Firefighters shut down power to the switch and checked for extension in the walls. Firefighters advised to have an electrician service the switch.
On July 17, firefighters responded to a report of an unattended pot left cooking on a stove in a Garth Road apartment. Firefighters shut down the stovetop and removed the pot.
Firefighters assisted at car accidents on Walworth Avenue and Hutchinson Rover Parkway July 17.
This report covering police and fire department information from July 13-19 has been compiled from official information.

This police report is sponsored by Scarsdale Security who does more than just security. Contact them about remote video for your home or business. Call 914-722-2200 or visit their website.