Firefighters and SVAC Free Trapped Driver from Van and Release Landscaper's Leg Snarled in Lawn Equipment
Wednesday, 16 September 2020 17:02
Last Updated: Wednesday, 16 September 2020 17:08
Published: Wednesday, 16 September 2020 17:02
Traci Dutton Ludwig
Hits: 1367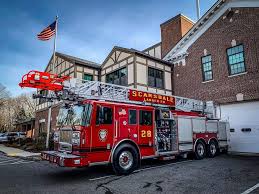 Car break-ins: At 2 a.m., Sept. 8, a Hampton Road homeowner reported seeing two men walking on his property, via footage from a motion sensor camera. He further advised that he later noticed that the doors of his unlocked 2004 Honda Accord had been opened, and it appeared as if the men had "checked out everything" inside the car. Five dollars cash were reported to be missing. The car was in the driveway.
On Sept. 8, a Post Road resident reported that two of her cars, parked and unlocked in her driveway, had been unlawfully entered, and the doors were left ajar. Although items were strewn about inside the car, the resident believed nothing was taken.
In Sept. 8, another Post Road resident reported an Apple charging cable and three dollars in coins had been stolen from his unlocked, parked car overnight.
Two gold bracelets, valued at $10,000 combined, $1,000 cash and two credit cards were stolen from a New York City person's car, while the car was parked in a Griffen Avenue driveway, Sept. 11.
Identity theft
On Sept. 8, a Circle Road resident reported he received a suspicious bank statement, in his name but for an unknown account with a New Jersey bank, in the mail. According to investigation, the account was opened in Tom's River, New Jersey, on Aug. 1. At that time a deposit of $100 was made. On Aug. 31, a deposit of $9,300 was made. This deposit was the result of a fraudulent SBA government loan that was taken out in the man's name.
On Sept. 10, a Larch Lane woman reported unauthorized charges totaling $1861.06 on her debit card.
On Sept. 13, a Circle Road resident reported he received two suspicious bank statements, in his name but for unknown accounts with Ridgewood Savings Bank, in the mail on Sept. 11. When he opened the mail, he learned an unknown individual had deposited $9,000 into each account on Aug. 12 and withdrew the money from the accounts on Aug. 25. The source of the two $9,000 deposits was unknown.
On Sept. 13, a Meadow Road resident reported an unknown person attempted to open an unauthorized credit card in her name; however, an invalid address raised a red flag, and the credit provider declined the account.
Stolen car
A Richelieu Road woman reported that her tan Audi A5 had been stolen from her driveway overnight Sept. 9. According to police, the car was later recovered.
Ride home
On Sept. 8, a caller reported a woman wearing a hospital gown sitting at the intersection of Post Road and Huntington Avenue, "looking confused." Police went to the scene and asked her if she needed assistance. She said she was trying to take the bus home but became lost. According to further inquiry, it was revealed that the woman had been released from custody, from the Westchester County department of corrections, and was admitted to Westchester Medical Center. She was treated at WMC and released at approximately 3:15 p.m. Police called Scarsdale Taxi to assist the woman in getting home.
Help
A key holder responded to a Ramsey Road house on the belief that there was a burglary alarm notification, due to the fact that he had received several unanswered calls from the house's security system provider Sept. 12. Police reached out to the security system provider and learned that the notifications were only in regard to a low battery notification, not a burglary alarm.
Cars and roadways
Police notified Con Edison about a loose wire on Bypass Sept. 8.
Electrical wires got tangled in a tree branch on Tunstall Road and were sparking. Firefighters and police put caution tape around the affected area and notified Con Edison for repair Sept. 8.
A driver reported someone struck his parked car on East Parkway and left the scene Sept. 8.
A driver attempted to avoid hitting an animal and lost control of his car at Weaver Street and Crossway Sept. 9. As a result, the car struck a utility pole. Con Edison was notified, and police assisted New Rochelle police with traffic control around the accident.
Police rolled up a fallen cable wire on Elmdorf Road and notified the proper provider the Sept. 9.
On Sept. 10, a caller reported that a car with a Florida license plate was attempting to drive down a small bicycle pathway that is not intended for vehicles near Brook Lane. Before police arrived, the driver of the car redirected its intended destination and left by way of Walworth Avenue.
A Brewster Road resident complained about a trailer parked on her street during a period of authorized construction work near the intersection of Fenimore Road Sept. 10. Patrol attempted to explain why the trailer needed to be parked there during construction hours and how it participated in a project that would better the community. The resident remained very upset; so a representative for the contractor arrived on scene and relocated the trailer to another location.
A 26-year-old New York City woman struck the side of a Scarsdale fire truck in the parking lot entrance to public safety headquarters while she was attempting to turn around in the parking lot and while she was attempting to exit the lot via the entryway Sept. 11. The fire truck did not sustain any visible damage. The woman's car, however, showed damage on both the left and right sides.
A car was parked in grass by the side of Weaver Street at 10 p.m., Sept. 11. Police spoke with the owner of the car and learned the car had been involved in an accident, and the driver was waiting for a tow.
An adult, female bicyclist collided into a parked car's door on Walworth Avenue, as the driver was opening her car door to exit, around 10 a.m., Sept. 12. No injuries were reported.
A Honda Civic driver was rear-ended by a gray BMW on Popham Road, and the offending driver left the scene, according to the driver who was rear-ended and called police Sept. 12. No injuries were reported.
Animals
A Mamaroneck Road resident reported losing her black and brown cat, after the animal accidentally got outside the house, Sept. 8.
On Sept. 10, a severely injured deer was found on Mamaroneck Road. Patrol assisted in moving the deer to a grassy area by the side of the road and received permission from a supervisor to shoot the deer. The highway department was notified for the deceased animal's removal from the roadway.
Roosters

After a neighbor complained about a Brewster Road resident's roosters making noise at 8:40 a.m., Sept. 11, police reminded the resident that any noise in violation of Village code could result in a summons. The resident said he understood and would put the roosters in their enclosure if they became noisy. Later that evening, the resident was playing with the roosters, prompting them to make noise that disturbed neighbors. Police returned to the house and advised the resident. The resident said he was in the process of putting the roosters inside for the night. It was approximately 7:30 p.m. On Sept. 12, a neighbor again reported that the Brewster Road resident's roosters were making excessive noise. Police arrived on scene, and noted they "did not hear excessive noise" from the roosters. The residents who own the roosters informed police that they were in the process of rehousing the roosters at a sanctuary, but it would take five days. A Village code violation summons was issued for the noise violation.
Village code
Police dispersed a group of noisy kids from Brite Avenue after 1 a.m., Sept. 9.

Police issued summonses to landscapers using gas-powered leaf blowers on Farley Road Sept. 9 and Heathcote Road Sept. 11.

Tree cutters blocked a portion of the road to do their job, Sept. 10. Police advised them they could not block the road.
Police advised workers on Wildwood Road that they were not permitted to begin work until 10 a.m., Sept. 12.
Police dispersed kids playing basketball at Greenacres School grounds after dark Sept. 12 and Sept. 13.
Lost and found
On Sept. 11, a White Plains woman reported losing her $200 Chanel wallet somewhere in the Village of Scarsdale, near Walworth Avenue and Fenimore Road. It reportedly contained $5,000 cash.
Firefighters
Responding to a reported possible kitchen fire in a Carthage Road house, firefighters found a cardboard pizza box and other ordinary combustibles burning on top of an electric range and countertop Sept. 8. Firefighters used a carbon dioxide extinguisher to put out the fire. They removed a fire-damaged microwave oven and additional combustibles. After confirming there was no extension of the fire, firefighters used fans to ventilate. The homeowner said the range was off when the pizza box was placed there. The homeowner surmised that the family dog might have inadvertently turned on the burner, due to previous similar behavior.
Firefighters assisted at a car accident involving a car and a utility pole on Weaver Street Sept. 9.
Firefighters assisted at a rollover car accident, involving a contractor's van, on the Bronx River Parkway Sept. 9. The driver was pinned inside the driver's seat with visible, bleeding injuries to his left arm and wrist, but he was stable. Firefighters assisted by cutting open the van and removing the windshield to extricate the driver, while Scarsdale Volunteer Ambulance Corps arrived on scene. The driver was removed from the car and taken to White Plains Hospital Center for treatment.
On Sept. 10, firefighters received a report of a landscaping worker entrapped in a piece of equipment on Ogden Road. On scene, firefighters found the worker (the patient) with his right leg entangled and trapped, up to his knee, in a lawn aerator. While SVAC provided emergency patient care and police helped to support him, firefighters worked to stabilize the machine and dismantle its drum and wheel to release the patient's leg. Cordless tools and Hurst cutters were used to further remove the patient from the machine. One released, firefighters helped SVAC paramedics load the patient into an ambulance, for transport to the hospital.
A bird's nesting material was smoking in an outdoor light fixture at an Ogden Road house of worship Sept. 11. Firefighters disconnected the fixture and extinguished the burning material with a water can. The caretaker was advised to contact an electrician.
This report covering police and fire department activity from Sept. 8-13 has been compiled from official information.

This police report is sponsored by Scarsdale Security who does more than just security. Contact them about remote video for your home or business. Call 914-722-2200 or visit their website.