Police Issue Citations for Obstructive Leaf Piles Left on Village Streets
Wednesday, 18 November 2020 21:41
Last Updated: Thursday, 19 November 2020 12:54
Published: Wednesday, 18 November 2020 21:41
Traci Dutton Ludwig
Hits: 1070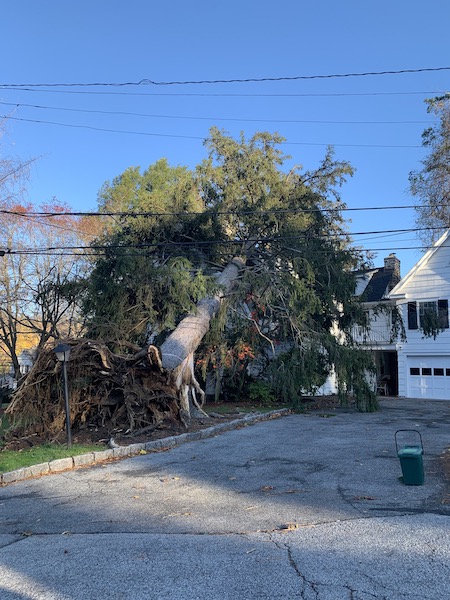 A tree fell on Brayton Road during a strong storm on Sunday night November 15. Photo credit Dawn Knief.Dangerous leaf piles: This week, police issued at least 10 summonses to residents who were responsible for large and obstructive piles of leaves in the street. These summonses were issues when the leaf piles were placed in such a way that they obstructed traffic flow, blocked visibility in a roadway curve, blocked access to a fire hydrant or impeded the flow of water into a street catch basin. Starting on Oct. 9. The highway department was notified, for cleanup, about leaves that had been placed on Cushman Road, Greenacres Avenue and Oxford Road. Warnings and summons were issued, as appropriate. Highway department cleanup and Village code enforcement continued for leaf piles blocking traffic lanes on Wheelock Road and Black Birch Lane Nov. 10, Birchall Drive and Colonial Drive Nov. 11 and Kensington and Garden roads Nov. 15.
Interrupted burglary near Eastchester border
On Nov. 14, around 4:30 p.m., Eastchester police requested assistance on Grand Boulevard, to investigate the report of a person in a resident's backyard and an interrupted burglary. Scarsdale police assisted Eastchester police in canvassing the area for the two suspects, described as black men, dressed in black and approximately 5'5" and 5'6" tall. The suspects reportedly fled on foot toward Lee Road. The canvass yielded negative results. Eastchester police remained on scene to investigate.
Identity theft
On Nov. 10, a Fox Meadow Road man reported that he received two shipments of items he had not ordered via FedEx – a Samsung phone and a security camera. After speaking to the vendor, the man learned someone had opened a credit account in his name on Nov. 1 and purchased the items. After learning of the fraud, the vendor stated the account would be closed and the charges would be cancelled, following the return of the items.
On Nov. 12, a Heathcote Road resident reported someone had attempted to open a fraudulent account in his name. It did not go through, however, because the bank flagged it as suspicious.
On Nov. 12, an Olmsted Road resident reported someone had filed for fraudulent unemployment assistance, using the resident's personal information.
Check fraud
An Archer Lane woman reported her bank informed her that a forged check had been written against her account in the amount of $3,000 Nov. 10. According to investigation, it was one of three checks that had been removed from the woman's possession.
Domestic matter
A Fox Meadow man called police because his adult son, who had moved out, returned to the man's house and requested to stay there for the night Nov. 10. The man said the son was not welcome to stay at the house. The son left without incident after police arrived and said he would stay with a friend in New York City. Police provided a courtesy ride to the train station.
Harassment
A Circle Road resident reported that his contractor sent messages that the resident felt were threatening Nov. 14. The contractor and resident were having a dispute over renovation work performed on the resident's property. The resident told police he advised the contractor to cease communication and to stay away from the property.
Transactions
A caller advised of a large gathering of people and vehicles in a Mamaroneck Road parking lot exchanging food items from their cars Nov. 10. Upon arrival, patrol observed a soccer clinic underway at Crossway fields. Patrol did not observe any exchange of food and was unable to determine if the alleged food had been sold or if had merely been shared and consumed by the parents of the soccer players.
Missing person
After a White Plains woman with dementia was reported missing from her home in White Plains, she was found by Scarsdale police on East Parkway Nov. 9. It seemed that she had wandered from White Plains in the direction of a family member's house in Scarsdale. Scarsdale Volunteer Ambulance Corps checked her condition and she refused further medical attention. A family member picked her up.
Masks and social distancing
Police spoke to the manager of the youth soccer program about reminding kids to wear masks while playing on the field Nov. 9. The manager said he was aware of the mandate, but he also said he understood that the mandate included additional language stating that kids who could not tolerate wearing masks while playing were permitted to remove masks.
A neighbor reported a large and possibly unsafe gathering on Brewster Road Nov. 14. Police spoke with the hostess and advised her she must adhere to NYS and local guidelines governing public activity during the current pandemic. She told police she understood and would end the gathering.
Police reminded a Catherine Road homeowner of pandemic restrictions and public health guidelines after a caller complained about a gathering at the homeowner's address Nov. 15.
Neighbors
Neighbors on Meadow and Bradford roads reported being engaged in a dispute about noise from work being conducted at one of the properties, possibly outside allowed hours, Nov. 9. Police provided Village code information and advised the neighbors to abide by code and contact police should enforcement be necessary.
On Nov. 11, the Meadow Road neighbor reported that her Bradford Road neighbor was bothering workers on her property.
Cars and roadways
Fifteen construction vehicles were parked on Park and Oxford roads, blocking one lane of traffic, and two landscaping trucks were parked blocking traffic on Cooper Road Nov. 9. Police asked the drivers to move their vehicles, and the drivers did so without complication.
On Tuesday November 10 at 7:59 am, a 17 year old girl in a new jeep was blinded by the sun while driving on Ogden Road. She struck a parked 2012 Toyota and the Jeep flipped over and landed on its roof. The Toyota was pushed into an Ogden Road driveway.
Con Edison was notified about a large frayed wires hanging above Brewster and Kingston Roads Nov. 9.
Responding to a notice from the highway department, a Harvest Drive resident claimed yard debris in front of his property did not belong to him, but rather to his neighbor, Nov. 9. The neighbor said the debris did not come from his property either, but he would ask his landscaper to remove it.
Parked cars were blocking traffic at Park and Mamaroneck roads Nov. 10 and 11. Police asked the drivers to move their cars.
A commercial-style washing machine was dumped by the side of Greenacres Avenue and Fountain Terrace Nov. 11. Police asked highway workers to remove it. Extra ridebys will be conducted to dissuade future dumping.
On Nov. 11, a car with a CT license plate was found parked and unoccupied in a private parking lot on Heathcote Road. Police left a message for the owner of the car, instructing the owner to move the car.
A Meadow Road resident reported a car drove over her lawn and moved rocks into the roadway Nov. 11. Police cleaned up the rocks.
Highway workers removed a fallen tree from Wayside Lane Nov. 11.
A car ran out of gas on Weaver Street Nov. 11. Police stood by until the driver's husband brought gasoline to the scene to refuel the car.
Patrol removed a fallen branch from Wayside Lane Nov. 12.
A "Slow Children" sign had been placed on Brookby Road and stabilized with rocks Nov. 12. Police advised the owner of the sign that she could not place the sign in the roadway, and it was moved onto the sidewalk.
A White Plains woman left a disabled car on Montrose Road on Oct. 17. On Nov. 12, police contacted her and asked he to move the vehicle. She first said she could not have it towed due to financial problems. Police advised her the car was in violation of public parking rules and it could be impounded, which would be more expensive. At that point, she elected to have the car towed to a mechanic's shop in Yonkers.

On Nov. 14, police directed traffic around a broken-down car at Popham Road and Scarsdale Avenue, while the driver waited for a tow truck to arrive.
Patrol removed a fallen branch from Greendale Road Nov. 15.
Con Edison was notified about a leaning utility pole at Heathcote Road and Weaver Street, and the highway department was notified about a fallen tree on Autenreith Road Nov. 15.
Three car accidents were reported in the Village this week.
Civil matter
On Nov. 11, an Overhill Road business owner alleged that an employee who was in the process of being terminated had exported the company's email mailing list for personal use. The owner believes that the employee intends to open a similar business and will solicit by utilizing the contact list. Police advised the owner to contact her attorney to investigate the alleged breach of contract.
Village code
Power equipment was being used on Dolma Road before 10 a.m. on a holiday, Nov. 11, and water was being illegally pumped into the street at the same house. Police issued summonses for the violations.
Following up on a noise complaint, police encountered youth on bicycles at Edgewood School grounds after dark Nov. 14. Police asked the kids to leave the area, and they rode away on their bikes.
Firefighters
On Nov. 9, firefighters assisted at a car accident on the Hutchinson River Parkway.
On Nov. 10, firefighters were dispatched to a Lyons Road house for a reported water problem and a possible gas odor. Firefighters shut the water and gas connections to a leaking hot water heater, drained the tank and advised the homeowner to call a plumber. There was no gas or carbon monoxide detected in the air of the house, as per firefighters' readings.
On Nov. 11, an overheated motor in a residential sewage ejector pump caused smoke to collect in a Circle Road basement. Firefighters ventilated the structure and checked the structure for elevated carbon monoxide levels. Air quality was found to be good. Investigation showed that the circuit breaker for the sewage ejector pump had tripped at some point during the event, and an unrelated circuit on the first floor was also tripped for unknown reasons. The homeowner was advised to refrain from using the equipment until it could be serviced.

On Nov. 11, an unknown odor was reported in a Fox Meadow Road basement. Firefighters found a slight mechanical odor in the laundry room, possibly coming from the dryer. After Con Edison ruled out any gas leaks, the homeowner was advised to call an electrician.
On Nov. 11. Firefighters assisted at a rollover car accident on the Hutchinson River Parkway.
This report covering police and fire department activity from Nov. 9-15 has been compiled from official information.

This police report is sponsored by Scarsdale Security who does more than just security. Contact them about remote video for your home or business. Call 914-722-2200 or visit their websiteThis police report is sponsored by Scarsdale Security who does more than just security. Contact them about remote video for your home or business. Call 914-722-2200 or visit their website.