Police: Heating Oil Spill Impacts Bronx River, Juvenile Suspects Arrested for Robbing Gas Station
Wednesday, 25 November 2020 08:33
Last Updated: Wednesday, 25 November 2020 08:44
Published: Wednesday, 25 November 2020 08:33
Traci Dutton Ludwig
Hits: 2069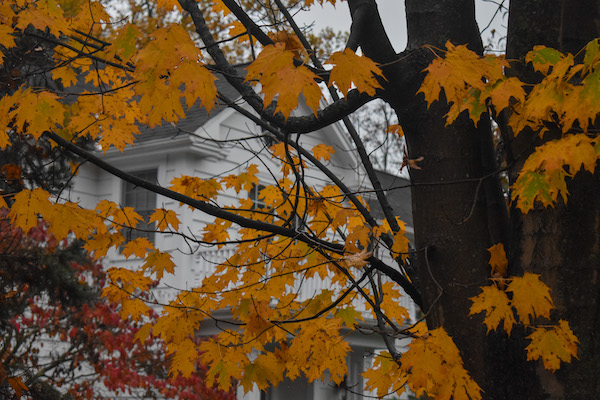 On Friday, Nov. 20, Westchester County police received 911 calls starting at 4:31 p.m. reporting an oil sheen and strong odor on the Bronx River near Harney Road. Patrol officers and members of the WCPD Special Operations Division responded and confirmed there was a noxious substance in the water resembling home heating oil. WCPD officers deployed containment booms in an effort to keep the spill confined to its area of origin and prevent oil from going further downstream. Eastchester officials and neighboring jurisdictions were notified as a precaution. By 5 p.m., the Eastchester fire department and Eastchester highway department were on scene. EFD members placed additional containment booms in the river. Town officials traced the source of the leak to a building on Garth Road that had received a heating oil delivery earlier in the day. EFD requested mutual aid assistance from Yonkers FD with deploying even more containment booms. At 7:50 p.m., a Department of Environmental Conservation response team was on site and took responsibility for the cleanup and the follow-up investigation. The State brought in a private contractor to conduct cleanup work. WCPD personnel cleared the scene a short time later.
Robbery at Central Avenue Shell Station
Greenburgh Police report a clerk at the Shell Station was assaulted and the station was robbed at around 9 pm on Thursday night November 19, 2020. The clerk told police that two males entered the store, went behind the counter and repeatedly struck him in the face as they forced him towards the back room. The suspects then pulled the cash register off the counter and broke it and took approximately $500 in cash. The left the store and ran south on Central Avenue. One of the suspects kept his hand in his pocket "as if he had a weapon," though none was displayed.
Greenburgh and Westchester County Police and a K9 unit arrived and treated the victim. An investigation by the Greenburgh Police results in the arrest of two suspects, ages 16 and 17, in New York City. Both were charged with robbery and criminal mischief in the second degrees and send to Woodfield Cottage Juvenile Detention Facility pending future court dates.

Missing package
On Nov. 18, a Post Road woman reported that she never received a package that was supposedly delivered in October. She believes the package was stolen.
Car break-in
A Cooper Road resident reported an unlocked car in her driveway had been unlawfully entered and rummaged through overnight Nov 21 into the morning of Nov. 22.
Identity theft
On Nov. 17, after receiving a bank debit card for the payment of unemployment benefits in the mail, a Tunstall Road resident discovered someone had fraudulently applied for unemployment compensation from the State of Ohio in her name.
On Nov. 20, a Franklin Road woman reported she received a letter, addressed to her using her maiden name, regarding her eligibility for unemployment benefits. Since she did not remember filing for unemployment, she believed the letter indicated that her identity had possibly been compromised. She needed a policed report for her identity protection service agency to follow up.
On Nov. 20, a Wynmor Road woman reported someone fraudulently opened a motorcycle insurance policy in her name.
On Nov. 21, a Fox Meadow Road resident reported someone fraudulently filed for unemployment benefits in his name.
Online scam attempt
On Nov. 22, a Madison Road man reported he engaged in an online video chat with a subject he met through social media and that the subject is now requesting money from him. The man said the subject is unknown to him outside of social media and he has since blocked the subject's accounts.
Consumer fraud
A Fox Meadow Road resident received a package containing a watch that he did not order Nov. 17. The resident contacted the vendor and was in the process of correcting the matter and canceling the order. Police advised the resident to alert the credit bureaus because of possible identity theft.
Loitering
On Nov. 22, A Bradford Road resident reported people in cars have been hanging out on the street in front of an empty lot. Police suggested the resident could install spotlights to deter people from loitering. Ridebys of the street will be increased.
Assistance
On Nov. 17, a man rang the doorbell of a Springdale Road house looking to serve legal papers to a person who did not live at the house. Police arrived on scene after the homeowner called asking for help because she found the situation suspicious. Police spoke with the process server and the lawyer responsible for the papers, and it was determined that the papers contained incorrect pedigree information.

A person called Scarsdale police asking for medical help Nov. 18. The person, however, was located in Eastchester and had refused help from Eastchester police and Eastchester EMS. Scarsdale police reached out to Eastchester police to assist.
Blue bag
A caller reported seeing a blue bag, containing what she believed to be clothing, in a wooded area off Greendale Road Nov. 18. Police investigated and found the described blue bag. It contained trash and was discarded.
Unknown substance
On Nov. 21, patrol responded to the Scarsdale train station to assist MTA police with an investigation of an unknown substance. MTA investigation experts arrived on scene and concluded that the substance was ammonium sulfate, which does not pose any harm to the public. MTA police removed the substance with water.
Pranksters
A Boulevard resident reported s group of young adults approached his house, banged on a window and ran away, fleeing via a small SUV, possibly a Ford Escape, Nov. 21.
Locked in
A Cayuga Road father called police after his car's locking mechanism accidentally locked all car doors with the key and his child locked inside Nov. 21. Police and firefighters arrived, and firefighters used hand tools to open the car door. The child was in good health but crying. Medical attention was declined.
Missing bicycle
On Nov. 21, a Brittany Close caller reported that a white male, approximately 17 years old wearing a jacket and a mask, knocked on her front door inquiring about his bike which he said had been left on her property. When the caller advised she knew nothing about the bike, the male left the scene and got into a black Audi. The Audi was last seen turning onto Barker Road.
Pedestrian
On Nov. 21, a caller advised that she was almost struck by a car while crossing Drake Road in the crosswalk. The caller said she was not injured in any way. Patrol informed her that because the violation was not observed by patrol, a summons could not be issued. Shortly thereafter the driver of the car contacted the police desk to address this incident. The driver said she did not see the pedestrian crossing at the time she drove through the crosswalk. She advised that she apologized to the pedestrian multiple times on scene and that her actions were neither malicious nor intentional. Patrol spoke further with her about the importance of being aware of pedestrian crosswalks going forward. The operator understood and said she will be more cautious in the future.
Bicyclist hit
On Nov. 21, police received a report of a bicyclist hit by a truck at Butler and Fox Meadow roads. Witnesses said that after the collision the driver picked the bicyclist off of the ground and placed him in his truck. The driver then put the bike in the back of his truck and proceeded to travel south on Paddington Road. The witnesses were unable to provide the vehicle's license plate, but stated it was a navy blue pickup truck. Witnesses identified the driver and the bicyclist as "adult men." Witnesses said the bicyclist did not appear to have any visible injuries. White Plains Hospital, Lawrence Hospital and Westchester County Medical Center were contacted to see if anyone fitting the description or mechanism of injury was present at the hospital, but none were.
Cars and roadways
A stop sign fell over during stormy weather on Swarthmore Road Nov. 16. Police put up a temporary stop sign and notified the highway department for repair. Police directed traffic around a trailer unloading a car on Mamaroneck Road Nov. 16.
Police notified Con Edison about a sparking wire on Eton Road and stood by for Con Edison Nov. 16.
Patrol blocked off River Road so highway workers could safely remove an abundance of leaves Nov. 16.
Police stood by on East Parkway and Popham Road while the driver of a disabled car waited for a tow Nov. 17.
After a TV was reported by the side of the road, police advised a Crane Road resident that televisions could not be placed on the curb for sanitation pickup Nov. 18.
On Nov. 19, police contacted Verizon about a coiled wire on Brite Avenue.
On Nov. 20, police helped a driver move a disabled car from Post Road onto Sherbrooke Road so the driver could safely wait for a tow.
On Nov. 20, police contacted Verizon about a fallen wire on Hamilton Road.

Police tightened a loose sewer cap on Hamilton Road Nov. 21.
Civil matter
On Nov. 20, a Gaylor Road resident reported a licensed plumber did some work for her but was not satisfied with the $500 she paid him, causing him to "aggressively snatch the money out of her hand." The resident felt the plumber might come back because no receipt was given for the cash payment. The resident further stated that she was paying the plumber $500 on behalf of her friend, who had her water pressure checked out by him at her residence in Queens, NY, on Nov. 19. The resident said the agreement was to fix the water pressure in her building for $1,500. She advised that the plumber diagnosed the issue and deemed the City would have to grant him access to clear the corrosion causing the blockage. The plumber then responded to Gaylor Road to collect payment. The resident reiterated that she believes the plumber may return to collect the rest of the money, and she said she further believes the plumber is not owed the money due to the job not being completed. Police advised the resident that it was a civil matter.
Village code
Police issued a summons to a Black Birch Lane resident and a Thornwood Place resident because of a leaf piles blocking fire hydrants in front of the residents' houses Nov. 17.
A Greenacres Avenue resident was issued a summons for a leaf pile placed in violation of Village code Nov. 17. The leaf pile was placed in a location that blocked visibility at a three-way intersection.
After neighbors complained of noise after dark, Nov. 17, an Aspen Road man was advised to stop splitting wood outdoors with an ax at that time of the night. The man stopped chopping wood and went inside.
Police issued a summons to a landscaper making very large leaf piles on Innes Road that were blocking storm drains Nov. 18.
On Nov. 19, police issued a summons to a Walworth Avenue homeowner who was responsible for a large pile of leaves obstructing traffic in the roadway. The leaf pile was described as measuring 15 feet long and three feet high, and it reportedly extended into the roadway by five feet.
At 8 a.m., Nov. 21, a contractor was issued a summons for using power tools before 10 a.m. on a weekend.
Police dispersed kids from Edgewood School grounds after dark Nov. 21.
A Sycamore Road homeowner turned off loud music at 1 a.m., Nov. 22, after police reported neighbors had complained about noise.
On Nov. 22, policed issued a summons to a Brite Avenue homeowner for a leaf pile that blocked an entire lane of traffic on the street. It reportedly measured over 25 feet in length and four feet in height, and it extended into the roadway by approximately six feet.
Lost and found
On Nov. 16, a Shawnee Road woman reported losing her passport and marriage license in a rental car that she already returned.
On Nov. 18, a Weaver Street resident reported losing his driver's license somewhere in the Village. He last saw it during the first week of November.
A damaged Apple iPhone was found on Post Road Nov. 20.
Police picked up an abandoned Huffy bicycle with two flat tires from Greendale Road Nov. 21, after a caller had reported seeing it there "for days."
Patrol returned a lost license plate to its owner after finding it on Sprague Road and correctly identifying the owner using database information Nov. 21.
Firefighters
On Nov. 16, firefighters assisted at a car accident on the Hutchinson River Parkway.

Firefighters stood by at the site of a sparking electrical wire on Eton Road, while waiting for Con Edison to arrive Nov. 16.
Firefighters examined an electrical issue with a stove and lights in a Ridgecrest West kitchen Nov. 19. Con Edison also examined the situation and advised the homeowner to contact an electrician.
Firefighters assisted at a car accident on the Bronx River Parkway Nov. 19.
A White Birch Lane resident reported accidentally leaving his car running in his garage for three hours Nov. 20. The resident was outside his house, with a nanny and his three children when firefighters arrived. Carbon monoxide was detected inside the house. Firefighters ventilated the house until air quality returned to normal. Scarsdale Volunteer Ambulance Corps checked the family to make sure everyone was OK.
On Nov. 20, firefighters helped check Murray Hill Road houses after a gas leak was detected on the street. All houses were clear of gas.
Firefighters opened the door to a Hampton Road bathroom to free a child who accidentally got locked inside the bathroom Nov. 21.
This report covering police and fire department activity from Nov. 16-22 has been compiled from official information.

This police report is sponsored by Scarsdale Security who does more than just security. Contact them about remote video for your home or business. Call 914-722-2200 or visit their websiteThis police report is sponsored by Scarsdale Security who does more than just security. Contact them about remote video for your home or business. Call 914-722-2200 or visit their website.