Police Arrest Suspect Identified in Popham Road Shoplifting Incident and a Car Fire on Foxhall Place
Wednesday, 30 December 2020 12:17
Last Updated: Wednesday, 30 December 2020 17:05
Published: Wednesday, 30 December 2020 12:17
Traci Dutton Ludwig
Hits: 1486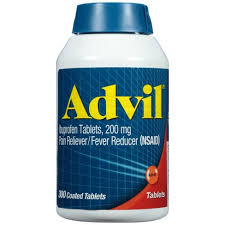 Shoplifter arrested: Following an investigation into an alleged shoplifting incident on Dec. 14 from the Popham Road CVS, police arrested suspect Ileana Oceguera, 38, of Mount Vernon on Dec. 22, Oceguera is accused of concealing and removing $535 worth of cosmetics and $415 worth of Advil from the store. She was charged with petit larceny and issued an appearance ticket for Scarsdale Village Justice Court, returnable Jan. 13.
DWI
On Dec. 27, shortly after midnight, police observed a 2018 Honda Accord speed past a patrol car on Post Road. In addition to driving approximately 53 mph, the car was observed to be driving left of pavement markings. Police conducted a traffic stop, and when approaching the car, they noticed that the driver "appeared to be sleeping" at the wheel. Police tapped on the window to wake up the driver, and the driver then drove away for approximately half a mile before coming to a stop at Post and Mamaroneck roads. Police approached the car to speak with the driver – identified as Juan Matute, 37, of White Plains. According to the police report, Matute's shirt was on backwards, and his clothing was covered with vomit. His breath smelled like alcohol, and his eyes were glassy and bloodshot. Matute was asked to submit to field sobriety tests. He was also asked to take an Alcosensor breath test, which he refused. He was arrested and taken to headquarters, where he refused to submit to a blood alcohol test three times. Police processed the arrest on the following charges: driving while intoxicated (first offense), unlawfully fleeing a police officer, reckless driving, driving left of pavement markings, speeding and refusal to take a breath test. Matute was released on his own recognizance and issued an appearance ticket for Scarsdale Village Justice Court on Jan. 13.
Public indecency
On Dec. 21, a Berwick Road woman reported that a male subject in a Jeep Wrangler stopped on the street in front of her house and was possibly masturbating. She called police, but the subject sped off before police arrived.
Stolen
On Dec. 21, a Walworth Avenue man reported that a package containing a watch appeared to have been delivered to his house and subsequently stolen that day. The value of the watch was not disclosed. The next day, on Dec. 22, the man called police to advise that the reported stolen package was actually delivered that day.
Car break-in
On Dec. 23, an Oak Way man reported that he parked his 2009 Toyota Corolla at Chase Road and Boniface Circle and, while driving home, he noticed his driver's side rear quarter glass window was broken. Further investigation revealed that items had been stolen from his front passenger seat and the trunk. These items included a $27,000 Sonosite micro ultrasound machine, a $10,000 Transducer CB, an $800 biopsy clamp and a $150 Filson jacket. Police are investigating.
Identity theft
On Dec. 22 a Stratton Road man reported that a fraudulent unemployment claim had been filed in his name.
Stop work
On Dec. 23, work was being performed at a Spier Road house, in violation of Village code. All workers, except for one, immediately left the scene upon patrol's arrival. Police told the one remaining worker to cease work until proper permits could be obtained. Communication with the homeowner is pending.
Firefighters
On Dec. 22, dust triggered false alarms in a Heathcote Road house and at Greenacres School.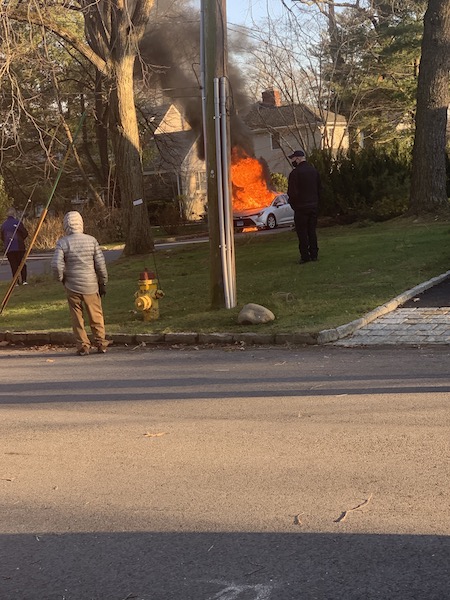 A car burst into flames on Foxhall Place around 3 pm Monday December 28th. The fire was extinguished without causing further damage. Photo Credit: Ray Cooper
On Dec. 26, floor-sanding dust triggered a false alarm in a Jefferson Road house.
On Dec. 22, firefighters stood by at the site of a Con Edison excavation site at Kent and Ogden roads due to a reported odor of natural gas. Once a Con Edison crew arrived and the scene was determined to be safe, firefighters left the scene.
On Dec. 24, a Ferncliff Road homeowner lit a fireplace fire but neglected to open the chimney flue. The house started to fill with smoke. Firefighters opened the flue and ventilated the house with a fan.
Firefighters advised Jefferson Road homeowners to air out their basement due to a "musty odor" Dec. 24.
An oven was not working properly and caused a carbon monoxide leak in a Fox Meadow Road house Dec. 24. Firefighters detected the leak and shut affected connections. They also ventilated the house while waiting for Con Edison.
Wires were arcing at Post Road and Wayside Lane Dec. 25. Firefighters stood by for safety until Con Edison arrived. The area was closed to traffic.
On Dec. 25, a tree fell at Ogden Road and Brite Avenue, knocking a primary wire to the ground. Police and firefighters barricaded the area around the fallen wire while waiting for Con Edison to arrive.
Con Edison was notified about tree limbs on Walworth Avenue and Carthage Road wires Dec. 25.
Low-hanging cable wires were detected on Hamilton Road Dec. 25.
A tree fell on a Fayette Road house during the Dec. 25 windstorm. The building department was notified for follow-up. Firefighters advised the homeowner to report the incident to his insurance company and to avoid the areas inside and outside of the house, adjacent to the fallen tree.
On Dec. 26, firefighters helped Post Road residents get inside their house after they were accidentally locked outside.
On Dec. 27, firefighters assisted at a car accident on the Hutchinson River Parkway, involving a car "in the woods." Two occupants of the car were taken to White Plains Hospital Center for injuries.
This report covering police and fire department activity from Dec. 21-27 has been compiled from official information.

This police report is sponsored by Scarsdale Security who does more than just security. Contact them about remote video for your home or business. Call 914-722-2200 or visit their websiteThis police report is sponsored by Scarsdale Security who does more than just security. Contact them about remote video for your home or business. Call 914-722-2200 or visit their website.