Police Report: Danger on the Roads: Car in Flames, Intoxicated Hit-and-Run and a Menacing Handgun
Wednesday, 06 January 2021 17:37
Last Updated: Wednesday, 13 January 2021 14:34
Published: Wednesday, 06 January 2021 17:37
Traci Dutton Ludwig
Hits: 1548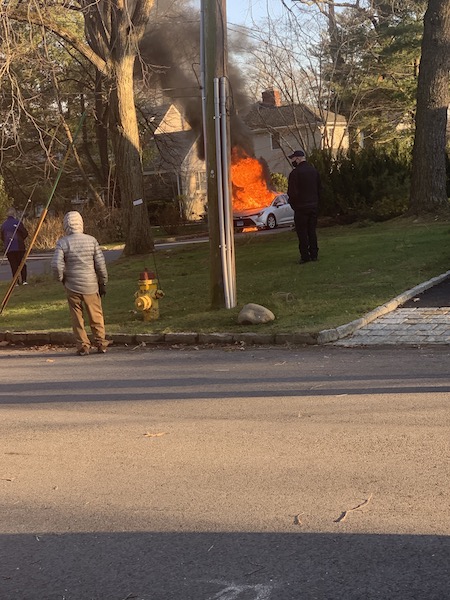 Car Fire Photo by Ray CooperCar Fire: On Dec. 28, firefighters responded to a call of a car fire inside an Enterprise rental car on Foxhall Road. The car was a 2021 Toyota Corolla. Upon arrival, firefighters noted that the car was fully involved in fire inside the passenger compartment, with flames extending to a utility pole at the car's location. Firefighters opened a fire hydrant and used water to extinguish the blaze. Con Edison responded to check the utility pole and the wires. Scarsdale Volunteer Ambulance Corps responded to check the driver, but the driver refused medical attention. Police provided traffic control during the incident. According to the driver, the fire started while she was driving, and she pulled to the side of the road and exited the car. The fire started at the right side of the front center console. Due to the extent of damage, firefighters were unable to determine the cause of the fire. Later the driver of the car reported that two license plates were destroyed in the car fire. Police provided her with proper paperwork regarding the destroyed plates.
DWI arrest
A two-car accident at 9 p.m., Jan. 1, at Hutchinson Avenue and Meadow Road resulted in the arrest of a driver. Stephen J. Broege, 49, of Mamaroneck, is accused of the following charges for which he was arrested: felonious driving while intoxicated, operation of a motor vehicle while intoxicated (with prior convictions), leaving the scene of a personal injury accident and refusing to take a breath test. According to the arrest report, after Broege's 2019 Subaru struck a 2018 Acura and caused airbag deployment, Broege drove away from the scene. Police intercepted the car and began to follow it as it made its way into New Rochelle. It was a dark and rainy night, and police observed the car swerving in and out of its lane. Police continued to follow the car until backup arrived in the area. Police observed Broege turn into his driveway, where he was apprehended, determined to be intoxicated and arrested. Broege's car was impounded and Broege was issued an appearance ticket for Scarsdale Village Justice Court, returnable on Jan. 20.
Menacing
A 24-year-old female driver exited the Hutchinson River Parkway and stopped on Meadow Road for assistance after her car was struck on the side by another car around 8 p.m., Jan. 2. She reported that the other driver who struck her car also exited the parkway following the impact and pulled into a Meadow Road driveway and put on its hazard lights. As the female driver attempted to get out of her car to exchange information, the other driver reversed his car and blocked her path. The other driver then brandished a handgun and pointed it at her, making her feel threatened. The female driver then retreated back into her car, and the other driver sped away. Westchester County police were notified.
Stolen phone
A caller reported his phone had been stolen from his car in Hartsdale. The caller reported that upon noticing his phone had been stolen, he "asked the first person he saw" about the phone. The caller alleged that he then noticed that the person had a phone that the caller believed was his missing phone. The person was described as a Hispanic man in his 20s or 30s, wearing a hooded, green, "camo-print" jacket with a shopping bag. His hair was described as short and curly. The person was last seen 10-12 minutes in the past headed, on foot, toward Fox Meadow and Fenimore roads. Police canvassed the area for the person but did not see anyone matching the description.
Identity theft
On Dec. 29, a Myrtledale Road woman reported that someone attempted to open fraudulent credit accounts in her name and her husband's name. The accounts were with Blue Bird Credit and Geico Insurance. No financial loss was incurred.
On Dec. 29, a Fox Meadow Road resident reported an additional incident of someone stealing her father's identity to open a fraudulent account. According to police records, this was the fourth report filed by the resident involving identity theft affecting her father. This incident involved a prepaid American Express card that she believed was not authorized, funded or initiated by her father. After discovering the card, the resident said the account was closed.
On Jan. 3, a Fox Meadow Road woman reported someone opened a fraudulent Verizon cell phone account in her father's name.
Domestic matters
A Greenacres woman called police to report that she was hungry and her adult daughter would not let her into the kitchen to eat. Police went to the house and spoke with both parties – the woman and her adult daughter, who was in the kitchen cooking dinner for her mother. Police were able to help clear up the woman's confusion and restore harmony.
On Dec. 30, a Quaker Ridge mother called police to say she was having a custody disagreement with her child's father. The custody arrangement was based on a civil agreement, without a court order, according to the mother. Police advised her to contact her attorney or Westchester Family Court in order to help work through the problem.
Phishing scam
On Dec. 31, a Sage Terrace resident reported that she might have received a phishing scam email. She said she did not respond to the email or click any links it contained.
Lights out
On Dec. 28, a Wynmor Road resident reported that someone might have cut the power cord to his outdoor Christmas lights a few days in the past. Police increased patrols in the area as a result.
Welfare check
On Dec. 31, police checked the welfare of an Old Lyme Road resident and confirmed the resident was OK.
Photos and video
A Wayside Lane resident reported that a white man in a black SUV stopped in front of her house and possibly took videos of her house. She found it suspicious and reported it to police.
On Jan. 2, a Heathcote Road resident reported an unknown man taking photos of her house alleged he was a real estate agent performing an appraisal. She found the incident suspicious and called police. The man was described as an overweight white man in his M/W in 50s, with glasses and a bald head. He was observed to
be operating a black SUV, possibly a Hyundai.
Assistance
At 1 a.m., Jan. 1, New Jersey police asked Scarsdale police to help make notification to a Claremont Road homeowner about a resident's whereabouts. Police went to the address, but there was no answer at the door. Police looked in the windows of the house, and it appeared to be empty. Police let NJ police know the results of the notification attempt.
Termite control
On Dec. 31, an Aspen Road homeowner reported that employees from a termite pest control company removed termite control devices from his yard without his permission. The homeowner said the employees were from the pest control company that the homeowner uses. He said he would look into the matter to see if both companies work together or if the observed employees were at the wrong address. In the meantime, the homeowner asked police to document the matter.
Dogs
On Dec. 28, a caller reported a golden-colored, medium-sized dog was "roaming" alone on Fox Meadow Road. Police went to the street and found the dog. He was wearing a "Blueberry" brand collar without tags. Police called New Rochelle Humane Society to pick up the dog, but the dog's owner approached police before NRHS arrived. The dog and its owner were reunited.
At 1 a.m., Jan. 1, a caller reported two barking dogs left outside for a long period of time at an undisclosed house near the corner of Hampton and Butler roads. Police went to the area and did not hear any barking dogs.
Roosters
A caller reported roosters making noise on Brewster Road around 10:30 a.m., Jan. 2.
Cars and roadways
A minor car accident occurred at Mamaroneck Road and Griffen Avenue Dec. 28. There were no injuries and police assisted the drivers exchange information. Neither driver requested a formal report.
On Dec. 29, an unknown vehicle left the roadway while going around a curve on Meadow Road and dislodged three large landscaping rocks from a resident's property. Police assisted in placing the boulders back on the resident's property.
On Dec. 30, police helped a driver change a flat tire on Post Road. Unfortunately, however, the replacement tire was defective and immediately deflated upon being placed on the car. Police then helped the driver obtain a ride to work while arrangements were made to have the car's tire repaired.
On Dec. 31, at 6 a.m., highway workers identified a driver at Heathcote Road and Palmer Avenue who might need assistance. Police went to the scene and spoke with the driver. The driver said he was a night janitor who maintains and cleans supermarkets, including Balducci's. He said he just finished his shift and was too tired to drive home. Police advised him to take time to rest and not risking driving while sleepy.
On Jan. 1, police informed the water department about a significant water leak at Ferncliff Road and Roosevelt Place.
A BMW backed into a Subaru at Boniface Circle and Spencer Place Jan. 2. Police helped the drivers exchange information. No injuries were reported, and the drivers did not want a formal report.
Police provided traffic control while highway workers cleared a fallen branch from Saxon Woods Road Jan. 2.
A Woodlands Place resident reported she felt uncomfortable because a man parked outside her house in an SUV Jan. 2. Police spoke with the man who said he had pulled over to make a phone call. He said he would leave the area since his presence was bothering the resident.
Police removed fallen branches from Bypass Jan. 2.
A Magnolia Road homeowner requested assistance with his car Jan. 2. Police and firefighters went to the scene and saw that the homeowner had struck his garage molding with his car. No structural damage occurred.
Village code
On Dec. 30, police dispersed kids from Edgewood School grounds after dark.
Lost and found
On Dec. 28, a passerby found a credit card at Davis Park, on Lyons Road. Police identified the name and address of the cardholder, who was a resident of the Village, and they returned it to her.
On Dec. 29, a patron found a credit card at an East Parkway diner and brought it to police. Police vouchered the card for safekeeping.
Firefighters
On Dec. 28, a Wheelock Road resident reported an odor coming from her basement. Police and firefighters arrived to check out the complaint and discovered the house sewer cap had become dislodged in the basement. Firefighters helped secure the cap.
An improper light bulb placed inside a Rock Creek Lane fixture caused a burning odor and excessive heat Jan. 28. Firefighters removed the bulb and allowed to fixture to cool down.
A car was slowly leaking gasoline inside a Walworth Avenue detached garage Jan. 29. Firefighters advised the resident to keep the garage door open for proper ventilation until the car could be removed by tow and repaired.
Firefighters assisted at a car accident on the Hutchinson River Parkway Dec. 31.
A malfunctioning high-efficiency boiler in a Cayuga Road house was causing elevated carbon monoxide levels Jan. 1. Firefighter shut down the boiler, ventilated the house and advised the resident to call for service.
Firefighters assisted at a rollover car accident on the Hutchinson River Parkway Jan. 2.
This report covering police and fire department activity from Dec. 28, 2020 – Jan. 3, 2021 has been compiled from official information.

This police report is sponsored by Scarsdale Security who does more than just security. Contact them about remote video for your home or business. Call 914-722-2200 or visit their websiteThis police report is sponsored by Scarsdale Security who does more than just security. Contact them about remote video for your home or business. Call 914-722-2200 or visit their website.