Police Report: Mohican Trail Garage Catches Fire While Family Out of Town. Car Thefts Continue … Lock Your Doors!
Wednesday, 14 July 2021 10:16
Last Updated: Wednesday, 14 July 2021 18:06
Published: Wednesday, 14 July 2021 10:16
Traci Dutton Ludwig
Hits: 1806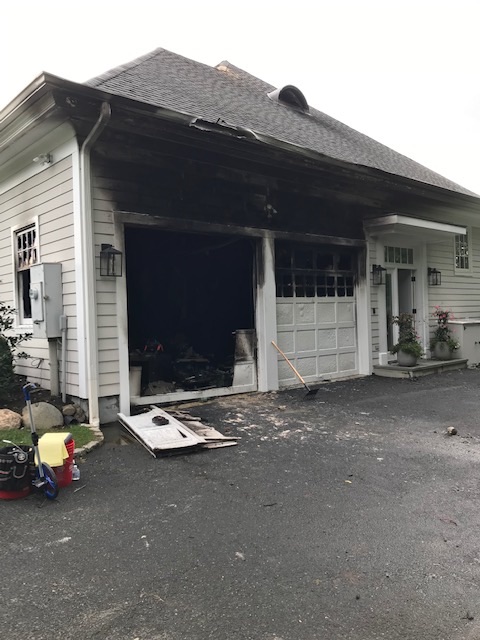 Fire in a garage at 2 Mohican TrailHouse fire: On July 10, a Mohican Trail house caught fire. Firefighters arrived and observed smoke pushing out from second floor eaves, with the main body of the fire appearing to be located in the garage. Police notified the homeowner who said he was out of town with his family, and no one was in the house. Firefighters used a hose line to attack the fire with water. They forced open the front door and found no one inside. They searched the house for extension and found a second-floor room above the garage to be affected by the fire. A second hose line was stretched for use fighting the fire in this area. Volunteer firefighters were dispatched for help. Greenville and Hartsdale fire departments also assisted until the fire was out. The fire investigator noted that the house was under construction, and the garage seemed to be the place where work materials were being stored. The cause of the fire could not be specifically determined. A contractor arrived on scene to board up the house during the homeowner's absence.
Stolen cars
A Cushman Road homeowner reported an unlocked 2019 Audi Q7, valued at $40,000, that had been parked in his driveway overnight was stolen July 7. The car was unlocked with keys inside. The homeowner also reported another parked car was entered.
On July 7, Westchester County police pursued a 2021 Lexus that they believed was possibly stolen from a Huntington Avenue address. Following the pursuit, they surrounded the car in Rye Brook and set up a perimeter. Scarsdale police went to the registered owner's address. She confirmed the car had been stolen from her driveway during the overnight period. It was unlocked with its keys inside.
Car break-ins
A Brite Avenue resident reported someone in a gray Range Rover with New Jersey plates stopped in front of his house, got out of the car, opened the door of a parked car in the resident's driveway, looked inside and left July 6.
Shoplifting
On July 10, the Popham Road CVS store manager reported someone stole items from the store and left with them in a black garbage bag. The person was described as a man wearing an orange top, white shorts and with a shaved head.
Identity theft
On July 7, a Mamaroneck Road resident reported someone attempted to forward her mail to an address in the Bronx without her permission.
Scam
A Village resident reported receiving a fraudulent letter from a scammer posing as a tax collecting agency July 6. The letter was a scam.
Intruder
A Secor Road resident reported someone with a white shirt was observed leaving their house through the back kitchen door July 6. Later they thought this person was probably one of their kid's friends who had permission to come to the house unannounced. Police advised them to lock their doors to prevent similar confusion in the future.
Yelling
On July 5, police received a report of a man yelling at a woman in a Palmer Avenue parking lot. The man and woman were no longer there when police arrived.
Help
A Birchall Drive woman was unable to unlock her door July 8. Police helped her.
Police helped a pedestrian cross Weaver Street July 9.
A Madison Road wife called police because here 88-year-old husband told her he was going to clean their house gutters to prepare for the coming storm, and she was concerned about his safety climbing up on a ladder. Police spoke with the husband who said he was perfectly capable of performing the work. He declined assistance.
Summons
On July 10, around 1:30 a.m., police encountered two cars stopped on Heathcote Road – a 2006 Mini Cooper and a 2004 Ford truck. The Ford's registration had been suspended due to non-payment of tolls in March 2021. The Mini Cooper did not have any license plates attached to the car. Two men near the cars said the Mini was having car trouble and they were waiting for a tow. Patrol issued both drivers appropriate summonses. The Mini Cooper was towed to the impound lot.
Cars and roadways
On July 5, police helped a driver change a flat tire on Post Road.
A caller reported a car revving its engine on Quaker Circle, possibly stuck in mud, July 5. On scene police found an 18-year-old driver who had driven his Jeep off road in a vacant area. The car had gotten stuck in wet mud. A tow was called to remove the Jeep, but it was too dark to safely remove the Jeep until the next morning. The driver's parents were notified.
Police and highway department workers removed a fallen tree branch from Hutchinson Avenue July 5. They also removed a fallen tree from Quaker Circle this day.
Police stood by a disabled car on Popham Road until it could be removed by tow July 7.
Police notified Verizon of a fallen wire on Olmsted Road July 7.
Police called a tow for a driver whose car suffered a flat tire on Walworth Avenue July 7.
The highway department removed a fallen tree from Bypass June 10.
A woodchuck got struck by a car on Post Road July 11. The highway department was informed for removal.
Storm damage
A car became disabled on Brookby Road during the heavy rainstorm July 8. Police called a tow to remove it. They also closed the road until flooding stopped.
Police closed other roads in the Village due to flooding during the storm July 8. These included Greendale and Sprague roads.
Police removed branches, trees and other storm debris from Olmsted and Post roads July 8. Basements also flooded on Cambridge Road and Windmill Lane that day.
A bus was stuck in high water at Sprague and Clarence roads July 8. All passengers were evacuated and received rides to their destinations, according to the police report. The bus was towed from the scene.
A car needed to be towed from high water at Paddington and Fox Meadow roads July 8.
An electric car was stuck in high water at the high school's Brewster Road parking lot July 8. It could not be towed due to risk. Police taped off the area until flooding receded.
On July 8, police received a report of kids possibly swimming in floodwater on Brewster Road. They dispersed when police arrived.
On July 9, a cold patch that Con Edison placed near a gas line excavation site on Montrose Road appeared to be sinking July 9. Patrol notified Con Edison for repair.
Con Edison was notified about a branch in wires on Brite Avenue July 10.
Animals
A goose was apparently stuck in the courtyard area of Village Hall July 7. Police helped walk the goose out of the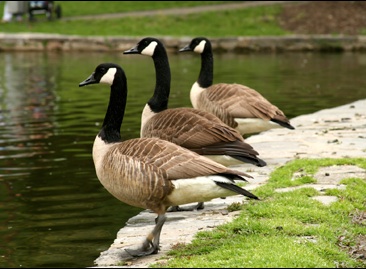 courtyard to open space, where it soon took flight in the direction of a pond on Tisdale Road.

A caller reported two dogs in a Mercedes truck parked on East Parkway July 10. Police spoke with the driver, and the dogs appeared to be in good condition.
Village code
On July 10, police advised a Rectory Lane homeowner of a noise complaint due to a small gathering. The homeowner said the gathering was ending and promised to keep the noise level low.
After a neighbor complained of noise, a Mohican Trail resident lowered music playing at home July 10.
Lost and found
A passerby found a set of keys on East Parkway and gave them to police July 5.
A NYS driver's license was found on Christie Place July 9.
A debit card was found on Olmsted Road July 10.
Firefighters
On July 8, firefighters ventilated a Stonehouse Road house because of possible carbon monoxide infiltration due to a malfunctioning and leaking flue pipe on a boiler. Repair was recommended.
On July 9, firefighters shut down a stovetop in a Fountain Terrace hose due to a gas leak. Repair was recommended.
On July 10, firefighters assisted at a car accident at Crane Road and East Parkway.
On July 11, firefighters assisted at a car accident involving a sedan rear-ended by a van on the Hutchinson River Parkway. Two occupants of the van were taken to the hospital by SVAC for injuries.
This report covering police and fire department activity from July 5-11 has been compiled from official information.

This police report is sponsored by Scarsdale Security who does more than just security. Contact them about remote video for your home or business. Call 914-722-2200 or visit their website.