Police Report: Brittany Close House Burglarized, Stolen NJ Car Recovered in Village
Wednesday, 25 August 2021 14:41
Last Updated: Thursday, 26 August 2021 04:44
Published: Wednesday, 25 August 2021 14:41
Traci Dutton Ludwig
Hits: 873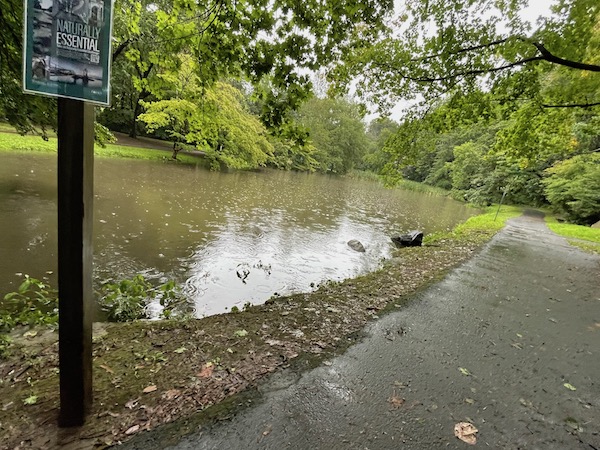 Burglary: On Aug. 22, a Brittany Close homeowner reported he returned home from the airport that day and discovered his house had been burglarized. It appeared that entry had been made through a master bedroom balcony door, and assorted jewelry had been stolen.
Stolen car, recovered
An abandoned 2021 Honda with New Jersey license plates was found on Morris Lane Aug. 18. The car was discovered with its windows rolled down and the key fob in the center console. A wallet was found on the seat of the car. Investigation showed that the car had been reported as stolen out of Newark, NJ, on Aug. 16. It was towed to the police impound lot, and a voicemail was left for the owner.
Stolen
A Ridgecrest North man's toolbox was stolen from his property on Aug. 16. The man said he left the toolbox near the curb while he ran an errand. During that time, a person driving a Penske truck stopped and picked up the toolbox. Video footage showed the person putting the toolbox into his truck. The license plate of the truck was not visible in the footage. The man said he did not wish to pursue an investigation since he suspects the toolbox had been mistaken for garbage as it was sitting outside near the curb.
A Mamaroneck Road man reported cash and numerous credit cards were stolen from his unlocked car while the car was parked at the Kid's Base parking lot and his family was visiting the Scarsdale Pool Aug. 17. While he was at the pool, for approximately only one hour, he received an alert that one of the credit cards had been used.
Identity theft
On Aug. 16, a Kent Road man reported an unknown person was using his identity, receiving traffic tickets in the man's name and not paying for the tickets. As a result, the man received a notice of suspension on July 22. However, the ID number listed on the notice was different than that of his driver's license, although the name, address ad other personal information were the same as his. Police advised him to notify the DMV.
Scam
On Aug. 20, a Ridgecrest East man reported he might be a victim of a phone scam. He said he was contacted by a person alleging to be a detective with the Bronx division of the NYPD. The person said the man's identity was used in a drug transaction, and the man would have to provide his Social Security number and bank account information to verify his identity. An app was provided so the man would input this information from his cell phone. After the man entered his SS number, he realized the interaction was probably a scam.
Suspicious
On Aug. 17, a Sherbrooke Road resident reported two unknown individuals attempted to gain access to his property for an unknown reason. Since the resident was not expecting anyone that evening, access was denied. The license plate of the car being driven by the individuals was reported to police.
On Aug. 19, a caller stated that her son was being following by two individuals who performed work on her son's car and who were demanding more money. The son advised he met to individuals in the Foot Locker parking lot on Central Avenue in Yonkers and agreed to pay them $600 to fix a hole in his bumper. After the bumper was fixed, the two individuals asked for $750 for the work. The son advised that he didn't have the money on him. He told them to follow him home so he could get the money. While en route to his house, he called his mother and became nervous about the transaction. He decided to respond to SPD HQ instead. The individuals did not follow the listed party to SPD HQ. The son's father arrived on scene and requested that patrol respond to their residence to ensure that the individuals were not there. Patrol responded to the residence and found no individuals on scene. The son was advised to contact Yonkers PD if he wished to further document the incident.
On Aug. 20, a white man with gray hair, blue eyes and a heavy-set frame knocked on a Hampton Road door and asked the homeowner if she would be home during the first week in November. He said he worked for an agency but did not provide a card or any details about his inquiry. Police canvassed the area but did not find the man.
Missing person
Police assisted in looking for a woman who wandered away from her White Plains home Aug. 16. She was not found in the Village, but later police were informed that the woman had returned home.
Lost
A woman who was out walking with children on Murray Hill Road became stressed when she could not find her way back to a relative's house Aug. 18. She began crying, and a resident called police to ask for assistance. The resident offered to drive her home, and police followed to make sure everyone got home safely.
False reports
Someone called headquarters alleging to be an Old Lyme Road resident, stating that "someone had set his side door on fire" Aug. 20. Firefighters investigated, found no sign of fire, and the report was determined to be false.
Later, a caller who identified himself as "Jonathan" alleged that someone was trying to break into the same Old Lyme Road house that was targeted in the first false report. Police investigated the call, and the report was determined to be false.
Door
Police secured an unlocked door that was discovered on Spencer Place during night patrol Aug. 20.
Storm damage
On Aug. 22, police received reports of fallen trees, branches or wires on Oak Lane, Palmer and Griffen avenues and Post, Saxon Woods and Bansom roads. Flooding was reported on Boulevard and Brookby, Wynmor, Secor, Paddington and Fox Meadow roads.
On Aug. 22, a tree fell on Post Road and its branches were lodged under the carriage of a parked white minivan. Police requested a tow truck to lift up the vehicle so the tree could be safely removed.
On Aug. 22, a Mamaroneck Road homeowner reported a tree had fallen on her guesthouse. No injuries were reported.
A sewer drain grate was reported to have floated away from its location on Cooper Road during the store Aug. 22. Police looked for the grate but did not find it.
Cars and roadways
A contractor hired by the Village to mill Fenimore Road was not allowing residents to access their homes on the Ridgecrest roads Aug. 17. Police instructed the flagmen that they must assist residents in accessing their homes. Police also made sure that detour signs were adequately placed to alert drivers and redirect them to a drivable route.
Police notified the highway department about a pothole filling with water on Fenimore Road Aug. 17.
Patrol taped up a fallen wire on Magnolia Road and notified Verizon Aug. 17.
Verizon was notified about fallen wires at Fox Meadow, Cartage and Fayette roads Aug. 18. Patrol taped up the wires so they would not impede traffic.
A driver reported someone hit her car and caused minor damage to the rear bumper while the car was parked in the lot of DeCicco's Marketplace Aug. 18.
Con Edison was notified about a branch on a transformer at Paddington and Whig roads Aug. 18.
An accident involving a Bee-Line bus, with no injuries, was reported at Post and Fairview roads Aug. 19.
Police removed a fallen cable wire from Wynmor Road, and Optimum was notified Aug. 20.
On Aug. 20, police helped a pedestrian cross Weaver Street and Bypass.
Police put a dislodged manhole cover back in place Aug. 20.
A motorcycle appeared to have tipped over on Weaver Street Aug. 22. Police taped off the area and attempted to reach the owner. Later the owner contacted police and reported the bike had broken down and would be moved shortly.
Six car accidents were reported in the Village this week.
Animals
On Aug. 17, a dog's owner retrieved his loose dog from Pinecrest Road.
Village code
On Aug. 16, a Walworth Ave. homeowner was advised about Village code and issued a summons for putting out recyclables too early before the pickup date. The sanitation department had already warned the resident, according to officials.
A work crew at Bradley Road and Boulevard was advised that work could not be started prior to 8:30 a.m., as per Village code, Aug. 17.
A Sprague Road woman reported kids were yelling and hanging out at a nearby house Aug. 18. Police investigated the call and did not hear any kids.
On Aug. 18, police advised a sewer contractor, who was working on a permitted project on Boulevard, about Village code concerning the use of gas-powered leaf blowers.
On Aug. 20, a caller reported "an elderly woman with a stick" going through garbage on Popham Road. Police went to the scene and found a woman matching the description exercising with two exercise canes.
A work crew on Meadow Road was advised that work could not be started prior to 10 a.m., as per Village code, Aug. 20.
A neighbor complained of loud music coming from an outdoors wedding on Cushman Road Aug. 21. Police advised staff on scene. The noise, in patrol's estimation, was not unreasonable or in violation of Village code.
Police dispersed loiterers from Freightway Garage Aug. 21. The loiterers explained they had been "waiting out" the weather.
Lost and found
On Aug. 16, a passerby found a debit card and a small amount of cash on the street at Nelson and Lee roads. The items were given to police at headquarters for safekeeping.

On Aug. 18, a Morris Lane resident reported finding an EZ-Pass device on his property. It did not belong to the resident. After consulting with EZ-Pass by phone, the device was placed in the mailbox for pickup and return to its owner.

On Aug. 18, a Park Road caller reported a lost license plate.
A handbag was found on East Parkway Aug. 19. Police notified the owner who promptly picked up her bag.
Firefighters
On Aug. 16, firefighters investigated a slight haze in a Chase Road stairwell and traced it to leaking Freon from a faulty A/C unit. Firefighters ventilated the space and advised the building's super to service the unit.
On Aug. 19, firefighters assisted at a rollover car accident on the Hutchinson River Parkway.
On Aug. 19, firefighters stood by for Con Edison at the site of a gas leak at a Morris Lane gas meter.
On Aug. 20, firefighters assisted at a car accident on Post Road.
On Aug. 20, firefighters stood by for Con Edison at the site of a gas leak in a Madison Road house. They assisted in gaining access to the house and checking for interior gas migration.
A Myrtledale Road homeowner reported an odor of smoke and light haze in the living room prior to shutting off the air conditioner Aug. 21. Firefighters determined the cause was an overheated blower motor for the air handler, located in an exterior closet adjacent to the basement. Firefighters shut power to the unit and advised the homeowner to discontinue use until it could be repaired.
On Aug. 21, firefighters discovered elevated carbon monoxide readings in a Secor Road house. They requested Con-Ed Gas and Scarsdale Volunteer Ambulance Corps to check the scene and one resident reporting head pain. Firefighters shut down the natural gas boiler and adjacent air handler in the basement. They ventilated the structure. Con-Ed Gas red-tagged the boiler and advised the resident to service the unit before restoring function. While on the call, firefighters also observed a natural gas clothes dryer on the first floor with a kinked and partially detached vent. They advised the homeowner to repair the unit as soon as possible.
On Aug. 22, firefighters responded to the Bronx River Parkway for a water rescue. Upon arrival, firefighters found a disabled vehicle with one occupant, stuck in approximately 2' 6" of water. FD units positioned rescue equipment in the water and safely retrieved the occupant out of the disabled vehicle.
On Aug. 22, floodwater shorted out a carbon monoxide sensor in a Huntington Road house and caused a false alarm.
This report covering police and fire department activity from Aug. 16-22 has been compiled from official information.
Photo Credit: Kathleen Campbell

This police report is sponsored by Scarsdale Security who does more than just security. Contact them about remote video for your home or business. Call 914-722-2200 or visit their website.