Police Report: Storm Wreaks Havoc on Village, Fires Burn, Cars Submerged and Shoplifter Arrested
Wednesday, 08 September 2021 21:44
Last Updated: Wednesday, 08 September 2021 21:57
Published: Wednesday, 08 September 2021 21:44
Traci Dutton Ludwig
Hits: 907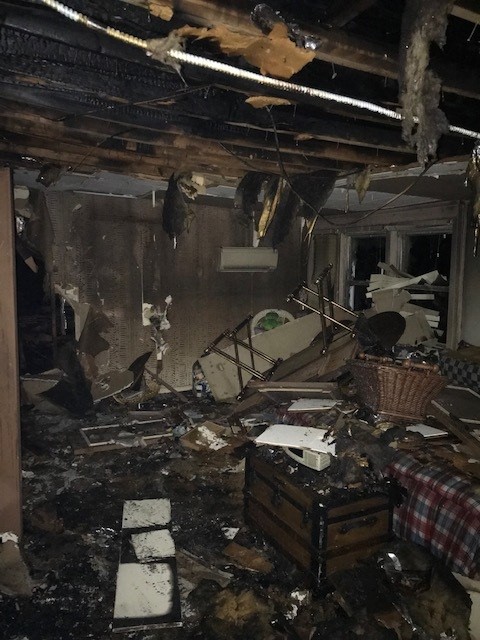 Three firefighters were injured in a blaze on Myrtledale RoadStorm damage: On Sept. 1, police and firefighters received an unprecedented influx of calls related to the heavy rainstorm following Hurricane Ida's aftermath in our area. These calls included flooded basements, garages and roadways on Penn Road, Brookby Road, Brite Avenue, Taunton Road, Brewster Road, and Fox Meadow Road. These calls also addressed flooded roadways and cars stuck in standing high water on Elm, Springdale Road, Post Road, Richbell Road, Murray Hill Road, Rock Creek Lane, Stratton Road, Varian Lane, Oxford Road, Garden Road, Secor Road, Wynmor Road, Brite Avenue, Fox Meadow Road, Weaver Street, Griffen Avenue, Church Lane, Ogden Road, Rugby Lane, and Saxon Woods Road. Police assisted in removals.
While responding to a call of a stranded car on Springdale Road, a patrol cruiser also got stuck in high water and had to be towed the Central Garage. According to the report, the police cruiser entered a large flooded area and was quickly overtaken by pooling water that came up to the windshield. The officer was able to safely exit the car and get to higher ground. The officer called for assistance from the fire department and other police personnel. By the time these units arrived, both the police cruiser and the original stranded car had become completely submerged in water. Before leaving the scene, firefighters and the officer waded through the water to reach the stranded car to double check it for any possible passengers. They confirmed that no one was inside the car.
A call came into headquarters at 1:30 a.m. Sept. 2 that a woman was stuck in her car, in floodwater, at Canterbury and Cayuga roads. Other calls included reports of fallen trees or wires on Barry and Madison roads, Hampton Road, Butler Road, Palmer Avenue, Brite Avenue, Secor Road and Bypass.
Following the storm, on Sept. 2 and 3, police performed welfare checks on Village residents, when worried out-of-town family members or friends could not reach them. These included welfare checks on residents of Horseguard, Marjory and Beechwood lanes, Gilmore Court, Lenox Place, and Butler, Cooper, Wheelock, Cayuga, Fox Meadow, Wynmor, Wildwood, Bradford, Wakefield, Carstensen, Seneca, Quentin, Spier, Brown, Coralyn, Colvin, Sheldrake Paddington, Mamaroneck, Fenimore, Murray Hill, Lebanon, Gorham and Parkfield roads, all of whom were home and OK. To assist a worried daughter about the welfare of her Catherine Road mother, a kind neighbor checked on the mother's wellbeing and reported she was OK.
On Sept. 2, police also assisted the highway department keep residents and drivers out of dangerous areas by monitoring roadway barriers that people were attempting to circumvent or move. This occurred on Stratton Road, Weaver Street, Normandy Lane and Griffen Avenue.
On Sept. 3, a caller reported her car became stuck on Post Road and Rugby Lane. Before it was removed by tow, police spoke with the car's owner who asked police to remove all valuables, including a cell phone and keys, from the car and hold these valuables at headquarters, pending pick up by a friend.
Shoplifter arrested
The manager of CVS on Popham Road reported a man shoplifted approximately 47 items, valued at $714 combined, from the store Sept. 3. The suspect was described as a 5'10' tall Hispanic man, wearing a white shirt, jean shorts and sneakers. He was last seen walking toward the train station with a rolling bag. The manager recognized the man as a "frequent customer." While the man was still in the store, the manager asked him if he was going to pay for items he had placed in his bag, and he replied "no" before leaving the store. Police tracked down the man at the train station. The manager performed a show-up to identify the suspect, and the man was arrested. He was identified as Hendrix Rosario, 39, of the Bronx. He was charged with petit larceny and grand larceny. He was released on his own recognizance and ordered to appear in Village Justice Court on Sept. 22. While being arrested, Rosario informed police he was carrying two unused hypodermic syringes in his shirt pocket. Police safely confiscated the syringes.
Fires
An active fire was reported on Overhill Road at 2:40 a.m., Sept. 2.

Shortly before 10 p.m., Sept. 3, police received a report of a possible structure fire on Olmsted Road. Firefighters were also notified. Police arrived on scene first and observed smoke inside the house, with three family members standing outside. Police were advised that there was a kitchen fire, and two men were still inside the house trying to put it out. Police went into the house and observed that the fire was out. Due to the smoke inside the house, police ordered the two men, who had extinguished the fire, to vacate the house. Police then learned that a woman was still inside the house, in the basement. Police went back inside the house and ordered the woman to leave the house for safety precautions. Firefighters soon arrived on scene, took control of the situation and began ventilating the house.
An active fire was reported on Myrtledale Road around 2 p.m., Sep. 4. Scarsdale, Hartsdale, Greenville, White Plains and Hartsdale fire departments were on scene and extinguished the fire. Prior to the fire being extinguished, two residents were evacuated, and firefighters confirmed no other people were inside. During the course of the incident, three Scarsdale firefighters were injured and treated by Scarsdale Volunteer Ambulance Corps. Two of these firefighters refused further medical attention. One firefighter was transported to White Plains Hospital Center. The son of the residents arrived on scene and took the displaced residents to his house. A preliminary investigation of the cause of the fire was started, and the house was secured in the meantime.
Stolen car
On Sept. 5, a Stonewall Lane resident reported his $28,000 2016 Volvo was stolen from his driveway overnight. It contained two pairs of designer sunglasses, air pods, waterproof ear buds, gym clothes, sneakers, a gym bag, basketballs and jumper cables. The doors of the car had been left unlocked, with the key fob inside. The resident estimated that the theft occurred around 3:20 a.m. that morning.
Car break-ins
A doorbell camera captured footage of someone opening unlocked doors, of two cars, and rummaging through the vehicles while the cars were parked outside a Mayflower Road house at 3:56 a.m., Sept. 5. There were no valuable inside the cars, nor were any keys left inside.
On Sept. 5, a Stonewall Lane resident reported her unlocked car was entered overnight, and items were stolen from her car. These included a purse, a learner's permit and a credit card. By the time the incident was reported, it was determined the credit card had been used for approximately $30 of unauthorized charges.
Identity theft
On Aug. 30, a Lebanon Road man reported someone attempted to fraudulently open a Sprint account in his name. He notified Sprint and closed the account. The man also received a call from someone claiming to work for UPS. The caller told the man a phone had been delivered to his address and needed to be picked up for return. The man advised police he no longer lived at the stated address and did not receive a phone.
Housemates
On Aug. 30, a resident of a Post Road group home reported she was worried that her roommate was going to file a false report against her. Police advised her they had received no such report.
On Sept. 3, a resident of a Post Road group home reported another resident was being disruptive and calling her names while she was trying to take her medication during her assigned time with house staff. Police assisted house staff in mediating a discussion between the housemates. They agreed to respect each other's assigned medication times and stay out of each other's way to avoid further conflict.
Kids
Eastchester police received a call on Sept. 2, reporting that a man brought three young children to a park on Lyons Road and left the children unattended. The man and the children were not there when Scarsdale police arrived to investigate the report.
On Sept. 5, a Palmer Avenue man called to say he needed help locating his children. Police arrived and assisted the man. Within less than 20 minutes, he was reunited with his children.
Phone lines
An adult son called police and asked them to go to his parents' house on Boulevard and reassure his parents that Verizon was working on phone lines in the Village in an effort to restore service Sept. 2.
Lock out
Firefighters and police helped a Paddington Road homeowner get back inside the homeowner's house after being accidentally locked out Sept. 2.
Message
Neighbors of a Mamaroneck Road resident asked police to go to the resident's house and ask the resident to call the neighbors, who were overseas, at the number that the neighbors provided to police, Sept. 2.
Neighbors
On Sept. 3, a Herkimer Road woman called police to complain about storm debris on her yard that she claimed originated from her neighbor's property. After speaking with police, she said she would clean up the debris since it was on her property.
Sinkhole
A Graham Road man reported a small sinkhole was forming in his driveway, and water pressure was also low inside his house Sept. 4. Police observed a couple more holes in the yard with water inside them, but the water was not gushing or flowing. The water department was notified for follow-up.
False report
On Sept. 4, police received a false report in which a caller alleged that an Old Lyme Road resident needed assistance. In fact, there was no issue at the house and the resident did not need assistance.
Concerns
A caller reported seeing two teenage girls standing at the intersection of Fenimore and Brewster roads, with a third teenage girl lying in the grass shortly before 11 p.m., Sept. 4. The caller stopped to ask the girls if they needed any assistance, and they said they were ok. When police arrived on scene for follow up, the girls were no longer there.
Cars and roadways
On Aug. 30, police had to contact several towing companies before they could find one capable of removing a disabled dump truck filled with landscaping equipment from Popham and Taunton roads.
A car with a flat tire was disabled at Hutchinson Avenue and Meadow Road Aug. 31. The driver was discovered to have an active warrant out of New York City for a vehicle and traffic violation. NYPD informed Scarsdale PD that they would not be travelling to Scarsdale to pick up the driver. Police advised the driver to settle the outstanding warrant with NYPD. Police also stood by while a HELP truck arrived on scene and a mechanic changed the tire.
Police helped control heavy traffic on Mamaroneck Road, due to Middle School orientation, Aug. 31.
Patrol notified Verizon about a fallen wire on Griffen Avenue Aug. 31.
Police issued a summons to the owner of a pickup truck parked in the high school's fire lane Aug. 31.
Police assisted driver with a stalled car at Chase and Crane roads Sept. 1.
Police closed and secured a construction gate that blew open at Kingston Road and Greenacres Avenue after two callers complained Sept. 1
On Sept. 3, a driver reported her car had a dead battery at Ferncliff and Drake roads. Police provided the driver with a courtesy ride home.
Police twice put a dislodged manhole cover back in place at the intersection of Brite Avenue and Chesterfield Road Sept. 4. The highway department was notified for a more permanent solution. On Sept. 5, police checked on the cover and it was still loose. Police put a caution cone over it to alert motorists.
Several dislodged manhole covers were put back into their places on Barry Road Sept. 4.
Following the storm, police cleaned up and removed tape leftover on Bypass and Secor Road, as well as Barry and Madison roads, Mamaroneck and Catherine roads and Post and Olmsted roads, on Sept. 4 and 5.
While Con Edison was working on power lines and the traffic light at Heathcote Road and Palmer Avenue was out, police put up temporary stop signs and barricades to control traffic in that intersection Sept. 4.
A driver got a flat tire on Mamaroneck Road Sept. 5. Police organized a tow to assist the driver.
Dog bite
A Jefferson Road dog reportedly bit through the glove of a sanitation worker who was performing trash pickup from the rear driveway of the house Sept. 3. According to the report, the dog exited the house through its dog door, lunged at the worker and bit his wrist. The bite resulted in a minor laceration and bleeding. The dog's owner assisted the sanitation worker bandage the wound. The worker returned to the sanitation department and reported the incident. Scarsdale Volunteer Ambulance Corps responded to the sanitation department for further wound treatment. The worker refused further medical attention. Police went to the dog owner's house to view and photograph the dog's vaccination reports. All vaccines were up to date. Police instructed the dog owner to quarantine the dog for 10 days, as per Westchester County protocol.
Lost and found
A Wayside Lane woman reported losing a license plate that was "never received" after she allegedly turned it into NYS DMV Aug. 31.
On Aug. 31, a Lawrence Road resident reported losing a license plate following an accident.
A license plate was found on Brite Avenue Sept. 5. Police located the address of the owner and returned the plate.
Village code
On Aug. 31, police advised a pest control solicitor on Barker Lane that he needed a proper permit to legally solicit in the Village during designated hours.
Police mailed a summons to a landscaper for using a gas-powered leaf blower on Myrtledale Road in violation of Village code Aug. 31. The homeowner was also issued a summons.
A caller complained that an Ogden Road generator was "too loud" Sept. 2. According to police, all was in "good order."
Following up on a noise complaint about a Secor Road club, patrol asked the event organizer and DJ to lower the volume of music Sept. 3.
A car alarm was going off for no apparent reason on Scarsdale Avenue after 1 a.m., Sept. 4. Police notified the owner of the car who said the car had been damaged during the recent storm and she would attempt to turn it off. She succeeded in silencing the alarm.
On Sept. 5, police advised a Harvest Drive homeowner to lower the volume of music after neighbors complained,
This report covering police and fire department activity from Aug. 30 – Sept. 6 has been compiled from official information.

This police report is sponsored by Scarsdale Security who does more than just security. Contact them about remote video for your home or business. Call 914-722-2200 or visit their website.