Police Report: Connecticut Man Charged with DWI Following Domestic Dispute Investigation
Wednesday, 15 September 2021 22:08
Last Updated: Thursday, 16 September 2021 10:18
Published: Wednesday, 15 September 2021 22:08
Traci Dutton Ludwig
Hits: 842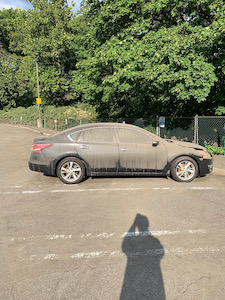 An abandoned car at Hartsdale Train Station: Photo Credit Michael IsbyDWI: Around 10:30 p.m., Sept. 6, police were dispatched to the intersection of Hutchinson and Meadow roads on the report of a man and woman involved in an altercation in a dark-colored SUV. Police separated the couple to interview them. While questioning the couple, police observed that the man – identified as William Wilson Sanchez, 35, of Waterbury, CT – was showing signs of intoxication. He was determined to be intoxicated after not being able to successfully conduct field sobriety tests. He was arrested and charged with driving while intoxicated – first offense and aggravated DWI with .18 grams or more of alcohol in the blood. A domestic incident report was also completed, based on officers' findings during the interviews. Sanchez was released with an appearance ticket, returnable to Scarsdale Village Justice Court on Sept. 15.
Stolen
A Ridgedale Road man reported a $379 TV, a $99 printer and bags of merchandise valued at $500 from Bed, Bath and Beyond were stolen from his parked car Sept. 10. The car was parked in front of the man's house. Since no sign of force was observed, police hypothesized that the car had been left unlocked.
Fraud
On Sept. 10, a Springdale Road woman reported she received an invoice for services from someone alleging to be a legitimate company that she had contacted for services. She wired $14,000 for such services, in lieu of paying by check, as originally agreed. Later she realized the bank might be foreign, and the email was a scam because the legitimate company's email had been hacked. She was in the process of working with her bank to cancel the wire or receive reimbursement.
Criminal mischief
A broken window was found at Edgewood School Sept. 12. It was first observed by a passerby. There was no sign that anyone had entered the building. The window was temporarily repaired for safety reasons. Damage was estimated at $466.
Screaming
A woman could be heard screaming loudly in the area of the Saxon Woods Golf Course around 11 p.m., Sept. 9. Police canvassed the area for the woman, with assistance of other jurisdictions. Eventually officers from White Plains found the woman. She said she had gotten lost in the woods. She suffered only minor scrapes and scratches and refused medical attention. Police helped her get to her destination.
Help
A 22-year-old man who was observed sleeping at Heathcote Road and Crossway at 2:20 a.m., Sept. 12, needed help getting home. Police called the man's mother, and she picked him up and took him home.

A discharged resident from a Post Road group home asked for assistance in finding a place to stay for the night on Sept. 12. Police found an available shelter. The shelter required proof of a negative Covid-19 test. Police provided the resident with a courtesy ride to White Plains Hospital Center so she could get the required test.
Concerns
On Sept. 6, a caller reported a woman wearing socks and pajama pants was standing on the Bronx River Bridge, looking "distraught." Police went to the scene and looked for the woman, but she was no longer there. Westchester County police were notified. A few hours later, another caller reported seeing the same woman on the bridge. Patrol went to the scene and spoke with her. She said she was out for a walk and did not need any assistance. She refused to identify herself.
On Sept. 9, a Deerfield Lane woman reported seeing a man walking through her backyard.
Disputes
Police were called to mediate a dispute over the use a leaf blower Sept. 9. The dispute was between a Village employee and a person on Cohawney Road. The employee said he felt threatened. All was in good order by the time police left the scene.
Road rage
A driver called police from his car to report an incident of road rage on Garth Road in which a man driving a blue-gray Jeep Cherokee yelled at the driver and flashed high-beam lights at the driver Sept. 10. Police instructed the driver to avoid contact with the man. The driver was being followed by the man in the Jeep. So, the driver drove to Crane Road to meet patrol. Upon arrival, the Jeep fled the scene, ostensibly to avoid an encounter with police.
Cars and roadways
On Sept. 6, police called a tow for a disabled car on Mamaroneck Road and Palmer Avenue.

A flood-damaged car was on Tunstall Road Sept. 6. It was scheduled to be towed within the week.

On Sept. 7, police informed an electrician that a traffic light at Church Lane and Wayside Lane was out of order. The electrician corrected the problem.

A woman was sleeping in parked car on Richbell Close Sept. 7. She told police that she was napping before going to work at a house on the street.

Con Edison was informed about a fallen electrical wire on Brookby Road Sept. 7.

On Sept. 7, police informed the highway department about a loose manhole cover on Cooper Road.

A disabled Jeep on Fox Meadow Road was determined to be flood-damaged. On Sept. 8, police contacted the owner and asked for an update regarding removal.

On Sept. 8, police directed traffic around a truck stuck in a Weaver Street driveway, until the driver was able to remove the truck.

On Sept. 8, police put a dislodged manhole cover back in place on Reimer Road.

A caller reported a wheel fell off a truck at Mamaroneck Road and Palmer Avenue Sept. 9.

Caution tape remnants were cleared from Heathcote Road and Morris Lane Sept. 9.

On Sept. 10, a driver of a car with a flat tire on Post Road told police that the car would be removed as soon as possible, with assistance from the driver's parents.

A car without license plates was observed on Ogden Road Sept. 10. Police called the owner, who said the car was a total loss. She said she had been instructed by her insurance company to remove the plates and leave the car in the roadway for removal by tow.

On Sept. 10, police directed traffic around a car with a flat tire on Heathcote Road at Morris Lane while the driver waited for a tow.

Police canvassed the area for a reportedly "reckless driver" who allegedly hit the guardrail several times on the Bronx River Parkway Sept. 11. It was described as a white van with a Massachusetts plates.

The highway department set up barricades around a dislodged manhole cover on Reimer Road after numerous reports by concerned drivers Sept. 11.

Police helped a driver with a flat tire on Kingston Road call for assistance Sept. 11.

Police informed Verizon about a low-hanging and fallen wires on Bradford Road and at Penn Blvd. and Franklin Road Sept. 12.

While removing caution tape leftover from last week's storm, police observed a loose storm drain cover at Post and Murray Hill roads Sept. 12.

Police repositioned the drain cover and used caution tape to secure it temporarily. The highway department was informed.

One car accident was reported in the Village this week.
Animals
A car hit a dog at Fenimore Road and Oak Lane Sept. 6.
A loose pit bull was reported on Drake Road Sept. 6.
A caller reported losing two poodles – one white and one black, with collars – in the area of Oxford and Park roads Sept. 7.
A fawn was stuck in a gate at Heathcote Road and Morris Lane Sept. 9. Police helped free the fawn. It appeared uninjured.
Police picked up a medium-sized, loose dog without a collar on Brewster Road Sept. 9. While waiting for pickup from New Rochelle Humane Society, the dog's owner retrieved it from headquarters.
On Sept. 10, the owner of a loose black dog retrieved the dog from Brewster Road.
Village code
On Sept. 6, police dispersed a loud gathering of kids outside a Ferncliff Road house.
Following up on a noise complaint, police dispersed a group of loudly talking people on Huntington Avenue Sept. 7.
On Sept. 10, police twice issued people playing music on Secor Road a warning. After a third complaint about the music, police issued the resident a summons.
A party had already ended on Harvest Drive when police arrived to investigate a noise complaint shortly before 11 p.m., Sept. 10.
Police received a complaint about loud kids on Huntington Avenue Sept. 10. They were gone when police arrived.
A Brookby Road resident lowered the volume of music after police informed the resident of complains and issued a warning Sept. 11.
Lost and found
On Sept. 6, a passerby found a wallet on a bench in front of the Chase Road post office. The passerby gave it to police for safekeeping. Police later received a call from the wallet's owner, looking for it. The owner was told how he could pick up the wallet during business hours.
On Sept. 7, a woman came to public safety headquarters and reported losing her license.
A credit card was found on East Parkway, and police returned it to its owner Sept. 9.
Firefighters
On Sept. 6, firefighters examined a gasoline spill in a Stratton Road garage. They found a 5-gallon gasoline can tipped on its side, as a result of flooding in the past. Firefighters removed the half-filled container to the outside. They applied Speedy Dri absorbent and used a positive pressure fan to ventilate the space.
On Sept. 7, a fallen power line on Brookby Road was reported to be burning. Firefighters stood by for Con Edison and kept the area safe. While on scene, firefighters observed a smoke detector activation at another Brookby Road house as a result of inadequate ventilation while cooking. The homeowner discontinued cooking and reset alarm system.
On Sept. 7, firefighters investigated an outdoor gas odor on Montrose Road. During investigation, they observed several closed excavation sites on the street, with elevated gas readings beneath the road plates. Con Ed Gas was called. They confirmed readings in excavations and investigated adjacent areas. Con Ed Gas released firefighters and took over the scene.
On Sept. 8, a Fox Meadow Road resident reported a gas odor inside the house. Gas levels were 700ppm, due to a knob being left on without adequate ignition. Firefighters started positive pressure ventilation at the front door and notified Con Ed Gas. The oven valve was shut down by the resident prior to firefighters' arrival.
On Sept. 9, a carbon monoxide alarm sounded in a Butler Road house. Firefighters determined a contractor working on the house had left a generator running near the open garage door. 150ppm was detected in the basement, with 35ppm on the first and second floors. The generator was shut down, and the house was vented with positive pressure ventilation. Firefighters advised the contractor to move the generator away from the house.
On Sept. 10, firefighters assisted with a four-car accident on the Hutchinson River Parkway.
This report covering police and fire department activity from Sept. 6-12 has been compiled from official information.

This police report is sponsored by Scarsdale Security who does more than just security. Contact them about remote video for your home or business. Call 914-722-2200 or visit their website.