Police Report: Car Accident Results in DWI Arrest, a Loud Singer, Road Rage and Noisy Parties
Thursday, 03 November 2022 07:37
Last Updated: Thursday, 03 November 2022 07:42
Published: Thursday, 03 November 2022 07:37
Traci Dutton Ludwig
Hits: 1646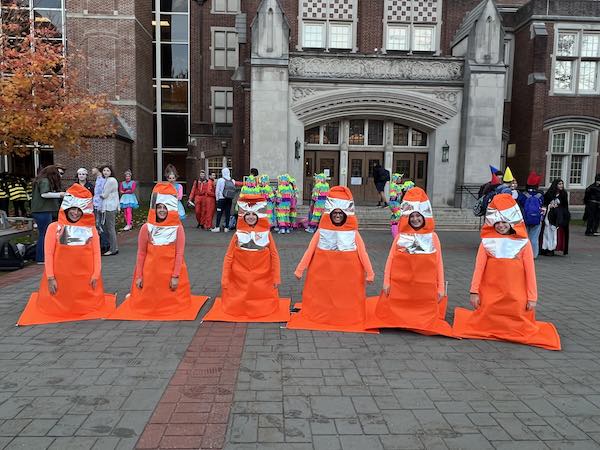 Following a car accident involving a 2002 BMW crashing into a guide rail and severing a fire hydrant from its base at Wildwood and Secor roads at 4 a.m., Oct. 30, police arrested Juan Antonio Camarena Esquivel, 25, of New Rochelle. Esquivel was charged with driving while intoxicated (first offense). Following his arrest, Esquivel was release on his own recognizance with an appearance ticket for Scarsdale Village Justice Court. Firefighters assisted at the accident scene and removed the broken fire hydrant for replacement.
Arrested
The Allegheny County, Maryland, Sheriff's Department requested assistance in executing a warrant for the arrest of a Secor Road resident – Lurch L. Grant, 56 – Oct. 26. Following Grant's arrest, he was remanded to Westchester County Jail without bail, pending being extradited to Maryland. He was charged with larceny, a felony, in the state of Maryland.
Burglary
A Gorham Road man returned home from work and found a broken window to his house and signs of tampering in his bedroom Oct. 26. The incident was determined to be a burglary. The homeowner reported approximately $20,000 in jewelry was stolen.
Stolen
On Oct. 26, a Walworth Avenue resident complained that a parking sensor was stolen from the front of his car while the car was parked on Walworth Avenue, outside his house.
The manager of the Avis car rental location on Scarsdale Avenue reported a renter has not yet returned a car that was due back in January 2022.
Identity theft
On Oct. 24, a Springdale Road resident reported receiving a credit card in the mail that she did not request.
On Oct. 26, a Fayette Road woman reported that someone registered a car in her name without her consent.
Check fraud
A Brewster Road school official reported that four fake checks were produced against the school's account and cashed for a combined total of more than $10,598. The checks were recognized as fraudulent when someone attempted to cash them.
Scam
A Gatehouse Road resident received a text message from an unknown sender who alleged to be a member of the "Jalisco Generation" Oct. 25. Police advised the message was most likely a scam.
Public indecency
A woman reported seeing a middle-aged man expose himself while she was out walking her dog on a roadway in the Village Oct. 28.
Suspicious
A caller reported finding a sticky substance inside a public mail collection box at Walworth Avenue and Colvin Road Oct. 26. Police confirmed the drop-off slot was impacted by a very sticky substance and alerted the postal inspector.
Help
Someone left a bag of candy on the doorstep of a Sycamore Road house Oct. 24. At the request of the homeowner, police discarded the bag of candy.
High school staff requested help from police in getting disabled kids off a bus and into their house Oct. 25.
On Oct. 26, police and firefighters advised a Brewster Road homeowner that water was flooding on the property due to a broken pump. The homeowner denied public safety personnel the permission to go inside the house to shut off the water supply.
New Rochelle police asked for help in canvassing the Village for a possibly suicidal male Oct. 28.
A Saxon Woods Road resident called police because her TV was not working; so police put her in touch with an aide at her residential facility Oct. 29.
A Birchall Drive party host called police to help disperse a large number of uninvited guests from the party Oct. 29.
Civil matter
A Palmer Avenue resident complained about a neighbor's motion-sensor light, believing that the neighbor was intentionally trying to "hurt them" with the light due to an ongoing dispute. The resident refused medical attention. Police advised that the matter was civil in nature.
Road rage
On Oct. 28, police witnessed an aggressive driver on Walworth Avenue. The driver allegedly got annoyed when a female driver navigated around a construction barrier to make a right turn. This caused the aggressive driver, in a gold Lexus, to speed up and block the female driver's path. Police attempted to speak with the aggressive driver, and he answered only, "You're inconveniencing me!" before accelerating over the curb to continue northbound on Walworth Avenue. Police canvassed the area for the aggressive driver but did not find him.
Cars and roadways
On Oct. 24, police taped up low-handing wires on Ridgecrest West and notified Verizon.
Police observed an Audi sideswipe a Lexus parked on Palmer Avenue Oct. 24. Police facilitated an information exchange between the drivers.
A driver whose car got a flat tire on Cushman Road was seen screaming and hitting the vehicle Oct. 25. Police asked if he needed any assistance, and he declined because roadside assistance was en route.
A sanitation truck backed into a car on Popham Road and caused damage, according to the owner of the car Oct. 26.
Police called a tow for a driver with a flat tire at Mamaroneck Road and Harvest Drive Oct. 27.
Police asked drivers to move their parked cars to increase the flow of traffic on Gaylor Road Oct. 28.
Police closed a car door after it was accidentally left open on East Parkway Oct. 28.
Police called a tow for a driver whose car suffered a dead battery on Fox Meadow and Paddington roads Oct. 29.
Police called a tow for a driver who got locked out of his car on East Parkway Oct. 29.
Police issued a summons to the owner of a parked car, with expired California license plates, found in the Freightway Road parking lot Oct. 30.
Police assisted a driver with a flat tire on Church Lane Oct. 30.
Five car accidents were reported in the Village this week.
Animals
A School Lane resident trapped a raccoon and reported it might be sick Oct. 24. Police provided the resident with contact information for local animal control professionals.
Police checked on the wellbeing of a dog inside a parked car at Carman and Bell Roads Oct. 25. The door was propped opened, and the dog was in good health.
A Cushman Road woman said she was going to contact a local trapper to help her with a possibly sick raccoon on her property Oct. 27.
Village code
Police issued summonses to landscapers and homeowners using gas-powered blowers in violation of Village code on Sprague and Taunton roads Oct. 24 and Burgess Road Oct. 29.
Police identified real estate signs placed in the Village right of way on Brewster Road and left a message for the agent to relocate the sign Oct. 24. They also removed and discarded advertising signs on Fox Meadow Road.
On Oct. 25, police issued a Kent Road homeowner a summons for placing a pile of leaves in the roadway in advance of the leaf collection scheduled pickup date.
A Post Road resident reported woman screaming at a house behind her property after midnight Oct. 25. Police heard the screaming and went to the house to check it out. The resident there said she was practicing her singing. Police advised that the noise was unacceptable at that hour, and the resident agreed to stop singing.
On Oct. 25, a homeowner on Fenimore Road moved an improperly placed sign to an acceptable location within the yard after police advised about Village code.
Police removed election signs and advertising signs from East Parkway, Christie Place and Depot Place and discarded them Oct. 26 and 28, as well as from Depot Place and Popham Road Oct. 29.
A Post Road resident was instructed to move political signs out of the Village right of way and back onto the private part her yard Oct. 27.
A "caution children" sign was moved from the Village right of way back onto private property by a homeowner on Autenreith Road Oct. 28.
Police advised a Hampton Road solicitor that he needed a valid permit to continue soliciting in the Village Oct. 28.
Police advised the host of a supervised youth party at Palmer Avenue and Lincoln Road that neighbors complained of noise Oct. 29. The host said the party was concluding soon.
Police dispersed noisy kids from Birchall Drive and Lincoln Road Oct. 29.
An illegally posted sign was removed and discarded from Saxon Woods Road Oct. 29.
On Oct. 29, police advised a panhandler on Palmer Avenue that he was not allowed to sell wares out of a van in the Village.
Police advised a Rochambeau Road party host that neighbors had complained of noise Oct. 29. The host agreed to lower the noise level.

Police advised a Secor Road party host that neighbors had complained of noise Oct. 29. Police explained the nature of the complaint for about 20 minutes, and the party host insisted that the noise level was "completely acceptable" at 9:15 p.m. and even said that the noise had been louder before patrol arrived. The facility manage was then also advised of the complaint. The manager lowered the volume of the music and promised to monitor the party for the duration of the event. Later, after police received numerous additional noise complaints, police went back to the location. The manager advised that the DJ disobeyed instructions to lower the volume of the music. Police issued a summons to the DJ.
Police dispersed an outdoor night basketball game in a Fairview Road driveway after neighbors complained of noise Oct. 29. They also dispersed kids from Fox Meadow School ground after ark Oct. 29.
A fan powered a bouncy castle was turned off at a Weaver Street location after neighbors complained of noise Oct. 29.
Lost and found
On Oct. 30, a ring was found on East Parkway and Christie Place. Police vouchered it for safekeeping.
Firefighters
Firefighters assisted a Kensington Road homeowner with a leaking sewage ejector pump, as well as a broken copper domestic water line, in the basement. Advice was to call a plumber after firefighters shut water to the leaking pipe Oct. 23.
Firefighters and Scarsdale Volunteer Ambulance Corps assisted at a car accident on the Bronx River parkway Oct. 24.
A report of crackling near Boulevard was caused by a family setting off sparklers in their yard as part of a religious celebration Oct. 25.
On Oct. 25, firefighters assisted an elderly Edgewood Road woman and her caretaker to make sure her home heating system was properly turned on.

The fire inspector and building inspector were notified about a large amount of water being discharged onto the exterior of a Brewster Road house by a sump pump Oct. 26.
A broken water hose to a washing machine flooded a Mamaroneck Road basement Oct. 29. Firefighters isolated the broken hose and assisted approximately six inches of water drainage through a sump pump.
The water department was notified about a leaking fire hydrant on Kingston Road Oct. 30.
Smoke was coming from the roof of the Harwood Building on Oct. 30. Firefighters found a locked boiler room with evidenced of elevated levels of carbon monoxide near the door. Firefighters used an emergency key to open the door and found a malfunctioning oil-fired hot water heater. They used a fan to ventilate the structure. The super was notified and advised to call for service.
This report covering police and fire department activity from Oct. 24-30 has been compiled from official information.

This police report is sponsored by Scarsdale Security who does more than just security. Contact them about remote video for your home or business. Call 914-722-2200 or visit their website.