The Sporting Life in Scarsdale: Historic Photos on Display
Wednesday, 08 March 2023 15:22
Last Updated: Wednesday, 08 March 2023 15:52
Published: Wednesday, 08 March 2023 15:22
Joanne Wallenstein
Hits: 395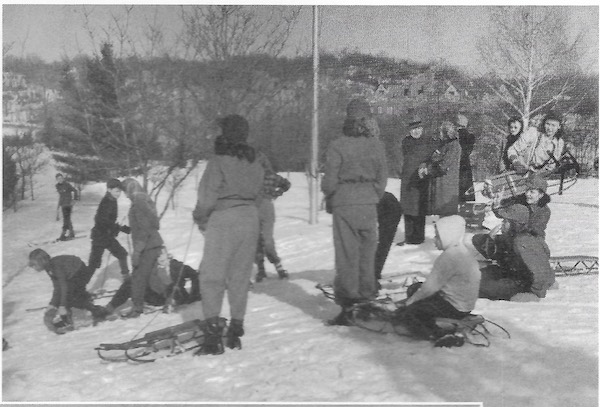 Sledding and skiing on the grounds of Scarsdale Golf Club, c. 1930's. Credit: Scarsdale Golf ClubA new exhibit on display at Scarsdale Library, curated by the Scarsdale Historical Society, documents the development of winter sports in Scarsdale. Using photos from the Westchester County Archives, the Scarsdale Inquirer, Fox Meadow Tennis Club and Scarsdale Golf Club – (who celebrates its 125th anniversary this year), Leslie Chang brings to life the history of platform tennis, ice skating and coasting (sledding) by some of Scarsdale's earliest residents.
At a reception on Wednesday night March 1 to celebrate the opening of "Scarsdale On Ice," Chang told some captivating stories about the sporting life in Scarsdale.
The earliest reference to skating took place on "Scarsdale Lake," which was formed when a dam was built in the Bronx River in 1913 that created a lake, just above the current waterfall near Scarsdale Village. Skaters also used the Duck Pond and Greenacres Pond, along with pop-up rinks created by flooding sections of Crossway Field, Hyatt Field and the Brite Avenue Tennis Courts.
Charlie O'Hearn and Jim Hynson play platform tennis at FMTC in 1938. Credit: Fox Meadow Tennis ClubIn 1952 the Recreation Department hosted a pop-up rink by flooding a 75 X 100 foot section of the Brewster Road parking lot at Scarsdale High School. During the holiday break, a reported 3,200 skaters turned out to enjoy the rink, floodlights and music. In 1973 a $500,000 bond proposal was made to build a skating rink the size of Rye Playland near the Scarsdale Pool, but it failed to get sufficient votes.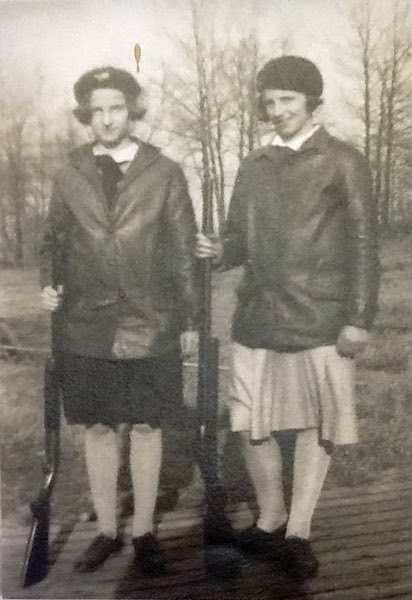 Joslyn and Sally Magowan trap shooting at the Scarsdale Golf Club in 1928. The sport was once popular during the club's off season. Credit: Magowan - Birdzell FamilyIn the 1920's two skilled ice dancers, James Cogswell and Fessendon Blanchard, taught others at Fox Meadow Tennis Club where the courts were flooded to form a rink. Skaters danced to the accompaniment of Viennese Waltzes and German Polkas that were amplified over the courts. But these two are even more famous for developing the sport of Platform Tennis. In 1928 they built the first court at their home above Ardsley Road and tested different racquets and balls. After losing too many balls that flew down Ardsley Road, they built a chicken wire fence around the court. Eventually they convinced Fox Meadow Tennis Club to build their first platform tennis court in 1931 and the club found that it improved their membership numbers during the winter months. The rest is history!
The Scarsdale Historical Society has produced an engaging exhibit of posters featuring historic photos and stories about winter sports in Scarsdale that is on view to the public at Scarsdale Library. Check out "Scarsdale on Ice," to fully understand how our forbearers left behind the legacy of the sporting life that continues today.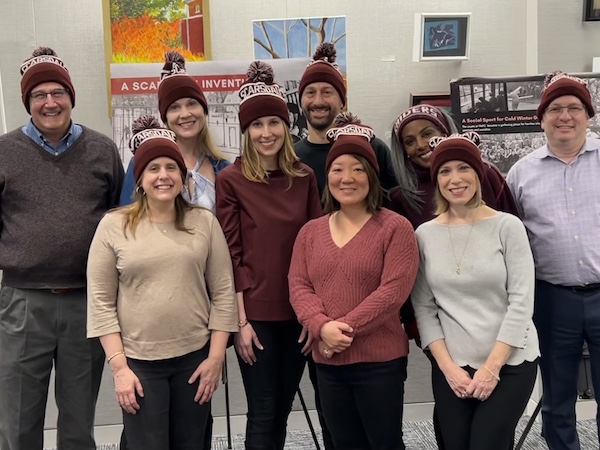 The Board of the Scarsdale HIstorical Society at the opening of "Scarsdale on Ice."