Meet Aidan Pierce Brennan, Star of "The Secret: Dare to Dream"
Details

Written by

Joanne Wallenstein

Hits: 806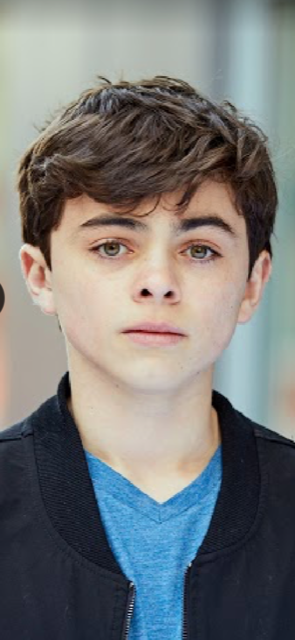 Aidan Pierce Brennan, a rising ninth grader who lives in Greenacres recently starred in a new movie, The Secret: Dare to Dream, which was released on Friday July 31. The movie stars Katie Holmes, Josh Lucas and Jerry O'Connell and is streaming online.
Meet Aidan and find out how he broke into the silver screen.
How did you get into acting?
I was 8 years old. I believe when I first got started. I was in the 2nd grade. I showed interest in acting and started talking to my Mom about outlets or ways I could maybe get into the business. Though, it was far-fetched and half jokingly my Mom got into touch with a place called Random Farms for an audition to showcase in front of managers and agents. I showed up completely unprepared in every way, expect for the fact that I enjoyed performing and speaking in public. Lucky for me, they handed me some lines and to my genuine surprise I would be asked to showcase, from there I met my manager, Lauren Singer.
When did you or your mom first realize that you were interested in acting? And why?
I realized on my own that acting is something I was really interested in and I know the exact moment I realized it. I was watching Stand by Me with my Dad and I can remember seeing these performances from these young actors and feeling really inspired that they could pull off such profound performance at these ages not too far from mine. Then on the set of The Secret it all came full circle. I got to work with Jerry O'Connell, who of course played Vern in Stand by Me. The first thing I said to him was that Stand by Me is what made me want to act.
Have you attended acting classes? Where? And did you have roles in other productions?
I have never taken formal acting classes. But I've gone to coaches a bunch of times with scripts that I have wanted to work on. Recently, I've been a guest star on Ray Donovan on Showtime playing the young Ray Donavan (Liev Shrieber) and the young Charlie Manx (Zachary Quinto) on the shoe NOS4A2 on AMC. I also have a movie called Extra Innings that will be appearing on Amazon, Google play, and iTunes on September 20!
How did you get the part in The Secret?
I had previously read to Kathleen Chopin , the casting direction for various other roles. When I read for The Secret: Dare to Dream, not soon after I was pinned for the role and then I got home from school two days later and my Mom broke the news. It was pretty exciting.
Briefly — what is the story of the film? And what role do you play?
It's about a family who is in a rough patch. The father is no longer around and the three kids are very dependent on Miranda, their Mom. When they get into a car wreck and then a hurricane hits that destroys their home, they need positivity and hope. I play the son, Greg.
Where was the movie filmed - how long were you on location?
The movie was filmed in New Orleans. So my Mom and I had to move down there for about 3 months.
Did you miss a lot of school - and if so, how did you keep up?
I did, it was tough in that way. It was hard to keep up because of course my teachers' priority wasn't always sending me work. So when I got back some teachers were really tolerant and helpful and others weren't and I had to work really hard to get back on track.
How can people watch it?
It's currently on on demand, anywhere you rent movies and on Apple TV.
Did you enjoy being involved and what do you hope to do next?
It was one of the best experiences of my life. The people I met and the things that I learned on that set I will never forget. As of right now I have nothing on tap, obviously Covid slowed things down but productions are starting to reopen and I'm hoping I will get another opportunity soon!
Sidewalk Sale Draws Shoppers and Diners to the Village
Details

Written by

Joanne Wallenstein

Hits: 644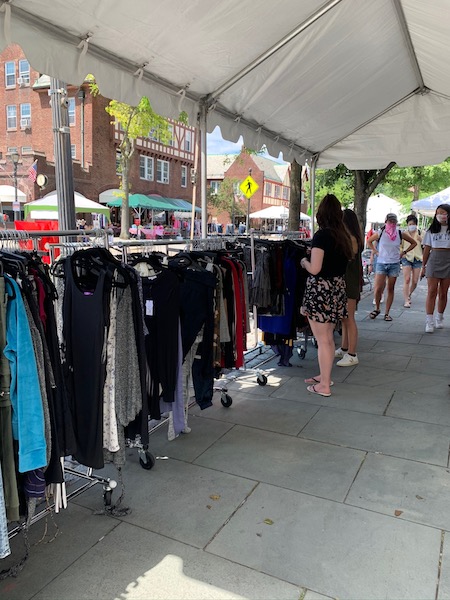 The Village was lively last week as the seven day Sidewalk Sale drew many to shop and eat, even with temperatures soaring above 95 degrees.
Many retailers had tables outside with great bargains on summer merchandise and more. Men's store Rothman's spilled out into Boniface Circle and onto the sidewalk with bathing suits, shirts, shorts, pants and more. Petticoat Lane, who announced that they will close their Scarsdale location had deep discounts on bags, accessories, nightgowns and intimate apparel. Perennial favorite Great Stuff showed their stuff from all seasons and I Am More Scarsdale was doing a brisk business in t-shirts, jeans and fun accessories like their necklaces that also clip on to a mask.
We found Michelle Anderson of La Dentelliere on the sidewalk with this jewelry box and home goods. Bronx River Books was offering New York Times bestsellers at a discount and Learning Express had a table full of toys to lure young buyers.
Vitale's Pizza and Westchester Burger Food trucks were available on Spencer Place which was closed to traffic.
Even though everyone was wearing masks, the atmosphere was relaxed and the vibe was good.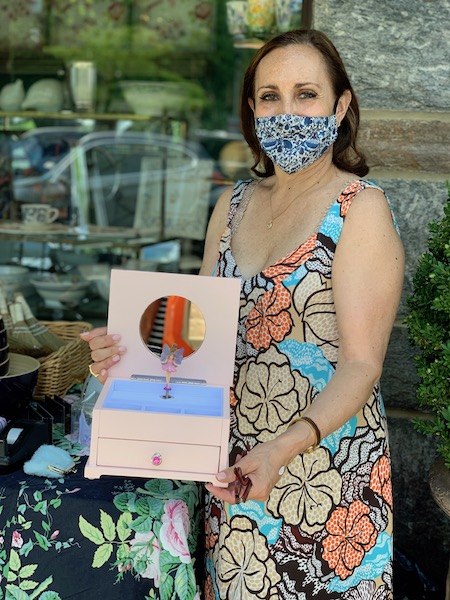 Michelle Anderson of La Dentelliere
Commenting on the sale, Marcy Berman Goldstein who heads the Scarsdale Business Alliance said, "The 2020 Scarsdale Sidewalk Sale was a success for the community and merchants. Instead of a three-day event as in past years, we elected to hold a weeklong event this year, and closed Spencer Place, Boniface Circle and Harwood Court. Rather than hordes of shoppers as in past years, we had a constant flow of consumers throughout the week, all wearing face coverings and practicing social distancing, while shopping and supporting our local merchants. By closing the roads, people were able to move throughout the village center without feeling like they were putting themselves at risk by being there."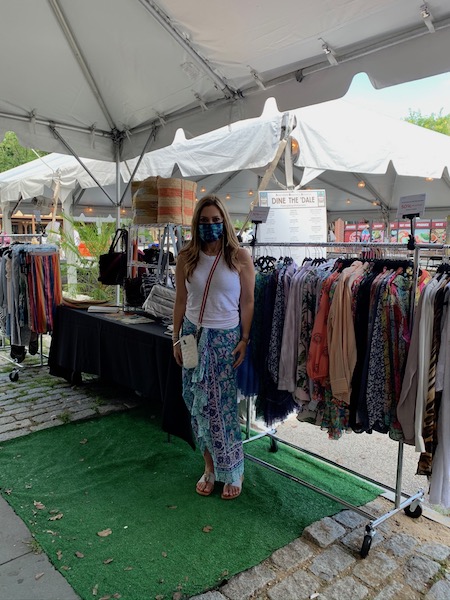 Marcy Berman-Goldstein at I Am More Scarsdale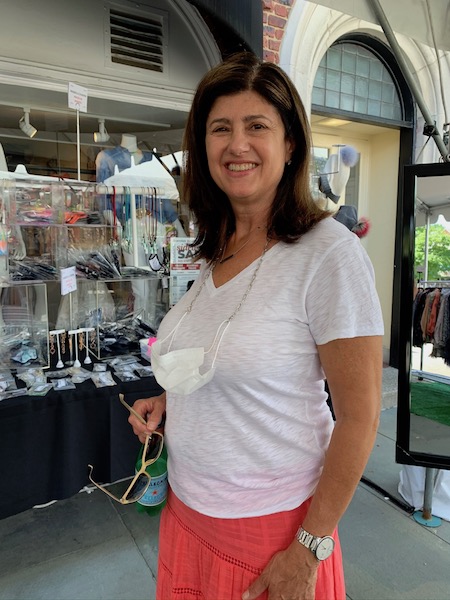 A new way to wear your mask.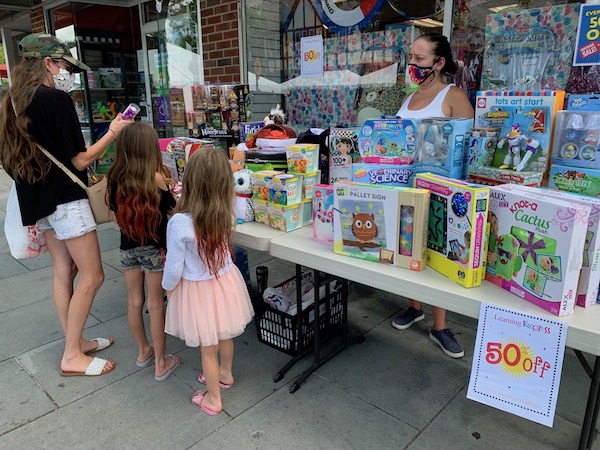 Toys, toys, toys at Learning Express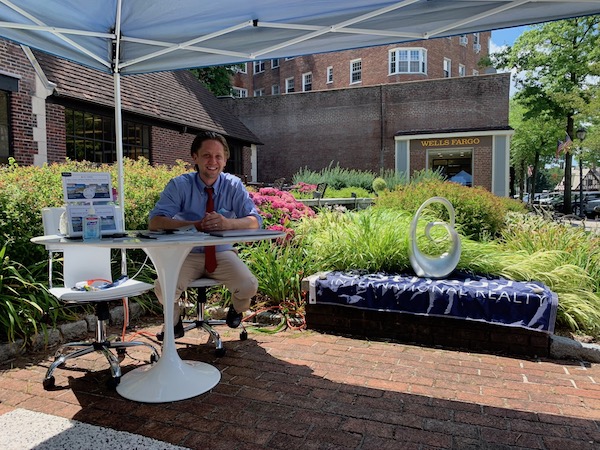 Brian Murray of Julia B.Fee does business from his outside office.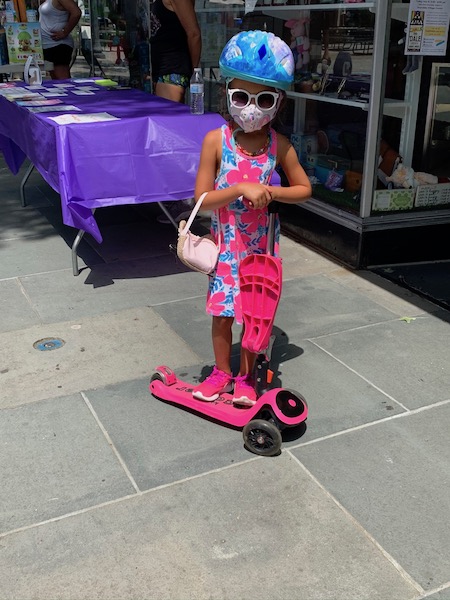 A great way to get around town.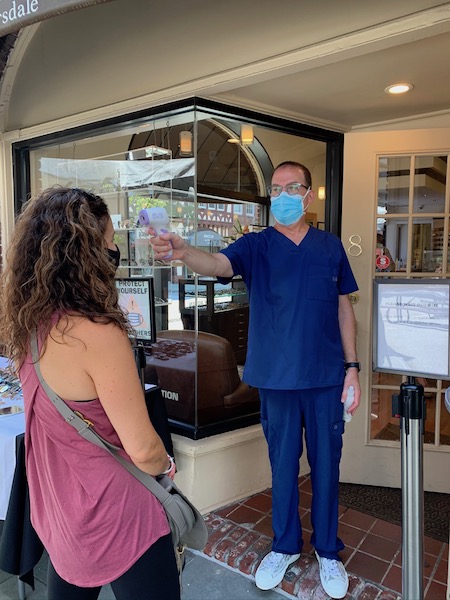 Jay Rosen does a temperature check before an eye exam.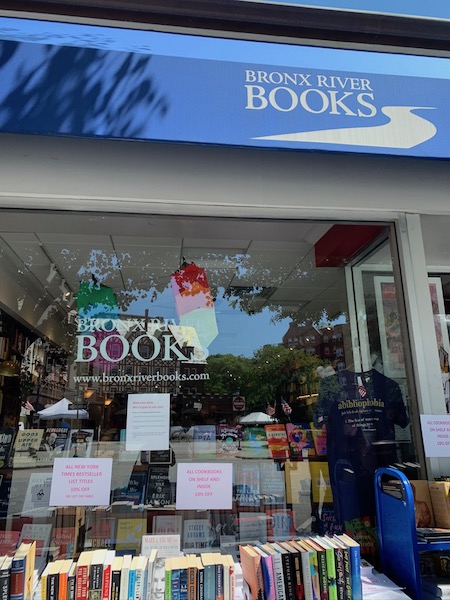 Reading for all at Bronx River Books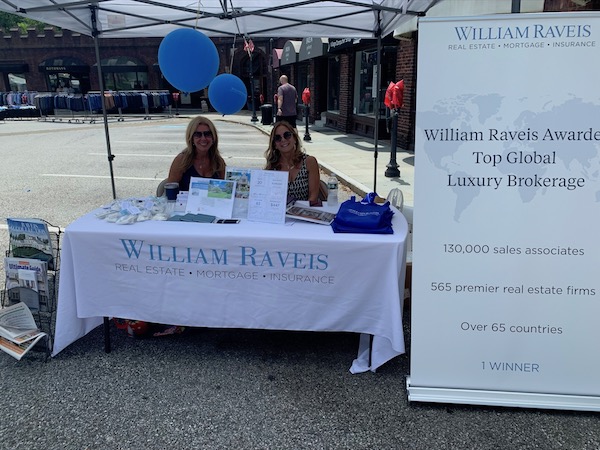 Realtors from William Raveis greeted shoppers
Fig and Olive Files for Bankruptcy
Details

Written by

Joanne Wallenstein

Hits: 6103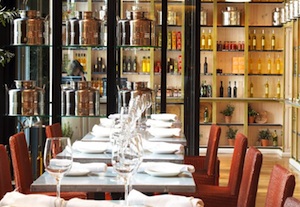 The COVID crisis is predicted to be the end for many restaurants and now Scarsdale is seeing one of its first casualties Fig and Olive, with nine restaurants in Scarsdale, New York City, Washington DC and Los Angeles has filed for bankruptcy.
According to Bloomberg News, the reasons for the failure included the pandemic and employee lawsuit related to a Salmonella outbreak in the Washington and Melrose Place restaurants. In 2015, 39 people who ate at the Los Angeles restaurants were sickened with Salmonella which was blamed on the restaurant's Truffle Mushroom Croquettes. Additional cases were reported at their Washington DC site. The company settled cases with many of the diners for an undisclosed amount.
The restaurants are owned by Luxury Dining Group who filed for bankruptcy protection, blaming employee lawsuits and the pandemic. The Scarsdale Restaurant is located in the Vernon Hills Shopping Center and is spacious and sleekly designed with indoor and outdoor seating. The restaurant opened in 2010 and features a long wine bar and Mediterranean fare as well as their own brand of olive oil.
Some of the companies nine restaurants could reopen depending on their potential. According to the article, 700 people were laid off and only 34 remain on staff.
Sidewalk Sale in Town: Monday July 27 to Sunday August 2
Details

Written by

Joanne Wallenstein

Hits: 452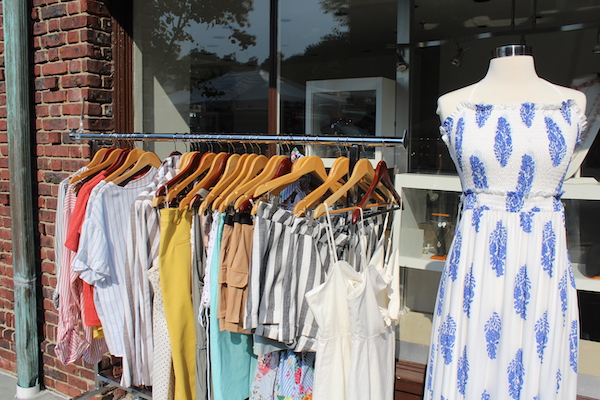 The Scarsdale Business Alliance (SBA) is thrilled to announce that the 2020 Summer Sidewalk Sale will take place Monday, July 27th through Sunday, August 2nd. This year, merchants in the Village center, Golden Horseshoe and Five Corners will be hosting the one-week event simultaneously.
Visit the retail hubs often throughout the week to take advantage of fabulous sales and discounted deals. In addition, health and wellness and service providers will be on hand to educate you about the resources they offer, which are available right here in our town.
In between all the shopping, be sure to stop by the Dine the 'Dale tent in the Village center to enjoy table service, delivery and carry-out from over two dozen Scarsdale restaurants.
The SBA looks forward to providing the community with safe outdoor spaces to shop and support their local retail merchants. In order for the Village to ensure proper social distancing, Spencer Place, Boniface Circle and Harwood Court will be closed to vehicular traffic for the week.
Three hour pay-as-you-go Pango parking (Zone 10599) is available in the Christie Place commuter garage (64 East Parkway) for Village center consumers.
Village center employees should NOT park in the Christie Place Garage or any of the meters in the downtown center. Employees should park in the Freightway Garage on level 5B for the week. This will be strictly enforced.
Masks are required.
Greenacres Glows on Graduation Day
Details

Written by

Sydney Albert

Hits: 784
The Greenacres Elementary School made history with their first graduation car parade on Friday June 19, 2020, The parade was held to honor the fifth grade class of 2020. Since they were not able to attend the traditional moving-up ceremony, these students and their families drove around in cars covered in balloons, streamers, and other decorations. They cheered and honked as they drove through the Greenacres school area, making sure to maintain the celebratory manner of a traditional graduation.
The parade began on Montrose Road, where cars lined up next to a beautiful balloon display on the Greenacres field. The Greenacres faculty lined the sidewalks, clapping and waving pom poms to show their pride for their students. The cars moved in an orderly fashion around the school and throughout the neighborhood, and students maintained their excitement and positive energy throughout the entire twenty minute route. When the cars reached the end of the parade, they were met once again by their overjoyed teachers.
Although it was certainly not the graduation ceremony Greenacres students were expecting, the parade definitely gave them an opportunity to celebrate their accomplishments. Having all of the students in separate cars allowed them to be honored individually, making the ceremony special and personal. Congratulations to graduates of Greenacres Elementary School and best of luck at Scarsdale Middle School.

Also sending congratulations to the graduates of Heatcote, Quaker Ridge, Edgewood, and Fox Meadow Elementary Schools. Wishing you all the best!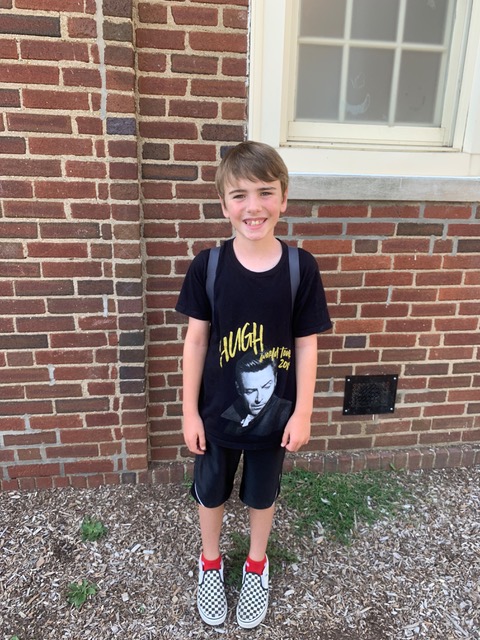 Ryan Smith, Edgewood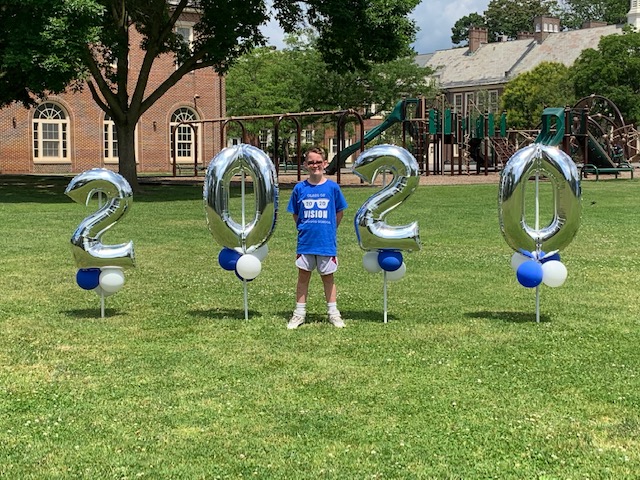 Luke Knopp, Edgewood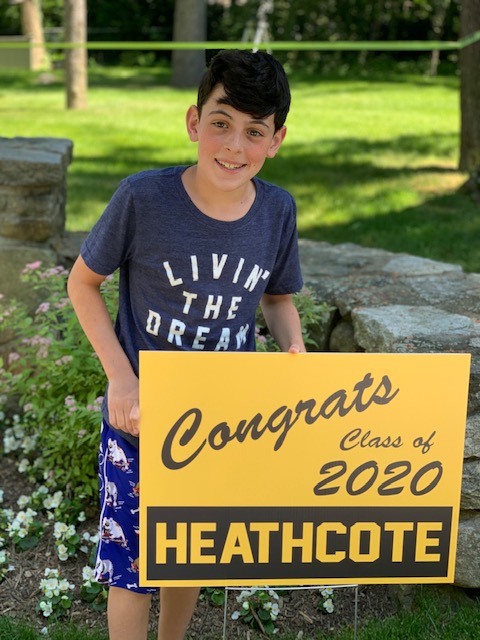 Aaron Lichtenstein, Heathcote