The Land of the Incas at Purple Corn Peruvian Rotisserie Joint
Details

Written by

Judie Dweck

Hits: 1244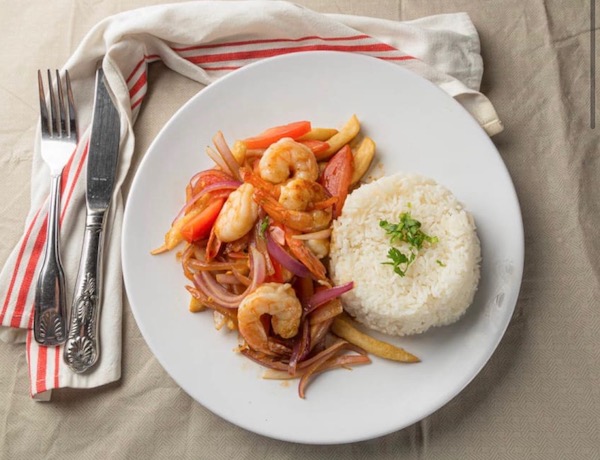 As I meandered along busy Mamaroneck Avenue in White Plains, the sign Purple Corn Rotisserie Joint caught my eye. It brought back memories of my many trips to Lima, Peru, where I enjoyed rotisserie chicken, ceviche and purple corn. I stepped inside the small shop and noted the stark simplicity of the décor. There are seats for about twenty diners at a banquette and at tables. The walls are tiled in white. The bare bones atmosphere allows you to concentrate on the authentic traditional dishes on the menu. It was Sunday at about noon and a line was forming outside for lunch. They also provide a busy take out and delivery service, if you prefer to dine in the comfort of your own home or office.

I had the pleasure of chatting with owner David Pineda Mayo. Purple Corn has been open for about a year. He said, "I worked in the dining room of a Peruvian restaurant in Portchester for 12 years. Since White Plains is a very busy area, it seemed like an ideal spot for our super casual restaurant or "joint "as we chose to call it. Our goals for the future include opening other spots. The best part of my job is relating to my customers and offering a pleasant environment for both my staff and guests."

It was time to sample some Peruvian specialties. The wait staff were very helpful in describing the dishes. We started with the very popular ceviche. Ceviche in the Peruvian style can be ordered with fish, mixed seafood, shrimp or as a trio. We enjoyed the shrimp variety. The shrimp were marinated in freshly squeezed lime juice with red onion slivers, fresh cilantro and crunchy kernels of roasted corn. Sweet potato wedges completed its presentation as it always was in the restaurants of Peru. Parihuela is the famous Peruvian seafood soup. At Purple Corn, it is a meal in a bowl. A fish broth is seasoned with aji amorillo, (yellow Peruvian chili), chopped tomatoes, celery, leeks and an ocean full of seafood. Here, there were shrimp, cod fillets, squid and shellfish. This brightly colored bowlful had a whole soft shell crab clinging to the bowls rim. Fish noodle soup and chicken noodle soy soup are other possibilities. On future visits I plan to start my meal with mussels marinated in lime juice, as well as the classic potatoes in Peruvian cheese sauce with olives and hard boiled egg.

Three interesting salads are offered which can be topped with chicken or shrimp. The Purple Corn Salad includes baby spinach, carrots, peas, cilantro, queso fresca, avocado and boiled egg. The Solterito Salad has Peruvian corn, those very large kernels, spinach, avocado, edamame, tomatoes, roasted peppers, black olives and cilantro among its ingredients. I just loved the Andean Quinoa Salad with organic quinoa, baby spinach, avocado, roasted peppers, and shredded queso fresca. A fresh lemon dressing complimented these colorful ingredients which were layered on our plate making the dish pleasing to the eye as well as to the taste.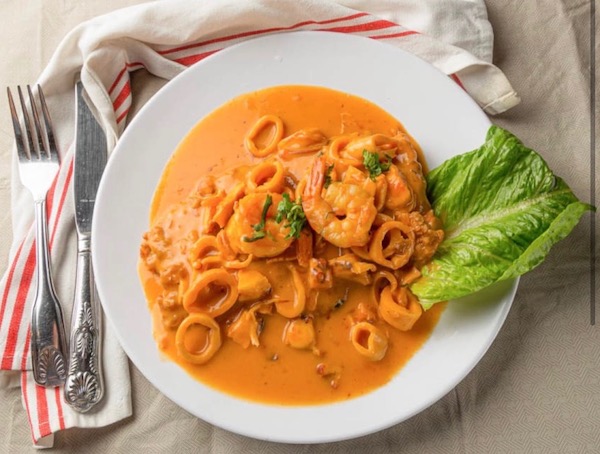 The Peruvian cuisine is greatly influenced by its Spanish as well as its indigenous Inca civilization who were worshippers of the sun, which explains the yellow color of many of the dishes because of the use of aji yellow chili. The Incas are responsible for the many varieties of corn, potatoes and healthy grains such as quinoa grown and utilized in their cuisine. There was also a large infusion of Chinese immigrants which explains the plentiful use of soy sauce.

We moved on to the varied entrees. Lomo saldato is a Peruvian classic. Here, the beef is sliced into strips and sautéed with onions, tomatoes and cilantro and flavored with soy sauce. Served with fragrant jasmine rice it is a tasty entrée with a Chinese influence. Chaufa is Peru's version of fried rice. Its base is jasmine white rice. Roasted red peppers, scallions, egg, bean sprouts and soy sauce are all combined. At Purple Corn, you can enjoy it with added chicken, beef, shrimp, fish or mixed seafood. If you wish to indulge in something fried, try the chicharron des mariscos. This is a fried seafood platter with fish fillets, shrimp, squid and octopus. It was not at all oily and was delicious. A sliced onion salad accompanied it. Other entrees of arroz con mariscos, tallarin verde, spaghetti with Peruvian pesto, and tallarin saldato are offered.

I've saved the most popular dish for last. The pollo alla brasa which can be ordered as a whole, half or quarter chicken, is marinated for 48 hours with a fine combination of herbs, spices and wine. Then it is roasted on the kitchen's special rotisserie which can accommodate 32 chickens. People come from far and wide to savor this Peruvian classic. It is tender within, full of flavor, and crisp and beautifully seasoned outside.

For dessert we sweetened our palate with crema valtreada, a Peruvian flan and some very delicious alfajores, the South American sandwich cookies filled with dulce de leche and sprinkled with powdered sugar. Chicha morada, a drink prepared with purple corn, cinnamon and cloves originated in The Andes and horchata a rice, cinnamon, vanilla and sugar beverage are pleasant accompaniments to your meal at Purple Corn.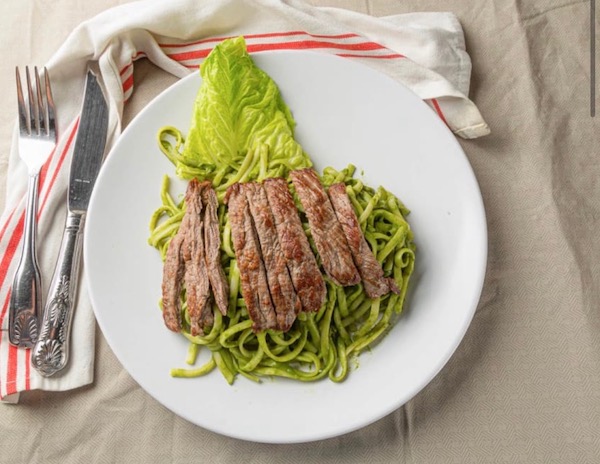 Purple Corn is very popular with the take out crowd. They deliver or you can pick up your order.

Purple Corn Peruvian Rotisserie Joint
72 Mamaroneck Avenue
White Plains
914 339-0900

Recipe: Chicken Chaufa – Serves 4

Ingredients:
2 cups jasmine rice, cooked
1 cup chicken breast, sliced and sautéed until tender
½ cup diced, roasted red pepper
½ cup bean sprouts
½ cup diced scallions
2 eggs, beaten
Soy sauce, to taste

Directions:

Heat oil in large skillet. Add chicken and eggs and scramble together. Add peppers, scallions and sprouts and stir for a few minutes. Add cooked rice and soy sauce to taste. Stir so that the soy sauce is incorporated in the mixture. Serve.
No Loss for Words Here
Details

Written by

Midori Im

Hits: 447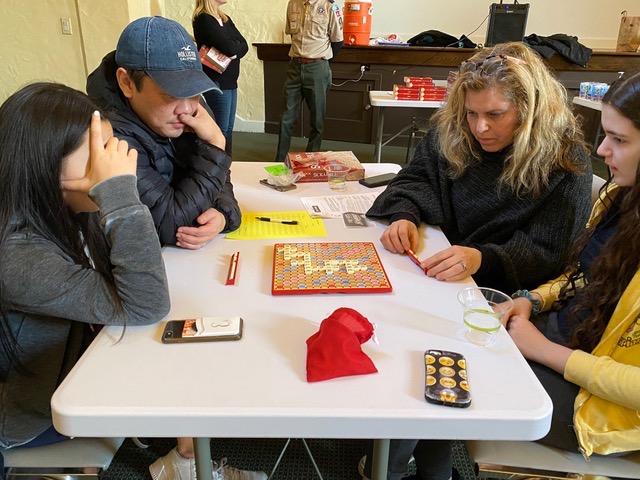 No one was at a loss for words at Scarsdale Cub Scouts Pack 440 Scrabble Tournament on Sunday February 9 at Hitchcock Church. The event was held to raise funds to support pack activities, which are for elementary school boys and girls and their families. While a new event for the pack, it managed to draw a crowd of 20 parent-child teams and seven players in the adult category.
Each adult-child team played two 40 minute games, as did each single player. Top scorers won prizes donated by several members of the community. These included Alamo Drafhouse, Bareburger, Bowlmor, California Pizza Kitchen, Learning Express (Scarsdale), The Puzzle Parlour, River One River School of Art + Design, Scarsdale Pizza Station, and Squire Day Camp. Friends of the pack also donated season tickets to the Rangers and Yankees. The wordy winners were:
Adult Singles
1st place - Jeff Kapner
2nd place - Kate Simpson
3rd place - Lynda Roca
Family Teams (Elementary)
1st place - Charlie & Brian Rosenthal
2nd place -Dylan & Carol Meiselman
3rd place - Michael & Rick Cecil
Family Teams (Middle School)
1st place - Emily & Melissa Attar
2nd place - Kay & Steve Fitzgerald
3rd place - Caitlin & Sharon Higgins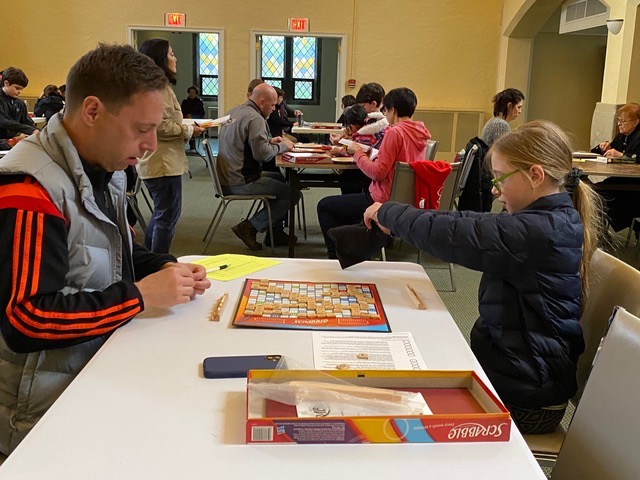 A word search contest was also held at the end. Winners were:

Elementary - Nicholas Cho
Middle - Kate Simpson
Adult - Sharon Higgins
Photos courtesy of J. DeDianous
Scarsdale Forum Celebrates Winterfest
Details

Written by

Joanne Wallenstein

Hits: 642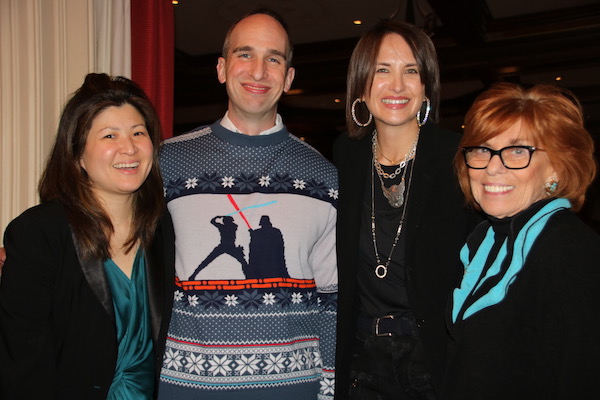 Susan Lee Foley, Tim Foley, ML Perlman, Linda BlairThis note was sent to us by the Scarsdale Forum Winterfest 2020 Committee.

The Scarsdale Forum welcomed over 100 members and guests to Winterfest 2020, its twelfth annual membership party at the Scarsdale Woman's Club on Saturday, February 1. Party goers were greeted at the door by Forum President Tim Foley and Vice President Madelaine Eppenstein as Spotify set the mood for the evening in the festive music room decorated by Winterfest 2020 Chair Linda Blair. Bruce Wells held court at the popular beer tasting station featuring his home brewed beers and hot dogs steamed in dark beer for the adventurous. Plates catered a delicious buffet dinner while Forum members Merrell Clark, Eli Mattioli, Jim Pullman and Sue Wolin took to the keys to entertain guests during the dinner hour. The evening ended sweetly in the dessert room where guests enjoyed the home baked goodies of several Forum members and friends and a fruit platter donated by Standing Room Only.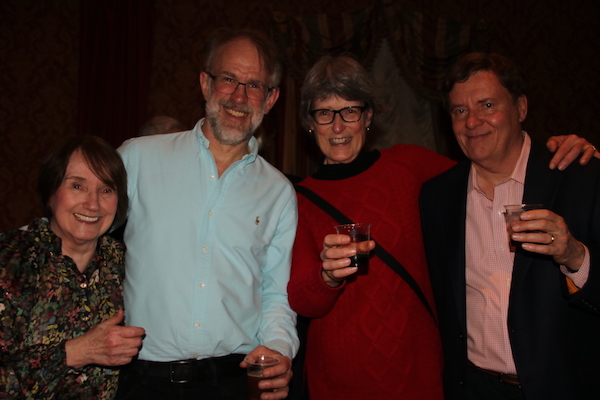 Deidre Pullman, Bruce Wells, Anne Hintermeister, Jeff Crandall

We thank local vendors Bronx River Books, La Dentelliere, Ellen Cohen of Pampered Chef, Parkway Café, Pizzarelli's, Scarsdale Frame Shop, Scarsdale Pastry Center, Scarsdale Woman's Exchange, Serenity and Setsuko at Jean Claude for generously donating door prizes for the event.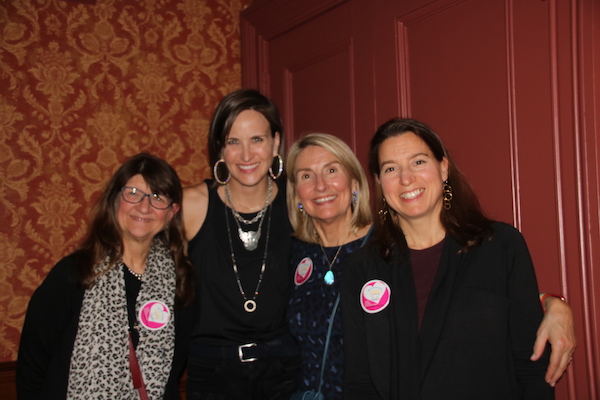 Deb Pekarek, ML Perlman, Michelle Lichtenberg, Michelle Sterling
A special thank you to Scarsdale 10583 for publicizing our event.
Photo Credit: Liza VanGundy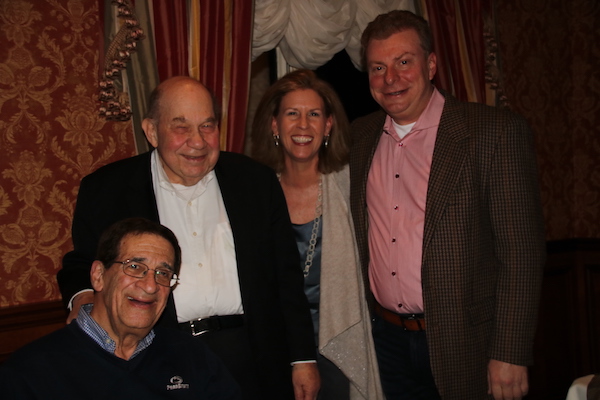 Bob Harrison, Bill Stern, Avital & Greg Soldatenko
Winter 2020 Committee
Scarsdale Forum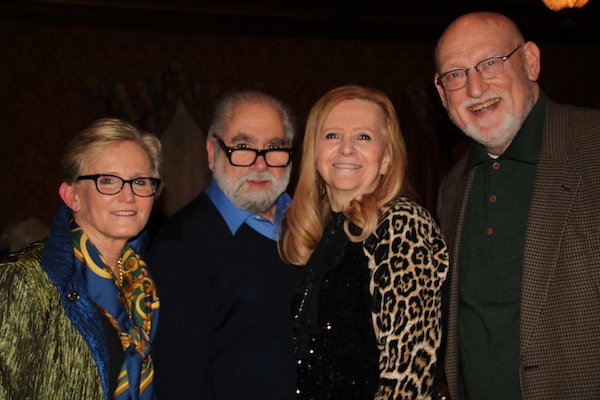 Marjorie Meiman, Harvey & Miriam Flisser, Joe Robinowitz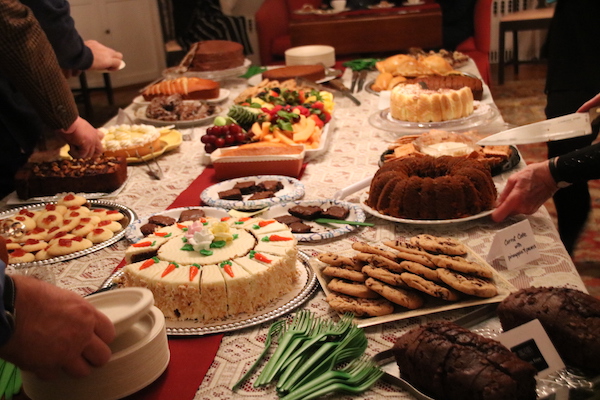 Horace Mann Freshman Plays Violin at Carnegie Hall
Details

Written by

Joanne Wallenstein

Hits: 708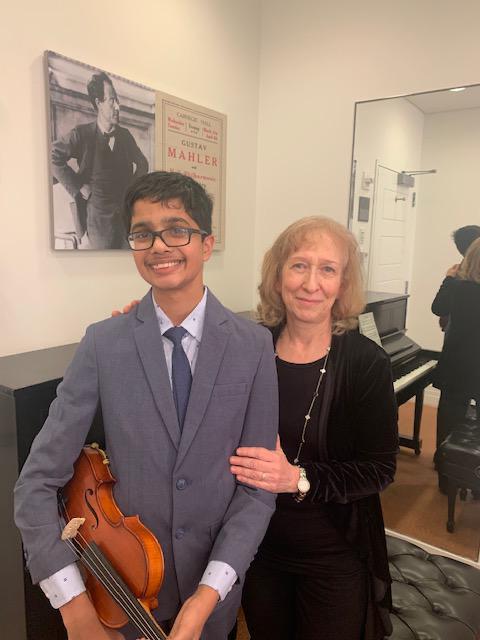 Ram Narayanan with Alla SherbakovHorace Mann School freshman and Scarsdale resident Ram Narayanan was recently selected to perform at the Crescendo Competition in Carnegie Hall. He received first prize in the competition and performed at the recital on January 19th, 2020. He performed Charles Dancla's 2nd Air Varie. This was Ram's second time performing in Carnegie Hall, as he had previously performed after getting third prize in the American Protégé Competition in 2016.
Ram is a student who lives in Scarsdale but goes to Horace Mann School in the Bronx. He has always been passionate about music, playing the violin since the age of 6, and singing Indian cultural music in the Carnatic style since the age of 4. He plays in the Horace Mann school orchestra and enjoys the music he plays there. Currently, he is learning under Mrs. Alla Sherbakov.
Aside from music, Ram also loves math and science. He received first in his chapter at the MATHCOUNTS competition.
Minis Latin Fusion for the Colorful Vibrant Tastes of Latin America
Details

Written by

Judie Dweck

Hits: 1500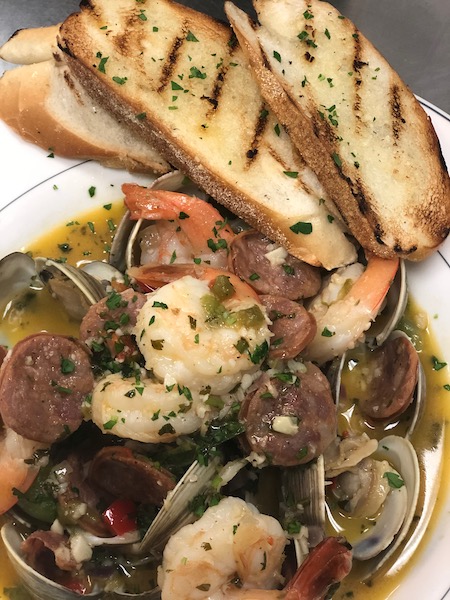 Steamed clams and chorizo.The flavors of Latin American cuisine are adding a vibrant taste to the New Rochelle culinary scene with the recent opening of Minis Latin Fusion Restaurant. It is owned by Nicole Pirraglia Piparo and Michael Piparo. Upon chatting with Nicole, she indicated that she worked in several restaurants on City Island as manager and in the front of the house. Driving to New Rochelle to pick up her children from school, she noticed the empty storefront that previously housed Fratelli for many years. The rest is history. She decided the area needed a change of pace from the many Italian eateries in the area. Thus, Minis Latin Fusion was born. "Our food is Spanish with influences from many Latin cultures. We offer something for everyone. The person who I would have loved to experience Minis, is my grandmother, a great cook. My goal for the future is to expand to many locations. For me, the best part of the business is the social interaction. The hardest part, is being away from my young family."

The space has been redesigned. Seating about 50 guests, the bar is to the right and the dining room to the left. To give the space a south of the border ambiance, the many works of Mexican artist Leonid Afremov adorn the white stucco walls. They depict many areas of the arts. The dance and music themes compliment the Latin food.

We enjoyed several appetizers. One of my favorites was a bowl of steamed clams paired with chorizo. The fragrant cilantro flavored sauce was perfect with the delicate clams and nicely spiced chorizo. Toasted slices of bread were just right for dipping. I requested a spoon to lap up every bit of the sauce, and I was told that another guest indicated that if he had a glass, he would just drink the beautifully flavored sauce. Empanadas con Picadillo with creole sauce were quite good, as well. These "meat pastries", were filled to the brim with a well seasoned meat mixture and were fried to a golden brown. I had been instructed on how to navigate the empanada and followed the rule…. I bit off the corner of the pastry and the tantalizing aroma of the beef mixture with its combination of herbs and spices filled the air. Quesadillas are popular in many restaurants. At Minis, the filling is chicken that is roasted and tossed in a mole sauce. It was a very pleasant variation with that great chocolate enhanced sauce of Mexican origin. Chicharron de pollo arrived as fried to a crisp nuggets of chicken. They were as crunchy as could be and pleasant when dipped in some creole sauce. --- One caveat----- They are not boneless, so be careful when biting into these delicious morsels. Creamy garlic shrimp were another tasty appetizer. The diced shrimp tossed with a creamy white garlic sauce were serve atop freshly fried tostones. Yet to be tried among the appetizers are shrimp soup with Juarez Sherry, black bean soup and sancocho, a soupy dish with chicken or fish, popular in the Caribbean. For a lighter beginning try the Arcadian green salad with sherry guava vinaigrette or tomato avocado salad with chipotle orange vinaigrette and tostones.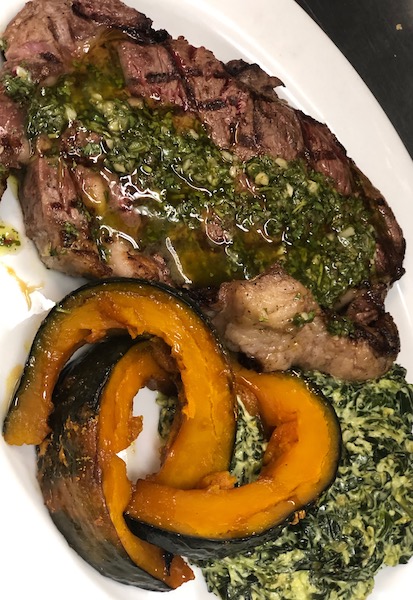 Steak with Argentinean Chimichurri Sauce

Many dishes are creatively presented at Minis. Ropa Vieja is a dish I have enjoyed through the years. Translated as "old clothes", this dish of shredded beef is a Cuban specialty. Here the shredded beef is served in a Peruvian presentation. The meat mixture is layered with rice and white beans. This mountain of flavors was enhanced with aji Amarillo, a Peruvian yellow chili, avocado and a few slices of tostones, those fresh , fried green plantains, on a plantain leaf. The origin of the dish is Cuban and the " tacu tacu" presentation is Peruvian.

Other entrees are varied with dishes popular in Puerto Rico, Peru, Cuba and the Caribbean, to name but a few. There is the popular arroz con pollo and seafood paella. Grilled NY Steak has a Latin touch when served with Argentinean chimichurri sauce. Pernil, pork shoulder , from Puerto Rico, plantain crumb crusted chicken breast, pork chops with moduros, sweet plantains and mofongo , a popular mashed plantain dish , with meat, vegetables or seafood. There is even mac and cheese with chorizo and chicharon crumbs.

Desserts include carrot cake bread pudding, cheesecake brulee as well as a Latin inspired tres leche Maduro sundae with those terrific sweet plantains, nuts and syrup.

Minis serve lunch Tuesday through Friday with Latin touches joining popular favorites such as fish and chip sandwiches with spicy Caribbean tartar sauce, carne hero with chimichurri sauce, and tamarind bbq pernil. Enjoy happy hour Tuesday through Friday from 4-7 pm. Sunday brunch is offered from 11.30-4 with selections including Venezuelan frittata, chorizo mac and cheese, and chimichurri steak and eggs.

Park your car in the parking area of the strip mall or on the street and enjoy the ray of Latin sunshine at the new Minis Latin Fusion Restaurant soon.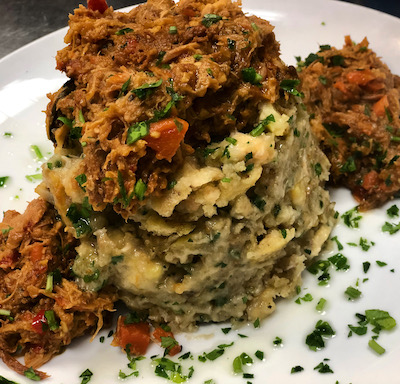 Ropa Viega

Minis Latin Fusion
237 East Main Street
New Rochelle
(914) 355- 5609

Recipe: Beef Empanadas (10 empanadas)

2 pounds ground beef
1 large onion, finely diced
3 Tbsps chopped garlic
½ red bell pepper finely diced
½ green bell pepper, finely diced
4 Tbsps. tomato paste
2 Tbsps. capers
1 tsp. chili powder
1/2 tsp cumin
½ bunch chopped cilantro
½ tsp. adobo
½ tsp. salt
10 Goya empanada shells, 5 inch rounds
2 Tbsps. olive oil

Olive oil for frying empanadas

In a large pot mix together all filling ingredients. Saute stirring, in 2 Tbsps. oil until meat is browned and cooked through. Chill the mixture. Divide it among the 10 shells. Fold each in half and crimp the edges tightly. Fry in olive oil on both sides until golden. Drain and serve.