Healing Tree Mural Unveiled by Scarsdale's National Art Honor Society Club
Details

Written by

Vivian Zweig

Hits: 358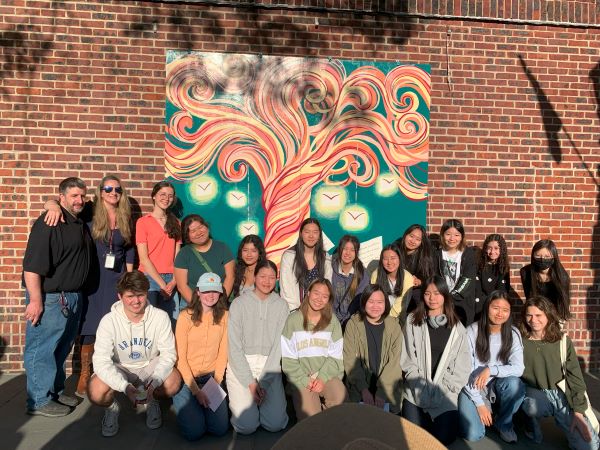 On May 23, 2023, Scarsdale's National Art Honor Society Club (NAHSC) unveiled a new mural in front of DeCicco Family Market. The new mural has replaced the iconic Wing the Dale mural, which has been an integral community aspect since 2019.
In the late afternoon sun, members of the NAHSC assembled in front of DeCicco's East Parkway wall, along with Mayor Justin Arest and Amy Nadasdi, the Arts Advisory Council Chairperson. Nadasdi said, "This beautiful public art project demonstrates the student's commitment to fostering a sense of pride in our community and enhancing the quality of life for all residents and visitors to our Village Center."
Mayor Arest opened the ceremony with a few words on the importance of art in the community. Arest stated that art allows "…individuals to explore diverse perspectives and engage in critical thinking while also contributing to the community's cultural identity and cohesion." The new mural continues the Healing Tree project, which started with last year's Non-Sibi Day, which is meant to convey that color and light prevail in times of darkness.
After a few words from Nadasdi and Janna Johnsen, the High School Art Teacher, Frank Decicco, and Mayor Arest unveiled the mural, and tree branches' bright, swirling colors emerged into the sunlight. Now, the Healing Tree is not only at the High School but also in the Village.
Suler Lu is a graduating senior who joined the club in freshman year when they unveiled the Wing the Dale mural. She said that "It's come full circle. When we were first freshman, they had just wrapped up Wing the Dale, which was the first mural done in the Village. Now that we're leaving, we've left a new mural in the same spot." The new mural encourages kindness and happiness for Scarsdale residents and provides a poetic end to the graduating class's high school art careers.
Playland Park Now Open: New Rides, Entertainment Experiences and Dining Opportunities
Details

Written by

Joanne Wallenstein

Hits: 593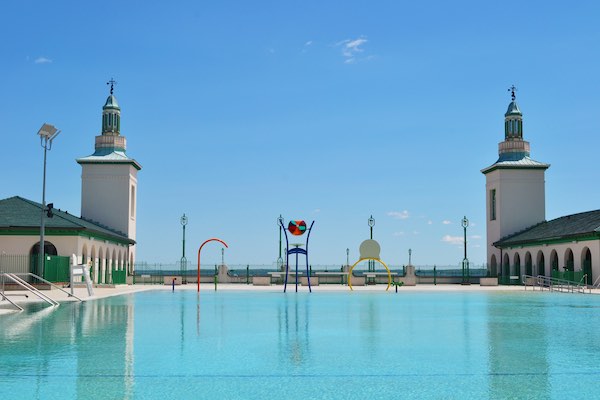 Enjoying the adrenaline rush of the Dragon Coaster, cooling down in the new Playland Pool, and savoring bites and brews while taking in the sights and sounds of Long Island Sound, all are a sample of summer experiences at Playland, one of the nation's most beloved amusement parks since opening in 1928 with over 40 rides and attractions. Located in Rye in Westchester County, Playland is a National Historic Landmark and a summer tradition for the entire New York City metro area, which opened to the public on Saturday, May 20, 2023 through September 15, 2023. A complimentary roundtrip shuttle service from the MetroNorth Railroad station in Rye is available during the summer season, as well as regular Bee-Line bus service, which provides easy connections to an attraction that has served so many generations of families.

As one of the only amusement parks in the U.S. designed in Art Deco architecture, Playland is home to thrilling and historic rides including Whip (1929), Derby Racer (1929), Dragon Coaster (1929), The Carousel (1929), and numerous other adventures for all ages and excitement levels. The newest ride is the Old Rye Motorbike Factory, which debuted in 2022. This year, guests can expect new rides including the custom-built Jack the Puppeteer, a fun, family-friendly ride that takes the visitors on an exhilarating spinning adventure, which will be available later in the 2023 summer season.

"Playland has been a multi-generational destination for millions of visitors in the greater New York region for almost a century," said Jeff Davis, General Manager of Playland. "As we continue to grow and build the park for the next 100 years, we are thrilled to introduce a diverse range of new experiences for all our visitors to enjoy from dining, outdoor adventures, entertainment, events, rides, and more, while preserving the incredible history of the park. In addition to our popular rides and games, our new visitors are often surprised to find direct access to our beach, pool and lake, available right on-site. We have something for everyone at all ages, so look forward to welcoming everyone this season."

Additional NEW experiences for 2023 at Playland include the following:

· New Fountain Plaza Show – Featuring a synchronized musical, water, and light show to welcome all guests throughout the day and night.

· Create a Sensational Moment at the New Installation, "Play! Verse – An Immersive Adventure" – These installations will include other worldly environments, fantastic creatures, eye-popping optical illusions, immersive cascades of light color and sound, and even a gateway into infinity. The new Play! Verse includes different thematic rooms that feature LED light shows, interactive infinity mirror tricks, and more, creating a multi-sensory and dynamic photo ops for all. Admission tickets are $10.00 for Play! Verse.

· New Dining Experiences with Panoramic Waterfront Views – The NEW Tiki Beach is an upscale eatery with indoor and outdoor seating, as well as picturesque views of the Long Island Sound. In addition, Captain Lawrence Beer Garden is a more casual space adjacent to Tiki Beach with outdoor seating to enjoy a few brews. Come visit and taste the whipped ricotta cheese with honey and truffle sauce. Evening entertainment will also be available for a scenic al fresco dining experience.

· Explore the Picturesque Playland Beach, Lake and Edith G. Read Nature Preserve, and Cool Down at Playland Pool – The scenic on-site Playland Beach will reopen Memorial Day weekend and will debut a NEW 35-foot waterfront slide this season, as well as new amenities including volleyball, kayaking, and paddleboarding along with weekend entertainment including live steel drums performances! NEW Swan and Dragon Paddle boats are now available at $20.00 at Playland Lake alongside the historic Boathouse and near the Edith G. Read Nature Preserve – all on the shores of the Long Island Sound. The Beach Pass is $9.99 per adult and child, while children ages 2 and under are admitted for FREE. The recently debuted Playland pool with zero depth entry and state-of-the-art lounge furniture will be open for the season. The Pool & Beach Combo Pass is $14.99 per adult and child, while children ages 2 and under are admitted for FREE.

Memorable activations throughout the summer will offer special treats through a variety of major events at Playland including "Party on the Pier at Playland" on June 7, 2023 from 6-9 pm, hosted by Westchester Magazine's Wine & Food Festival where guests can sample summer favorites from local restaurants and food trucks with beer, wine, cocktails, and live music, along with the 5th Annual Bartender Shake-Off. Playland will also host a Juneteenth event on Monday, June 19, 2023, complete with A Motown Concert and Dance and Drum Workshops by Bokandeye African American Dance Theater, Inc. of Yonkers, NY. Adding a spark to summer at Playland is the amusement park's Annual July Fourth Celebration, complete with special entertainment and fireworks.

The 2023 Day Pass is $39.99, while the Day Pass for Westchester County residents is $29.99. The 2023 Season Pass includes access to all rides and is available at $109.99, while the Westchester County Resident 2023 Season Pass is $99.99 with proof of residency. Children under 3 are free. All guests must meet height and safety requirements to ride.

For more information and a calendar of events, visit www.playland.com and follow Playland on Facebook, Instagram, TikTok, Twitter and LinkedIn.
DeCicco Family Markets Sponsors Third Annual Student Mural
Details

Written by

Amy Nadasdi

Hits: 311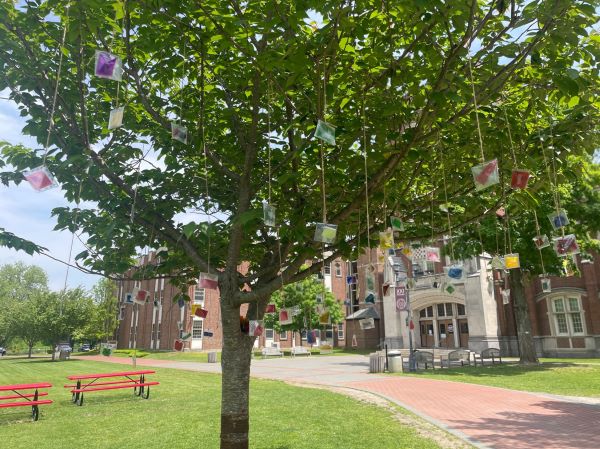 Healing Tree Scarsdale residents are likely familiar with the pair of blue and gold wings that adorn DeCicco Family Markets on East Parkway in the village. These wings were designed and painted by high school students in the National Art Honor Society. Amy Nadasdi, chair of the Scarsdale Arts Advisory Council, is excited to announce the unveiling of a new mural in the village. She recently shared the following letter:
Scarsdale Village's Arts Advisory Council is excited to announce the unveiling of a new mural created by members of the Scarsdale High School chapter of the National Art Honor Society. Please join us on Thursday, May 25th at 6 pm in front of DeCicco's on East Parkway for the big reveal and celebration.
Frank DeCicco of DeCicco Family Markets has shown his commitment to beautifying our Village Center by sponsoring a third public art project. Previous projects have included the Wing the Dale mural on East Parkway and the Village Scene mural in the DeCicco parking lot. Arts Advisory Council Chairperson Amy Nadasdi has worked for the past several years to connect village merchants to student artists to collaborate on various art projects. "Once again, we are honored to have DeCicco Family Markets support both our students and this community by providing the opportunity to display public art in our downtown area."
Guided by Scarsdale High School Art Teacher Janna Johnsen, this beautiful public art project demonstrates the students' commitment to fostering a sense of pride in our community and enhancing the quality of life for all residents and visitors to our Village Center.
Of the mural, Johnsen says, "The National Art Honor Society (NAHS) students of Scarsdale High school have given their interactive art installation "Healing Tree '' (located at the high school) another life, illustrated in a new colorful public mural to be installed in Scarsdale Village. Please visit and experience the next chapter of the animated Healing Tree swirling with our young student artists' messages of gratitude and hope, filled with vivid color and light." Healing Tree
Members of the public are invited to join us as Mayor Arest presides over the brief unveiling ceremony in front of the DeCicco's wall to celebrate our young artists and their remarkable contribution to our Village Center.
Annie on Stage this Weekend at SHS
Details

Written by

Vivian Zweig

Hits: 596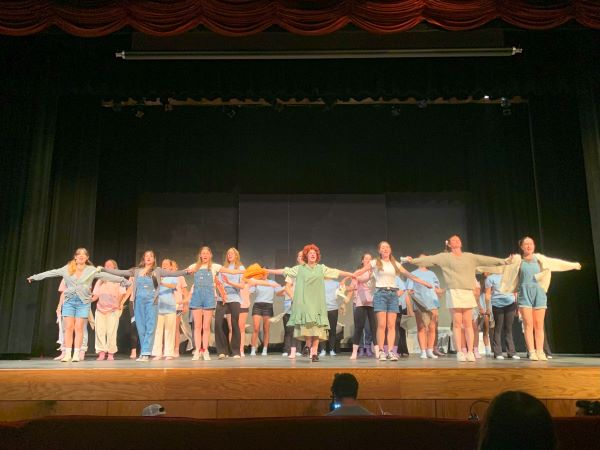 Although the school is eerily vacant of the 2023 senior class during the day, at night, their voices carry across the auditorium as they sing and dance across the stage. For months, the senior class has been preparing the annual senior play. This year, the class will be performing Annie Jr., the story of an orphan who is eventually adopted by a great-depression-era billionaire, for the second time in their academic careers! In 2013, the class put on a production of the show in elementary school, contributing a sense of deep nostalgia to this year's performance. Click here to see a sneak peek!

The play has been organized, directed, and produced by dedicated seniors of the drama club: Brooke Suzman, Taylor Levin, Henry Nova, Hana Pitchon, Charlie Milberg, and Colin Dunsky. The directors would like to extend "a special thank you to Mr. Kevin Viviano and Ms. Jen Wagner, who have supported the senior class tremendously as class advisors and played integral parts in making sure we can put on Annie Jr. for you tonight."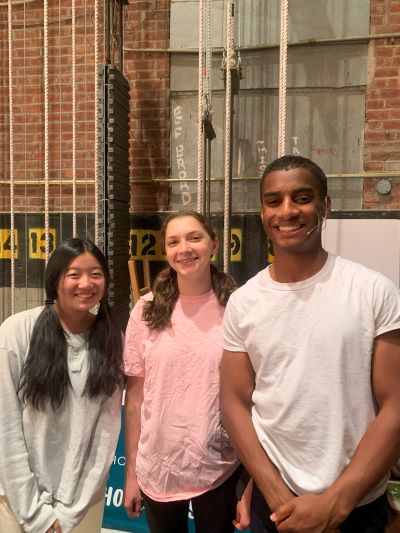 Emily Wang, Halle Jakubowicz, Colin Michael
Many seniors who are in the play have little-to-no prior experience with acting or performing but joined because of the play's notoriously fun reputation. According to Emily Wang: "I joined because I thought it would be a great experience and a great way to keep in touch with people…. [and] although many of us have no experience, it's been fun learning how to put on a show." Her words were echoed by various other members of the cast and crew, who stated that the play has exceeded their expectations and been a valuable bonding experience.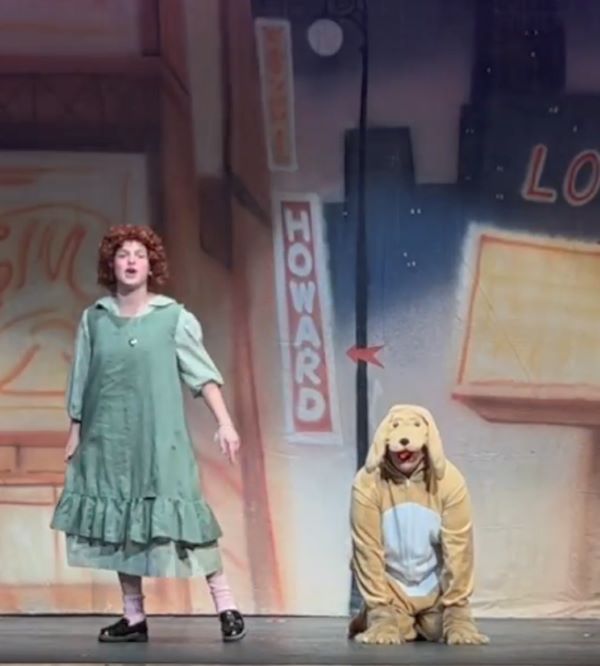 Chelsea Berson (Annie), Jen Wagner (Sandy)This year, the directors have composed a cast of especially talented seniors. Chelsea Berson, who has auditioned for Bubble Guppies and met Abby Lee Miller, will be starring as Annie. Although it's her first show at SHS, Carly Gelles will be playing the production's main villain, Miss Hannigan. Last but not least, the talented male lead of the show is Jackson Fielding, who has been cast as Oliver Warbucks. In addition to the directors, producers, and cast, the pit orchestra, stage crew, costumers, and set designers have been essential to the success of the show. Check out the playbill here for a comprehensive cast list!
The play carries an especially strong message that has been particularly applicable to the class of 2023. According to directors Brooke, Taylor, Hanna, and Henry, "Annie is a play about optimism, and hanging on until tomorrow. This message perfectly embodies the class of 2023, a grade that continued to grow and improve amidst whatever the world threw at us."
The play will be hosted in the Scarsdale High School Auditorium on Friday (5/19) and Saturday (5/20) at 7:30 PM, and on Sunday (5/21) at 2:00 PM. Tickets can be purchased for $20 from the school on My School Bucks!
New Media is Rewiring Our Brains in Real-Time. What Does That Mean for Kids, Society, Civilization?
Details

Written by

Sameer Ahuja

Hits: 368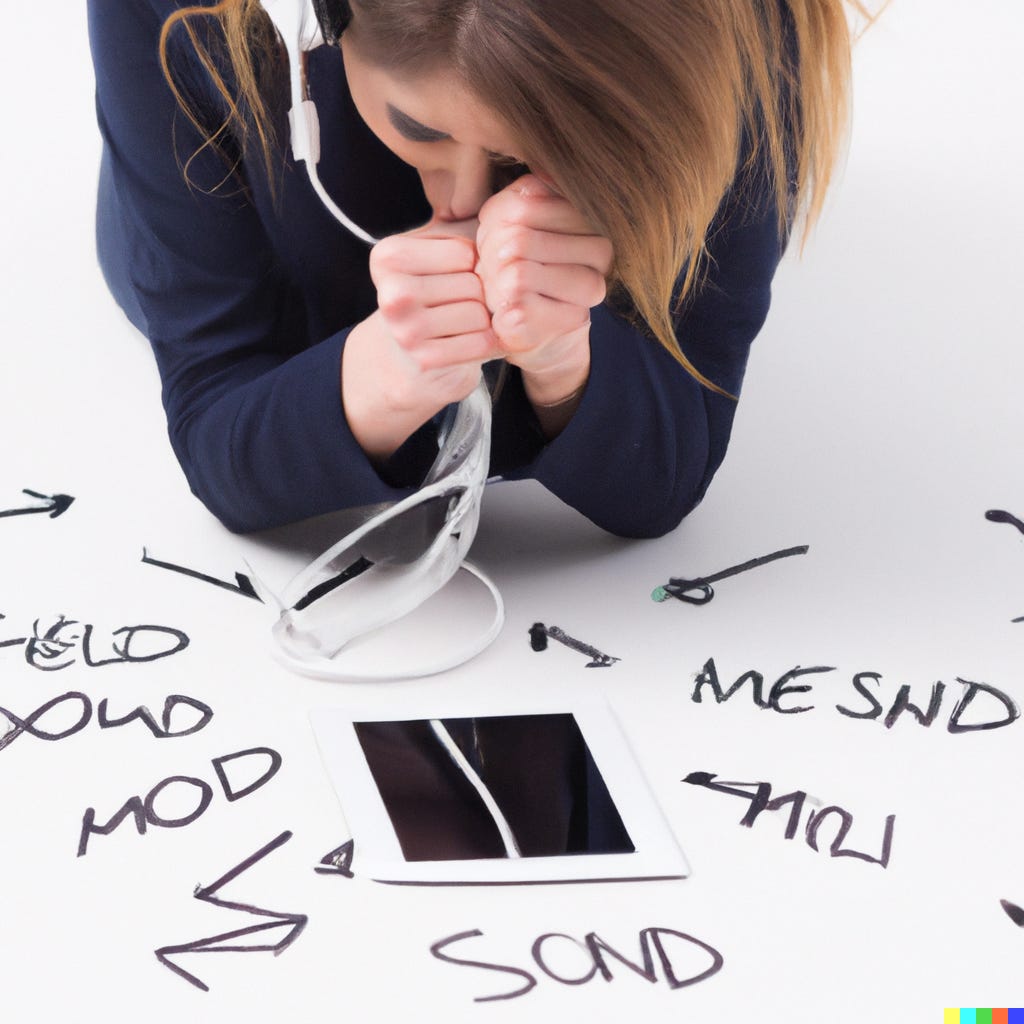 Technology has become an integral and indisputably addictive aspect of our culture and society, particularly for teenagers and children. As President of the sports tech company GameChanger, Scarsdale resident Sameer Ahuja has much to say about kids and technology. GameChanger's mobile apps are used in all 50 states by millions of youth sports coaches, fans, and athletes to score, stream, and watched by over 6 million youth sports games a year. As a Trustee on the Scarsdale Village Board and a parent himself, Ahuja has some insights into the addictive nature of social media and its effects on children and teenagers.

He writes a newsletter, Consume at Once, that discusses how technology is transforming how we create and consume movies, videos, TV, games, sports, and social media. He recently wrote the following article: New Media is Rewiring our Brains in Real-Time. What Does That Mean for Kids, Society, Civilization which he shares below.

Anyone need a dopamine fix?
Having trouble concentrating? Easily bored? Distracted? Do you suffer from heightened anxiety? Memory issues? You may want to blame your smartphone. You know, that indispensable device we now look at 96 times a day.
While there are a lot of pluses about navigating life with a phone by your side—right now, you may be reading this very article on one—downsides abound. Significant ones. Recent research shows popular apps like Instagram and Reddit have been linked to a range of cognitive and emotional ills.
But that's just the tip of the iceberg. If these researchers are correct, social media, video games, and other digital media are literally rewiring our brains.
How can skimming Twitter or playing Candy Crush change our brains? The answer is such applications leverage a biological phenomenon known as neuroplasticity. This concerns the brain's ability to change its internal structure in reaction to new experiences.
Ever wonder why kids can learn language, play instruments, or grasp concepts far faster than adults? Young brains are especially plastic. As we age our plasticity wanes. We get stuck in our ways.
What's more, the brain's plasticity can be affected by physical trauma, drug use, or through powerful, persistent sensory stimulation. (Like playing VR games via a Meta Quest 2 headset for hours daily.)
The links between such digital usage and changes in cognitive function are real—and concerning. A 2014 study published in the journal PLOS ONE found people who frequently used social media had a thinner corpus callosum. This is the part of the brain that connects the left and right hemispheres.
The researchers suspect such a change may be due to the fragmented, less integrated way such media can be experienced. Other studies have shown that frequent social media use actually shrinks the part of the brain associated with concentration, leading to shorter attention spans.
But there's another troubling mental health concern.
A growing number of psychologists now fear digital media may be impacting our social and emotional skills. A 2018 study published by Guilford Press Periodicals shows regular social media use can lead to feelings of isolation and depression. The researchers believe social media encourages social comparisons, producing emotions like inadequacy or insecurity.
Fortunately, they found limiting such exposure can produce positive outcomes. Our inherent plasticity allows us to bounce back. Even so, effects of social media, video games, and other digital media have been likened to those caused by addictive drugs and activities like gambling, both of which are known to literally rewire the brain. It all comes down to the neurotransmitter dopamine, a chemical that allows the brain to recognize pleasure.
Whatever the source of that pleasure—whether it's a fine wine, sex, a funny cat video, or a recognizable reward—it causes part of the inner brain called the nucleus accumbens to release this powerful neurotransmitter. The chemical then reinforces those neural pathways associated with the activity that triggered its release. The faster and more frequent the dopamine release, the stronger these neural pathways become.
This is how addiction is achieved.
Certainly, everyone from neuroscientists to casino operators have long recognized the link between frequent (but unpredictable) rewards and addictive behavior. This is why most games of chance—particularly slot machines—offer small but frequent "wins" to players.
It keeps them hooked, unaware they're actually losing.
The link between digital media and addiction is also no accident. From 20th century video games like Space Invaders and Pac-Man to 21st century social media platforms like TikTok, digital media creators have tapped into the brain's natural plasticity by using sounds, rapidly changing images, and low-stakes "rewards" (e.g., "badges," "gold coins," "Likes," "Shares," etc.) to trigger dopamine release, reinforcing engagement behavior.
The more you play, the more you want to play.
For advertising-based platforms like Facebook, YouTube, Instagram, etc., attracting and, more importantly, keeping you engaged is key to their business model. Part of this is achieved through the low-stakes reward system of "Likes" and "Shares" described above.
But there's another way to trigger dopamine release, and thus encourage addiction: creating outrage. As neurologists have discovered, anger triggers the primitive "fight or flight" response, which also happens to produce the release of dopamine.
And as social media algorithm designers have discovered, the angrier visitors become, the more likely they are to stay. Like rewards, outrage sells. Thus, once you click on a story or thread that angers you, the algorithm will feed you more of the same until it's virtually all you consume.
As with any addiction, the first step in recovery from digital media overload is recognizing the problem. Now that we better understand how we may be being manipulated, we can more easily see the triggers, identify our own reactions, and work to overcome bad tendencies.
We can take back our minds.
Ironically, we can also use technology to help ward off tech addiction. Already, there are apps to help you track phone usage and warn you when you've reached a self-imposed daily limit. These platforms can also provide feedback on how much time you spend on various activities, helping you become more aware of your habits and able to make changes accordingly. Similarly, some apps even provide rewards or incentives if you successfully limit your screen time or reach specific goals, encouraging healthy habits.
There are also myriad mindfulness and meditation apps available, as well as mediation videos available free on YouTube. All this content can help you manage stress and anxiety, which can contribute to addictive behaviors, enabling you to better manage your emotions and develop a more self-conscious approach to technology usage.
Perhaps most powerful, is can technology be used to trigger the release of say oxytocin, known as the love hormone? Oxytocin is known to be associated with longer-term happiness. It can often be triggered by physical contact, listening to music, being in nature, getting exercise. Just because it hasn't been done yet, does not mean it cannot. The global Silicon Valley specializes in disruption. Let's disrupt dopamine!
Beyond using tech to retrain our minds, what's also needed in the modern era is the cultivation of balance. One of the greatest minds of Western Culture himself, Aristotle championed equilibrium—way back in Antiquity. The profound Greek philosopher saw its cultivation to be a hallmark of a well-lived life.
He's also known for saying in Metaphysics, "It is the mark of an educated mind to be able to entertain a thought without accepting it."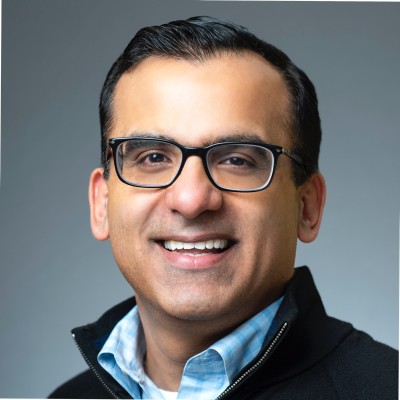 Sameer AhujaLearning from this example, might we consider a similar approach with the new media threatening to affect our cognition? Very much so. Just as mystics suggest being in this world—but not of this world—we can consciously decide to do something similar: Use our marvelous technologies competing for our attention—without allowing such usage to empower us.
A tall order, I am aware.
But it's vital we make such bold statements at the dawn of such an unprecedented time. The consequences could well be our ability to understand and interpret reality in our brave new world.

See more articles by Sameer Ahuja on his newsletter, Consume at Once.