Local Candidates to Attend Forum Hosted by the LWV
Thursday, 14 October 2010 08:02
Last Updated: Thursday, 14 October 2010 08:05
Published: Thursday, 14 October 2010 08:02
Hits: 3590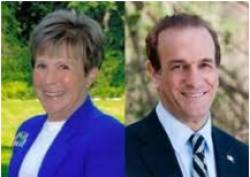 Residents are invited to attend a Candidates Forum to educate local voters on Tuesday, October 19th in the Scott Room of the Scarsdale Public Library at 7:30 p.m. Candidates scheduled to participate are Bob Cohen (R) and Suzi Oppenheimer (D) for 37th District of the New York State Senate; and Rene Atayan (R) and Amy Paulin (D) for 88th District of the New York State Assembly.
Each candidate will make a brief prepared statement, after which the League will pose questions for each candidate to answer. There will also be time allotted for questions from the floor. Attending judicial candidates will be introduced from the floor.
In other campaign news, State Assemblywoman Amy Paulin is to receive the NYS Coalition Against Sexual Assault's Special Ally Award for her decades of work on behalf of women. A former executive director of My Sisters' Place, an agency which assists victims of domestic violence, she has continued her efforts to protect these victims as a member of the Assembly. October is Domestic Violence Awareness Month.
Bob Cohen, candidate for NYS Senate, received several key endorsements this week. On Sunday, the New York Post gave him their support and this week he was endorsed by the National Federation of Independent Businesses and the Business Council of New York State.
The campaign for the Senate seat has become heated with Oppenheimer running television ads and sending mailers that accuse Cohen of being a slumlord. In return, Cohen has charged Oppenheimer with raising taxes on small businesses, voting for the MTA payroll tax and bowing to the powerful NYS Teacher's Union. Learn more at the Forum on Tuesday.
League of Women Voters Candidates Forum
Tuesday October 19  at 7:30 pm
Scott Room
Scarsdale Public Library