Around Town: Benefits and Events
Tuesday, 19 October 2010 17:46
Last Updated: Thursday, 21 October 2010 09:06
Published: Tuesday, 19 October 2010 17:46
Hits: 6609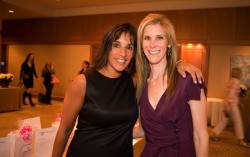 Scarsdale residents have had a busy month, attending civic and charitable events. Here are the highlights of a few that took place in the past few weeks: The Pediatric Cancer Foundation held their annual luncheon on September 30, 2010 at the Ritz Carlton Westchester. The event featured a fashion show from The Look of Rye Brook, and presentations by pediatric cancer survivor Amanda Luiso and Dr. Julia Glade-Bender of Edgemont. Dr. Glade-Bender heads the Developmental Therapeutics Program at the NY-Presbyterian Morgan Stanley Children's Hospital at Columbia University Medical Center. To learn more about the foundation's work, visit their website at www.pcfweb.org
Pictured above: (left)Jennifer Stone, PCF Board Member, (Scarsdale, NY) Right: Dana Hokin, PCF Financial Director, Luncheon Co-Chair, (Scarsdale, NY)
From Left to Right: Cheryl Rosen, President of Pediatric Cancer Foundation,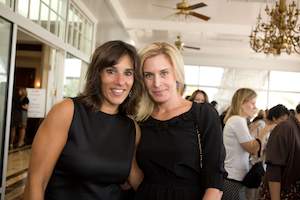 (Scarsdale, NY 10583); Evette Guerzon, Luncheon Co-Chair ( Elmsford, NY ); Jackie Kabot, PCF Vice President, Luncheon Co-Chair, ( Rye Brook, NY); Suellen Singer, PCF Vice President, Luncheon Co-Chair (Scarsdale, NY); Stefanie Bartell-Zednik, PCF Vice President, Luncheon Co-Chair (Greenburgh, NY ); Dana Hokin, PCF Financial Director, Luncheon Co-Chair (Scarsdale, NY); Wendy Schimel, PCF Board Member, Luncheon Co-Chair (Armonk, NY); Stefanie Mittman, PCF Chairman of the Board, (Purchase, New York)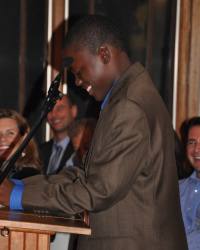 Focus For a Future held their fundraiser at Westchester Reform Temple's Center for Jewish Learning on September 28. Jack Kaminer, former SHS Varsity basketball coach founded the organization in 2002 and Kaminer remains a mentor to many. The organization helps young people from underprivileged areas learn the importance of focusing on academics, athletics, interpersonal relationships and the importance of making positive choices in life.
The most significant component of the organization's work has become the Camp Scholarship Program that rewards hard work and good character, giving inner-city children the chance to experience a summer (and often many summers) that they will never forget.
Pictured above is Marlin Dixon who just spent his third summer at Camp Iroquois Springs due to the work of Focus for the Future.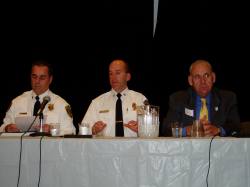 The Scarsdale Forum met on October 7 at the Scarsdale Library where a standing room only crowd honored the Scarsdale Volunteer Ambulance Corp and Scarsdale Volunteer Firefighters.
Speakers included John A. Brogan, Scarsdale Chief of Police, Thomas Cain, Scarsdale Fire Chief, and Anthony W. Sutton, Westchester County Commissioner of the Department of Emergency Services.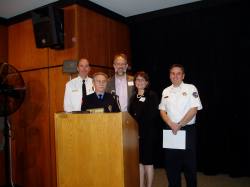 Shown here, from left to right are: Thomas Cain, Scarsdale Fire Chief, Scarsdale Volunteer Fire Company #3 President Steve Fuchs, Bruce Wells, Scarsdale Forum President, Mayor Carolyn Stevens, and Scarsdale Volunteer Ambulance Corp President David Raizen
Camp-A-Palooza to benefit the United Way of Westchester and Putnam was held on Sunday October 10 at Camp Hillard. Among the attractions were a rousing performance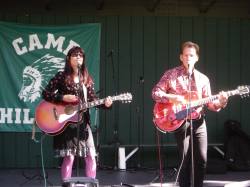 by Pete and Maura Kennedy, who played their own hits as well as music to remember John Lennon, who would have turned 70 this month.
Kids had a wonderful time on the zip line, doing arts and crafts, having their faces painted and playing games. All proceeds from Camp-A-Palooza went to United Way's Born Learning Initiative, which teaches new parents, grandparents and caregivers how to turn everyday activities with infants and toddlers into fun learning opportunities for eager little minds. Learn more at: www.uwwp.org/campapalooza.htm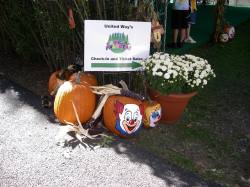 On October 13, The UJA Federation of New York's Scarsdale Women's Philanthropy group held their opening event at Westchester Reform Temple. Ruth Gruber, now a foreign correspondent and photojournalist told an overflowing room of attendees about her life adventures. Raised in the shtetl called Brooklyn, she was sent to Germany where she eared her PhD. During her illustrious career, she travelled to the Soviet Arctic, escorted 1,000 Holocaust refugees to America and covered the Nuremberg trials. She didn't just report the news, she made it.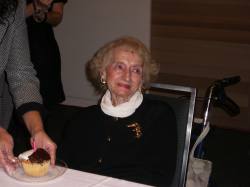 Evelyn Stock of Scarsdale asked Gruber what her parents did to create such a marvel and Gruber replied, " My parents were from the Ukraine and I was one of five children. When I was offered the chance to study in Germany my mother objected to sending me abroad, but my father was wise. He said, "I hope you get married, I hope you have children, but God forbid your husband dies …. You need to have a career." When Ruth told her father that she wished to be a writer, he said, "What kind of career is that for Jewish girl!" Now 99 years-old, Gruber gave a moving talk tailored to the audience of Jewish women who were amazed at her many accomplishments. A documentary about her life called "Ahead of Time, the Extraordinary Journey of Ruth Gruber" was recently released.
To learn more about the work of the UJA Federation of New York, visit www.ujafedny.org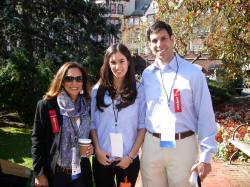 The Scarsdale Concours in Scarsdale Village on Sunday October 17th was bigger and better than ever. Both new and antique cars were on display including Jaguars, Rolls Royces, Cadillacs, Ferraris, Mercedes Benz, and more. Hats off to the team who put the show together: Ralph Della Cava, Lucas Meyer, Bill Doescher and Gordon Rafajac.
Pictured here: Ralph, Geralyn and Nicole Della Cava