Simply Superb Cucina Italiana at Café Alaia on Garth Road
Monday, 29 January 2018 17:27
Last Updated: Monday, 29 January 2018 17:36
Published: Monday, 29 January 2018 17:27
Judie Dweck
Hits: 8561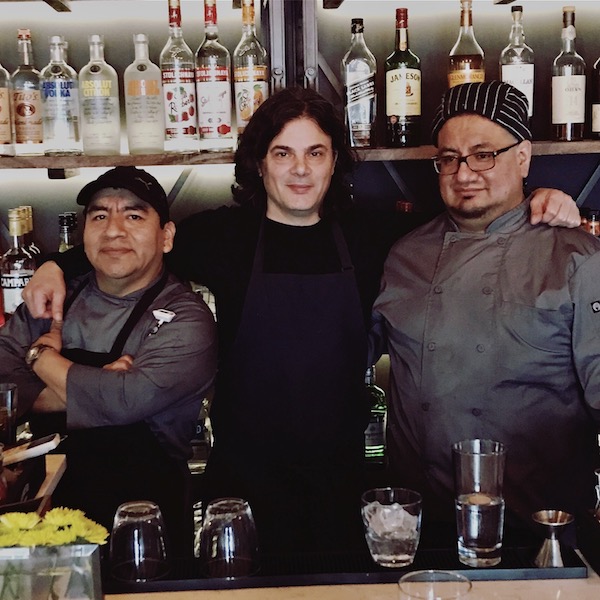 Scarsdale is home to the new and delightful Café Alaia. This cozy space on Garth Road that briefly housed Petra has been reborn and redesigned to become an intimate, welcoming and sophisticated Italian dining spot, well suited to our community. Owned by Vincenzo Alaia, it offers the same wonderful menu at both lunch and dinner. Seating about 40 guests the room was designed by Nancy Rosner in simple good taste. Dark wood chairs and tables, a beautiful beamed ceiling, golden lighting fixtures and white walls accented by one modern painting giving the room a pop of color.
According to owner Vincenzo Alaia,"We take our food seriously. Our meals are an important part of the day. One of my favorite meals might include pappardelle or linguine and branzino." Alaia grew up in a town near Naples. He was exposed to the food industry at meat, bakery and trattoria businesses of his family. He watched his Mom, aunt and grandmother prepare fresh pasta every day. He wanted "to see the world", worked on cruise ships and arrived in New York in 1997. He worked in the culinary field for years and his dream was "to do what I love." Thus, Café Alaia became a reality. "I love people and I welcome our guests the way I would in my home, with a warm greeting. I believe in simplicity and fresh ingredients. I aim to have our guests experience and taste the culture of Italy. Many of our ingredients are Italian as are all of our wines. I love serving the food I believe in and hope that my guests recognize my passion for the simple natural flavors and come to taste the culture that Café Alaia expresses."
The kitchen is run by Chef Manuel Palaguachi and Chef Marcelo
Victor Yubi, who execute the carefully planned menu items and daily specials. As we examined the menu, we were presented with warm and crusty country bread accompanied by a homemade sun dried tomato dip with hints of basil, garlic and extra virgin olive oil. This whet our appetites for the treats to come. A fine way to start your meal is with a selection of crostini. This grilled rustic bread can be topped with a classic mix of cherry tomatoes, scallions, basil and extra virgin olive oil, sautéed chicken livers, pearl onions and balsamic, a mix of imported cheeses or meats or burrata and prosciutto, or as I enjoyed a topping of mixed sautéed mushrooms and caciocavallo cheese. The combination of oyster and porcini mushrooms added a wonderful texture and woody taste to this terrific appetizer. The 4 large crostini, nicely grilled and crisp sat atop a wooden cutting board for a rustic presentation that was certainly ample enough to share.
As we moved on to selections from the antipasti, it became evident that each dish was thoughtfully conceived, with choices to suit every taste. We chose polpo alla griglia. The marinated grilled octopus was placed over a salad of potatoes, fresh green beans, parsley and olive oil. The combination was simple so the quality and freshness of the ingredients shone through. We considered house made tortellini in brodo, fried calamari and zucchini with aioli, beef meatballs with tomato sauce and buffalo ricotta, and grilled shrimp with sautéed cannellini beans and decided upon parmigiana blanca di zucchini as our second appetizer choice. The layered dish of zucchini and cheeses arrived bubbling in a small skillet resting on a wooden cutting board. A variety of cheeses and bread crumbs were layered with the sliced zucchini and a touch of fresh mint added a fine note. I look forward to sampling sformatino di melanzane a rich eggplant soufflé topped with burrata fondue and a light tomato sauce. On the lighter side, several salads are offered including a rainbow beet mix and a crispy artichoke salad.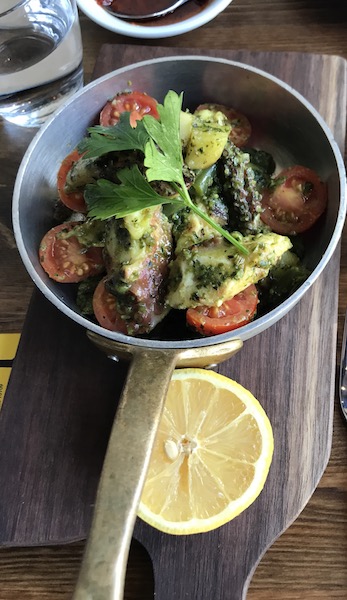 Very special here, are the pasta selections. The house made pappardelle al ragu di agnello was a dish to remember. The leg of lamb was braised and shredded and combined with red wine and tomato sauce. With a shaving of pecorino cheese this dish was just heavenly. House made potato gnocchi was light and excellent, as well. The bright green basil pesto that enveloped the gnocchi gave a spring like look on this cool winter day. Yet to experience is the very popular linguine alla vongole, house made tagliatelle alla Bolognese, spaghetti pescatora and home made tortellini with taleggio cheese sauce, ham and peas.
Secondi selections each served with daily fresh vegetables, include poultry, fish, lamb and beef offerings. We thoroughly enjoyed our salmone in padella. The hearty portion of wild salmon was perfectly pan seared perfectly and accompanied by a peppercorn, mustard lemon sauce. Fresh carrots and green beans added color to this delicious plate. For the lamb lover, I highly recommend the rack of lamb. The four grilled and trimmed chops were tender and filled with flavor. A reduction of balsamic, mint and herbs worked well with these glorious chops and carrots and green beans completed this plate. Future entrees may include orata marechiaro, branzino al forno, chicken Milanese or grilled sirloin with a rosemary and black pepper reduction. Several vegetable side dishes are offered, as well. Specials vary each day and may include stuffed squash blossoms or perhaps, potato crusted red snapper.
You can complete your meal with zabaglione, pear tart, or perhaps fig panna cotta.
Try this new dining experience at Café Alaia in Scarsdale soon, where the Cucina Italiana is simply superb.

Café Alaia
66/A Garth Road
Scarsdale
(914) 725-3000
Recipe: Parmigiana Bianca Di Zucchine (Serves 2)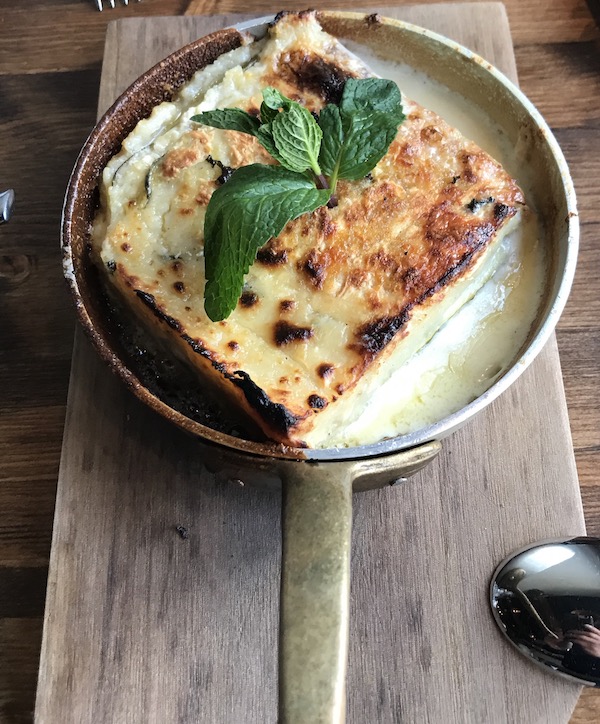 4 medium zucchini
6 cheese slices, mozzarella
About 2 Tbsps. romano cheese
About 2 Tbsps. parmesan cheese
1 tsp. butter
Bread crumbs, to taste
¼ cup water
Fresh mint for garnish
Rinse and cut zucchini lengthwise into 1/8 inch thick slices. Grease a rectangular baking pan with butter. Add a sprinkling of the bread crumbs. Start to assemble the white parmigiana into layers. First layer is raw zucchini. Next is mozzarella slices. Next is ½ Tbsp. each of romano and parmesan. Repeat and end with zucchini. Sprinkle the top layer with bread crumbs Add the ¼ cup of water to the corners of the baking pan. Bake in a preheated oven at 356 degrees Fahrenheit for about 40 minutes or until surface is golden brown. Remove from the oven. Cut into squares and let it cool for at least 5 minutes before serving. Garnish with mint.