Tapas and so much more at Patria's in New Rochelle
Tuesday, 13 February 2018 11:24
Last Updated: Tuesday, 13 February 2018 11:40
Published: Tuesday, 13 February 2018 11:24
Judie Dweck
Hits: 8605
It has been said that," strong vibrant colors attract guests to the Spanish table and half the eating is in the eyes." A visit to Patria's confirms this. Patria's, as the name suggests, is an homage to one's country or homeland, in this case of its co - owners Chef Mariano Aznar from Spain, and his sister in law Yvon Rodriguez from Peru.
Remembering previous visits, Chef Aznar, a culinary star from Barcelona, was my host. He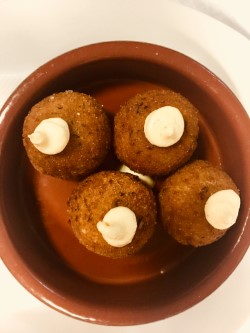 explained, "I love cooking new dishes and presentations so my food is not monotonous. My traditional tapas have inspired touches. My goal is to see happy guests." He did an apprenticeship in Barcelona at the tender age of 15. He studied at culinary arts school and went on to work at many French and Mediterranean restaurants. He was quite experienced when he arrived in New York in 1990. After working at Solera in Manhattan for several years, he opened his own restaurant in Port Chester followed by Espana in Larchmont. This was followed by Patria's which opened about 5 years ago.
At my very recent visit, co- owner Yvon Rodriguez was my charming hostess. Chef Aznar was visiting family in Barcelona. With the help of waiter Marco Gutierrez, I was royally treated to the Patria's dining experience. Ms. Rodriguez said, "I love when we are busy. I have learned so much from Chef Aznar. I always wanted to open a tapas style restaurant and Patria's is a dream come true. I love when I enter the dining room from the kitchen and our guests say good things about their experience. I enjoy every facet of the business, from keeping the dining room in pristine condition to cooking. Through the years, my Mom has inspired me. She is my God. Some of the most popular dishes here are our seafood paella, tuna tartar and ceviche."
The intimate space has a black and white color scheme, with touches of red. A large blackboard on one wall announces the menu and opposite, a light framed blackboard let's us know "It is Tapas Time."
A third wall evokes Peru's Lineas de Nazca. This sets the mood for the combination of the thrilling Spanish dishes from Barcelona where Chef Aznar hails from, as well as the delightful Peruvian ceviches from Yvon Rodriguez homeland of Peru. Dark wood tables and cushioned chairs, as well as a fabric lined bench supply seating for about 40 guests. Modern cylinder shaped lighting give a glow to the space. The shiny clean dark wood floor, indicates how carefully Patria's is maintained. Enticing Spanish music played in the background.
So many choices ..... from Peru, we started with Mariscos Classic Ceviche. Shrimp, bay scallops, and rings of scungilli combine with red onion, tomatoes, cilantro and lemon juice and marinate until the flavors meld, for a refreshing taste. It was a lovely bright way to start our tasting. The very fresh seafood was enhanced rather than overpowered by the onion, tomato, lemon juice and cilantro. We also sampled Patria's version of tuna tartar. Here, chopped fresh tuna was dressed with wasabi oil and chopped scallions. This was set atop, sliced avocado, tomatoes, and cucumber slices. A sprinkling of sesame seeds garnished the tuna, and a duet of grilled croutons added crunch to this variation of tuna tartar with an Asian flair.
Over two dozen tapas are offered. Many are classic Spanish choices and some are creative
combinations. I have always savored gambas al ajillos in Latin restaurants. At Patria's a sizzling pottery crock arrived bubbling with minced garlic, and guindillas peppers turning golden amidst the peeled shrimp. White wine and Spanish olive oil added zest to the sauce. Nice warm baguettes arrived which we promptly dipped in the sauce. It was sooo delicious and would be wise for your dinner partner to share this fragrant dish with you since its flavor will remain with you for a bit of time. To change tastes, we sampled dates wrapped in bacon and filled with almonds and strong cheese. The cabarales cheese balanced the garlic from the shrimp that preceded it. A tortilla espanola, the classic Spanish omelet, combined potato, egg, piquillo peppers, chorizo and parsley arriving in a perfect six inch disc topped with a dab of aioli. Crusty and crisp on the outside and soft and succulent within, it was well seasoned and a nice addition to the selection of tapas. Among the meat selections of the tapas was a plate of simply grilled baby lamb chops. They were nicely trimmed and easy to eat by holding the bone and devouring them in a few bites. Potato gratin and chimichurri a dip of garlic, parsley, olive oil and chili peppers and oregano went well with the chops. My favorite of all the tapas I tried was pochas con almejas. Here, a full-bodied well spiced sauce of chorizo and white beans, combined with Manilla clams. The clams were cooked until the shells opened and were tossed with the chorizo sauce- an excellent choice. Future tapas might include lamb meatballs with curry jus, Basque sautéed sausage, Canelones with shrimp, shrimp, spinach, ricotta and manchego cheese, cod fritters , Galician style octopus and beef skewers Moroccan style. This is real party food. It is a fun place to visit with a group so you get to taste a large variety of dishes.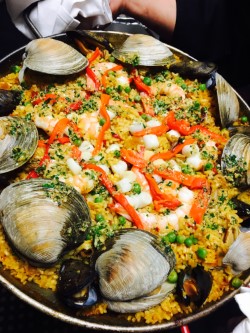 Larger plates include several varieties of paella to suit every taste. There is a paella de carne with chicken, chorizo, beef and pork, a vegetarian version with seasonal fresh vegetables, and as I enjoyed, paella de mariscos, saffron short grain imported rice studded with clams, mussels, scallops, squid and shrimp. Each component was properly cooked, and the bottom of the rice had a perfect crunch, while the rest remained tender. New to me was fideua, which I guess I would describe as a noodle paella. The imported small noodles were crisp and tossed with an abundance of seafood, all enveloped in squid ink, lending a black color to the dish. Other large plates include a Peruvian specialty of Lomo Saltado. Thin strips of hangar steak are sautéed in a wok with onions, tomatoes and fried potatoes. Flavored with cilantro and served with white rice it was a pleasant entrée. If you wish to stick to more familiar fare, strip steak and grilled tuna are offered, as well.
Crema Catalena, the Spanish rendition of crème brulee chocolate lava cake, classic flan, and a house made caramelized apple tart are some dessert options. Yvon Rodriguez learned to prepare this tart in her Mother's kitchen. One of these desserts with a glass of sweet wine, are a fine ending to your visit to Patria's. Spanish wines, sangria and beers are offered here.
Specials are offered each day. From Tuesday through Thursday you can enjoy Patria's happy hour where a selection of tapas, and house wine or sangria are $5 each.
A journey to Spain and Peru in one evening awaits you at the charming Patria's where tapas and sangria or a choice of paellas and other classic Spanish fare await you. Enjoy Patria's for a warm and welcoming dining experience where refined, yet lusty, simple yet sophisticated Spanish food is a celebration of Spanish culture.
Patria's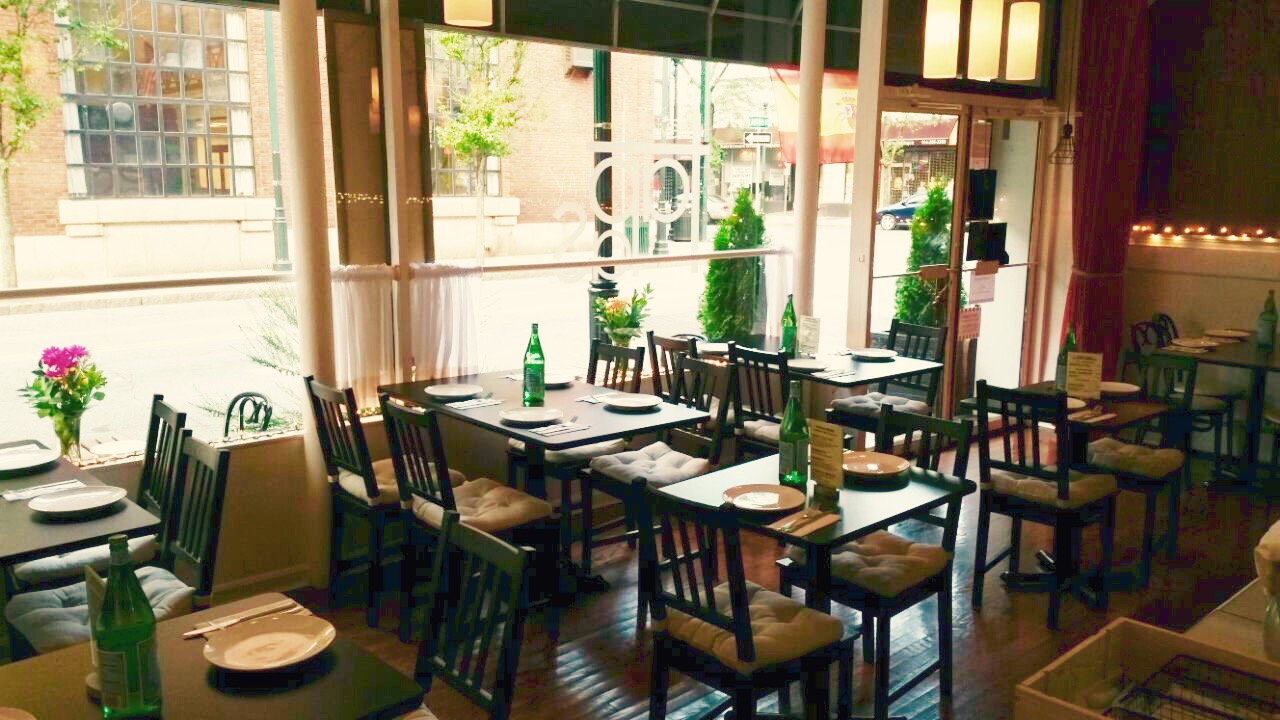 4 Lawton Street
New Rochelle
(914) 278-9811
Recipe: Gambas Al Ajillo
(Serves 4 as appetizers)
½ cup extra virgin olive oil
10 large cloves garlic, finely minced
1 teaspoon red pepper flakes or guindilla peppers*
1 pound shrimp (25 to the pound)
Juice of 1 lemon
2 or 3 ounces Spanish brandy
salt and freshly ground pepper to taste
3 tablespoons fresh chopped parsley
Baguette for dipping
In a sauté pan or heavy frying pan, warm the oil over medium heat. Add garlic and pepper flakes and sauté for about 1 minute or until garlic just begins to brown. Be careful not to let it burn. Raise heat to high and add the shrimp, lemon juice and brandy. If you are using paprika add that, as well .Stir well and sauté until shrimp turn pink and curl or about 3 minutes. Remove from heat and transfer the contents to a warm crock, or serve right from the pan. Season with salt and pepper. Sprinkle with parsley and serve with baguette slices.
• Available at Latin Markets