Happiness is a Meal at Vento Bistro
Tuesday, 10 April 2018 13:37
Last Updated: Tuesday, 10 April 2018 13:43
Published: Tuesday, 10 April 2018 13:37
Judie Dweck
Hits: 6463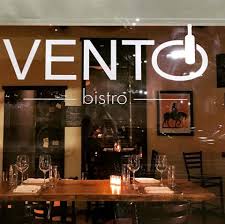 A refreshing breeze has arrived in Westchester. Its name is Vento Bistro, [Vento translated to wind]. The owner, Chef Francesco Coli has graced our area at La Viletta, at Massa' right here in Scarsdale and at Massa' Coastal in Mamaroneck. His latest venture Vento Bistro in New Rochelle, once again showcases is outstanding talent in preparing seafood, as well as Italian specialties from his native southern Italy.

Francesco hails from Salento, near Puglia. He grew up near the water catching sepia, octopus and sea urchin, as a child. "Some of my happiest childhood memories are of the sea. The sea is one of my inspirations when I cook. We ate what we caught and I guess this was the beginning of sea to table cuisine." His family vacationed in New York in 1980 and New York became home to them. Francesco worked with his dad at their first Westchester restaurant, La Viletta and then attended The French Culinary Institute to hone his skills.

Chef Francesco Coli said," My cooking is classic and simple, with my own interpretations. Straightforward pure flavors, with the least amount of ingredients, result in nourishing my diners. It is important to exhibit care in preparation and show respect for your ingredients. I believe, you don't mess with nature. My extensive travels have influenced my cooking. The best part of my work is to see smiles at each table. It is important for your guests to gain your trust. In our busy lives, dining is a means of family and friends coming together with food."

The recently opened Vento Bistro, is the newest venture for acclaimed Chef Francesco Coli, where everything is prepared to order, for fresh, healthy and delicious results. I first met Chef Francesco Coli at La Viletta where his father, Chef Pasquale, Coli shared the kitchen. Francesco credits his father for giving him a fine culinary foundation. I continued to enjoy is cooking at Massa' and Massa Coastal'. Most recently I was delighted to hear of the opening of Vento Bistro, a simple, small and cozy venue in New Rochelle. Seating about 30 guests at both high and low tables, it has a rustic look with off white walls, simple art work and an enticing blackboard of available daily fish offerings. The kitchen is tiny and it is a feat of magic that Chef Francesco can produce such wonders in such a confined area. With warmer weather arriving, patio dining will be introduced.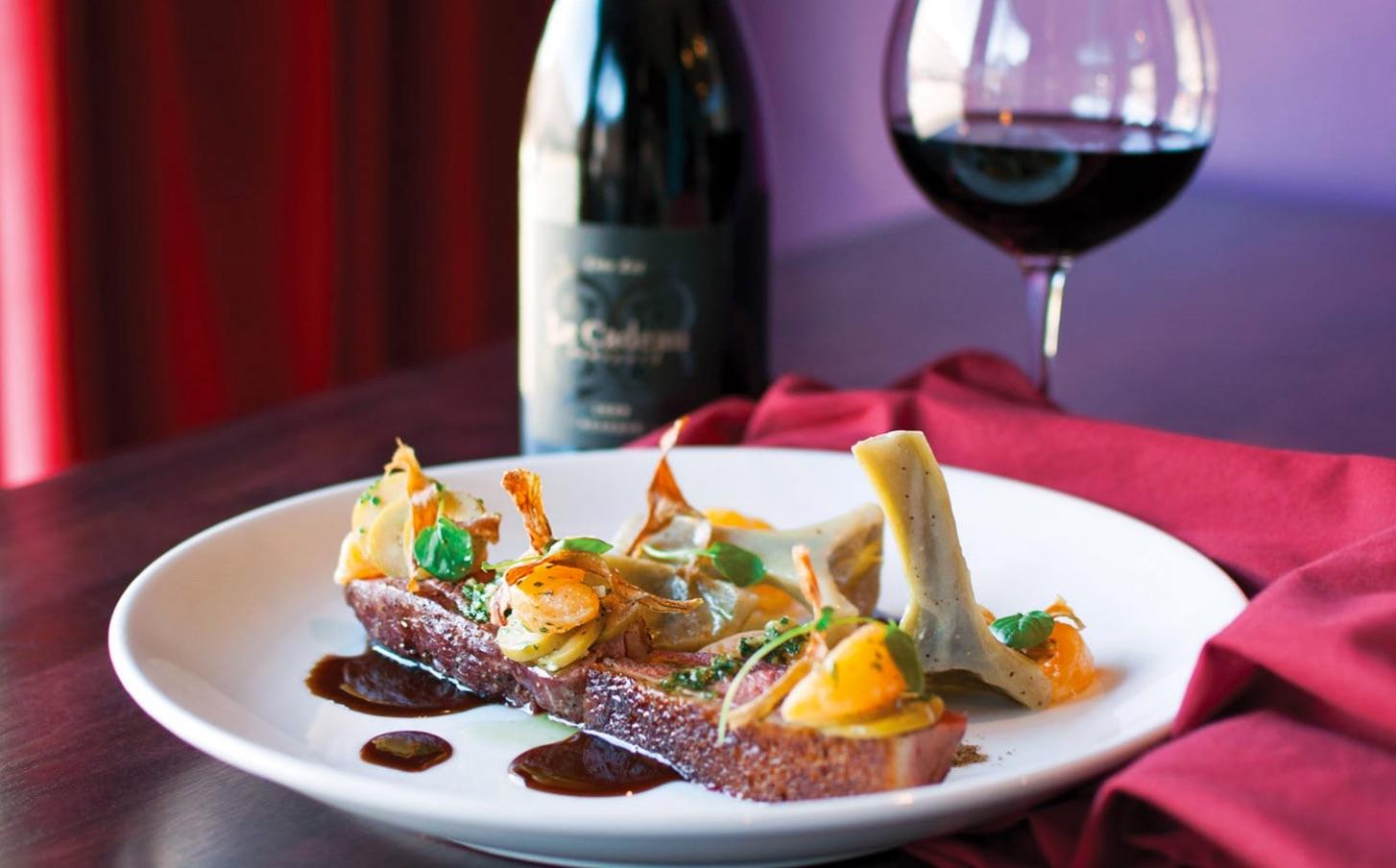 Our feast combined choices from the printed menu as well as from the ever changing blackboard seafood selections. Shared bites of beef meatballs, shishito peppers, and house cured white anchovies are some possibilities. We saved our appetite for the appetizers, pastas, main dishes and variety of fish available each day. Among the starters, pei mussels with pesto, spicy tomato, or white wine and pepper sauces, braised artichoke hearts, eggplant parmigiana, burrata, shrimp with Calabrian chili, and big eye tuna carpaccio were most inviting. We chose the braised Spanish octopus. The tender segments of octopus were paired with cannellini beans, capers, olive and caramelized onions. The combination was hearty and most satisfying. We followed this with a pasta selection. Several of the pastas are house made and gluten free pastas are available upon request. Our tortellacci were home made and filled with a beef and veal combination. The rich sauce of pecorino, white pepper and egg yolk was topped with guanciale. The dish was delicate and just lovely.

Vento offers a rotating selection of oysters from the delicate Belon, to the briny Bluepoint and buttery Kumamoto. We enjoyed the Beau Soleil, oysters from New Brunswick. One was embellished with an aged white wine vinegar mignonette sauce with Holland bell peppers and Vidalia onion and the other with uni, oil and soy. Each slid down easily and evoked the essence of the sea.

The written main courses of filet mignon, Colorado lamb chops, veal chop with sautéed mixed mushrooms and several chicken dishes sounded wonderful but we moved on to the fish and seafood offerings of the day.

We were presented with an artistic plate of langoustines. The white plate was a nice canvas for the split langoustine in the shell. Shredded fennel, with a lemon dressing, and mixed grape tomatoes, gave the plate a splash of color with red, green, yellow and purple varieties. This was a light beautiful dish. The daily changing fish selections are hand selected at the Fulton Fish Market at Hunts Point by Chef Coli. In addition to American seafood, many choices are from Italy, Portugal, Spain and GREECE. The Chef believes that the waters in the east and the Mediterranean provide a pure product. Some of the choices, depending upon market availability are Atlantic selections of big eye tuna, cod, halibut, red snapper or swordfish or European anchovies, Dover Sole and turbot, and shellfish such as Hollander mussels, diver scallops, and langoustines. A selection of nine house made sauces are prepared to compliment you fish choices. Such as livornese, provenzale and meuniere. Chef Francesco will be glad to suggest the sauce that will compliment your fish choice.

Sushi grade tuna was our fish choice. The thick rounds of fish were thickly encrusted with crushed black pepper and lightly seared to reveal its rare center. It was melt in your mouth delicious and rested on a bed of fresh spinach. I sampled two sauces with it. The all'agro, with a fresh orange reduction, fennel and orange segments seemed perfect. The mostardo sauce, a light Dijon cream sauce was delicate and delicious as well. I would love pairing that sauce with halibut or cod. Sauce selections on future visits might include Siciliana with artichokes, capers and tomato or marechiara with clams, mussels, and shrimp in a light tomato sauce.

Desserts are prepared by Pastry Chef, Kelly Kramer. We enjoyed her coconut crusted individual key lime pie. Topped with freshly whipped cream and paired with fresh blackberries and blueberries it was a fine ending to our meal. The creamy filling and the crunchy crust lent nice textures to this finale. A varied selection of wines are available to accompany your meal.

How exciting it is, to enjoy the dishes that are prepared with fresh, hand picked healthy ingredients, where one of the main ingredients is passion. The word fresh, takes on a new meaning with the tastes of the simply prepared dishes of Chef Francesco Coli at Vento Bistro.

Vento Bistro
Chef Franceso Coli
282 Hugeonot Street
New Rochelle, NY
914 738 1600
https://www.ventobistro.com/

Hours:
Monday: Closed
Lunch: Tuesday - Friday: 12 – 3
Dinner:
Tuesday - Thursday: 5 – 10
Friday and Saturday: 5 – 11
Sunday: 4 - 9

Recipe: Bucatini all' Amatriciana

2 tsps. extra virgin olive oil
12 ounces guanciale, sliced ¼ inch thick and then into ¾ inch rectangles
1 small red onion in wedges
4 Tbsps. tomato paste
1 tsp. chili flakes
1 ½ Tbsps. coarsely chopped parsley
20 ounces pureed canned plum tomatoes
1 pound bucatini pasta
¼ cup very finely grated parmigiana reggiano
¼ cup very finely grated pecorino romano

Bring 8 quarts of water to a boil and season with salt. In a sauté pan, combine oil, guanciale and red onion. Cook over medium heat until guanciale is completely rendered and crisp on both sides. Turn onion as needed so it is caramelized on all sides. Add tomato paste, chili flakes and half of the chopped parsley. Let the paste fry in the rendered fat until it darkens slightly, about 1 or 2 minutes. Add tomato puree and stir to incorporate. Simmer for 1 or 2 minutes to reduce. Adjust seasoning. Cook pasta in boiling water for 1 minute less that package directions. Drain and reserve some of the cooking water. Combine pasta and sauce and cook for 30 seconds or 1 minutes. Sparingly add a bit of reserved cooking water to adjust consistency and so the sauce evenly coats the pasta. Add remaining parsley and remove from the heat. Toss pasta gradually with the cheeses allowing the cheese to emulsify into the sauce and serve Immediately.