The Sun Shines on the SHS Carnival
Monday, 16 April 2018 20:54
Last Updated: Wednesday, 18 April 2018 08:38
Published: Monday, 16 April 2018 20:54
Sarah Kazan
Hits: 3234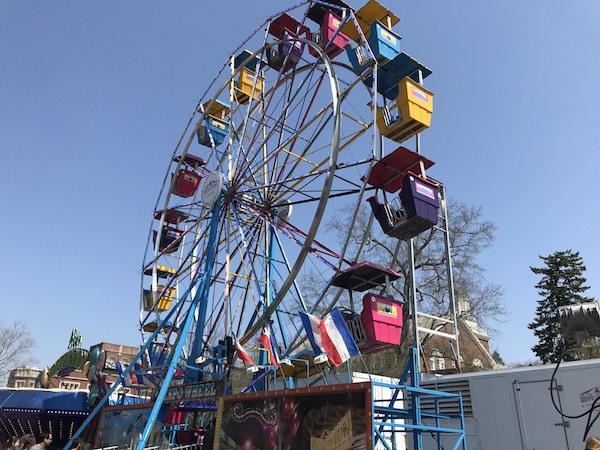 An annual rite of spring, the Scarsdale High School carnival took place Friday, April 13th and Saturday, April 14th. The weekend's beautiful weather beckoned families and students of all ages. The event, run by the Scarsdale High School government, had something for everyone.
Carnival rides such as the pharaoh and the ever-famous zipper enticed thrill seekers, while the ferris wheel and super slide provided fun on a milder level. Other rides like the dragon coaster and teacups were perfectly suited for younger children. Classic carnival games were fun ways to potentially win gigantic stuffed animals.
Along with the traditional carnival rides and games, many Scarsdale High School clubs showcased their programs at dedicated booths. Carnival-goers were encouraged to support the clubs through their unique offerings, such as iced tea, shaved ice and even cactus sales. People could even make their own ice cream sandwiches at a booth sponsored by the school's Habitat for Humanity booth. The Edward Williams club kept their tradition alive with a "pie a teacher" booth, where whichever teachers raised the most amount of money would get pied. The Paulie Strong Foundation displayed a booth to sell clothing in order to raise funds and awareness for pediatric cancer research.
Commenting on the carnival, SHS School Government advisor Lauren Barton said, "The carnival was a great success and we will be able to make considerable donations to Corporate Angel Network, PaulieStrong Foundation and Yonkers Partners in Education. We certainly lucked out with the weather which helped to increase attendance. I can't remember the last time we had two consecutive days of good weather! The carnival is one of few community wide events and its so nice to see students, alumni and families of all ages enjoying the rides, games and booths set up by the high school student run clubs."
The annual event was a perfect way to kick off the beginning of the end of the school year and celebrate the warm spring weather.