100 Years of Classic Neapolitan Dishes at Mario's Restaurant on Arthur Avenue in The Bronx
Monday, 22 July 2019 14:25
Last Updated: Monday, 22 July 2019 14:26
Published: Monday, 22 July 2019 14:25
Judie Dweck
Hits: 4008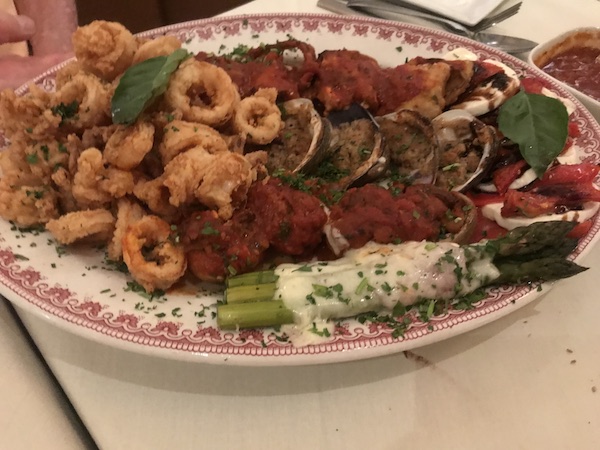 On the wall at Mario's Restaurant is a plaque that states "Happiness is a kitchen full of family." I might add to that, "Happiness is also a dining room filled with guests enjoying the authentic Neapolitan dishes at Mario's." The restaurant is celebrating its 100 year anniversary. It is the fourth and fifth generation of the Migliucci family who continue to please its guests with robust Neapolitan dishes.
I recently revisited Mario's and chatted with Joseph Migliucci, the fourth generation of this restaurant family. The story of his family's journey from Naples to Egypt to Harlem and finally to Arthur Avenue in 1919 is explained in a brochure at each table. Joseph is a presence every day, but now it is his daughter Regina Migliucci-DelFino who has taken the business into modern times. In the kitchen is Chef Michael, Joseph's son and Chef Massamo Celso. To what does Joseph owe the restaurant's longevity? "We treat our guests like family. We make them comfortable and accommodate their needs. We have hosted many famous people through the years from the arts and from politics but to me all of our guests are celebrities. "
Through the years, at the Arthur Avenue location, the Migliuccis bought the building and expanded by offering catering facilities with several party rooms in the two story building. Just as the many generations of the Migliucci family have molded Mario's, the guests span the generations, as well. As you enter, a valet will attend to your car, a great asset on this busy street. The large dining room remains very traditional with walls displaying scenes of Naples, family photos and photos of famous guests. Rolling arts are still used to bring your meal. How splendid it is as they bring out your order, the platters brimming with delights. Much of the capable staff has been there for many years and the service is professional and friendly. Joseph indicated," We have served governors, mayors and judges and I would enjoy serving all time baseball players from the past, as well as the present.
When New Yorkers talk about Little Italy they are often referring to Manhattan. Closer to our Westchester communities is Little Italy in The Bronx, namely Arthur Avenue and its surrounding streets in the Belmont area of The Bronx. Visitors to the nearby Bronx Zoo and Botanical Gardens can combine these visits to include a walking, shopping and eating experience on Arthur Avenue, where grocery stores, bakeries and other food stores await. It is one of my favorite ways to spend some time and to make the day really special we enjoy lunch or dinner at Mario's, which is both welcoming and delicious.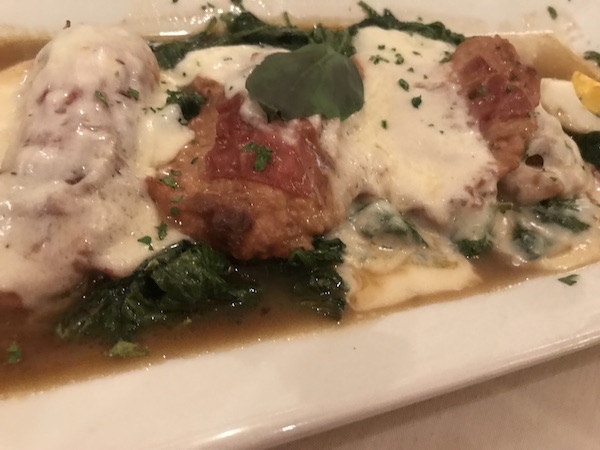 Fresh as could be, thick slices of Arthur Avenue sesame crusted bread and a cruet of olive oil as well as a dish of those " famous" pickled carrots, a specialty that Joseph's mother prepared daily for many years. How fortunate we are that she passed down the recipe for all of us to enjoy as we remember this elegant lady. A typical Italian dinner begins with antipasti. At Mario's, our special hot antipasto seemed like a complete meal. The large platter with its delightful aroma filling the room was rolled to our table. There were clams oreganata, whole and succulent, baked, melt in your mouth mozzarella wrapped asparagus stalks, crisp rings of fried calamari gently dusted with flour before frying, eggplant rollatini stuffed with ricotta, stuffed mushrooms and thick slices of house made mozzarella topped with roasted peppers and tomatoes , fresh basil and balsamic glaze. Other appetizer choices include the classic and very popular spiedini alla romana. The fresh mozzarella is skewered with cubes of bread and fried and topped with a fragrant anchovy sauce, very delicious, indeed. Stuffed artichokes, burrata, octopus salad, clams on the half shell and a cold antipasto are some other starters. If you wish to start your meal with soup, try stracciatella, escarole or minestrone. On a lighter note, enjoy a Caesar salad or Mario's salad with mixed greens, olives, tomatoes and onions. It was time for the pasta course. We couldn't resist the homemade manicotti. The delicate pasta crepes were filled with ricotta, parmesan, prosciutto and parsley for an excellent result. We also sampled the house made gnocchi. Joseph said for success in preparing this dish," You must start with Idaho potatoes." Flour and egg yolks are added to the dough which is kneaded by hand, often by Joseph. The resulting mini pillows of dough were perfect with melted butter, grated parmesan or Pomodoro sauce.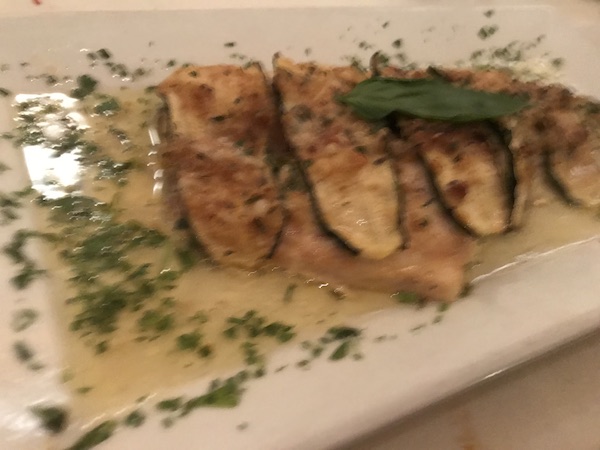 As an intermezzo, before our entrée, Joseph brought out a mini version of their excellent pizza. Simple sauce, a scattering of mozzarella and a crisp crust, it was perfect in its simplicity. Many varieties of pastas and sauces are offered, as well. I look forward to sampling the homemade lasagna and lobster ravioli with vodka sauce in the future.
For an entrée, choose from many preparations of chicken, fish, veal, beef and lamb. We sampled the veal saltimbocca. The delicate scaloppine was resting on fresh spinach and topped with prosciutto and mozzarella. A marsala sauce enhanced this fine offering. We savored Mario's super special potato croquettes with it. The cigar shaped morsels of potato, prosciutto, mozzarella and parmesan were lightly crusted and fried to a golden brown. It was hard to just eat one. From the fish selections we tried the bronzino. The filet was baked with thin slices of zucchini on top. It was light and excellent, fresh as could be. Future entrees may include zuppa di pesce, gamberetti scampi, shell steak pizzaiola, veal sorrentina or chicken scarpariello. There are so many choices it will require many visits.
We did manage to have a few bites of nicely filled cannoli for dessert.
The regular menu at Mario's is very extensive. In addition, each day features a multicourse dinner special and a varied lunch special as well. Each evening, several special dishes are offered.
Bring your family or friends and most important bring a hearty appetite for a visit to Mario's Restaurant on Arthur Avenue for lunch or dinner.
Mario's Restaurant
2342 Arthur Avenue
Bronx, NY
718-584-1188
Marinara Sauce [about 5 cups of sauce]
6 cups imported Italian plum tomatoest
¾ cup salad oil
1/3 cup thinly sliced garlic
10 snipped fresh basil leaves
1 Tbsp. chopped fresh parsley
Freshly ground pepper, to taste
Empty the tomatoes into a bowl and crush them by hand. Place oil in a pot and when hot add the garlic. Then add the remaining ingredients and the crushed tomatoes and simmer for about 30 minutes, stirring often. Serve with your favorite dish.

………………………………………………………………………………………………………………………………………………………………
If you were inspired by our visit to Arthur Avenue and would like to stock your kitchen with Italian ingredients, here are some suggestions of where to shop. If cooking is not your desire then just visit Mario's soon.
Addeo Bakery
2372 Hughes Avenue
718-367-8316
Arthur Avenue Retail Market
2344 Arthur Avenue
347-396-0555
Artuso Pastry Shop
670 East 187 Street
718-367-2515
Biancardi's Met Market
2350 Arthur Avenue
718-733-4058
Borgatti's Ravioli and Egg Noodles
632 East 187 Street
718-367-3799
Calabria Pork Store
2338 Arthur Avenue
718-367-5145
Calandra's Cheese Store
2314 Arthur Avenue
718-365-7572
Casa Della Mozzarella
604 East 187 Street
718-584-3583
Consenza's Fish Market
2354 Arthur Avenue
718-364-8510
Tietel Bros.
2372 Arthur Avenue
718-733-9400