Summertime Dining in Scarsdale
Monday, 05 August 2019 14:48
Last Updated: Tuesday, 06 August 2019 14:44
Published: Monday, 05 August 2019 14:48
Judie Dweck
Hits: 5312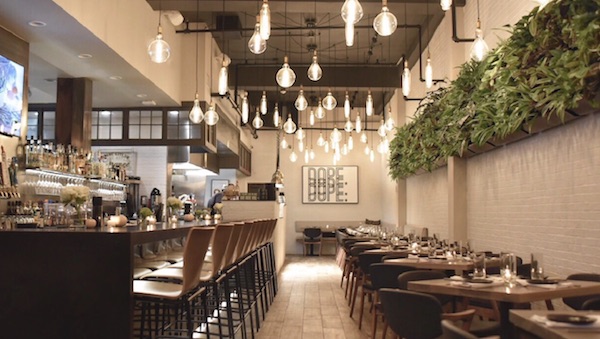 Cooked and Co.
From super casual to more formal, Scarsdale's summertime dining scene offers many choices. Here are just a few of the many options.
Scarsdale Village

Popojito Med Mex Kitchen
46 Christie Place
Scarsdale
914 713 8946

If you are seeking out a completely gluten free spot to eat, with a south of the border flavor, head to Popojito Med Mex Kitchen. This casual spot seats about 45 inside and during the warm summer months seating for 12 guests is set up outside. The colorful space with its open kitchen is totally gluten free and uses no gmo's antibiotics, refined sugar or transfats. Chunky guacamole was familiar and nicely seasoned. Soft shell tacos were quite good. We enjoyed a variety of fillings of pulled pork with salsa verde, seared mahi mahi, and cilantro garlic shrimp. Vegetables here are organically sourced from local farms. Quesadillas are a good choice, as well. Summertime choices of salad with lime vinaigrette and a med mix bowl of charred snap beans, quinoa, bitter greens, radish, cucumber and onions topped with a choice of proteins is especially nice during the warm days of summer.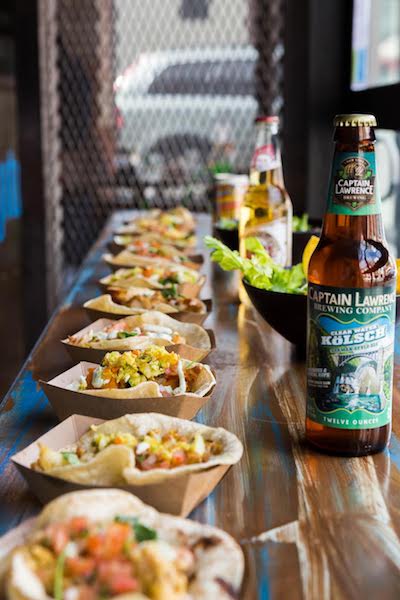 Tacos at Popojito

Sapori of Scarsdale
2 Chase Road
Scarsdale
914 874 5316

On the lovely corner of Chase Road and Popham Road is the sophisticated Sapori of Scarsdale serving Mediterranean food. With its comfortable patio seating about 30 guests, and its welcoming interior, it is a delightful spot at which to enjoy summertime dining. If lunch is your meal of choice, many light dishes are offered. On the patio or indoors start with a Dungeness crabcake, burrata and heirloom tomatoes, prime sirloin carpaccio, or tuna tartare Follow these appetizers with a beautifully presented salad and if you wish, top it with chicken breast, hanger steak, seared salmon or Maya shrimp, all of the finest quality. Salad choices include shredded kale and romaine Caesar, endive and apple, Greek salad and even a Scarsdale salad with mesclun, avocado, mango, tomato, and shaved fennel with a champagne dressing. If you choose to enjoy dinner at Sapori, start with Moroccan meatballs, Mediterranean mini skewers of prime steak or iron skillet Maya shrimp or butternut squash soup. Summertime entrees include Faroe Island citrus salmon, seared diver scallops, Mediterranean branzino or artisanal seafood pasta. All dishes are prepared using fine ingredients. The generous portions are beautifully presented by a solicitous staff. Sapori translates to flavors, and flavors certainly do abound at Sapori of Scarsdale. With dishes from countries surrounding the Mediterranean you certainly can enjoy the culinary creativity and artistry of Sapori's kitchen both indoors and out during the warm summer months and of course all year round.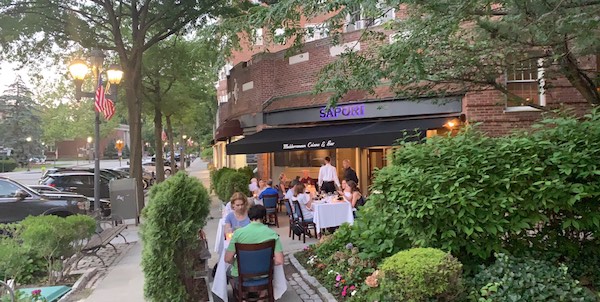 Dine al fresco at Sapori
Garth Road in Scarsdale seems to have become restaurant row. Stroll down and here are some delicious options:

Cooked & Co.
128 Garth Road
Scarsdale
914 205 3939

South on Garth Road is the newly expanded and renovated Cooked & Co. Enter the bright and cheerful space, and if you plan on enjoying a summer breakfast lunch or brunch, walk to the right. If your preference is to have the talented kitchen staff prepare dishes for you to take home, enter the market to the left. We availed ourselves of both options. At the time of my visit in July, the dinner menu was being revised and dinner service will resume in august. The space is contemporary with modern décor and a young and friendly staff who described Cooked & Co. as a fun loving fast paced spot, where care and love are the ingredients in their dishes. Choose to dine at a table or at the roomy bar. At my recent visit the place was filled with happy guests, many in their tennis togs. Many refreshing dishes appear on the lunch menu such as avocado toast, a variety of burgers and salads. On a warm summer day, try the spring green salad with greens, candied walnuts, and feta or perhaps a Caesar salad. A fun choice is to create your own salad with many ingredients to choose from. I enjoyed a rice bowl with well-seasoned adobo chicken, red cabbage, pickled jicama, charred corn, cilantro, lime and avocado. A paprika aioli added a delightful flavor to the Spanish rice and its varied toppings. If you visit for brunch, there are eggs and omelettes, a popover special with fried eggs, bacon and gruyere. If you prefer, there are pancakes, waffles and French toast in many varieties. Perhaps you would enjoy rice krispie French toast, Nutella stuffed French toast or cinnamon waffles. If you choose take out from the market the choices are endless. Try chicken corn salad, sesame noodles, cashew kale salad, chicken enchiladas, fried bbq chicken wings, lime spiced chicken as well as pistachio cannoli mini and regular muffins and Nutella crunch muffins. New items appear each day and the variety seems to indicate that you may never have to turn on your oven all summer.

Café Alaia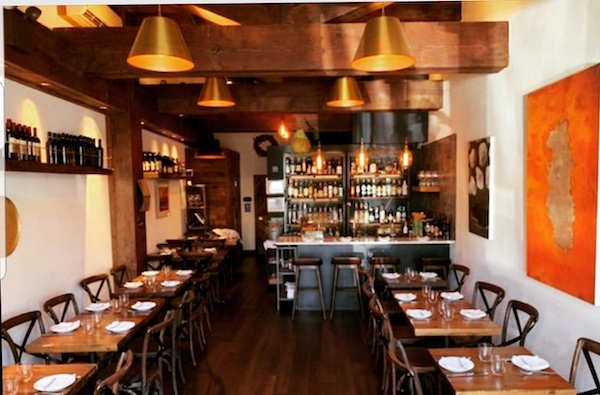 Summertime in Italy at Cafe Alaia
66 A Garth Road
Scarsdale
914 725 3000

A bit further up the road you will arrive at the intimate and charming Café Alaia where owner Vincenzo Alaia greets you as though you were a guest at his home. You might not get to Italy for this summer vacation but a good substitute is a meal at Café Alaia. A relaxing summertime meal here might start with a selection of crostini. Here the grilled rustic bread can be topped with mixed wild mushrooms and caciocavallo cheese, or perhaps cherry tomatoes, scallions, basil and extra virgin olive oil. Other summertime delights on the menu are grilled octopus over a salad of potatoes, fresh green beans, parsley and olive oil. Grilled shrimp with sautéed cannellini beans is another delightful warm day starter. House made potato gnocchi enrobed in fresh basil pesto will add a summertime flavor to your meal. The pristinely fresh fish entrees include a refreshing pan seared wild salmon with a peppercorn mustard lemon sauce. The citrus addition is perfect on a warm summer evening. Each of the entrees here share their plate with the freshest of vegetables. Add a selection of the hand picked wine at Café Alaia and you will feel like it is summertime in Italy.

Jackie B's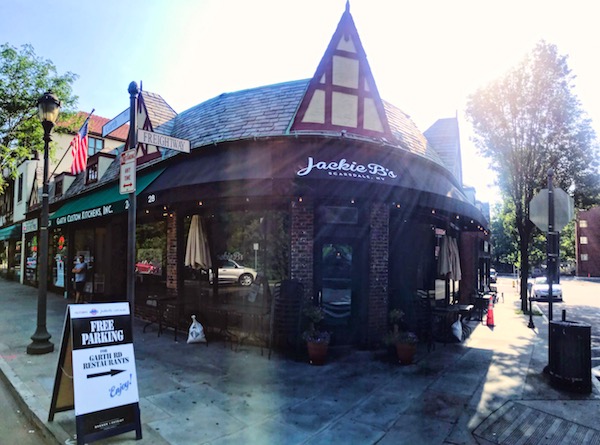 Jackie B's
28 Garth Road
Scarsdale
914 874 5328

New to the Garth Road restaurant scene is Jackie B's. The compact space is contemporary in feeling. The walls are filled with photos of notable " Jackies" in history from Jackie Robinson to Jackie Mason to Jackie O. Fresh flowers are on each table at this black and white decorated spot. The cozy space manages to fit a bar, high and regular tables comfortably. On a pleasant summer day or evening take advantage of the outdoor tables at the front and side of Jackie's and enjoy a lunch or dinner al fresco. At lunch savor the Jackie B's burger with smoked bacon, caramelized red onion, avocado, Vermont white cheddar and special sauce on a brioche. The Greek turkey burger is tasty as well. Jackie's salads are perfect on a warm day or evening. Try Asian chicken salad, faro salad or arugula watermelon salad with feta cheese, pumpkin seed and raspberry balsamic dressing. You can build your own salad here, as well. Try some of the unique sandwich combinations. At dinner entrees of bbq ribs, bourbon glazed NY strip, parmesan crusted salmon or slow cooked brisket are good choices. The many signature cocktails are all prepared with fresh fruit and freshly squeezed juices to add to your enjoyment. Jackie B's indicates " Great food, great people and great times." It is a cozy, fun neighborhood spot.

Via Forno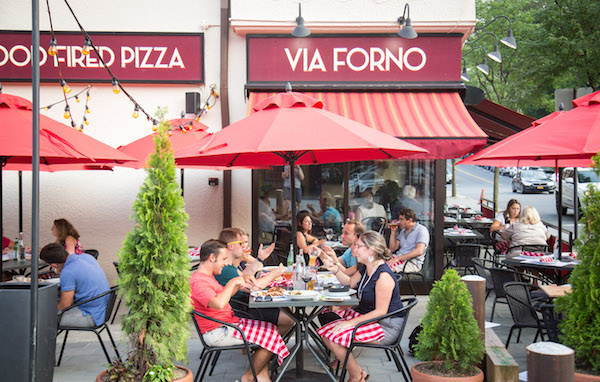 Via Forno
2 Garth Road
Scarsdale
914 556 6464

Note the bright red umbrella tables awaiting its outdoor diners at Via Forno. It is here that the imported wood fired pizza oven is producing a variety of excellent pizzas as well as scrumptious roasted vegetables and other Italian inspired dishes. Dine at the semi circular marble counter and watch your food baking, at a table inside, or on the outside patio seating about 60, where you can watch the flow of cars and people on this bustling street. On a summer day or evening, enjoy one of the many pizzas build your own pie or order a gluten free variety. Light warm weather suggestions include the dal mare pie with clams, calamari and shrimp, mia terra with roasted mushrooms, onions, basil truffle oil and mozzarella or marinara with tomato sauce, oregano flowers, basil, fresh garlic and olive oil. Summertime salads will delight from a roasted beet salad with kale, fennel, blackberries, cranberries, goat cheese, candied walnuts and a balsamic vinaigrette. Other warm weather treats include roasted appetizers of cauliflower, broccoli rabe, mushrooms and carrots. Each is beautifully flavored and delicious. Paninis and calzone in many varieties are lovely at lunch or dinner. Weekend brunch is a great summertime adventure at Via Forno and happy hours at the bar are very popular.