Culinary Poetry Awaits at Haiku Asian Bistro and Sushi Bar in Scarsdale
Monday, 09 September 2019 11:54
Last Updated: Monday, 09 September 2019 12:10
Published: Monday, 09 September 2019 11:54
Judie Dweck
Hits: 2741
Lava RollFor years, the word Haiku brought to mind a type of Japanese poetry of three lines and seventeen syllables which leaves the reader with strong feelings and impressions. In recent years haiku added a new definition, the casual and delightful Asian bistro with branches in Bronxville, White Plains, Cross River and for eight years right here in Scarsdale. Each has its own atmosphere and special dishes. In Scarsdale, Haiku's manager is the capable Daniel Teoh. He describes the Scarsdale Haiku as an Asian fusion restaurant with dishes from China, Japan, Malaysia, Indonesia, Thailand and Vietnam. Teoh said, "The best part of my job is seeing my guests happy with their experience here. I owe our longevity here to our fine food and service. We use quality ingredients and each dish is prepared to order for the best results. Some of our most popular dishes are Szechuan shredded beef, General Tso's Chicken and Mongolian Beef."

Scarsdale's Haiku is conveniently located on Post Road in The Vernon Hills Shopping Center which has plenty of parking. It has a contemporary look, with earth tones. The bar is near the entrance and has high tables, bar stools and even some plush chairs. The restaurant seats about 50 guests. A compact sushi bar is toward the back. Decorative wall hangings and amber and crystal chandeliers offer a pleasant lighting effect. The staff is efficient and quite pleasant.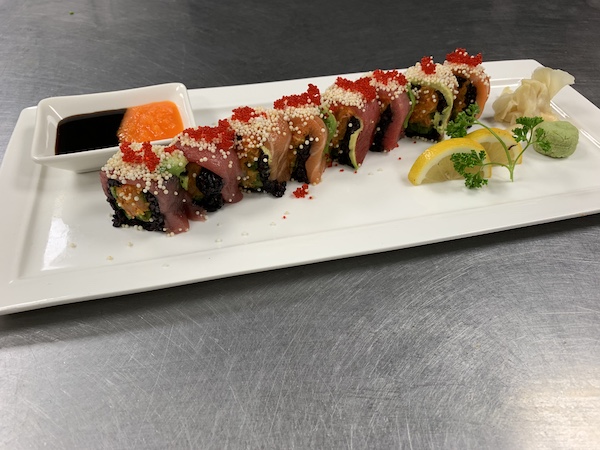 Black rice rollTo start your feast at Haiku, choose from kitchen or sushi bar appetizers. From the kitchen, we have enjoyed chicken and beef satay with peanut sauce, shumai, gyoza, mixed tempura and chicken lettuce wrap. On my recent visit, I tried the Malaysian style Indian Pancake. This thin wafer was fried in a skillet and cut into quarters. Sharing the plate was a bowl of a wonderful curry paste flavored sauce. A large chunk of potato floated in the sauce. We dipped each triangle of our pancake into this fragrant sauce and if I didn't know of the treats to come, I might have requested a spoon to savor the remaining sauce. There are several pleasant appetizers from the sushi bar, as well. We have enjoyed the seven pieces of pristinely fresh sashimi, beef negimaki, and black pepper seared tuna, as well. At my recent visit, we savored a tuna pizza. The tortilla crust was spread with nicely seasoned avocado and topped with fresh sliced tuna. A sprinkling of orange roe and a drizzle of mayo sauce resulted in a fine explosion of color and flavor. It is a tasty appetizer to share at your table. If salmon is your fish of choice the pizza can be prepared with salmon instead of tuna.

Salads are popular at Haiku. Among the choices are crispy calamari, grilled shrimp with miso vinaigrette, seaweed salad with sesame vinaigrette, and my all time favorite of Vietnamese Salad with a julienne of mango, jicama, kiwi and carrots in a citrus dressing with crushed peanuts and crisp cellophane noodles.

Sushi and sashimi can be ordered by the piece in 2 dozen varieties. Sushi entrees are served with soup and salad. Three roll combos and hand rolls are offered, as well. For the more adventuresome, examine the long list of the chef's special rolls with names including volcano roll, thunder roll, out of control roll, and lava roll and a very special black rice roll prepared with natural black rice. Upon observing the sushi chef at work, it is obvious that he is well trained and is very intense and serious about his sushi preparations, which are prepared to order with great care and pride.

It was time to try some of these special rolls. Would it be the heart shaped passion roll with a variety of fish and seaweed salad, the out of control roll with spicy tuna and salmon wrapped in eel and scallion or a pacific roll with sweet potato tempura, lobster salad and bonito flakes? We chose the jungle roll. This outstanding roll was filled with crispy shrimp tempura, cucumber and rice encased in strips of avocado and mango. The artistry of this preparation added to its appeal. The twin roll was excellent, as well. Here, spicy tuna, shrimp tempura and avocado were topped with crisp soft shell crab. The texture and taste were top notch. We also had a taste of Teoh's choice of black rice roll with a variety of fish and jalapeno for extra kick.


Beef SatayAmong the dinner entrees I often enjoy are Asian spicy mango sauce with shrimp. The jumbo shrimp are tossed with squares of jicama, mango and red bell pepper and snow peas. Szechuan shredded beef is another favorite. When delivered both dishes travel well. At my recent tasting I sampled one of Haiku's very special dishes, Mongolian Beef. The perfectly seasoned tender slices of rib eye steak are lightly dusted with flour and sautéed with sliced onion slivers and scallions. A slightly sweet sauce enrobes this delicious dish. On the mild side, I especially enjoyed the seafood treasure platter. It showcases the quality of the ingredients. Truly extra jumbo shrimp, plump large scallops and crabmeat are perfectly cooked and were mingled with snow peas, asparagus, carrots and mushrooms all enveloped in a mild white sauce. This was a delicate seafood choice, aptly named a treasure platter. Future visits might include pad Thai with chicken, shrimp or vegetables, Japanese stir fried udon noodles, Malaysian red curry, a variety of teriyaki dishes, Indonesian sambal sauce with your choice of protein, sautéed flounder filet with peas and mushrooms or crispy Grand Marnier prawns with honey walnuts. Classics of baby eggplant in mild garlic sauce, baby bok choy with fresh minced garlic and broccoli in brown sauce are several of the simply prepared dishes.

If you need to satisfy your sweet tooth, after partaking of the glorious dishes at Haiku some choices are molten chocolate cake, fried mango cheesecake and Godiva chocolate cheesecake. These sweets may not be typically Asian but seem to be popular here.

Enjoy the large variety of beautifully prepared Asian Fusion dishes at Haiku in Scarsdale that have been satisfying our desire for Asian food for eight years. They will also be delighted to cater your next party.
Haiku Asian Bistro & Sushi Bar
717 White Plains Road
Vernon Place Shopping Center
Scarsdale
914 722 4200
http://www.haikuscarsdale.com
Tuna Pizza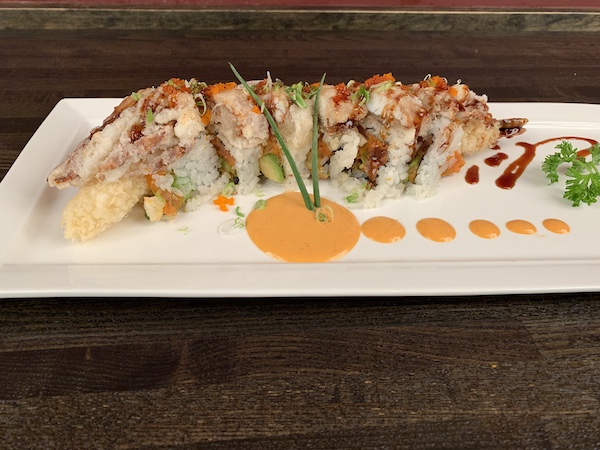 Twins Roll