Youth Art Show to Benefit the Scarsdale Public Library this Weekend
Wednesday, 23 October 2019 13:12
Last Updated: Wednesday, 23 October 2019 13:16
Published: Wednesday, 23 October 2019 13:12
Joanne Wallenstein
Hits: 1930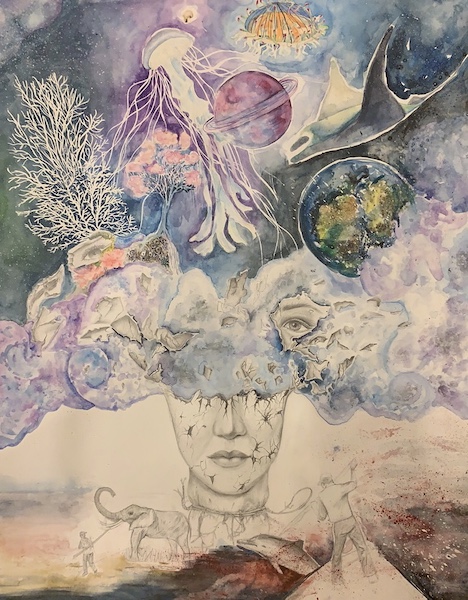 This weekend the Westchester Association of Chinese Americans will hold its third annual Youth Art Show at the Scarsdale Woman's Club at 37 Drake Road from 11:30am to 3:30pm Saturday 10/26 and Sunday 10/27, with an awards ceremony at 1pm on Sunday.
The first show two years ago was conceived and organized as a Library fundraiser by Lucy Yihan Du, now a Scarsdale High School senior, and a group of friends. The organizers were looking for various ways to support the expansion and renovation of the library. For students passionate about art, the idea came up naturally to organize an art show and raise money from both art auctions and donations.
Since it's inaugural year, the show has grown in popularity and scale. A main theme for this year is environmental awareness. Crystal Feng is a SHS sophomore and the creative force behind "Recreation", a fantastical mixed-media piece depicting the damages people inflicted on the environment while also imagining a hopeful future if we take the right actions now. "Climate change and conservation are major topics of our times," says Feng. "Using art to express these ideas and connect with the community has been a very rewarding experience."
The show is free and open to the public. Some of the pieces have been donated by the artists for auction, with all proceeds going to the library. Donations are also much appreciated.