A Thoroughly Modern Menu in A Victorian Setting at Lilly's in White Plains
Monday, 30 December 2019 11:02
Last Updated: Wednesday, 01 January 2020 15:57
Published: Monday, 30 December 2019 11:02
Judie Dweck
Hits: 2061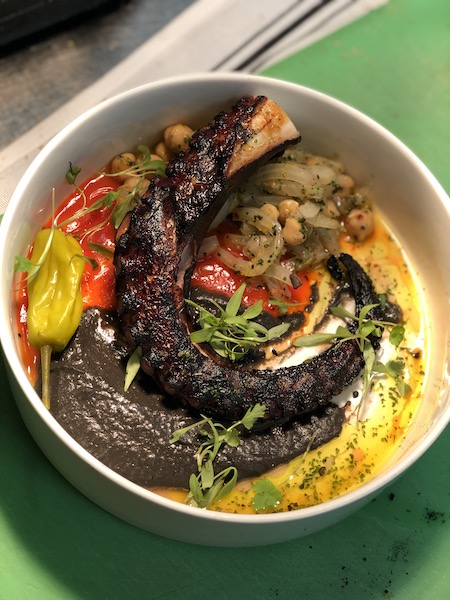 n busy Mamaroneck Avenue, with its many pubs and bars, Lilly's stands out with its Victorian décor and thoroughly modern menu, a most unusual and pleasing combination. A tin beamed ceiling, dark wood floors, brick and dark wood paneled walls, deep red tufted leather banquettes, wine colored fringed draperies, crystal chandeliers and gilt mirrors set the mood. You can choose to dine at the 25 plus seats at the marble topped bar, adorned with marble statuary, at a high top table or at a cast iron pedestal table, as we did. In warm weather an outdoor patio in the rear of the restaurant awaits.

I arrived at Lilly's on a weekday at noon. Within a short time, the restaurant was filled with guests. There were business groups, ladies who lunch, and shoppers among them. Each table was presented with a large extensive menu. It was fun observing the various groups choose from the innovative and varied choices available.

My host was one of the managers, Manny Campos. His favorite part of working here is communicating with his guests and staff. "Lilly's is a feel at home restaurant serving modern tapas and much more. Our goal for the future is to get better and better in food and service." Owner Brian Mahon who also owns Hudson Grill, next door, is a seasoned restauranteur who sets a cheerful mood at his establishments.

Chef Tyler Jacobs has headed the kitchen at Lilly's since its inception and his creativity is still operating at full speed. Everything is prepared from scratch with top notch ingredients. Culinary school and the kitchens of BLT and Picholine in Manhattan, led him to heading the kitchen here in Westchester where he has utmost respect for the ingredients and combines them in creative wonderful ways. I remember him saying, shortly after they opened, that he expected to train to be an architect. Well, here he is, a culinary architect building unusual and tasty dishes here in Westchester.

Chef Jacobs has created about two dozen "small plates "for his dinner menu. During my recent visit, I tried the seared scallops. The very fresh scallops were seared to a golden brown and arranged atop a tabbouleh salad, a puree of sweet potatoes and a touch of pomegranate vinaigrette. It was a sophisticated and fine combination of flavors. Sliced and grilled hanger steak was simple and delicious with herbed citrus aioli. The very popular tuna tartare was unique with its grapefruit vinaigrette enveloping the cubes of freshly cut tuna. Guacamole, cilantro and sliced red radishes added interest and crisp chips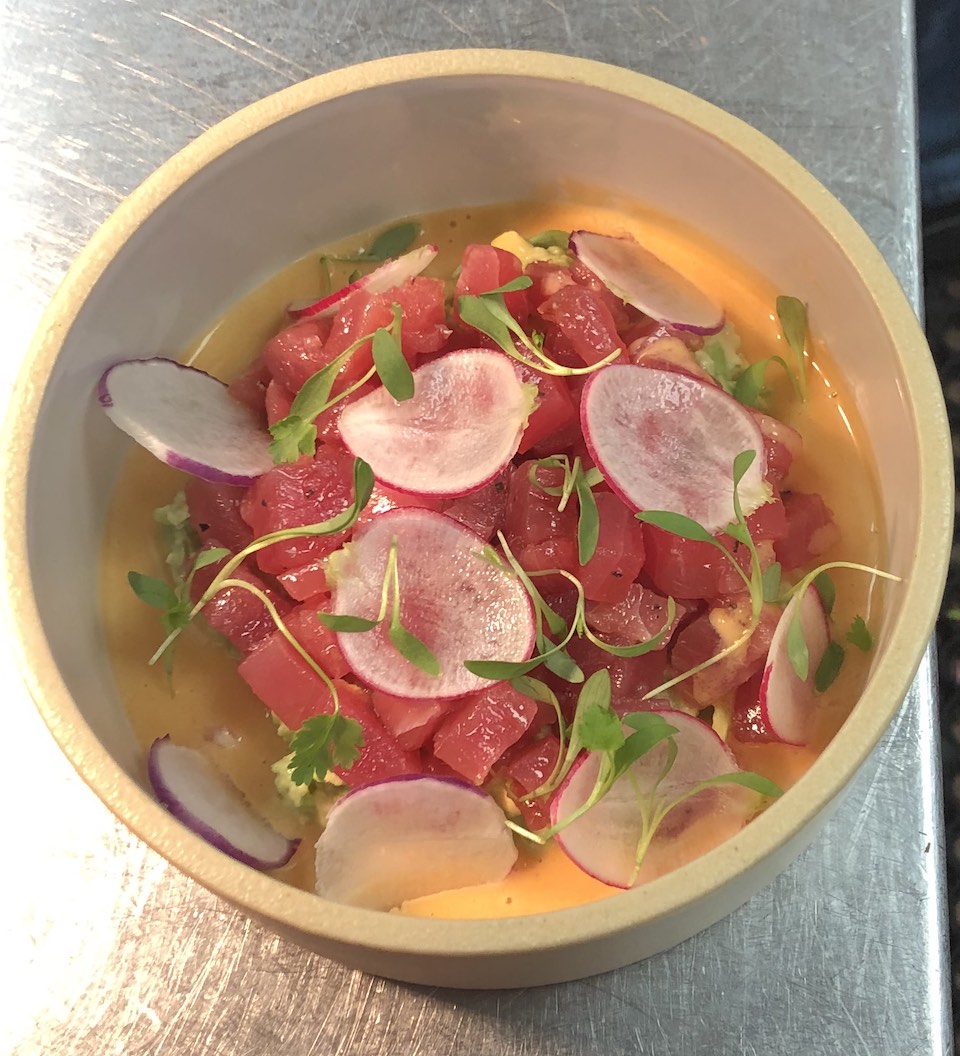 accompanied this classic with "the Tyler Touch." Not to be missed are the ricotta croquettes. Six of these fried balls of ricotta dough were flavored with rosemary infused honey. It would be difficult to eat just one. Although they are listed among the small plates, I think they would be a fabulous dessert, as well. Return visits might include small plates of fish tacos, lobster skewers, grilled octopus, steamed mussels, meatballs, or the outstanding roasted cauliflower, brussels sprouts with Caesar dressing and parmesan, burrata or gnocchi with sage, shitake mushrooms and apples. All of the above are presented as small plates. They certainly are large enough for sharing, which allows you to sample a large variety of these gems at one meal.

If fresh seafood is your passion, indulge in a selection from the raw bar. Oysters and clams, as well as seafood platters with lobster tail and shrimp await your tasting.

Pizza here is a popular option. Choose from their innovative toppings. Atop a nicely charred crust was a topping of crumbled short rib, cheddar, caramelized onions and red wine. It was quite delicious. Another favorite was the clam pizza with freshly chopped clams, parmesan, parsley and chili flakes. A squeeze of fresh lemon juice added to the flavor. I was delighted to find the chopped clams tender and not tough in this oven baked pie. Very popular is the bee sting pie with sliced soppressata, honey, mozzarella, oregano, parmesan and a generous sprinkling of chili oil. Other tempting choices are truffle pizza, Peking duck pizza, Kalamata pie, feta and spinach pie fig and arugula and Lilly's meatball pie. For the traditionalist a classic Margherita pie is offered. Upon request, a handmade gluten free dough is available.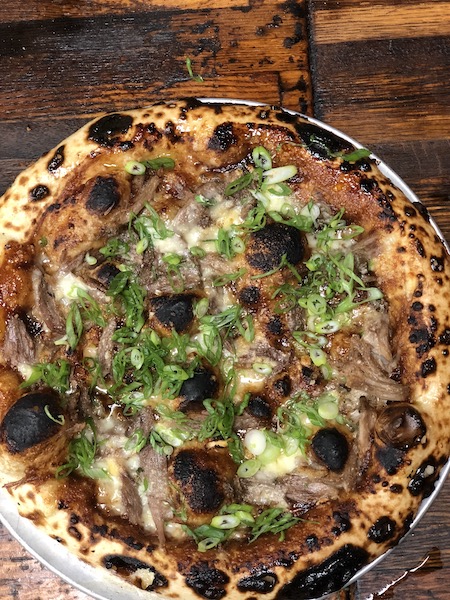 If you haven't sated your appetite with small plates and pizza, try one of the large plates, as we did. Upon Manny's suggestion, we ordered the pan roasted branzino. The whole fish appeared on the plate, which concerned me, since deboning a fish is not one of my favorite activities. A sigh of relief upon opening the fish (like turning a page in a book), I found it was completely filleted, delicate and divine. It rested on a nest of quinoa, chunks of roasted beets, fennel and orange segments with an orange vinaigrette. This original combination of ingredients was lovely since the grain, vegetable and fruit complimented the delicate fish instead of overpowering it. I anticipate trying other large plates of seared salmon with celery root puree and figs, brick pressed chicken and wild mushroom risotto in the future. A Tuscan kale salad with buttermilk ranch dressing is one of the pleasant salad choices offered.

I couldn't manage dessert, but butternut squash cake with port roasted figs, brulee pumpkin cheesecake and apple cobbler with streusel topping are among the choices to complete a beautifully prepared unique meal.

The lunch menu is extensive, as well, with many of the dinner dishes as well as interesting sandwich choices such as grilled vegetable panini, sliced steak sandwich with fontina, horseradish aioli and red wine onions, and prosciutto grilled cheese. Brunch is served with complimentary bloody mary or mimosas. Choose from cinnamon raisin French toast, loaded bagel, chicken and waffles, banana flambé pancakes, smoked salmon pizza and much more.

There is a happy hour from 4-7 Monday through Friday at their roomy bar.

Yes, Lilly's is a fine spot to enjoy lunch, brunch or dinner with a large creative menu offered at each meal. There are seasonal changes on the menu and weekend specials, as well. With Chef Tyler Jacobs at the stove you can always expect a creative and delicious meal. Try Lilly's soon.

Lilly's
169 Mamaroneck Avenue
White Plains
914 997 5600
Website