Sidewalk Sale Draws Shoppers and Diners to the Village
Thursday, 06 August 2020 10:02
Last Updated: Thursday, 06 August 2020 13:31
Published: Thursday, 06 August 2020 10:02
Joanne Wallenstein
Hits: 875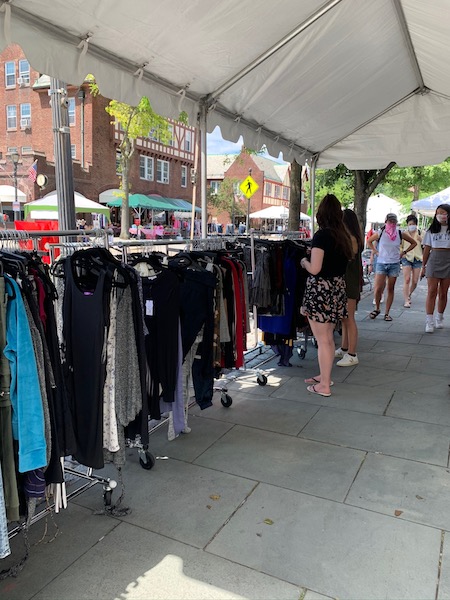 The Village was lively last week as the seven day Sidewalk Sale drew many to shop and eat, even with temperatures soaring above 95 degrees.
Many retailers had tables outside with great bargains on summer merchandise and more. Men's store Rothman's spilled out into Boniface Circle and onto the sidewalk with bathing suits, shirts, shorts, pants and more. Petticoat Lane, who announced that they will close their Scarsdale location had deep discounts on bags, accessories, nightgowns and intimate apparel. Perennial favorite Great Stuff showed their stuff from all seasons and I Am More Scarsdale was doing a brisk business in t-shirts, jeans and fun accessories like their necklaces that also clip on to a mask.
We found Michelle Anderson of La Dentelliere on the sidewalk with this jewelry box and home goods. Bronx River Books was offering New York Times bestsellers at a discount and Learning Express had a table full of toys to lure young buyers.
Vitale's Pizza and Westchester Burger Food trucks were available on Spencer Place which was closed to traffic.
Even though everyone was wearing masks, the atmosphere was relaxed and the vibe was good.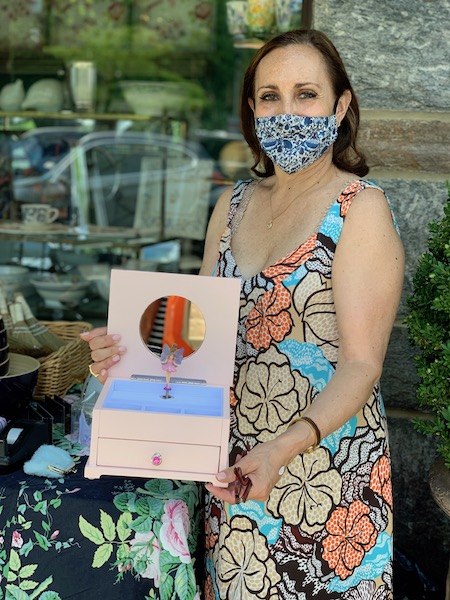 Michelle Anderson of La Dentelliere
Commenting on the sale, Marcy Berman Goldstein who heads the Scarsdale Business Alliance said, "The 2020 Scarsdale Sidewalk Sale was a success for the community and merchants. Instead of a three-day event as in past years, we elected to hold a weeklong event this year, and closed Spencer Place, Boniface Circle and Harwood Court. Rather than hordes of shoppers as in past years, we had a constant flow of consumers throughout the week, all wearing face coverings and practicing social distancing, while shopping and supporting our local merchants. By closing the roads, people were able to move throughout the village center without feeling like they were putting themselves at risk by being there."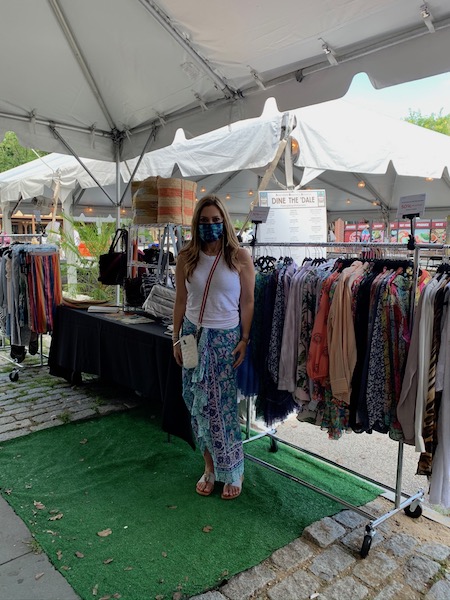 Marcy Berman-Goldstein at I Am More Scarsdale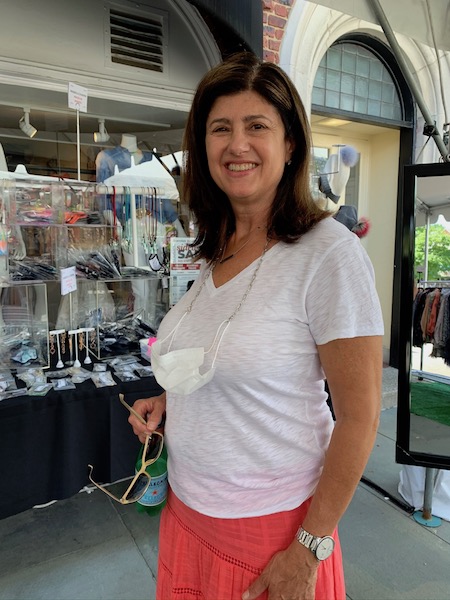 A new way to wear your mask.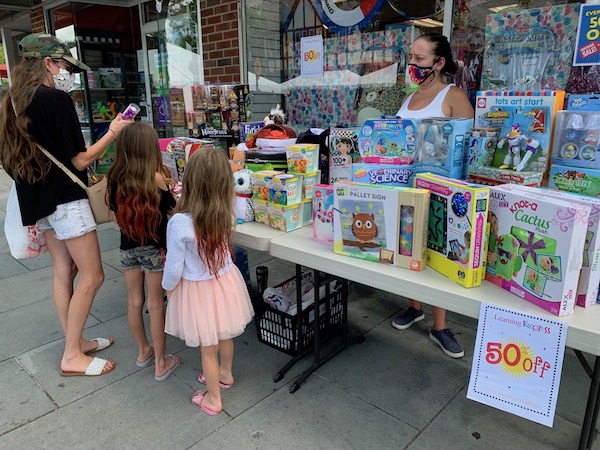 Toys, toys, toys at Learning Express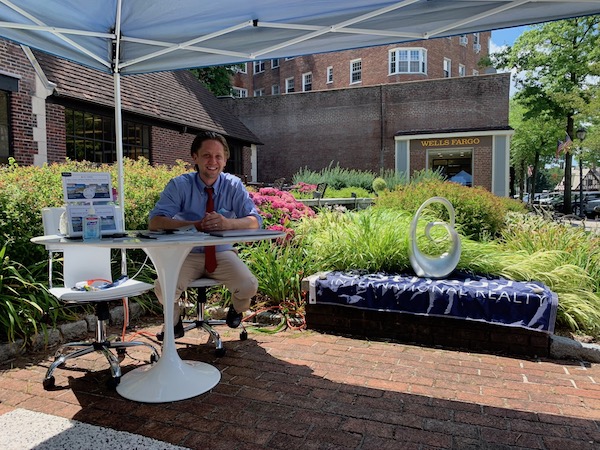 Brian Murray of Julia B.Fee does business from his outside office.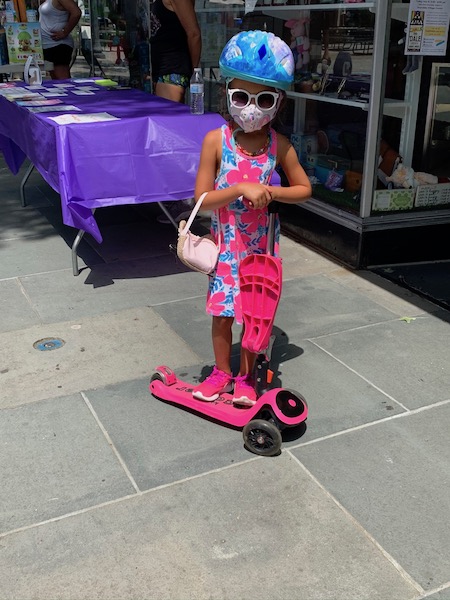 A great way to get around town.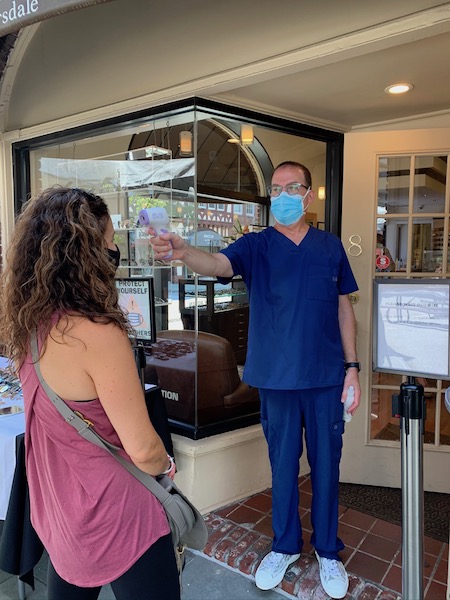 Jay Rosen does a temperature check before an eye exam.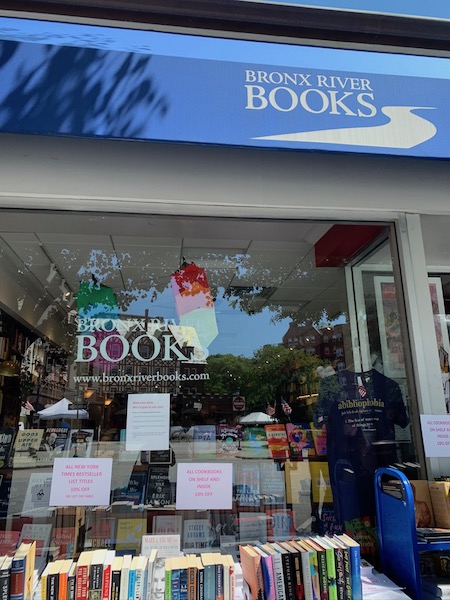 Reading for all at Bronx River Books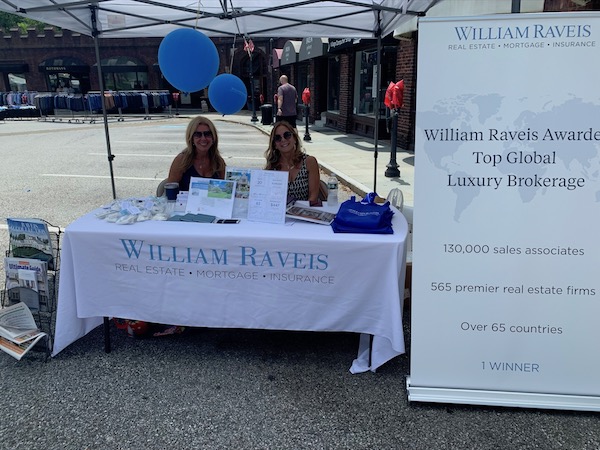 Realtors from William Raveis greeted shoppers