Gish Jen: A Writer in a Genre of Her Own
Saturday, 09 January 2021 10:17
Last Updated: Saturday, 09 January 2021 12:21
Published: Saturday, 09 January 2021 10:17
Joanne Wallenstein
Hits: 1800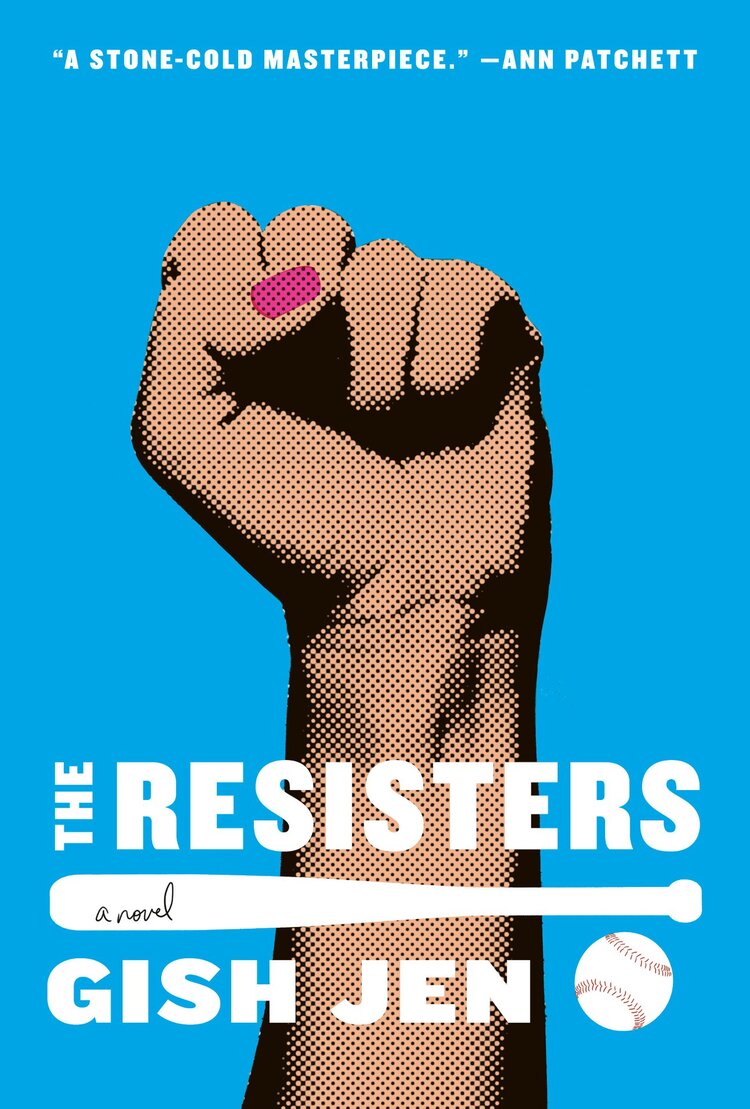 Gish Jen will discuss her newest book, The Resisters, at an online event sponsored by the Scarsdale Library, on Thursday night January 14 at 7:30 pm. Sign up here:
Some authors don't fall neatly into a genre. Their books cannot fit tidily into a designated section of the bookstore or be catalogued as women's fiction or immigrant literature. One such author is Gish Jen, who is not easily categorized as a person or as an author. Born to native Chinese parents, she grew up in Yonkers and then moved to Scarsdale where she had few Asian peers. She found herself surrounded by Jews and was deeply influenced by Jewish writers such as Saul Bellow, Bernard Malamud, Grace Paley and Philip Roth. The daughter of immigrants she was encouraged to pursue a lucrative profession, but left Stanford Business School to become a writer. Her work reflects these dichotomies and cultural contrasts, and in her own words she is a novelist, a humorist, a political commentator and an adventurous, complicated writer.
Her early books chronicled the experience of Chinese immigrants in the U.S., offering a hilarious take on the misunderstandings between cultures and generations. In her second book, "Mona in the Promised Land," Mona Chang has moved to Scarsdale where her parents run a pancake house and she falls in with new Jewish friends.
"It is 1968, the dawn of the age of ethnicity: African Americans are turning Chinese, Jews are turning black, and though some nice Chinese girls are turning more Chinese, teenaged Mona Chang is turning Jewish, much to her parents' chagrin. The Chang family has just moved to posh Scarshill, New York, where the rhododendrons are as big as the Chang family's old bathroom, and no one trims the forsythia into little can shapes. This takes some getting used to, especially since there's also a new social landscape, with a hot line, a mystery caller, and a Temple Youth Group full of radical ideas."
In fact, in fifth grade, the Jen family did move to Claremont Road in Greenacres and there Gish Jen discovered the library at Greenacres Elementary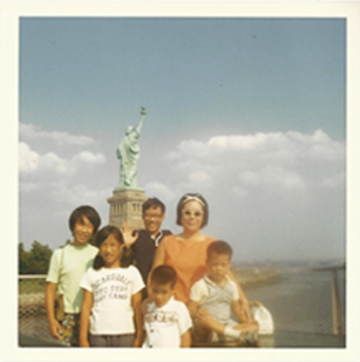 Gish and Family in 1968 School and fell in love with books. She says, "In Yonkers, no one discussed what they were reading, but in Scarsdale, Jen says, "books were important." Here she also explored what it meant to be Chinese American, with enlightened adults, teachers and friends. She remembers being a minority in a welcoming neighborhood with liberal neighbors. Did her Scarsdale education influence her career choice? As she moved through the schools, she remembers amazing high school English teachers and wonders, "Had I not grown up in Scarsdale, would I have become a writer?" She remembers Scarsdale as "an inspiring place to be."
Was there discrimination against the Chinese when she was growing up in Scarsdale in the 1960-70's? Yes, Jen concedes there was some, but it did not color her memories of her years here.
From Scarsdale, she went onto Harvard and graduated in 1973, then did a year at Stanford Business School before attending the University of Iowa Writers' Workshop where she earned her MFA in fiction in 1983. Her work has appeared in The New Yorker, the Atlantic Monthly and in The Best American Short Stories of the Century, four times. She is a member of the American Academy of Arts and Sciences and has been awarded a Guggenheim Fellowship and delivered the William E. Massey Sr. Lectures in the History of American Civilization at Harvard.

As a writer, Jen says she feels very lucky to have the freedom to experiment in her writing and is "unafraid to try something new and be responsive to the times." She's written novels, a collection of short stories, non-fiction cross cultural studies and an analysis of the roots of the independent and interdependent self.
In her eighth and most recent book, "The Resisters," Jen has returned to fiction, but written a book that's in a genre of its own. She calls The Resisters "a post-automation surveillance state, feminist baseball book."
In this dystopian, futuristic tale, Jen envisions an era in which automation has made many jobs obsolete and "surplussed" a subclass who no longer have an occupation and a "netted" class of the privileged. Society is ruled by "Aunt Nettie" who uses technology and surveillance to collect information, manipulate the Surplus and exercise control. Climate change has submerged the landscape, leaving the Surplus to live on plastic houseboats to make way for the netted to occupy limited dry land.
We spoke to the author from her home in Cambridge and she explained, "This book is about the way technology can exacerbate all our existing problems…. how technology can be an enabler."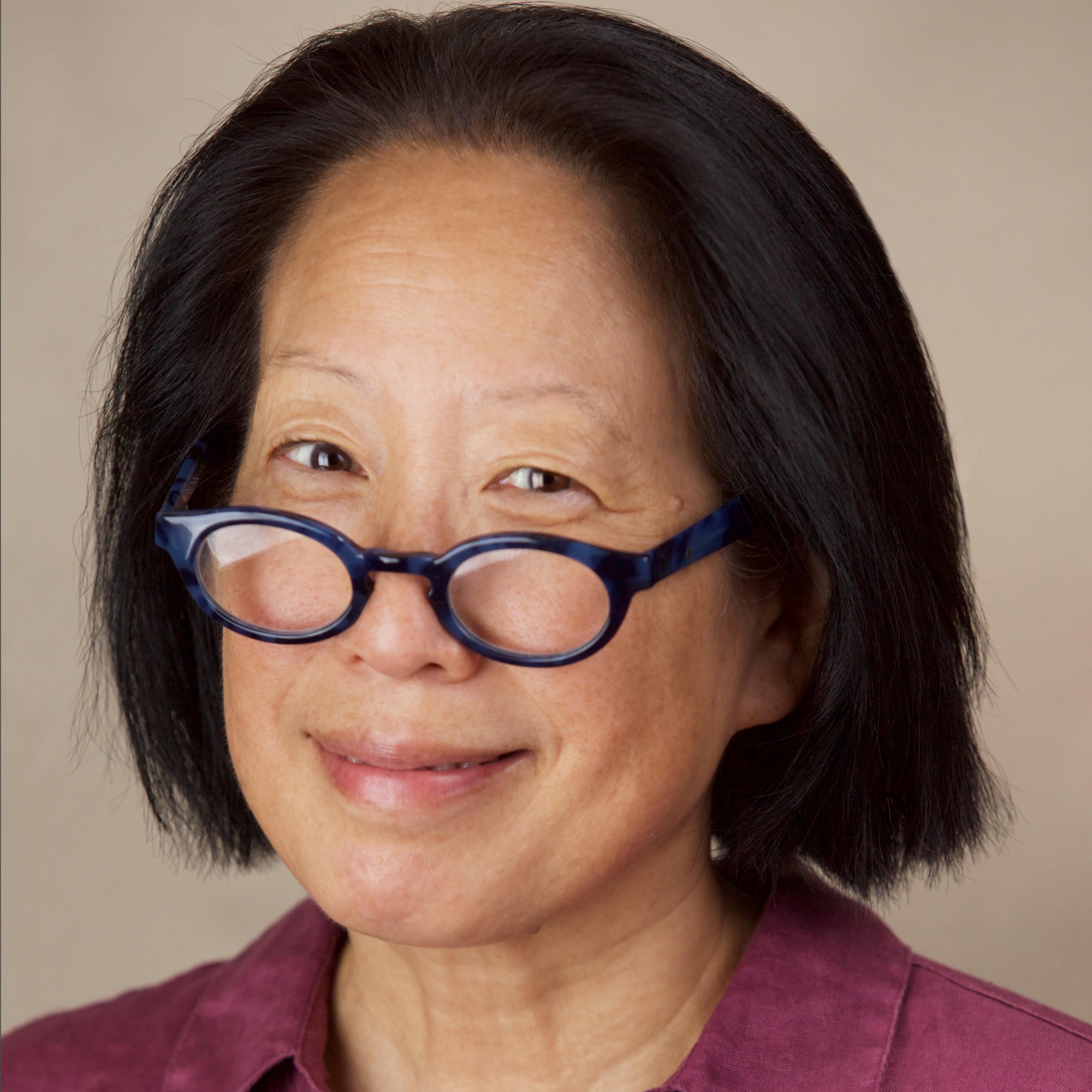 Gish Jen: Photo by Romana VysatovaJen is wary of home technology such as Alexa or Nest that record users 'conversations and movements, saying, "In this country we assume a friendly government. We need to think hard about that. You would not want terrorists to have that information. You have to think again about what you are giving to various entities and how that can be used. Can we assume they will never be running on our government? What kind of risk are you taking? The more they know about you the more they can manipulate what you want."
She questioned why we permit invasive technology to run our homes and our lives. She said, "We like to think that we think independently, but technology can manipulate you. To what degree does technology serve us – or is it using us?" What are the possible solutions? Jen says, "We have to ask ourselves those questions. We are in the process of working out our relationships with technology. I think we need more legislation to control it."
She explained that she wrote the book in the first year of the Trump administration when it was clear that "our democracy" was at stake. She said, "It is horrifying to me that I imagined the Capitol being mobbed," (Which actually happened the day before our interview.)
Jen points out that, as in her previous books, "The Resisters" remains the story of a family, a pair of "Surplus" parents who adore their only child Grace, a girl with a golden arm. Grace is a baseball star, and baseball is a uniquely American game. The book also examines race as most of the "Netted" or privileged class is white, which the "Surplus" are Coppertoned. But these familiar themes are overlaid by an examination of how "automation" or "technology" has come to control these characters' behavior and lives. Many parents can relate to Jen's depiction of the college drop-off scene, but in this book, the father sweeps the dorm room with a device detector to see if it is bugged.
In her latest book, Gish Jen again emerges as an astute interpreter of modern life and the risks that accompany our surrender to the convenience of modern technology. And like all of her books, it is a compelling read, with a suspenseful story, that is both amusing and insightful.
Jen will read from The Resisters and speak at an online event sponsored by Scarsdale Library on Thursday January 14 at 7:30 pm. Sign up here! And purchase your copy of "The Resisters" at Bronx River Books in Scarsdale.