Moving in a Pandemic? Meet New Families Who Made the Leap
Friday, 05 February 2021 10:37
Last Updated: Friday, 05 February 2021 10:50
Published: Friday, 05 February 2021 10:37
Stacie M. Waldman
Hits: 2073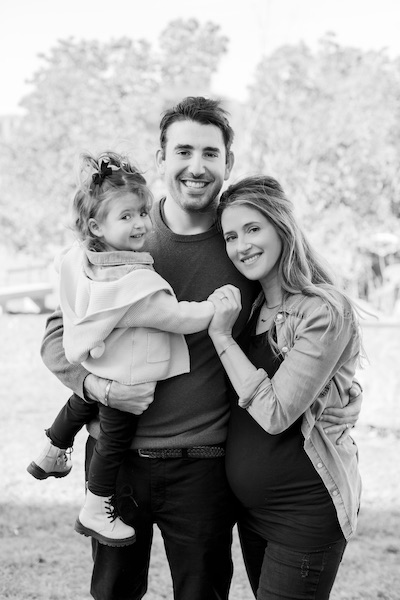 Danielle, Jeremy and Maya Moving is always a big and stressful decision. Moving during the COVID-19 pandemic is even more difficult. Selling and buying properties under COVID rules is tricky, finding COVID safe movers is another complication and conducting closings via Zoom is challenging as well. If the house needs work, scheduling painting, renovating and deliveries during COVID are more obstacles to overcome.
Then, when you're new in town, how can you make friends with your masked neighbors? How do you meet new people when your kids are in the house, engaged in remote or hybrid learning with limited after school activities? Playdates are complicated, birthday parties small and the suburbs can feel isolated.
Read about some newcomers to Scarsdale and how they overcame challenges to get settled in their new community, We were introduced to the moms of some families who recently moved to Scarsdale and here are their stories:
Lauren moved to Heathcote from the Upper East Side where she was born and raised. She has two kids ages 4 and 2 and works as a lawyer and licensed social worker.
Danielle moved to Quaker Ridge in November after leaving the city and briefly experimenting with New Jersey. She is married with a 2-year-old and has a baby on the way.
Minisha, also lives in Quaker Ridge, where she moved after 20 years in Manhattan. Minisha is a physician in private practice on the Upper East Side. She partially commutes and partially works from home. She has three children, ages 12, 10 and 7.
Zoya moved from Queens to Edgewood. She works as Allergist-Immunologist at Montefiore and has a 22-month-old and works as an
Mira is new to Fox Meadow and comes from Chicago. She has two kids, ages 12 and 10, and works for JPMorgan Chase.
Here is what they shared:
(Q.) What have been some positive experiences you've had since moving to Scarsdale?
Lauren: Local programs like Mohawk Day Camp, Westchester Reform Temple and Kids in Sports have been excellent with their communication, kindness and positive spirit. We have made friends with others who recently moved here- the shared experience of moving to a new town in the midst of a pandemic with young children leads to quite a bond!
Danielle: I will never forget the welcome we received here. Our family lives either out of state or out of the country so community was important to us. We hesitated to leave the city for fear of feeling isolated but we were so wrong. For weeks, we had dinners sent to us, wine deliveries, and endless doorbell rings from genuine, lovely people. We love living in a neighborhood like that.
Minisha: We didn't know what to expect moving in a pandemic, so I made a concerted effort to engage on local Facebook groups and contacted friends of friends. We've met some lovely families who have welcomed us with open hearts and arms. In retrospect, moving during this time was nice in a way because everyone's life slowed down to a pace where they may have been more open to meeting one on one, or had the time to do so. We've gone on nature walks with new friends, dined outside a few times, enjoyed firepits and sledding... These are things we wouldn't have done or had in the city.
Zoya: We have really enjoyed getting to know our neighbors via backyard chats and discovering new restaurants like Wood and Fire. We love shopping at DiCicco's. We have also enjoyed strolling through Scarsdale Village and our neighborhood with our son.
Mira: Neighbors went above and beyond to welcome us when we moved in, from stopping by to introduce their families to dropping off an orchid and bringing home-baked cookies. They even shared electricity over the 10-day power outage by running a cable across the street so we could run some essentials like our coffee pot and Aerobed as we awaited our moving truck! I met amazing moms who organized play dates and sports meet ups for our kids to connect before school started. La Renaissance Bakery gave my daughter a sampling of French cookies to "acclimate her" to Scarsdale. Irish Bank and Vega even provided a welcome drink to us.
(Q.) What has been the most difficult or frustrating for you?
Lauren: In some ways I still don't have my bearings here - I don't know where the local movie theater is, where my kids would have birthday parties, or even what it's like inside friends' homes or my kids' school. Like all parents I am anxious about school in the months ahead when my son starts kindergarten in September. I'm looking forward to outreach from the elementary school for my son as he prepares for kindergarten.
Danielle: Seeing how this pandemic is affecting people's health and livelihood. We have been fortunate to stay relatively healthy, but many have not. It is challenging to stay diligent while pregnant, not being able to see family for many months, all while having fears of sending kids to school. My heart is really with those who are suffering or have lost loved ones.
Minisha: Keeping the kids' morale up while not in school full time. Their city friends are back full time and that's a little frustrating for them but they're happy we've re-located and doing really well. I know they'd love more regular social interaction, especially being new to town. They're involved in sports, but it's limited now, and we haven't gotten to experience the version of Scarsdale we chose pre-pandemic. That's out of our control, of course. Overall, we feel blessed to have found a great house in a wonderful community with lots of new friends.
Zoya: Learning about home ownership and all of our new responsibilities here has been our biggest challenge. We are making progress!
Mira:Finding venues for the kids to safely integrate into the community, finding outdoor spaces to play and hike with our dog, and creating safe play environments with other kids - don't we all have that challenge in COVID times!
(Q.)How has the pandemic complicated moving to a new town?
Lauren: In general, it is hard to meet people at a time when I am creating a new life for my family. Everyone has been friendly and I feel fortunate to have made genuine connections on behalf of and through my children. Everyone is isolated now, particularly during the winter, so it can be challenging to get to know people. I hope to build on the connections I've made and help others do the same.
Danielle: We are currently remodeling our house and there are lots of delays with personnel and materials. COVID has made almost every element of the job more challenging, from furniture to faucets as everything is backordered for months. I know people will see this and relate- the impact on our supply chain has been pretty astounding.
Minisha: I thought it would be more challenging than it was, but people reaching out to us has made all the difference. This is going to sound strange, but as a working parent, acclimating to new schools was almost easier in a way for me because I know that while I'm at work there aren't lots of school activities and parent meetings that I'm missing. Once things are back to normal, I'll have my bearings and I'll be better equipped to be more involved. I was very involved in my kids' previous schools despite working full time.
Zoya: It has of course been very tough to meet new people. The community events and casual chats that used to occur pre-COVID are all on hold now.
Mira: We are new to the community and have to earn trust of others without the pre-pandemic ways of socializing in order earn that trust. Our neighbors have been nothing short of amazing.
(Q.) What are your favorite things about Scarsdale, thus far?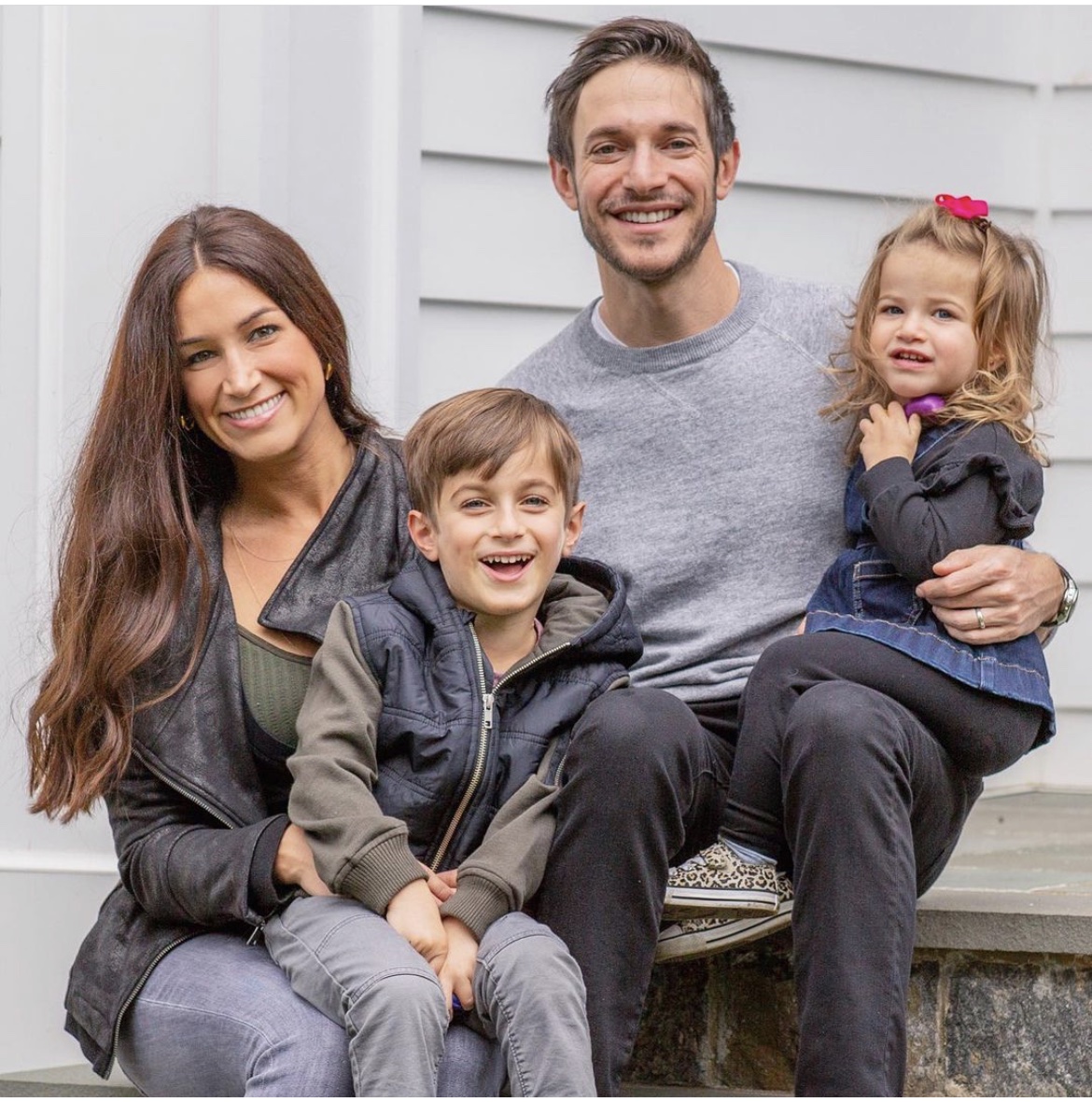 Lauren, David, Luke and Eva
Lauren: First, community. While I very much look forward to meeting new people and exploring new places when the pandemic is over (or at least better), I feel lucky that we have been welcomed. Our neighbors, parents of our kids' classmates, our realtor and others we've met are truly warm and thoughtful. I have lived in cities my entire life and I appreciate that Scarsdale can feel like a small town in terms of a close-knit community while not feeling too small.
Second, programs/events. We were Scarsdale Pool members this past summer and it was great. I look forward to a more "normal" season when kids can take swim lessons and there will be a more relaxed atmosphere. My son has participated in the town's soccer programs and it's been a lot of fun. Third has to be the chicken parm (and friendly staff) at Meritage!
Danielle: The community and the people, the beautiful, picturesque town with great restaurants and everything you could possibly need, as well as a relatively easy commute to Manhattan.
Minisha: The people, the beauty and the pride that the residents have for Scarsdale.
Zoya: The wonderful school system that our son will soon grow into and the proximity to the city. We are looking forward to nicer weather so we can start enjoying Bicycle Sundays on the Bronx River Parkway. We really look forward to meeting more people in our new town!
Mira: Neighbors who care and connect; culture that embraces diversity and open conversation; amazing resources across the school and community.
Do you have tips to provide to your new Scarsdale neighbors? Share them in the comments section below.