A Visit to the New York Botanical Garden
Thursday, 22 April 2021 09:27
Last Updated: Monday, 17 October 2022 18:34
Published: Thursday, 22 April 2021 09:27
Joanne Wallenstein
Hits: 1310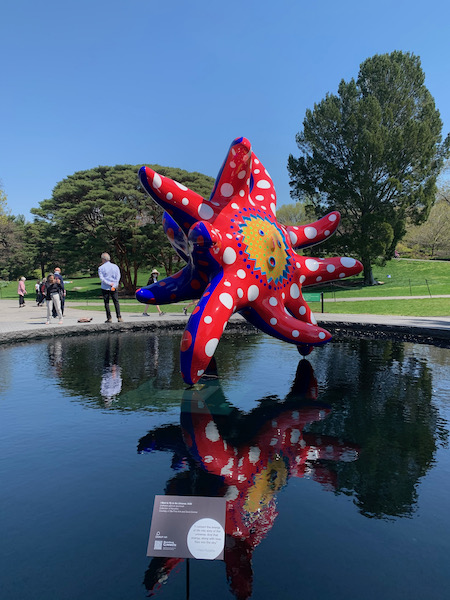 Daffodils, magnolias, cherry trees, forsythia, camelias, tulips and more are all in bloom at the New York Botanical Garden, just a 20 minute drive from Scarsdale. As spring emerges, take a day trip to this stunning natural oasis.
We were fortunate to visit the garden on a sunny warm day, and though it was packed with nature lovers, the large garden can accommodate ample social distancing.
In addition to the planted material, the garden is now hosting a show of Japanese artist Yayoi Kusama who "expresses her fascination with the natural world and profound engagement with nature in a variety of mediums and formats." There are whimsical sculptures, the garden's tall trees are wrapped in red and white polka dots and seasonal flowers are planted to complement her work.
The pond in the native garden has been filled with hundreds of plastic silver globes in an installation of Kusama's narcissus garden, first shown in 1966. They have been displayed all over the world as far as the Venice Bienniale and Sydney Australia.
What do they evoke? One explanation of the installation says, "In Narcissus Garden by Yayoi Kusama, one of the most significant artists of the 20th century, mirrored balls reflect each other and their onlookers, creating an infinitely recurring web in which the surrounding visible world is trapped and perpetuated. Evoking the mythological figure of Narcissus, this work allows viewers to see themselves and the world around them."
The meaning of the display is evolving and open to interpretation. Visit and see for yourself.
You'll need to order tickets in advance here. The Kusama show runs through Octoboer 31, 2021 so you have time to see it. You might want to bring your own food and drinks as the line for the café was long on the day we visited.