Hindsight is 2020: A Visual Story of the Community's Creative Response to the Pandemic- Tuesday at 7:30 pm
Saturday, 08 May 2021 17:01
Last Updated: Saturday, 08 May 2021 17:03
Published: Saturday, 08 May 2021 17:01
Joanne Wallenstein
Hits: 1754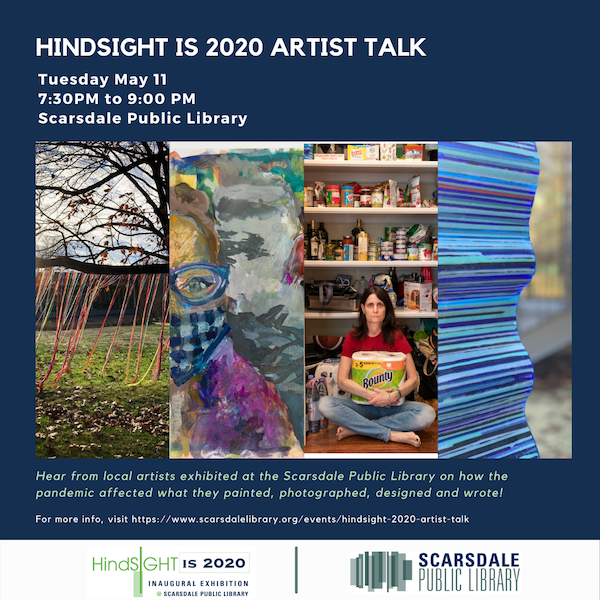 HINDSIGHT is 20/20 is an art exhibition intended to present a visual story of our community's creative response to the pandemic and how Scarsdalians have come together to support those within and outside our village during these extraordinary times. Curated by Lauren Bender, Andi Schreiber and Marnie Gelfman, this multidisciplinary exhibition features artists and contributors working in a range of media, including painting, sculpture, works on paper, photography, fiber and the written word.
We will celebrate this opening of the Library's first post-renovation art exhibit with a 90-minute artist talk via Zoom on Tuesday, May 11 at 7:30 PM Eastern. Local artists and writers whose work is featured in the show will discuss creating art during Covid, and how the pandemic affected what they painted, photographed, designed and wrote.
A joint program between the Friends of the Scarsdale Library (FOSL) and the Scarsdale Library Board of Trustees, HINDSIGHT is 20/20 celebrates an all-female artist lineup. The brightly colored yarn artwork in front of the SPL, called Knit Together, by Tanya Singer and Sarah Divi and Simone Kestelman's sculptures called The Keepers as well as her bed of ceramic Poppies have been enlivening the Library campus since this winter. The rest of the show features work by Sharon Draghi, Bonnie Jill Emanuel, Marnie Gelfman, Doreen Hendley, Renee Levine, Tracy McCarthy, Robyn Miller and Andi Schreiber.