Author Jacqueline Friedland to Debut "He Gets That From Me" at Bronx River Books
Wednesday, 06 October 2021 18:06
Last Updated: Wednesday, 06 October 2021 18:07
Published: Wednesday, 06 October 2021 18:06
Joanne Wallenstein
Hits: 1118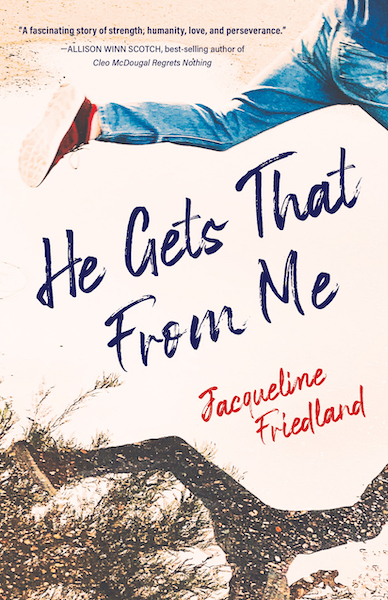 Author, attorney and Scarsdale resident Jackie Friedland will read from her new book, "He Gets That From Me," on Wednesday October 13, 2021 at Bronx River Books at 7 pm.
This is Friedland's third book and follows the publication of That's Not a Thing and Trouble the Water.
He Gets That From Me is the story of a young mother with a toddler and a live-in boyfriend, working at a checkout counter in downtown Phoenix. The job doesn't afford her much financial flexibility. She dreams of going to college and becoming a teacher, options she squandered when she fled her family home as a teenager. When Maggie stumbles onto an ad offering thousands of dollars to women who are willing to gestate other people's babies, she at first finds the concept laughable. Before long, however, she's been seduced by all the ways the extra money could improve her life. Once she decides to go for it, it's only a matter of months before she's chosen as a gestational carrier by Chip and Donovan Rigsdale, a married couple from New York.
After delivering twin babies and proudly handing them off to the Rigsdales, Maggie finally gets her life on a positive trajectory: she earns her degree, lands a great job, and builds a family of her own. She can't fathom why, ten years after the fact, the fertility clinic is calling to ask for a follow-up DNA test.
Author Jacqueline Friedland is a graduate of the University of Pennsylvania and NYU Law School, she practiced as a commercial litigator at the New York law firms of Debevoise & Plimpton, LLP and Boies, Schiller & Flexner, LLP. After determining that office life did not suit her, Jacqueline began teaching Legal Writing and Lawyering Skills at the Benjamin Cardozo School of Law in Manhattan and working on her first book in her limited spare time. Finally deciding to embrace her passion and pursue writing full time, Jacqueline returned to school to earn her Masters of Fine Arts from Sarah Lawrence College, graduating from the program in 2016. He Gets That From Me is her third novel.
When not writing, Jacqueline is an avid reader of all things fiction. She loves to exercise, watch movies with her family, listen to music, make lists, and dream about exotic vacations. She lives in Scarsdale with her husband, four children and two very bossy canines.
Meet her on Wednesday October 13 at 7 pm at Bronx River Books on Spencer Place in Scarsdale.