Orchestra Online: The Challenge of Teaching Music Virtually at SHS
Tuesday, 18 January 2022 14:03
Last Updated: Tuesday, 18 January 2022 14:03
Published: Tuesday, 18 January 2022 14:03
Adam Katcher
Hits: 598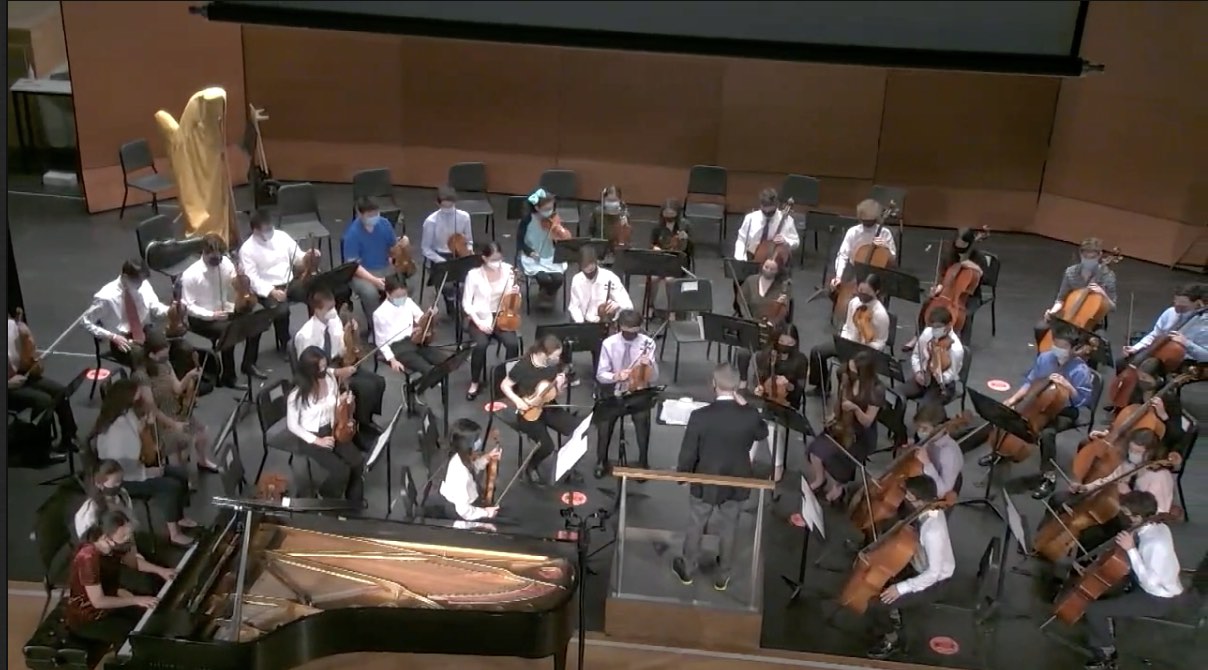 Though it's nearly two years since Scarsdale High School was initial closed down due to COVID-19, the ramifications of the virus are still shaking the school. With a recent spike of the Omicron variant in New York, many students have had to quarantine or isolate and miss valuable days of school. Students are now able to Zoom into class like they were able to last school year.
Nonetheless, learning online, whether it be for one student or the entire school system, has its drawbacks. Most teachers developed effective virtual learning techniques through 2020 and the first half of 2021. Math teachers displayed cameras on whiteboards or pieces of paper and taught similarly to how they would if the students were in class. English teachers photocopied documents and allowed more time for online submissions for writing assignments to stay on pace with the curriculum. Spanish, history, and science teachers (like most teachers) used Google Classroom to send work and keep students up to speed. However, one class is nearly impossible to replicate virtually.
"The challenges are innumerous," explained Amedee Williams, the orchestra director/teacher at Scarsdale High School when describing the learning-via-Zoom experience, "because we can't play together."
Of course, having orchestra classes via Zoom is better than having to cancel orchestra altogether. The orchestra indeed met virtually while all other classes were also virtual, and the Zoom option was still available during the 2020/21 school year for kids who did not return to in-person learning. In some scenarios, Zoom can be a positive for the orchestra, but for the most part, it is a drawback. "Zoom works one on one quite well," Williams claimed, "but when you get to be 30, 40, or 50, it's bad news."
Williams continued, "Being able to hear each other well is also a challenge. Even when someone is playing by themselves, it gets cut off and you can't really hear. And for an orchestra class, there are so many students that managing everybody in a group is a challenge."
When asked about whether there are effective adjustments that could be made if an all-virtual schedule had to be returned to, Williams admitted, "There's not much we can do in terms of change. Cornell and Yale, for their orchestra classes, they changed from playing music to music history when virtual. But, for a class of our size and what our class is meant to be, that is far from optimal."
For now, the hope is that school will remain open and that orchestra class can carry on as usual. The first-semester concert was a success, and the hope is the second-semester concert will build on that progress. The planned orchestra February trip had to be postponed for a second consecutive year, though 2023 will ideally be the year to put the orchestra's traveling plans back on track.
Some music is better than no music at all, but there is no question that virtual learning for an orchestra class can be detrimental to an individual – and group's – progression as musicians. Individual talent can be improved upon, though improving as a cohesive musical unit is impossible when one violinist is three miles away from their stand partner.