Recreation Department Proposes to Build Eight Pickleball Courts
Thursday, 05 May 2022 13:54
Last Updated: Thursday, 05 May 2022 13:54
Published: Thursday, 05 May 2022 13:54
Joanne Wallenstein
Hits: 872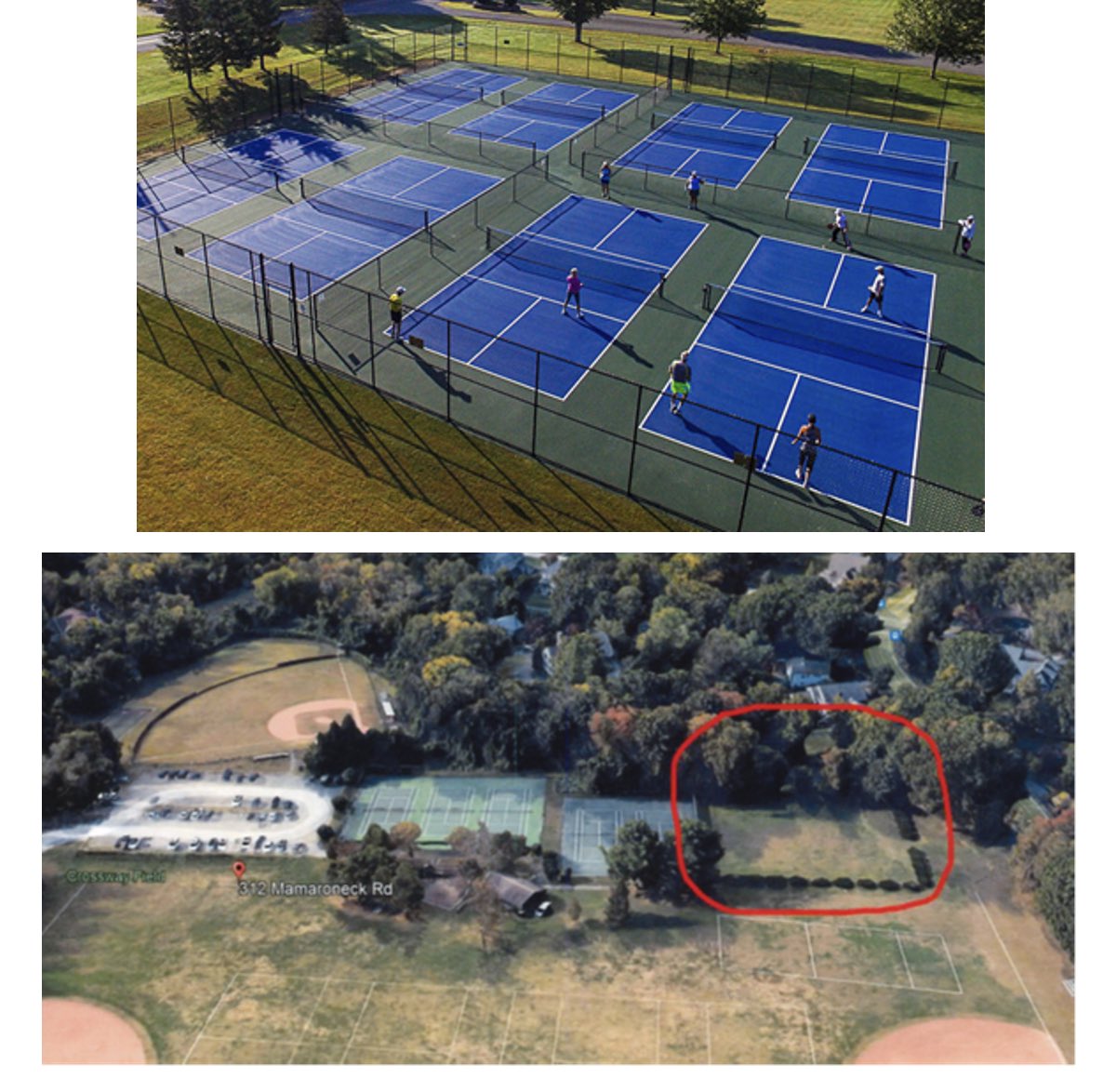 Pickleball is the fastest growing sport in the U.S. and with so many racquet enthusiasts in Scarsdale, the Recreation Department would like to give residents a place to play.
At an April 26 work session of the Scarsdale Board of Trustees, Recreation Department Superintendent Brian Gray and Assistant Superintendent Bob Kaczmarek presented a proposal to build eight pickleball courts at Crossway Field. They explained that during Covid, permits for tennis, platform tennis and pickleball had skyrocketed and they recognized the need to build more courts to accommodate players.
In order to offer pickleball clinics on the platform courts, the Rec Department considered two temporary solutions to convert the platform courts to pickleball courts. One is to purchase interlocking tile systems to adhere to the platform courts at a cost of $10,000 per surface and another is to use chalk and painter's tape to draw lines onto the platform courts. Both methods have disadvantages and are time consuming to set up.
Another method is to paint pickleball lines onto tennis courts. Four pickleball courts can be placed on one tennis court. However, that takes a tennis court out of service and the lines can be confusing.
Instead, the Rec Department priced out the construction of eight pickleball courts, about the size of two tennis courts, to be built at Crossway field where a tennis attendant is already in place. The capital request was for $410,000 and it was approved with the 2022-23 Village budget in April.
After receiving some objections from neighbors about the noise of the pickleball, Gray looked into options to quiet the bounce. He suggested purchasing acoustic barriers to be installed on three sides of the courts. Though they would not eliminate the sound of the ball, they would greatly reduce it. He showed a video of the acoustifence sound reduction at the meeting. Watch the video here:
Commenting on the proposal, trustees asked why Gray was proposing to build eight courts rather than four. He said, "We think that if you build it they will come! This is another opportunity for recreation in the Village. If we only put in four we are going to need to put in another four shortly thereafter."
Trustee Ahuja applauded the proposal. He said, "Pickleball is the fastest growing sport in the US. Racquet sports are part of the Scarsdale culture and I support this. You addressed the objections. Job well done."
Trustee Brew echoed the compliments and added, "This would be good for empty nesters and older residents who we don't always address."
Trustee Gans agreed, saying "We should build them the way they should be done. The acoustic fence demonstration was great."